SEO for Financial Services: Financial Services Essential SEO Strategies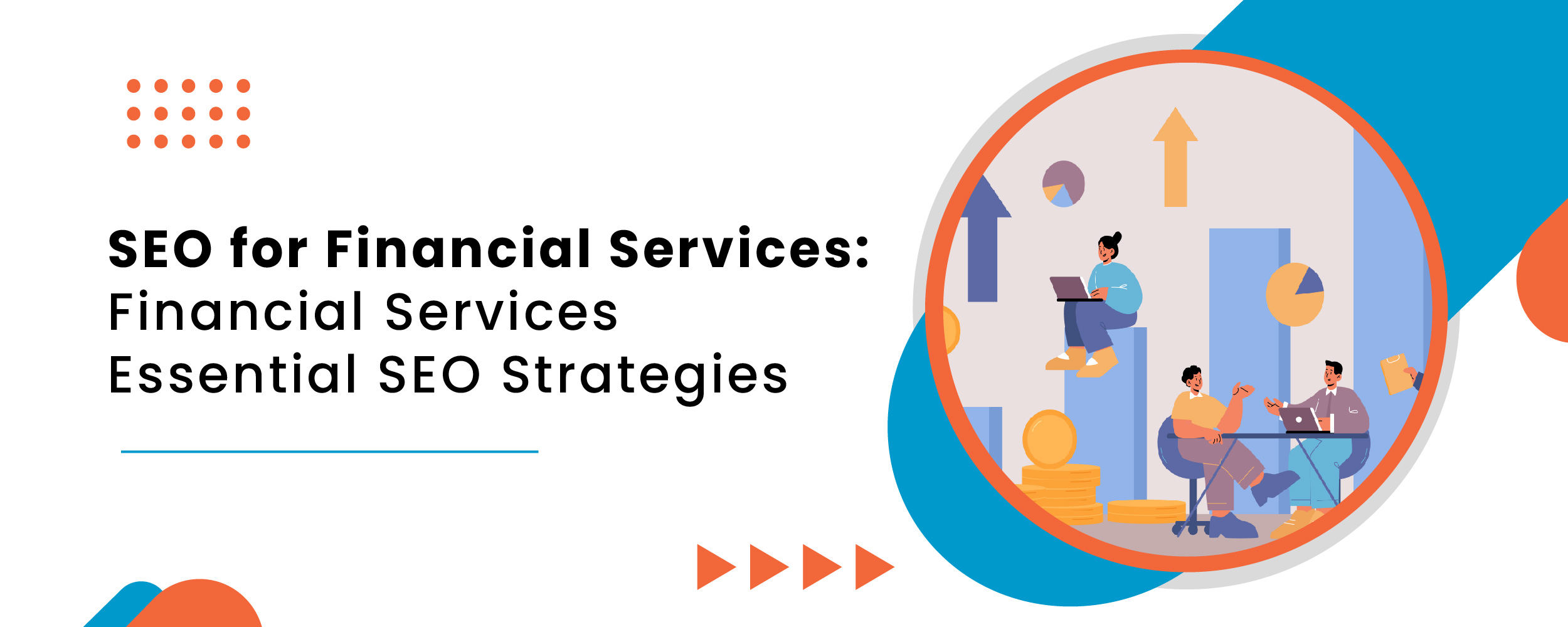 The BFSI (banking, financial services, and insurance) sector is booming. And financial services, in particular, are seeing an overhaul and massive growth: neobanks, mobile wallets, cryptocurrency, and blockchain – how people interact with money is changing.
The pandemic has seen an increase in digital payments, and the fintech space has evolved to fit the new consumer's needs. Consumers are increasingly turning to digital payments and tools that make finance fast, simple, secure, and convenient for the consumer.
Keeping that in mind, if you are a fintech company, your SEO for financial services needs to be on point and speak to what the customer is looking for.
An IBEF report published early this year indicates that India has over 2100 fintech players in the market – and is set to become one of the largest digital markets globally with the rapid expansion of mobile and internet services.
If you need further convincing for embedding SEO in your strategies, here are some benefits of SEO for finance –
What are the benefits of improving SEO for financial services?
SEO is crucial to the finance and banking sector's digital marketing strategy. In other words, by utilizing pertinent organic searches, SEO for financial services companies aids in generating organic traffic to your financial services website.
Improved traffic
A successful SEO plan will improve the number of organic visitors to your website. More and more people will see your site and click through to read your content as you rank higher for important keywords.
Better conversions
The more people who visit your website, the more they can convert to paying clients in the future. Because SEO relies on drawing in genuinely interested visitors rather than attempting to grab their attention with paid advertisements, SEO frequently ranks among the traffic channels with the highest conversion rates.
Enhanced branding
More people will be aware of your financial services organization as it begins to appear for more searches. They'll soon associate your brand with being a significant participant in the finance industry. If your website content actually meets their needs over time, you'll also build your brand's trust by establishing yourself as an authority.
SEO Challenges within Financial Services
When researching financial services products online, people usually look for something specific. And they are looking for sites they believe they can trust since the transaction involves money. Users look for financial services when they want to make a payment or an investment or compare credit card and/or banking schemes. In this regard, your site needs to cater to every angle the user may examine, which can be challenging.
Your content needs to contain the specific terms your potential customers may be searching for
Your pages need to be easy to find and index from a web crawler perspective.
Your site needs to be quick and credible – if it takes forever to load, it can feel dubious to customers, even if you have your content and tech specs in place.
This is why in a crowded market like India, a sound strategy with SEO for financial services is what will get you noticed and grow your business. Here are some essential SEO for financial services tactics you need to implement.
Focus on Industry-Specific Keywords
Keywords are the foundation of good SEO. You must strategically place well-researched financial services keywords your audience may be looking for. Just using financial services in your content won't cut it: you're competing with the JP Morgans and Nomuras of the world. Narrow down your list to keywords likely to attract and convert your potential customers. Keyword research tools like Ahrefs, Google's Keyword Planner, and Moz can help.
Optimise for Featured Snippets
Longer content is generally preferred SEO for financial services by search engine crawlers – however, you should structure your content in a way that allows it to get picked up by Google's Featured Snippets. You would've noticed these when you run a search – a block of text or a listicle that pops up before the rest of the search. It offers you valuable opportunities to expand your SERP presence.
Structuring content in specific ways – with numbered/bulleted lists, tables, etc. – signals to Google that your site might be worthy of a Featured Snippet.
Don't Forget E-A-T
Google is the master of search. And E-A-T is an acronym for three principles by which Google judges a website. E-A-T stands for E xpertise, Authoritativeness, and Trustworthiness – three things your content, page, and site need to reflect, and essential for SEO for financial services.
Expertise can come through with well-researched content that is useful and optimized with the right keywords.
Authoritativeness comes through sharing testimonials, highlighting press mentions, awards, and recognitions, and highlighting your leadership and their background.
Trustworthiness is established by things like your site security measures, terms, and conditions, privacy policy, etc., and ensuring your content has no factual errors or mistakes.
Site Speed Matters
One way of looking more trustworthy to people who want to do business with you? A webpage that loads fast and has no glitches! When your customers live and search on the web, you need to match their need for speed.
Your site speed score refers to how fast your website loads. And Google's PageSpeed score is a number that Google assigns to your site out of 100, which tells you how fast it loads and runs. The higher your score, the faster your site is. Page speed impacts ranking and visits.
Don't Ignore On-Page and Technical SEO
Technical SEO is what makes your pages crawler-friendly by optimizing the content and code. To ensure your page is working well on-page, make sure you incorporate keywords into the page titles and headings. You should also ensure the content is crawl-worthy: a minimum of 300 words; the longer, the better. 
SEO for Financial Services, from Experts
Whether you work as a neobank or an existing financial services company that is entering the digital space, the goal is to convert visitors into leads/prospects and those leads/prospects into customers.
And you can only gain leads if you can tap into what the customer is searching for online and build rapport and trust.  Having an SEO agency for financial services to guide you can help: SEO for fintech requires agility, and an agency speeds up the process of converting leads into conversions with targeted keyword research, optimized campaigns, gated content, and other tools. 
Contact us if you are looking for an SEO agency for financial services. At upGrowth, we have delivered SEO for fintech companies across India. We understand that each financial services product is designed differently to cater to a different kind of user.
So we consider that and design an SEO for financial services strategies based on an in-depth study of your target customer and industry trends. As a reputed SEO agency for financial services, we rely on white hat SEO, content, and analytical techniques to boost your traffic and conversions. 
At upGrowth, we have worked with some clients from the BFSI and fintech sectors to help them grow and scale their businesses with SEO for financial services. We've helped smaller players get found online organically through SEO and content marketing services. We've helped payment apps generate targeted leads with keyword-rich content. We've revamped the websites of fintech companies for better readability by users and crawlers, pushing their URLs up in SERP rankings.
Some of the clients we've worked with include:
MarketSmith India (a stock market company where we helped them achieve an organic growth rate of 140% in just over 40 days
Nivesh (a fintech platform for mutual fund distributors, where we boosted organic growth by 700% in a span of 6 months)
Paysquare (a payroll services company where we boosted website traffic by 70% through organic efforts).
If you are a fintech company looking for SEO for financial services, reach out to us. You can learn about our SEO for financial services offerings here
FAQs
1. What are the main strategies in SEO?
SEO for financial services is similar to SEO for any other kind of business: make sure your content caters to humans first and then to search engines. Do in-depth keyword research utilizing long tail and low competition keywords in addition to high search volume keywords, and use your targeted keywords in the right places. Make sure you don't ignore technical and off-page SEO. Linkbacks and link-building is important to build authority. And make sure your site is optimized for mobile and has a good page load speed!
2. What are the 5 important SEO KPIs for Financial Services?
SEO for financial services follows 5 key concepts:
Core Web Vitals: This is Google's checklist of what is essential on a site – a set of factors that Google deems most important in the page's overall user experience. The healthier your vitals, the better it is, in Google's opinion – and, therefore, for your users as well. You can access your Core Web Vitals report on Google, and it will give you detailed information about how your pages are performing, in real-time, from all over the world.
Mobile-first indexing: Most of your users' browsing, reading, and shopping activity is likely done on a mobile device. Having a mobile-friendly site is a must for users, but also for Google. Mobile is so popular that Google prefers to use the mobile version of a webpage or piece of content for indexing and ranking purposes. So, your SEO needs to be mobile-friendly.
E-A-T principles: Your content must be enriched with keywords and targeted search terms for SEO for financial services, but it also needs to have context and relevance and speak to the reader – in essence, it needs to make sense and not appear like an attempt at stuffing keywords into a paragraph. Search engines pick up on things like this. Your content must be enhanced with keywords in the right places, offer expertise (how-to, opinions), authoritativeness (with quality, factually correct content, and linkbacks), and be structured in a way that makes it seem trustworthy to people visiting your site.
Semantics and knowledge gaps: Google has evolved over time to not just answer specific search words but to cater to the intent behind the search. was to improve search accuracy by better understanding searcher intent. This is known as semantic search, and it has gotten smarter, and search engines can now better understand the context of a search and the relationship between the words. Knowledge Graphs help Google use structured data around topics and, using semantic data, populate the knowledge graph to fill gaps. Your SEO for financial services strategy needs to cater to semantic search, understand natural search queries better, and answer intent better.

Machine learning and automation: Machine learning is closely related to semantic search – it is a method for search engines to make educated guesses about what a vague search query could mean. And then deliver a beneficial result. It is now an essential part of the SERP algorithm.
3. How can SEO help my financial services business?
Banks and financial services providers can benefit from effective SEO to appear where their consumers are looking for them. Simple guidelines are only one part of SEO. For a Fintech Startup to rank highly on search engines, it is necessary to constantly test various combinations and permutations.
SEO for financial services is a strategy to boost your website's organic traffic and strengthen your brand's credibility. You specialize in using cutting-edge technology to solve financial issues as a FinTech service.
4. How do I conduct keyword research for my financial services business?
Put a lot of attention into your keyword research because it's one of the most crucial FinTech SEO strategies. You must do this correctly. It will be beneficial to constantly consider the search intent of folks entering queries. You can use this kind of information to find the long-tail keywords that people most frequently use when searching.
Just be sure to avoid keyword stuffing at all costs since this will result in fines and reduced SEO efficiency if found by the search engine.
5. How important is local SEO for financial services businesses?
A successful digital marketing plan for financial companies must include local SEO. Increasing discoverability, boosting traffic and lead creation, removing obstacles to action, and developing trust and confidence in your business are all benefits of optimizing your online presence for local search.
6. How can I build backlinks for my financial services website?
Backlinks are connections to your website made by other websites. Web browsers look at backlinks as a quality indicator when assessing websites for potential visits. How popular a topic or website is can also be determined by its backlink popularity. For instance, if a website has more backlinks from popular websites, this may indicate that the subject or website is appealing to a broad audience.
Additionally, backlinks from websites that deal with finance can increase the trustworthiness of your website by implying that you are knowledgeable about and interested in the subject. There is no denying that a solid backlink profile can raise the position of finance websites in search engine results (SERPs). This is so because backlinks are viewed as a sign of authority and quality.
7. What kind of content should I create for my financial services website to improve SEO?
Google is particular about SEO for financial services companies because providing false information can potentially have financially disastrous effects on innocent people. Thus, ensure that the content on your website follows the E-A-T principle. As per Google's algorithm and the Your Money, Your Life, a.k.a YMYL principle, Google focuses on factually correct content.
Unfortunately, Google's algorithm isn't intelligent enough to comprehend the viability of financial advice, and therefore they must consider factors like author authority and competence when ranking material.
8. What is the primary financial benefit of SEO?
Due to its focus on users who are actively looking for your goods and services online, SEO is one of the most economical marketing tactics. Compared to outbound tactics like cold phoning, SEO is more cost-effective for businesses because it is inbound.
Read More:
Essential Questions Startup Founders Should Ask Before Hiring an SEO Agency
SEO Agency for SaaS Product: 10 Reasons Why you Need an Experienced SEO Agency
How SEO Works Differently for B2B Organisations
Essential Questions Startup Founders Need To Ask Their SEO Teams
Perfect SEO Strategy for SaaS – Expert's Secret
About the Author
Chandala Takalkar is a young content marketer and creative with experience in content, copy, corporate communications, and design. A digital native, she has the ability to craft content and copy that suits the medium and connects. Prior to Team upGrowth, she worked as an English trainer. Her experience includes all forms of copy and content writing, from Social Media communication to email marketing.