Best Free Growth Hacking Tools and Resources – A Roundup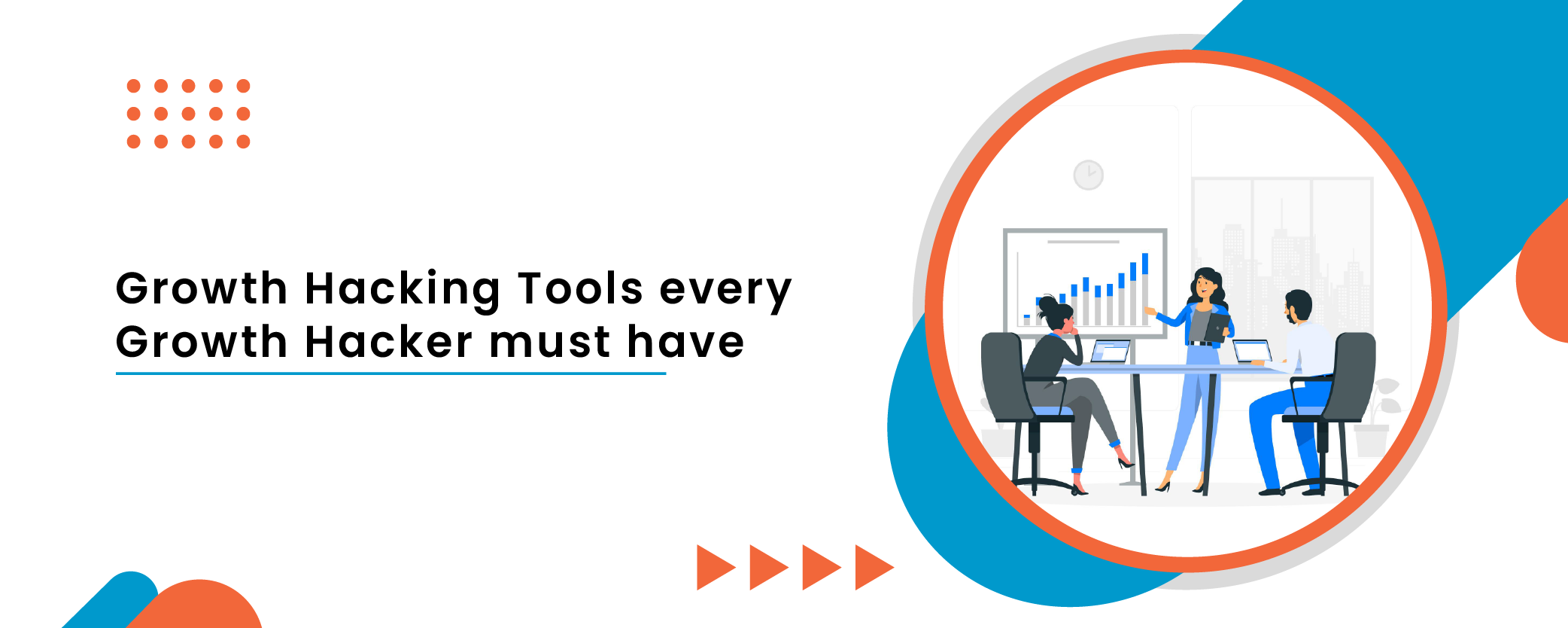 Growth hacking became crucial over the last decade due to superfast changes in technology, big data, a shift from desktop to mobile and quick changing habits of users.
Every business or startup wishes to find and implement the most effective ways to acquire users, retain most of them and maximize revenues as early as possible.
In search of overnight success, everyone wishes to hack their growth with little or no risk appetite for experimentation/testing. This is where growth hacking tools come in handy.
What is Growth Hacking?
Growth hacking is no magic! It does not have any specific path to follow to grow your business, but it does involve certain methods and growth hacking tools.
It is a methodology which helps businesses expand by experimenting across different marketing channels and products to identify the most effective, efficient ways to grow your business.
Growth hacking allows you to do things like rapid customer acquisition at zero to no cost – if done smartly with the right growth hacking tools.
It increases your user base and revenue more rapidly than traditional methods in a short span of time. Growth hacking allows you to experiment and tests hypothesis, without blindly trusting your gut feelings.
The secret of growth hacking and growth hacking tools is to TEST quickly, and rule out as many ideas as possible in the shortest time possible. Do not restrict your creativity, mix it with intelligence and keep trying for the best possible recipe for experimentation!
Why choose growth hacking over traditional marketing strategies to grow your business?
Growth Hacking uses many hacks to help businesses or start-ups to grow into something even bigger.
Digitization and new technologies like AR and VR have opened a completely new era of unexplored opportunities for marketing which eventually adds more and more NOISE to the ecosystem.
Search and social media are two major tactics anyone knows can drive the most business for them. But using growth hacking tools to make the most of search and social ups your chances of capturing the right audience.
But only a small percentage of marketers can effectively execute campaigns because they don't know how.
The Growth hacking mindset believes there is always another better, optimized, and more efficient way to do things. It always pushes you to the limits to find new avenues of business growth.
92% of ideas fail. The remaining 8% experiment, learn and iterate to scale. Growth hacking is a 4 stage funnel – Attract, Acquire, Retain, Reap!
Want to learn how growth hacking can boost your business?
Sign up for a free Growth Hacking Consultation | Sign Up Now
This blog is an open-source initiative to offer you the best Growth Hacking tools and resources. We also accept clients here, if you need assistance with growth hacking.
So, here is a list of the best growth hacking tools, which also covers free growth hacking tools and growth hacking tools for startups that you can use to expand your business and your digital footprint.
Content :
Customer Referral Tools
Customers define your business. Finding hacks with available growth hacking tools or developing new tools to get your business discovered by your target audience will drive rapid growth.
Continuous testing with organic search optimization, paid campaigns, social media campaigns, influencer marketing, and customer acquisition hooks and hacks using a few of the below customer acquisition tools can help drive heavy traffic to your business.
Viral Marketing Tools
Gleam is a tool that works very well across multiple platforms. It enables us to run contests and rewards-based campaigns. It is one of the easiest growth hacking tools for contests. It also has other lead generation tools for timed opt-in forms.
KingSumo is created by the massively successful company AppSumo / Sumo. It is a viral contest/giveaway marketing tool. It can be used to win raffles, and participants win top prizes by sharing the contest. It's very easy to use and it integrates with WordPress. They charge one flat fee for a lifetime of use – it's one of the most economic growth hacking tools. It integrates sharing on social media platforms and you can decide how many entries a person gets per share per platform.
Viral Loops is one of the best growth hacking tools and viral marketing tools out there. It is also one of the most expensive tools to generate leads via viral promotions. You can run milestone referral campaigns, e-commerce referral campaigns, refer-a-friend, startup pre-launch, altruistic referral campaigns, and leaderboard giveaways.
Vyper can help you do viral sweepstakes and includes interactive popups that help customers earn coupons. You also get leaderboard giveaways and content upgrades with Vyper. In addition, you can try any plan for free and pay only when you're ready to start the campaign – one of the more convenient growth hacking tools.
MobileMonkey's Facebook Comment Guards is one of the most amazing growth hacking tools that makes your content go viral. The tool is very easy to use, and it is fully automated. You can use it on all your Facebook posts. Promote a blog post and get a chance to make it viral. This tool automatically catches a lead as well as the user's data every time you get a response to your private message.
ViralSweep has 8 different types of lead generation campaigns, making it one of the top growth hacking tools. They have basic sweepstakes, contests with user-generated content, instant win contests, email forms, commenting giveaways, hashtag entry campaigns, promoted campaigns via influencers on their platform, and partner promotion campaigns via their networking platform.
Contest Domination is a software that helps brands reach their target audience effectively and generate new leads, improving sales. In other words, it is a contest software that helps companies create online contests that gather actual leads that spread virally – one of the most effective growth hacking tools. Contest Domination is the proven and most powerful viral contest software for generating qualified sales and deals.
UpViral helps in growing your e-commerce business with proven marketing campaigns. You can have a highly customizable reward system and a fully customizable referral link system. It allows you to A/B split test your lead magnet, which most of the other platforms do not, making it one of the smartest growth hacking tools. UpViral has a simple integration with all major autoresponders, easy setup and admin controls, and a great metrics and analytics tool with security protocols to eliminate user abuse and cheating.
This is the best giveaway plugin and a well-known acquisition tool for users of WordPress. It builds contests and giveaways online that can go viral. That's because it awards contestants "entry points" for completing certain actions.
Influencer Marketing Tools
Influencify is an influencer marketing platform that delivers performance-based solutions. Using filters, you can sign in as an influencer or brand finding your perfect match. It is easy for the company to manage multiple brands or products, set up campaigns and track results that drive growth. Search through the broad database of 34 million + influencers across different channels like Instagram, Youtube, and TikTok. Influencify developed influencer, marketing automation, and affiliate marketing solutions in one tool.
Followerwonk is a tool which helps us to find out Twitter influencers. It is an amazing tool which lets us to see demographic insights about our audience, and also the audience of other brands. To use Followerwonk just search the type of influencer you want to connect with and this tool with come with multiple highly-connected people from that space. Overall this tool is funtastic for audience research, content creation and on overall digital strategy.
Social Blade is a tool that track social media analytics and statistics for instagram, youtube, twitter etc. It has a detailed analytics in literally anyone. It is like getting a deep look inside your competitor's youtube studio account. Social Blade helps you with the real-time subscriber count. With this tool we can get the exact number of subscribers and views someone gets every month. On other words this tool is a transparent and detailed platform for social media analysis.
Social & Display Ads
BannerBoo is an online HTML5 banner maker which allows you to create static and animated AMP HTML, HTML5, and GIF banners without the need of any coding skills. We can use professional templates or build our own customized banner ads by saving your time and money.
Lucidpress is a brand templating and design platform. This platform empowers even non-designers in your company to distribute and create marketing collateral on their own without a professional designer's help. They have many pre-made templates that allow users for easy start-up projects and multiple styles for different formats.
Simplified is an app to create, design, collaborate, and scale your marketing. It allows you to write marketing copy, create videos and publish on social media. It brings together all design tools in one place. It reduces our time in half for editing and adding pictures to articles, writing, etc. Simplified can be described as an integration of AI-driven marketing solutions all in one spot.
Creatopy helps businesses automate, customize and scale up their delivery and ad production. It helps individuals and teams create engaging advertising visuals for multiple platforms. They have many great-looking templates from which we can choose one start to customize according to our needs or we e can also create a brand new one using their ad builder.
Canva enables users to create graphics, posters, presentations, and other visual content which can be used for social media purposes. Canva simplifies the process of digital designing. It helps us with multiple design templates for different social media platforms like youtube's thumbnail etc.
Rocketium automates creative management with AI-powers resizing and writing, feed data, and templates. It is built to suit the design needs of fast-paced marketing teams that work on hyper-personalized multi-channel campaigns. The best part of Rocketium is that it allows the creation of vernacular creatives and also allows downloading it in different dimensions.
Bannerwise is a creative management platform. It lets agencies and advertisers build and optimize digital ads on a large scale. With Bannerwise it is effortless to make animated ads. It has plenty of basic, yet simple effects you can apply to objects and texts that bring life to ads. By automating and simplifying digital ad production, Bannerwise unlocks the full potential of digital advertising.
Picmaker lets anybody create an amazing professional design in minutes. It is an artificial intelligence-based DIY platform for designing. Be it Instagram posts, flyers, banners, youtube thumbnails, ads or logos, it have got it for you. You do not need any design knowledge to get it going on Picmaker. The picmaker's interface is simple and user-friendly and you will be able to piece together a design almost instantly as soon as you have conceptualized it.
Animaker is an online do-it-yourself video maker. Animaker comes with a lot of templates and has an easy-to-use interface in which you can just drag and drop the required elements. It has many features that a perfect video editor wants to do in order to create a perfect professional video.
VistaCreate is a user-friendly graphic design platform through which we can create eye-catching visuals and post them in a minute. It allows you to create various visual content using its 50,000+ professionally designed templates. It has a library of over 50M+ creative assets including premium images, vectors, and videos.
Flexitive helps agencies and global brands automate omnichannel design production and distribution. Marketing and design teams can work together to scale their visual communications and deliver high-quality designs using Flexitive's dynamic creative production technology and advanced responsive design. It helps you create multiple animated plus static banner sizes quickly. Flexitive reduces our digital asset creation time and also development costs.
Fluid Ads helps you crate smart-looking ads when you are not a designer yourself. With its Ad-Builder tool, one can create stunning digital display adverts. It also has a geo-targeting and geofencing system where you can precisely target the audiences you want to reach anywhere in the world at any time. Fluid Ads provides the ability to select and manage websites and channels you want your adverts to appear on and keeps control of your budget. It also helps us to thoroughly understand how our advertising campaigns are performing with their in-depth reporting suite providing you actionable insights.
PhotoADKing is a cloud-based, fully loaded drag-and-drop graphic design tool that helps you in designing social media advertisements, business cards, posters, brochures, etc without the need for any prior knowledge in graphic designing. It comes with more than 10000 stunning design templates. It is a quick, free, and easy-to-use tool. Tools provided by PhotoADKing are best for any kind of edit.
Sesimi is a marketing magic, brand management tool which enables you to create, manage and share on-brand content instantly. It is a kind of digital asset management tool that allows you to store, manage and share all your marketing assets in one place. Sesimi makes content creation a breeze because of its easy navigation and friendly interface.
Tool #14 – Zuuvi
Zuvvi is an effective, effortless, easy platform for creating the best-in-class HTML5 banners with different animations, videos, pictures and fonts or we can also choose from their standard customized templates. It is a danish tech platform built for designers and digital marketers, that helps them to produce best-in-class designs and ads for social media display.
Content Marketing Tools
Grammarly helps you write mistake-free content on Facebook, Gmail, Twitter, or any other apps you use. It helps you write better in seconds even on text messages. It reduces the error rate by 50%-80%. They also have a browser extension that works well with Chrome, Firefox, and safari with a basic punctuation and grammar plan for free.
Yoast is a WordPress plugin that helps to improve your website's ranking on search engines by optimizing your content for a keyword accordingly. It allows you to edit and preview URL slugs and meta descriptions and also suggests relevant internal links. Through yoast it is easy to figure out if you have optimized your page correctly by its red, yellow and green indicators. Yoast is a great plug-in used widely.
Buzzsumo is a platform that helps you discover the topics that are trending across numerous platforms and the kinds of headlines that are gaining the most attraction with engagement. It is an excellent tool for content marketing and research. Buzzsumo helps you analyze which content is performing best for any given topic or competitor. The user can also view the metrics like backlinks, Social shares, and which influencers are sharing the given piece of content.
Tool #4 – Loom
Loom is a simple yet powerful tool that enables users to record their camera, microphone, and desktop simultaneously. Once recorded your video can be instantly shared through Loom's patented technology. It is a tool with powerful use cases, even beyond content marketing. Through Loom you can create and embed tutorials for technical walkthroughs. It is also an amazing tool for explaining concepts and for quick communication with other team members.
This tool helps to manage your content so that you don't face delays and meet your deadlines. You can use this tool for planning, managing, collaborating, and publishing your marketing operations. Use Contentools and don't go anywhere else for content management.
Question DB is simple which helps you come up with dozens of user questions collection to get the original ideas for new content within no time. Just enter the topic on which you want to write and QuestionDB will scour the web and give you a massive collection of questions that people are asking about that respective topic. It is not a common keyword question tool as you think, it can be incredibly powerful if you used it correctly. It is a very handy and useful tool for marketers and writers trying to grow a blog.
As we all know Headline is something which is super important. But how do we make sure if our headline is good enough before you publish it? Here is an amazing headline analyzer tool from CoSchedule's Headline Analyzer. This tool helps you analyze and score your headline based on a bunch of different factors like length, uniqueness etc. Also it you gives you tons of actionable recommendations which can be implemented to make your headline even more better to score.
ShareThis is an easiest way to get shares on Facebook, Twitter and other social media websites. It empowers your audience online to amplify and share your content across the web. ShareThis has tools that can scale your website traffic, engage your readers and also grow your social following etc. It has some sharp looking social buttons which can be easily customized to match the look and feel of your website. Tools they provide here are quick to cutomize, easy to install and more over they are free to use.
Portent's Content Idea Generator is a little cool tool which helps us in generating bunch of different blog post titles. It lets you create catchy and high quality titles for your videos, podcasts and blog posts. To use this just type your subject and the idea generator will crack up a catchy and creative title.
Publitas is a catalog management software for publishing online products. It helps you to create manage and publish digital catalogs across different marketing channels by displaying services and products to online shoppers. With its product overlay functionality feature, this platform enables you to display additional details about products.Publitas is an amazing tool that helps you in empowering your content with a modern-day e-commerce experience.
Performance Marketing Tools
Revealbot is a tool that helps to scale your advertising on Facebook Ads, LinkedIn Ads, Google Ads, Tiktok Ads, and Snapchat Ads. It is possible to orchestrate specific rules in campaigns about desirable results, such as performance or ROAS boost. According to that, you can get Revealbot's auto-scale and kill ads based on selected rules. Main features include optimizing and scale ad campaigns and creating your own metrics using external data, and exploring automation strategies. This tool is a good match for companies or individuals with bigger spending. One of the best features is launching and building multiple ads and ad sets, saving time.
Madgicx is a well-known Facebook Ads automation tool used by over 80,000 companies. Some features include automation strategies for scaling, optimization of advertising bids, and audiences proposed by AI to achieve set goals. Take advantage of pre-built automation tactics and AI highlights for creative's good and bad performance.
Morphio.ai is a performance and automation marketing tool that helps to analyze your actions on digital marketing platforms, collecting insights, and negative trends. The platform enables features like managing campaigns, segments of audiences, budgets, and ads on more platforms, such as Facebook Ads, LinkedIn Ads, Google Ads, and Microsoft Ads. Moreover, you can identify and make audits of budgets, save time, set alerts, finding better-performing segments more quickly.
Tool #4 – Wask
Wask is a platform that helps to manage and scale Facebook Ads, as well as Google Ads, Instagram Ads, and YouTube Ads. You can easily identify bottlenecks in each channel's performance. Features include creating ads, publishing, managing, and optimizing. It is possible to save time with drag-and-drop functionality that enables to creation ads. Choose what you want to focus on testing, launching, or optimizing results. Moreover, there are also tools like automatic smart suggestions, smart audience, split-testing, and more.
Adspresso is an advertising tool that helps to create, manage, and analyze Facebook, and Instagram Advertising. A nice bonus is optimization tips that help to improve launched campaigns and stay on the top. There is also the possibility to integrate Adspresso with CRM for more precise targeting.
Adext provides smart AI and ad automation solutions connected to Google Ads, and Facebook Ads. Features include identifying audience segments, optimizing campaign performance, and auto budget recommendations. All are adjusted and detected with machine learning algorithms.
Qwaya is a tool for those who are running Facebook Ads and Instagram Ads. Features include an ad scheduler with control over ads turn on/off, ad rotation, and remarketing (for B2B). Moreover, you can set ad or campaign rules, use auto Google Analytics URL tagging, URL builder, split testing, campaign organizer, and more.
Opteo is a tool that helps run Google Ads more efficiently. You are receiving recommendations about your current campaigns, notifications about the potential improvements to your campaigns, bid, budget, and more. Moreover, Opteo diagnoses issues referring to your Google Ads Account, as well as campaign optimization.
Landing pages
A landing page is a web page that businesses want users to land on and take a specific action from, without getting diverted. The growth hacking tools below can help you quickly build landing pages in minutes without any technical knowledge.
Build, Publish & A/B Test landing pages without technical support. Reduce turnaround time and convert more of your website traffic. Easily create landing pages; website overlays in Unbounce without any coding required – one of the most user-friendly growth hacking tools.
Instapage is one of the best growth hacking tools and landing page solutions for optimizing your ad spend. Build, Integrate, Collaborate & Optimize.
The Internet's Easiest 'Next Generation' Lead Generation Platform. Generate leads and increase revenue using the industry-leading landing page creator with an accompanying suite of lead generation and opt-in tools.
A website builder dedicated to early customer acquisition. Publish a landing page in minutes.
Easy drag & drop landing page tool. Pagewiz was designed to let professional marketers, business owners and affiliates launch landing page campaigns from scratch, within minutes and easily optimize them. Once the campaign is running, A/B testing can be easily performed to maximize conversion.
Launching landing pages and viral campaigns within minutes is one of the best growth hacking tools.
Drag & drop landing page creator and much more.
SEO
Everybody loves free traffic! The only way to get free traffic is by dominating organic (read Google) search results. A strong foundation of technical SE,O including scalable wireframes and structured data with meaningful meta, and visible content that spreads out hooks for links will drive organic growth. Below are growth hacking tools which will get you started with SEO.
Keyword Shitter is one of the best growth hacking tools for generating long tail keywords.
Nibble is one of the easiest growth hacking tools to test websites for SEO, responsiveness, social and more.
Know where your competitors are getting their links from, with one of the most trusted growth hacking tools.
Find competitive keywords with one of the most user-friendly growth hacking tools.
Full analysis of your website – one of the most sought-after growth hacking tools for website analysis.
Find duplicate content on the web, in all text formats, PDFs, and images.
A comprehensive backlink analysis tool.
Comprehensive backlink analysis tool.
SEOprofiler is a full-featured SEO tool that helps you to get high rankings
on Google and other search engines.
Rank Signals is a very powerful Internet Marketing and SEO tool which helps in monitoring backlinks. Rank Signals will keep a tap on your competitor's backlinks and traffic sources through competitive intelligence.
Backlink Checker Tool & SEO Software
It is one of the best-know growth hacking tools and an advanced SEO keyword search tool. In addition, it shows AdWords ad copies and positions, organic positions for domains and landing URLs, search volumes, CPC, competition, number of results and more.
The Screaming Frog SEO Spider is a small desktop program you can install on your PC or Mac which spiders websites' links, images, CSS, script and apps from an SEO perspective.
Tool #3 – Xenu
Xenu's Link Sleuth checks Web sites for broken links.
Positionly tells you how to gain more traffic, improve your rankings and leave the competition behind.
Keyword monitoring, competitor activity scanner, metrics.
Address issues on your site and identifies opportunities to get ahead of the competition. Test your web page speed – one of the essential growth hacking tools to tackle bounce rate.
Independent, in-depth SEO audits for any website. Identify 20+ factors influencing your SEO, including page load, content length, hosting location and more.
Find how users are searching internet
Ubbersuggest is the most popular content marketing and SEO tool among SEO professionals and marketers. It offers you one of the largest keyword databases ever available and also provides us with millions of content ideas.
To see more Customer Acquisition Tools – Click Here
Bounce rate defines how people engage with your platform. The lower your bounce rate, the more valuable your site is to users. Customer engagement tools can help to reduce the bounce rate by applying correct growth hacking tactics.
Improve user onboarding, feature activation & more — no code required! Stop waiting on development and start increasing customer engagement.
Create walkthroughs, onboarding guides, tool tips and product documentation to engage and support your users.
Create step by step guide with feature introduction and progress bars.
A/B test app onboarding. Improve your app's UI/UX to advance business objectives.
Convert browsers to buyers. Realtime targeting with messages and offers.
Evergage's realtime personalization platform enables digital marketers to improve visitor engagement, customer experience and conversion rate optimization.
Needle creates and manages an advocate community that engages your shoppers through chat, reviews, UGC, & more leading to higher conversions & brand loyalty
Product management software that transforms how businesses capture and analyze feedback to prioritize the roadmap and make strategic product decisions. One of the better growth hacking tools focused on helping you imporve the product.
Acquiring customers at a rapid rate is just the start of the growth process. Retaining customers is next challenge. It's been said if you retain 5% of your customers you can increase your revenue by 95%
We have a curated list of customer retention tools and growth hacking tools from different categories like customer loyalty, referral, gamification, unique personalised expertise, ongoing support with engagement systems and customer relationship management platforms.
Ambassador leads the world in referral software, running today's most popular referral marketing programs.
Gamification Software to gamify sales with leaderboards, email reports, real-time alerts, contact management and sales force automation.
Companies use Helpscout helpdesk to lower email volume and increase customer satisfaction to make every customer service interaction more human.
Qualaroo website surveys tell you how a user interacts on your platform. It helps to uncover customer insights that lead to better business results.
The Optimove Customer Marketing Cloud orchestrates hyper-targeted customer communications at scale, empowering brands to drive growth through CRM automation.
Evergage's real-time personalization platform enables digital marketers to improve visitor engagement, customer experience and conversion rate optimization – one of the must-have growth hacking tools.
VWO is the easiest A/B, Split and Multivariate testing tool. Try a free 30-day trial to start optimizing your website for increased conversion rate and sales.
Intercom makes customer messaging apps for sales, marketing, and support, connected on one platform. It's the best software to make business personal.
Target customers through emails based on behaviour, preferences, and previous sales. Trigger a series of emails with a single API request. Use our built-in segmentation to build custom rules.
Contently is one of the growth hacking tools and platforms that helps create content that engages audiences and drives measurable business outcomes.
Percolate – one of the best growth hacking tools that allows you to manage and track your content across multiple channels.
Curata enables marketers to scale content marketing to grow leads and revenue.
Customer service software and support ticket system for better customer relationships.
Tool #14 – Olark
One of the best customer growth hacking tools, Live Chat website software to answer customer questions and improve sales, conversions, and support metrics.
An online cloud-based customer service software providing helpdesk support with smart automation to get things done faster – one of the most effective growth hacking tools.
OptinMonster is the best lead generation software on the market and your best bet for attracting new customers to your business. Grow your email list, Enhance your website conversions, and reduce cart abandonment, with OptinMonster.
PushEngage is the best platform for Personalized Browser Push Notifications. Customers can target mobile and desktop users on Firefox, Chrome and Safari through push notifications. It is an excellent software for attractring new leads. PushEngage lets you to create and send automated push notifications to your audience.
Wishpond is a marketing automation and lead generation, marketing-based online business solution. Wishpond's has a wide variety of features which include a drag-and-drop landing page editor, forms and pop-ups, social contests, etc. All of its tools work seamlessly together with no need for any integrations or additional software. The functionality of its built-in applications is superior to platforms specializing in industries or specific sectors.
Tool #18 – Drift
Drift is a platform for Conversational Marketing that combines chat, email, video, and automation that removes the friction from business buying. With Drift, you can start conversations with future customers now, on their terms. A simple, affordable way to generate more qualified leads. Add a chatbot to your website with a single line of code.
ServiceBell is a live video chat tool to implement on your website. It has a feature to allow you face-to-face video calls with customers. Users immediately get service when they need it. It is faster to retain and nurture customers through video call support.
LiveChat is a customer service software that helps you connect with customers. It is designed for eCommerce sales and provides online chat, online sales, web analytics, and help desk software. Now customer care and closing deals are more effortless. LiveChat is popular among well-known companies like Asus, Adobe, LG, and Acer.
Customers acquired through the top of the funnel and driven through continuous efforts to the bottom of the funnel decide the business sustainability. Analysing your data concisely allows businesses to make wise decisions to fix if there are any leaks in the funnel.
Data Analytics Tools
Google Analytics gives us key insights that help drive the evolution of our product on our mobile app and desktop.
The most advanced analytics platform ever for mobile and the web – one of the best growth hacking tools.
Get, keep and grow more customers with Kissmetrics behavioural analytics and engagement platform. Built for marketers and product teams. Get started with 14 day free trial.
Flurry's mission is to optimize the mobile experience through better apps and more personal ads.
Segment is a single hub for customer data. Collect your customer data in one place, and send it anywhere.
Geckoboard is a realtime dashboard that gives you instant access to your most important metrics.
GoSquaredd brings all your customer-level data together in one place. Turn visitors into customers. Beautifully simple analytics, live chat, and CRM software one of the most useful growth hacking tools to grow your business.
See how much of your articles get read with Content Analytics. If you have a blog, you probably think your visitors read your blog posts all the way through.
In actuality, you have NO idea how much of your content people are actually reading. With Content Analytics, you can see exactly where your readers stop reading. One of the most useful growth hacking tools to optimize your content.
Tool #9 – Mode
Collaborative tools for analysts who fuel data-driven companies. Mode is a data analysis platform that combines a powerful, web based SQL editor with charting and sharing tools. Connect your database and run, save, and share analyses.
Tool #10 – Piwik
Piwik is the leading opensource analytics platform that gives you more than just powerful analytics: Its is free opensource software with 100% data ownership and user privacy protection with usercentric insights which are customisable and extensible
Yandex Analytics is like Google but with more advanced features like heatmaps. It is all-round web analytics platform which details everything from traffic trends to mouse movements.You can comprehensively understand your online audience and drive business growth using Yandex Metrica.
Tool #12 – Admob
Google's tool for mobile advertising, their analysis tab has other metrics and is great for analyzing mobile apps. You can earn more from your mobile apps using Google AdMob. Use in-app advertising to generate revenue, improve user experience, and scale your business
One of the best growth hacking tools and analytics tool for keyword use and banners for testing your competitors. SEMrush is a powerful and versatile competitive intelligence suite for online marketing, from SEO and PPC to social media and video advertising research.
Tool #14 – Heap
Heap automatically captures every user action in your web or iOS app and lets you measure it after the fact. Clicks, taps, swipes, form submissions, page views.
You're no longer limited by events you thought to log upfront. Heap builds analytics infrastructure for every online business. They automate the annoying parts of user analytics.
Competition website visitors, referral sources, etc. It is a digital market intelligence platform to compare website traffic statistics & analytics.
Independent Twitter Analytics for any Twitter account without the monthly fee. You can run reports on any public Twitter, Facebook, Instagram or YouTube account without a monthly fee, its a independent analytics platform for Twitter, Facebook, Instagram or YouTube accounts.
Click Fraud prevention and IP analytics – one of the most essential growth hacking tools for growing businesses.
Amplitude is a web and mobile analytics platform that helps you build better products. Discover user behaviour insights about retention, engagement, and revenue. Analytics tool that gives you behavioral charts, cohorts, retention by some behavior you can set
Simple integration for all types of analytics, and A/B testing with one tool.
All in one web Analytics and feedback platform. See how visitors are really using your website, collect user feedback and turn more visitors into customers.
Records the screens of real users on your website. Easy setup & use. Supports all big platforms, making it one of the must-have growth hacking tools. Look at your website through your customer's eyes.
Marketing Automation Tools
Marketing automation tools can be used to hack your business' acquisition, activation and retention.
What is meant by marketing automation software?
Marketing automation software or tool helps marketers to automate all the process and steps in marketing like social media, email or any website action. As this steps are quite frequent and require personalisation at times to increase probability of success automating these processes saves a lot of time for marketers. Marketing automation tools also helps to organize all marketing data in one place to make data driven decision.
HubSpot's software contains everything you need to do internet marketing. From blogging to email and social – it's an all-in-one integrated solution and one of the best growth hacking tools for startups.
Automate your small business sales and marketing while combining your CRM, email marketing, lead capture and e-commerce in one place.
Integrated email marketing, marketing automation, and small business CRM. Send beautiful newsletters, setup behavioural based automations, and benefit from sales automation
Marketo's powerful marketing automation software helps marketers master the art & science of digital marketing to engage customers and prospects. One of the essential growth hacking tools to engage customers.
Pardot B2B marketing automation by Salesforce helps marketers create more leads, generate more leads in the pipeline, and empower sales to close more deals.
Agile CRM is an easy, powerful, affordable Customer Relationship Management (CRM) software with sales and marketing automation for small businesses.
Complete Marketing Automation and CRM software for businesses. Organize your lead capture, lead management, sales management & analytics in one platform.
Keep your marketing & engagement activities in perfect sync with Analytics, Task, CRM, Automation, Insights, Messenger and Campaigns.
Customer Referral Tools
InviteReferrals is a simple software to help your company grow through customer acquisition and referral programs. The integration is possible with eCommerce platforms, for example, WooCommerce, Shopify, Magento etc. Referral Widget is adaptable according to the platform.
Woorise is an online contest creation platform. With the help of this platform you can develop landing pages, polls, surveys, and forms online. You can use this tool to improve your email list. What's best about Woorise is that they have pre-designed templates that can be used in your campaigns. Woorise has simplified the customization of campaigns. It also offers different campaigns with advanced features such as Polls, Quizzes, Surveys, Feedback Forms, Event Registration, Online Order & Payments, Newsletter Signup, and Application Forms.
Bloop Referrals & Rewards is a referral marketing app provided by Shopify. It is an effective solution to enable refer-a-friend options actions to improve customer lifetime value and sales through rewards.
Referral Rock helps independent entrepreneurs and small businesses get more referrals through referral strategies and services. Users can publish, track and analyze referral promotions that generate new leads. Referral Rock has the possibility to integrate with different platforms such as HubSpot, Intercom, Salesforce, and more.
ReferralMagic is a referral software for SaaS. It enables tracking your referrals, building referral programs, and referral campaigns using the company's branding. It is an easy-to-integrate full-stack solution. You can also give referral rewards to certain users, making new acquisition channels to boost the usability of your app and eCommerce. It integrates with other growth hacking tools like Zapier and Mailchimp.
ReferralCandy is a SaaS application which helps to boost referrals among customers and increase sales. It is dedicated to eCommerce stores and it is easy to integrate with many other tools like Google Analytics or Shopify. Build your referral program with ReferralCandy and convince yourself that word-of-mouth marketing is a profitable investment.
Extole is a referral marketing platform that enables the creation of referral and advocate programs with experts' help. It scales referral actions, generating new brand advocates and referrers. This service works for enterprise retail and consumer financial brands.
SaaSquatch is a referral marketing tool designed for every business size to manage, implement and track reward programs. Some features are acquisition, retargeting, fraud detection, reporting, and analytics. It is one of the best holistic growth hacking tools. Moreover, users can publish referral programs through different platforms and automate partner and loyalty campaigns. It is also easy with this tool to evaluate lifetime value and profitability. SaaSquatch's integrations are with, for example, HubSpot, Segment, and Salesforce
Mention Me is a referral marketing tool that helps brands create profitable and powerful referrals. A unique Referral Engineering strategy easily evaluates the relevance of referral performance. Mention Me is focused on brand advocacy-first thinking using referral programs, customer experience, and acquisition strategy channels. Partner networks include brands like Klaviyo, Ometria, and Trustpilot.
Friendbuy is a referral marketing tool for SaaS, that provides loyalty and referral programs and rewards. It is a very popular tool used by companies such as Nestle, Disney, and Intuit. Friendbuy is designed mainly for eCommerce businesses.
Genius Referrals is a tool that focuses on such things as creating brand advocates and automating referral processes. Features include creating referral rewards, managing referrals, multiple channels offer to advocates, and customization of different aspects of referral programs, for example, different languages.
Referral Factory is a referral marketing software that simply helps to manage referral programs. Features include User Verification and Fraud Alerts, Unlimited Campaigns, 1000+ Referral Program Templates, Landing Page Builder, Referrers Invites, User Notifications, Social Sharing, and Remarketing Scripts. It integrates with tools like Intercom, HubSpot, and Salesforce.
LinkTrust as a tool enables tracking the efficiency of various types of performance marketing campaigns, including referral, influencer, affiliate, and partner. You can create loyalty or referral programs and use lead generation tools for automation, lead tracking, and selling leads to buyers.
AppVirality is a referral marketing software for Saas products and mobile apps. This platform is ideal for e-commerce businesses by its way of creating and automating referral marketing campaigns. AppVirality's platform design helps businesses accelerate their growth. Referrals for apps and Referrals for SaaS are the two products of AppVirality. Businesses can create fully customizable referral awards. It is also possible to create your own referral rules. Basically, this would indicate how much they would get and how they would get it.
GrowSurf is another referral marketing tool. This platform allows you to collect unlimited leads, have unlimited campaigns, and create flexible rewards. With GrowSurf you can have fun creating refer-a-friend campaigns, pre-launch waitlists, leaderboards, and viral contests. It has a very user-friendly and easy-to-use interface that is simple for marketers. It is various features like embedded forms, email integrations, call-to-action buttons, and hosted page forms.
Talkable is a referral platform that provides loyalty and referral programs. Users can also lunch campaigns, analyze data, get insights about channels, brand friends, and advocates, running experiments according to the data. There are also a lot of integrations you can use while using this tool. Talkable offers some plans to use: Managed, Self-served, and Enterprise.
Referral Hero is a referral marketing tool that provides solutions to help businesses grow by personal recommendations. Some features are creating beautiful referral widgets, leaderboard with current referrals, referral analysis. It can be used by medium and large business. Available integrations include Zapier, ActiveCampaign, Mailchimp, Slack.
Influitive is a referral marketing tool that provides solutions in customer service. These products help discover, nurture, and mobilise brand advocates to boost sales and grow customer lifetime value. Influitive features are the allowance to build a community, and making invitations to partners, customers, and employees to complete tasks like referrals, product reviews, and social media posts. They compete and earn at some levels with points that give them privileges. Influitive also enables reporting and visualising all users' actions with Return On Investment. You can integrate this tool with CRM and the marketing automation platform.
Revetize enables businesses to create referral and loyalty programs. You can run campaigns, make personalized landing pages, use drip marketing through campaigns, and use mobile applications with referral efforts. It is also possible to talk with an expert about the relevance of your referral programs.
Prefinery is a referral marketing tool that enables to launch refer-a-friend or viral waitlist campaigns. It has over 15k+ users and recognisable customers. You can build referral programs, and viral waitlists with custom forms. There are also more features around embedding and design. It is possible to add your own rewards, segmentations, and leaderboards.
Invitebox is a social and viral marketing tool that enables you to build referral programs and launch referral campaigns. Some features include reward programs for various business situations, exclusive benefits as rewards at a low cost to the company, tips for referral programs, sweepstakes giveaways, and referral contests. InviteBox is designed to be used by different businesses, from start-ups to big corporations.
HelloReferrals is a referral marketing software that helps tracking referrals within the referral group. You can acquire new users, boost sales and revenue. It is easy to manage referrals and exchange sales leads. Other features include tracking, reporting, organizing the most relevant business partners, sending and receiving word-of-mouth leads as well as business referrals. Moreover, there is possibility to manage leads and referrals, communicate with referral network, sending emails, making automations, setting referral rewards, and analyse data.
Incentivefox is a platform that helps with personalized referrals, tracking, and rewarding leads from campaigns. Bult-in technology automates processes: user enrollment, tracking, and rewards maintaining lower cost per acquisition. Incentivefox provides tools that are well aligned with existing, and new programs. It is designed to achieve satisfactory results for different business models.
Conclusion:
That was our list of top growth hacking tools for businesses to up their digital marketing game and grow their business.
When millions of people use your product every day, and you can view, track and experiment with the power of technology, growth hacking becomes real fun. But if you have a small set of users, experiment validation may get restricted by sample size.
So, putting together these tools places a lot of power in the hands of growth hackers who can run various experiments, track data, behaviour analysis and social media engagement to drive business growth.
About the Author
Chandala Takalkar is a young content marketer and creative with experience in content, copy, corporate communications, and design. A digital native, she has the ability to craft content and copy that suits the medium and connects. Prior to Team upGrowth, she worked as an English trainer. Her experience includes all forms of copy and content writing, from Social Media communication to email marketing.