A Compilation of SEO Resources: Find the Best, Relevant & Latest SEO Growth Tools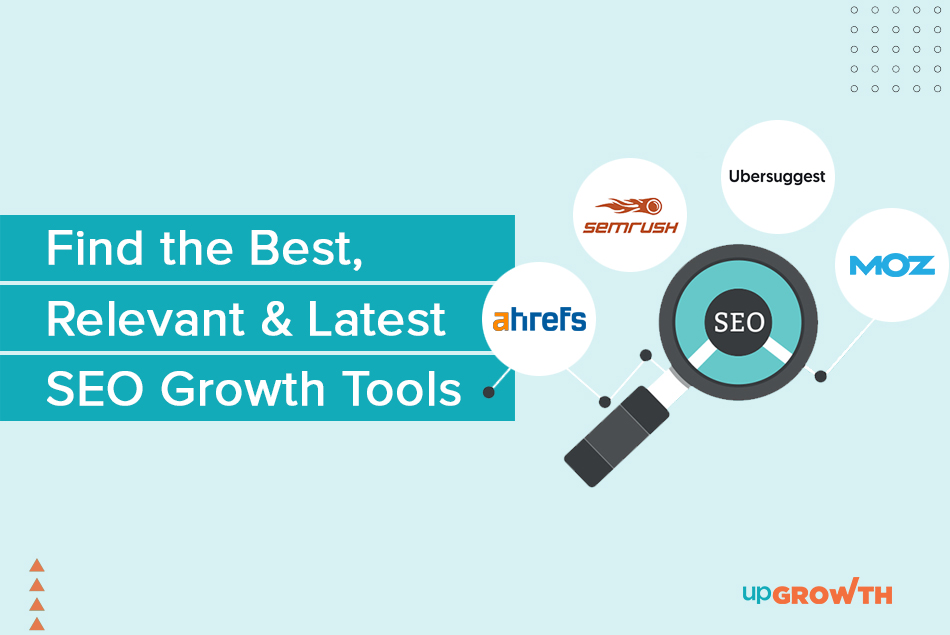 This guide is an on-going open source attempt by team upGrowth to organize the best tools and resources for search engine optimization (SEO). If you're looking for help on a SEO project, we also take on clients here.
Content:
ON Page SEO
Website Crawlers Tools
DeepCrawl is an extensively crafted end-to-end technical SEO platform for identifying and monitoring key issues that could affect SEO performance. It is a cloud-based web crawling technology that provides a comprehensive SEO "full-body scan" to detect opportunities for growth and to protect your site from revenue-sapping codes.
Screaming Frog SEO Spider is a website crawling tool that can crawl both small and very large websites, from an onsite SEO perspective, to review and identify flaws which can hurt a website's performance in search results. The tool enables tracking broken links and server errors and exporting the source URLs to developers for correction along with other features like detecting duplicate content.
Semrush is an all in one SEO tool that does your keyword research, tracks the keyword strategy your competition uses, runs an SEO audit of your blog, looks for backlinking opportunities, and lots more. Its Site Audit tool is powerful with filters, scheduled crawls, and more that keep you on top of your site's health and help you identify and fix problems on the go. Overall, it is a useful tool that makes a huge impact on your content marketing from strategy, to research, to optimization, and beyond.
Sitechecker.pro is an easy-to-use SEO tool that has a side function to help you with your SEO campaign. It functions as an on-page site checker and helps with all aspects of SEO, such as website crawling, backlinks analysis and more all on one platform. It includes generous amounts of data and guides through the steps to improve performance as well as automatically generated reports and notifications about important changes.
Link-Assistant is packed with a plethora of revolutionary features. It is an SEO tool with an all in one solution for link exchange needs, website analysis, optimization facilities and much more. This software provides thousands of backlink opportunities with about 7.1 billion pages crawled daily.
Hexometer is an SEO tool that focuses on the website's health and performance. This tool continuously monitors and scans data points to detect and report errors before they affect the website's performance. It keeps a close eye on website structure, page errors and broken links to analyse the on-page SEO for optimal rankings.
Ahrefs is a tool to help SEO professionals to perform multiple tasks such as link building, keyword research, competitor analysis, rank tracking and site audits. It also helps in website crawling and auditing through AhrefsBot, which analyzes websites in search of issues with technical SEO and on-page SEO. It constantly crawls the web to fill the database with new links and recrawls to check the previously found ones to provide the most comprehensive and up-to-the-minute data.
Content Tools
Duplichecker is a plagiarism checker tool that can identify the occurrence of plagiarism or copyright infringement within a work of content for a writer, teacher, student blogger, webmaster, or any document. In addition, it also has a grammar checker tool that helps in the identification of the spelling or punctuation mistakes.
Copyscape provides a free plagiarism checker for copies of your web pages online, as well as two more powerful professional solutions for preventing content theft and content fraud. It also offers free plagiarism warning banners for your website to warn potential plagiarists against stealing your content.
Copyleaks is a cloud-based authentication platform that detects plagiarism, paraphrased content, and similar text using sophisticated Artificial Intelligence (AI) based algorithms in 100+ languages. It has a cheat detection feature that can find characters that have been included in the text with the intention to cheat or "fool" a plagiarism scan.
PaperRater is a 3 in 1 tool that checks your text for grammar mistakes, has it proofread with suggestions for different wording as well as has it checked for plagiarism. It also provides feedback that can be incorporated into the text before you pass it on for a final grade from a human to make the content even better.
Grammarly is an online grammar checker tool that scans your text for all types of mistakes, from typos to sentence structure problems and beyond. It can be also used to detect plagiarism of the content.
Ginger Grammar Checker tool helps to correct grammar mistakes, spelling mistakes and misused words, with unmatched accuracy. Ginger's grammar check software helps you write efficiently correct text and improves your text just like a human reviewer would.
BuzzSumo is a cloud-based platform that helps you discover the best engagement, content and outreach opportunities across social and search.
Keyword Tools
Keyword Density Checker is an SEO tool built solely to help you analyze the keyword density of your web page. This tool solves the problem of stuffing loads of keywords and using irrelevant keywords in the content that affects the quality of the content.
Keyword Suggestion Tool is the best SEO tool, helping in the key activity of SEO of getting a list of suggested keywords for the seed keyword for your specific purpose. It generates relevant keywords automatically and improves performance by enabling you to target more search terms. It also helps in saving ample time and effort while performing SEO.
Keyword Analysis & Research Tool is the most commonly used SEO tool that enables you to get a detailed overview of particular keywords such as the search volume, CPC, and competition for a keyword. It helps you in performing the key task of keyword analysis and research for improving your ranking on search engines. This tool also helps in analyzing the keywords, both long-tail keywords and single-word keywords, to attract the right kind of audience for the website.
Moz Keyword Explorer is the most comprehensive keyword research tool that helps you identify traffic-driving keywords and most searched keywords as well as provides metrics regarding the keywords. This tool saves time by providing more suggestions, filtering by metrics, and building lists to organize your keyword research.
Ubersuggest is an SEO tool that helps in generating new keyword ideas to improve and expand your content marketing strategy. It is a multi-purpose tool that also helps in generating content ideas, analyzing backlink data and much more, to improve the website performance and gain more organic visitors.
The Keyword Planner tool helps you research important keywords for your search campaigns and to find data for certain keywords like search numbers, competition, and ad pricing. It also provides another way to create search network campaigns that's centered around in-depth keyword research.
GetKeywords is a keyword research and audience analysis tool built to help with local SEO keywords. It fetches all the data from suggestions, volume, CPC, audience data to SERP.
Keyword Position Checker is a tool used to detect the exact position of a keyword in the search engine. This tool aims at revealing the best ways the user will have a better means of being ranked higher than their competitors in the case of an organic search for the keywords.
Advanced Web Ranking is an SEO software suite that primarily focuses on the tracking, management, and reporting to deliver localized rankings with pinpoint accuracy on all major search engines. It allows you to manage unlimited number of projects, websites, and keywords from the research stage to day-to-day tracking.
Off-Page SEO
Backlink Audit
Linkclump is a productivity tool that gathers data within the link prospecting stage of outreach. It helps speed up the capture and analysis of multiple links at once on a page and then serves an action for those links, whether it be filtering the links, attaching the links or opening them in multiple tabs.
Check My Links is a link checker tool that crawls through the pages of the website to identify broken links. It is also used to identify no-follow links and to identify new links or links that were previously broken. It has an autocheck option to study the URL of any domain in your current tab.
SEOquake is an easy-to-use browser plugin that checks the webpage for a huge selection of SEO parameters. It is useful for a no. of SEO tasks such as conducting on-page SEO audits, examine internal and external links, compares domains and URLs and much more.
Money Robot is high-quality backlinking automation software that publishes your content and backlinks to thousands of websites. The software is also the only blog creator software that is able to create and manage an unlimited number of blogs.
LinkLifting tool offers a complete 360 degree link building services for small business in different niches. It provides only highly relevant white-hat backlinks and SEO progress reports with daily position monitoring.
Majestic SEO is an SEO software tool that has its core function of link analysis. This tool crawls the web to build its links database. It provides a complete view of the authority dimension by focusing on both the quality and quantity of backlinks.
Raven Tools is a cloud-based digital marketing platform with a set of SEO parameters such as on-site audits, rank tracking and reporting to efficiently acquire and track important metrics for search engine optimization.
Free Broken Link Checker is a tool that scans for broken or dead links on any website in minutes. It also provides additional information such as where exactly those stale hyperlinks are located in the HTML code, highlighting problematic tags and much more.
Dead Link Checker tool helps in improving the quality of the content by crawling systematically through the webpage and identifying all the broken links. It can run scanning on multiple websites in one go and email the report automatically.
Linkody is an SEO tool for marketeers, SEO agencies, and site owners that provides backlinks management and tracking to improve the ranking on search engines. It monitors any new links on the website and stores them, also from time to time it checks for any lost links so you could reclaim them.
PA and DA
Website SEO checker is a tool that enables you to check the domain authority of websites with other analyses and all of the metrics you need to measure URL Authority. It provides detailed information such as the age of the domain, no. of external backlinks, no. of follow and no follow links, and much more.
SEO Small Tool Domain Authority Checker is the most popular free tool on the web that allows you to check the Domain Authority score of a website. This tool also shows you the website's page authority, Moz Rank & other information which takes a lot of time for the SEO experts to search for.
Ahrefs Website Authority Checker tool provides the website's authority metrics in its own called Domain Rating score. This rating scale varies from zero to a hundred of which 100 is the highest which indicates a stronger and more authoritative domain.
Best SEO Chrome Extensions
MozBar lets users check SEO within their browser in just one click. It also shares metrics while reviewing any webpage, allowing users to export SERPs into a CRV file and access the data. Upgrading to MozBar Premium offers added functionality like keyword difficulty analysis, page optimization, digger SERP metrics etc.
Keywords Everywhere is a tool that gives users info on 3 distinct metrics for keywords on Google: monthly search volume, cost per click (CPC) and Adwords competition. It's an in-browser extension and saves you the trouble of toggling between Google Keywords to your open browser page/tab. 
GrowthBar is a Chrome extension that gives users instant access to the growth channels and keywords that are working well for any website. You can unlock crucial SEO data points like the best-performing keywords, keyword ranking difficulty score, backlink data, domain authority, page word count, Facebook ads, and more.
SimilarWeb is a popular extension that gives users access to key metrics for any website. You can see statistics and strategies while browsing the internet, in just one click. It helps you discover new SEO strategies and analyze market trends
What the red line does for grammar mistake in Microsoft Word, Redirect Path does for SEO. This extension flags issues like 301, 302, 404, 500 HTTP Status Codes, Meta, and Javascript redirects, catching potential issues in an instant. It also shows other HTTP headers and server IP addresses.
This tool shows all meta tags and key SEO information for a web page in just one click. This includes the length of titles and descriptions, URL, headers (in the order of their appearance), and even the number of images that don't have alt text.
BuzzSumo helps track SEO metrics for your social channels. Track shares, top-performing content and more across your social media pages. The data from BuzzSumo helps with future SEO endeavours in addition to checking the backlinks you provide on your pages.
Mangools lets you check the SEO strength of website using top metrics from Moz and Majestic. Premium features include analysis and data on keywords, backlinks, and profile analysis.
If you want to learn what the world is searching for, then use Google Trends, which is part of Google Webmaster Tools. Trends presents analytics in the form of graphs, on top searches in Google from across the globe. Google Trends can help you identify the SEO performance of your website.
SEMrush is a rich dashboard that gives you data on domain performance and individual webpage performance. A key feature is its SEO toolkit, which lets users analyse backlinks and keep an eye on keyword rank. SEMrush also provides on-page SEO suggestions.
Serpstat is a one-click tool where you can instantly check the SEO of your website and your competitor's! Click the icon to access a full SEO audit of the domain. Tools include on-page SEO parameters, page analysis and domain analysis.
Ahrefs studies website properties and shares keywords, links and ranking profiles that help improve the overall SEO of your website. To receive a detailed report on an SEO metric, just click on it. It comes as an SEO toolbar in  Chrome. 
Check My Links does just that – it checks your links! It scans webpages for broken links and makes sure links are working properly, which is very helpful when designing a link-heavy webpage. 
This is a free tool from NinjaOutreach that enables browsers with advanced data mining capabilities. It also offers SEO functions such as webpage URL, title, links, meta descriptions, follower counts on social media, and monetization techniques.
Slow webpages, whether they are on mobile or desktop, need to be fixed. PageSpeed Insights is an SEO tool that is part of Google Webmaster Tools, that runs an analysis and gives a score on the speed of a site site and provides suggestions on how to make the web pages run faster.
Similar to PageSpeed Insights, Woorank gives users suggestions on how to improve their webpages, with in-depth reports on online visibility, usability, social media, etc, giving you tools to keep track of ways to improve different metrics.
NoFollow is a great marketing tool that gives marketers an outline of webpages that are coded with NoFollow's metatag. Users can identity external webpages that are backlinking to their site with indexed links (NoFollow links don't add to SEO metrics.) Fo page that you don't want indexed – like landing pages – NoFollow runs a check to see if those pages are coded correctly and will alert of any links that aren't working correctly.
BuzzStream is an outreach tools that allows marketers to organize and perform outreach activities. Their extension, BuzzMarker, connects with BuzzStream to assist in link building, content promotion and influencer pitches.
The SEO Spider from Screaming Frog gives you the ability to crawl website URLs and add elements to analyse SEO and fix any issues, like finding broken links, discovering duplicate pages and site visualisations. This makes the whole SEO process simple and gives you insights on backlink building and keyword accuracy.
The Ubersuggest SEO Chrome is a fantastic SEO research KW tool extension that shows you keyword data right in the SERPs. It also shows you related keyword data with their information, which can be viewed on the SERPs or exported into a CSV file.
SEO Quake is an SEO extension from SEMrush that offers a simple tool to monitor on-page SEO. Users get a holistic view of on-page metrics like meta tags, header tags, canonicals, sitemaps, and more, in an easy to digits format. 
Meta SEO Inspector is a free SEO Chrome extension that comes in handy to optimize the metadata of your website and its URLs. You gain critical information for the metadata of your webpages, like schema, headers, alt text, canonical tags, and much more.
Similar to other on-page SEO extensions, SEO Minion is great or people looking for an extension to specifically analyze on-page SEO elements. It highlights on-page elements like metadata, broken links,  alt texts, and more.
Keyword Surfer is an extension that imports all the data related to keyword search directly into your Google interface. Get insights on monthly traffic, related keywords, volume, CTR and much more.
This SEO Chrome extension gives you real-time insights related to rankings on any site or keywords. Put in the KW and the tool displays the current rankings of the keywords, with the option to filter country or region. It's a great tool to track competitor performance and client site performance.
This toolbar helps you customize your searches in Google, Bing, and Yandex. If you choose to enable it as a page toolbar, you can check page-wise advanced SEO metrics.
Link Redirect Trace shows you the URL path of any webpage, along with all the HTTP response codes that are associated with that particular URL. This helps you uncover unnecessary redirects, wrong codes, and how "indexable" your website is. It tells you which URL is indexable and canonicalized, the HTTP response time of the URL, and and how easily can it be crawled.
As we know, Google search results can vary by location and tend to be location-dependant. This extension makes it easier for users to see top-ranking results based on location. You can also find top-ranking results based on non-personalized filters.
Debugger (part of Google Analytics) is an extension helps you identify tracking errors on your web pages. It also conducts an in-depth quality performance check which is useful in your marketing campaigns.  UTM parameters, identifying do-follow links, bad quality internal links, and much more can be detected by GA Debugger.
The Page Analytics Chrome Extension allows you to see how customers interact with your web pages, including what they click and don't click.
SERPTrends is an extension from Outer Box that  keeps track of all your searches online. When you perform the same search multiple times, it shows the ranking movement for that search, directly in the search engine.
SEOStack is a KW research tool that generates thousands of keyword ideas from a primary keyword by scraping autocomplete suggestions from online sources such as Google, Youtube, Bing, Yahoo, Amazon, and more.
TextOptimizer is a writing assistant tool that analyses search results in order to generate intent tables. These tables contain similar/synomymous terms that help you to cater to search engine requirements, helping you gain greater visibility in SERPs.
Lighthouse is a tool that validates a webpage and gives suggestions on how to enhance site performance, visibility, accessibility, and SEO for both mobile and desktop.
Mobile-responsive sites and pages have a tendency to load slower. AMP (Accelerated Mobile Pages) solve this problem – they are are open-sourced codes that help you increase page load speed on mobile phones. SEO has a role to play in AMP as well and the AMP Validator extension checks if the pages of a website are optimized for search engines. Poorly optimized pages will show a red signal on the icon.
This tool helps you do a thorough analysis of backlinks on your website, looking at metrics like summary, backlinks, and anchor text.  The summary tab shows a bigger picture of the webpage, with trust flow, citation flow, external backlinks, referring domains, and backlink history.
Grammarly is a plugin that is used to check content and copy for grammatical errors, spelling mistakes, plagiarism, tonality and readability. Whether it's blog posts, landing pages, or business and marketing emails, Grammarly helps you compose better messages and content for your audience.
The Snippet chrome extension is used by content marketers to highlight sections of content on the web. It helps locate and identify reference points within a piece of content/source material faster.
Linkclump helps you open multiple links on a page in separate tabs or windows, without going the manual route.  You can also bookmark or copy  links to your clipboard in no time and access them whenever you need to, saving time and effort. 
This toolbar helps calculate the time it takes for a web page to load. Each time you visit a website, the extension notifies you of the page loading speed, which shows up on the top right corner of the toolbar.