Know the Best Customer Acquisition Tools to Broaden Your Clientele
Published: September 5, 2022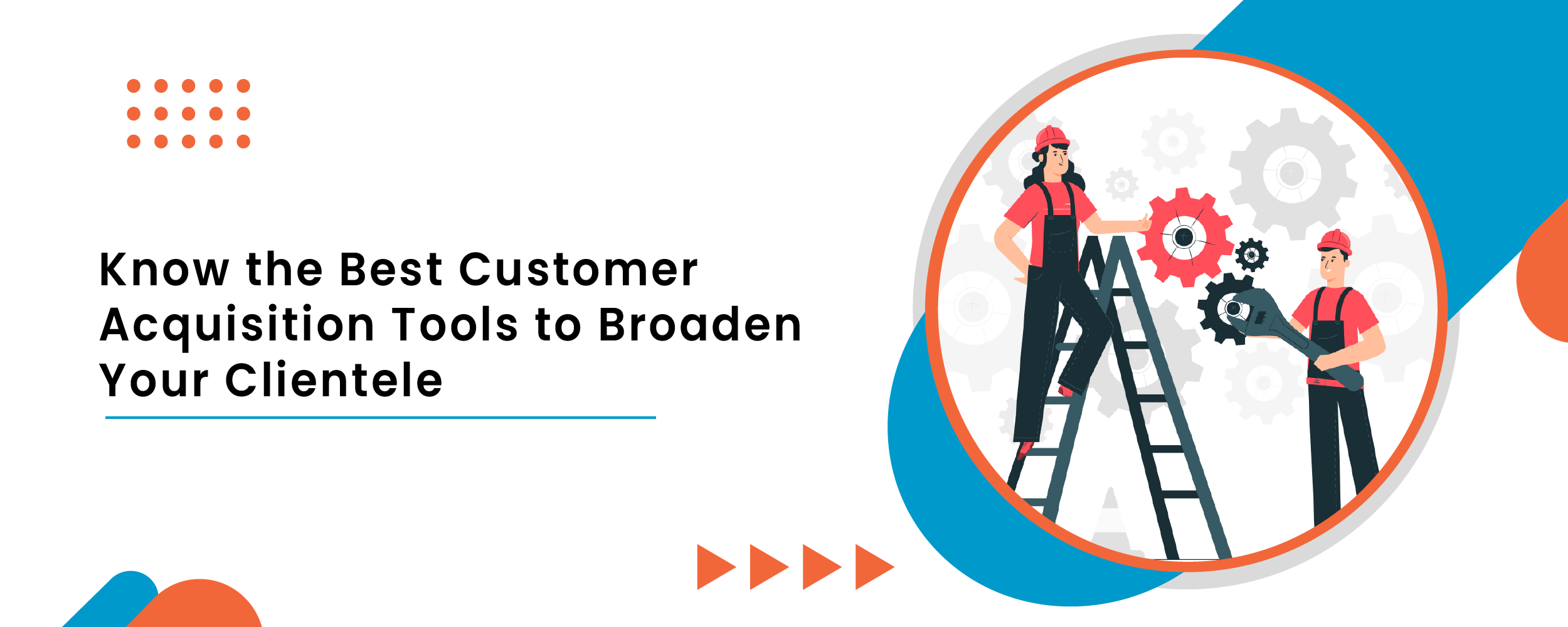 Customers do business! So required to understand customer acquisition tools.
The primary objective of many firms is to attract new clients. Because what is a business without its customers?
It's the fundamental reason for keeping up with the development of marketing strategies, onsite retargeting, and outside advertising. Any business's main objective is to attract customers and outperform the competition.
As an entrepreneur, you know how difficult and time-consuming it is to bring new clients into the sales cycle. Thus, here is a list of trends and tried & tested customer acquisition tools that will help you build creative strategies that attract customers.
Here is the list of our Best Customer Acquisition Tools for you:
Email Outreach Tool
SellHack is a tool that enables users to find and verify prospects' emails and build lead lists. You can also send cold emails and follow-ups and manage sales pipeline-choosing activities. With a free plan, you can search up to 10 emails per month.
Email finders
Market and Sales Intelligence Platform solution produces results across sales and marketing operations. One of the most practical growth hacking tools offers a free trial for 30 days (no credit card is needed) plus Essential and Enterprise.
Lead411 is a B2B Marketing/Sales Intelligence platform with relevant sales triggers and accurate decision-maker data so you can close more deals! Free trial for seven days + Small biz 100, Small biz 300, Enterprize. Unfortunately, it works only for the US market, so it is not one of the best growth hacking tools if you are outside the US.
Tool #3 – 1000leads
1000leads provides lead contacts based on your search criteria as an automated solution. You can receive all the info needed to make a new customer – one of the best lead generation growth hacking tools.
Find Prospects with AeroLeads Lead Generation Software. Email Finder, Email Verifier, B2B listing building Tool. Get 20+ leads free leads to start with.
LeadIQ is the fastest way for sales teams and recruiters to build lists of verified contact data from the web and sync it with Salesforce. Get started with ten free emails, 50 profiles + Pro, Growth, Business, and Ultimate monthly plans.
One of the best lead-search growth hacking tools! Find thousands of influencers & leads instantly in any country. Outreach to them at a fraction of the time and cost! Ninja Outreach is a blogger outreach software CRM perfect for influencer marketing. Empower your PR team to find and outreach to bloggers.
Tool #7 – Etools
One of the fastest growth hacking tools, Etools is powerful outbound prospecting and email outreach tool for finding the best domain or company email addresses in seconds.
Whom should I contact at a company? This is one of the most accessible Customer Acquisition Tools and is a convenient way to find professional email addresses. Give a domain name and get the list of all the emails related to it found on the internet.
Rapportive shows you everything about your contacts right inside your inbox. They combine what you know, what your organization knows, and what the web knows.
To assist your organization's expansion through contact enlargement, lead creation, and financial compliance, Clearbit offers strong solutions and data APIs.
We need customer acquisition tools that can help us find prospects. Find anyone's corporate email address using Voila Norbert. VoilaNorbert enables to search for email addresses and related data. Search for whom you want to write first name, last name, and company domain. The tool will show email addresses and results.
Tool #12 – Toofr
Thousands of inside sales reps use Toofr tools to find email addresses, look up emails, and verify emails in their CRMs.
Find and verify email addresses with this online tool. Search by a person's name, domain, or social network to find and validate individual or bulk emails.
Buzzstream allows you to review your outreach efforts. It provides solutions like press lists, building media or influencers, monitoring links, pitching, researching prospects, mailing, and helping in content distribution. One of the multi-functional customer acquisition tools that take your outreach efforts to the next level. Used by companies like Canva, Adobe, and Shopify.
Email Marketing tool
Aweber is an email marketing service provider. It provides all the possible solutions to grow your email list, increase sales and engage with your audience. It helps you run your business efficiently by getting more customers and boosting sales through landing pages and sign-up forms. They have tailored web push notifications according to customers' interests. Aweber controls everything ends to end, which helps in ensuring that our emails stay out of the junk folder.
FireDrum is a tool used by top marketers that enables them to generate appealing and engaging email templates that drive more traffic and earn more clicks than usual. The email templates are customizable, giving you complete flexibility and extra creativity. On average, marketers switching to FireDrum save up to 50% or more.
One of the leading customer acquisition tools – Popcorn, is a CRM and Email Marketing Software and customer acquisition software that helps generate and manage your leads in one place. Hence, you no longer need to maintain mailing lists. Popcorn offers tagging, reminders, and sales pipelines, making finding the right prospects for your business easy.
Regarding email marketing, mail chimp is the first choice of email marketers. This tool has changed the perspective of email marketing. This is an email automation tool that claims to generate higher revenues. It also helps you to create a click-worthy content drag-and-drop design tool.
DirectIQ is an email marketing tool providing an A/B testing campaign setup. Instead, this tool offers customized templates for emails as well. This tool also suits marketers to integrate social media with their email campaigns.
Tool #6 – Mailsend
Mailsend is a tool that makes your email marketing easier. It helps you to create, manage and send newsletters to your email subscribers. It has an in-build drag-and-drop template builder that enables you to create easy and attractive email templates. You can create several templates with many customizations available on this software.
Looking for customer acquisition tools that take care of the email content? Here's your answer – Salemate is a sales-oriented customer acquisition software for email marketing that focuses on increasing your sales. This tool helps to target potential leads and convert them into customers with all automated and well-designed emails. Since the tool focuses on sales, it offers bulk messages, calls, voicemails, and more in one place.
A pocket-friendly email marketing tool for marketers who wish to escalate their businesses through email marketing. This tool enables you to customize and design email templates with the help of its drag-and-drop feature. It provides data and insights into your subscribers to personalize emails according to the people.
Intuitive customer acquisition tools are what savvy marketers need. Another useful email marketing tool that grows businesses with its intuitive features. With this tool, you can design your messages, add more visuality, get personalized with texts, and more. The all-in-one marketing tool which takes your marketing skills to the next level.
Public Relations Tools
Anewstip is a PR tool for searching out media, influencers, and journalists who mention certain subjects on social media, articles, and other platforms. Additionally, it has features like setting up alerts, scoring, and filtering by mentions, including keyword, subject, language, topic, and time.
Awario is a social listening tool that provides insights into the market, competitors, and customers. Using this tool, you can also test web search mechanisms for businesses. Tracking your brand's mentions is done across blogs, social media, forums, and news sites.
Muck Rack is a PR tool that enables communication with journalists: searching them by topic, keywords, location, etc., and monitoring the content posted by them. In Pro Plan, you can do many more things, like building media lists, media monitoring emails, and tracking brand mentions by journalists. Additionally, there is integration with social media in reaching relevant people; also, through other features, you can get much information that will help to create lists of media outlets.
Prowly is a comprehensive public relations platform. Some functionalities are an online pressroom, contact with journalists and bloggers, and effectiveness measurement. Additionally, Prowly has a CRM feature, SEO optimization for content, press release distribution, email templates, analytics tool, and a dedicated press center – press office, blog, content platform, and website.
Business Wire offers optimization and distribution possibilities for public relations, investor relations, press releases, channels, audience targeting, tracking, and founding your business by searching through search engines. The audience is targeted based on various data segments. This tool works on a large scale of 89,000 media outlets in 162 countries.
PR Newswire enables the production, targeting, distribution, and optimize content. It is possible to do this enormously in different countries and languages. Some features are customer service, help to review your content, easy usability, tracking insights, and SEO service.
Tool #7 – HARO
HARO (Help a Reporter Out – a.k.a. HARO) is a PR tool that connects journalists and bloggers with the public to gather valuable feedback. Haro shares its database of sources with opportunities to maintain relevant relations in the media.
PRGloo platform provides media relations features like influencer lists, reaching journalists, and contact management. It also creates press releases, distribution stacks, and newsrooms for specific audiences.
PR.co lets you publish your press releases online according to your brand values, having the company's digital newsroom. Your audience can better understand your image, and brand interests, through the creation of reading experiences. It is easy to organize contacts with CRM and send messages to stakeholders. Through inbound PR and your newsroom, PR.co helps you to acquire new profitable connections, allow your audience and media to follow your press releases, and grow your company's press list. Additionally, this tool can scale your newsroom, selecting different languages to get the interest of local journalists.
GlobeNewswire is a PR tool that helps you distribute press releases globally through online newsrooms. Your target audience is selected to fit with brand experience and goals. Targeting worldwide is beneficial and fast, acquiring media contacts and relevant customers. Also, some features are available, like social listening, media monitoring, media contacts database, press release distribution, creating newsrooms, and measurement analysis.
Prezly is a PR tool with built-in PR CRM, allowing you to create online newsrooms, visual press releases, and targeted PR campaigns.
It is a well-performing tool used by famous companies, for example, Red Bull. Moreover, you can track the best contacts to acquire and identify more possibilities. After preparing everything, you can conduct PR campaigns to delight the right audience.
Cision is a PR outreach tool that helps connect with journalists from top services, such as New York Times and CNN. You can track competitors with analytics, your brand positioning, keywords mentioned in media, etc.
Meltwater monitors media coverage across news and social media and enhances brand management. They have developed a series of products that helps focus on staying on top of our digital strategy and marketing performance.
Mention helps brands and agencies monitor the web and listen to their audience. Recognition also helps in managing social media. It helps engage our audience in a relevant way to grow our brand.
CoverageBook uses data from SimilarWeb and pulls monthly audience figures from the entire website. This data is considered as the numbers that stand on the day the coverage is uploaded to Coveragebook.com and is also based on all visits to the website the previous month. Using the Coverage book, we can spend less effort reporting on coverage and use our energy more on other essential PR parts.
Brand24 is a social monitoring tool for businesses of all sizes. It gathers and analyses all publicly available mentions of your keywords online. And it is all accessible from a single dashboard. It is also an award-winning app that helps you in tracking & engaging people talking about your company.
Covered Press is an all-in-one PR analysis, press tracking, and reporting tool. It is a single platform for many PR activities. With the help of this tool, publicists can brand their analytics portals and reports for clients through white labeling.
An affordable tool for client's press release distribution. PRWeb is owned by Cision (another PR Tool); PRWeb's pricing depends on the level or type of publications you prefer. It also provides response and tracking features for showcasing impact and results.
Using the media monitoring application Critical Mention, you can look up mentions of your brand and popular themes pertinent to your client on TV, radio, internet news, and social media. This application allows you to share and clip broadcast content and analyze the outlet's viewership and reach. The site offers account management and supports 24 hours a day.
Brandwatch is a corporate-level social site monitoring tool that can track ongoing PR campaigns. You can track related topics, mentions, user intent, the share of voice, and the top websites that mention the company. The tool can be incredibly beneficial during crises or if you need to track your competitor's steps. This is one of the customer acquisition tools that help you track your competitor's actions.
Agility PR Solutions provides effective yet reliable media database, tracking, and analytics solutions for communicators. The service helps you broadcast and examine the results of press releases, giving access to more than seven lakhs+ journalists, influencers, and bloggers worldwide. It also offers targeting and distribution options for reaching industries for targeting individuals based on location or job title.
In Conclusion:
Marketers and founders have their hands complete with multiple tasks and responsibilities. Agreed, most of you are excellent multi-taskers, but why not benefit from the technology and save time & effort? This lengthy list of customer acquisition tools will help you focus on acquiring prospects and, eventually, converting them into paying customers. Check out these latest tools and curate strategies to help you grow your business. 
FAQs
What are customer acquisition tools?
Software programs and other services that assist organizations in acquiring and retaining new clients are known as customer acquisition tools. These technologies may include, among others, CRM systems, lead generation tools, email marketing services, marketing automation software, and platforms for managing social media. Client acquisition solutions are designed to assist businesses in streamlining their marketing and sales initiatives, enhancing their messaging and targeting, and eventually growing their client base.
Why are customer acquisition tools important?
These technologies can assist you in developing the online profile of your company, expanding your clientele, attracting new clients, and retaining current ones. These tools can help you reach your target market and boost sales. We have compiled the top 16 customer acquisition tools for 2023.
What types of customer acquisition tools are available?
Types of Customer acquisition tools
-Content Marketing
-Live Chat
-Email Marketing
-Referral Programs
How do I measure the effectiveness of my customer acquisition tools?
Your customer acquisition cost (CAC), which is determined by dividing the total number of customers you had in a particular period by the amount of money your business spent on customer acquisition during that period, is the most crucial of these.
How do I choose the right customer acquisition tools for my business?
1. Identify your company's requirements and objectives. Decide what you hope to accomplish using client acquisition tools and which parts of your company you hope to enhance.
2. Examine several tools: Compare products based on their features, convenience of use, cost, and customer service to find those especially suited to your business's needs.
3. Verify ratings and reviews: Read testimonials from other companies or users of the tools you're investigating. This can assist you in better understanding the tool's advantages and disadvantages.
4. Try before you buy: Use free trials or demos to test various tools. This will allow you to determine whether the device is suitable for your needs and how it functions.
5. Consider integration: Ensure that your selected tools can be integrated with your current systems and procedures.
6. Monitor results: After selecting your tools, monitor your outcomes to see if they are assisting you in achieving your business objectives. If not, think about attempting a different device or changing your approach.
About the Author
Chandala Takalkar is a young content marketer and creative with experience in content, copy, corporate communications, and design. A digital native, she has the ability to craft content and copy that suits the medium and connects. Prior to Team upGrowth, she worked as an English trainer. Her experience includes all forms of copy and content writing, from Social Media communication to email marketing.