Know the Best Customer Acquisition Tools to Broaden Your Clientele
Published: September 5, 2022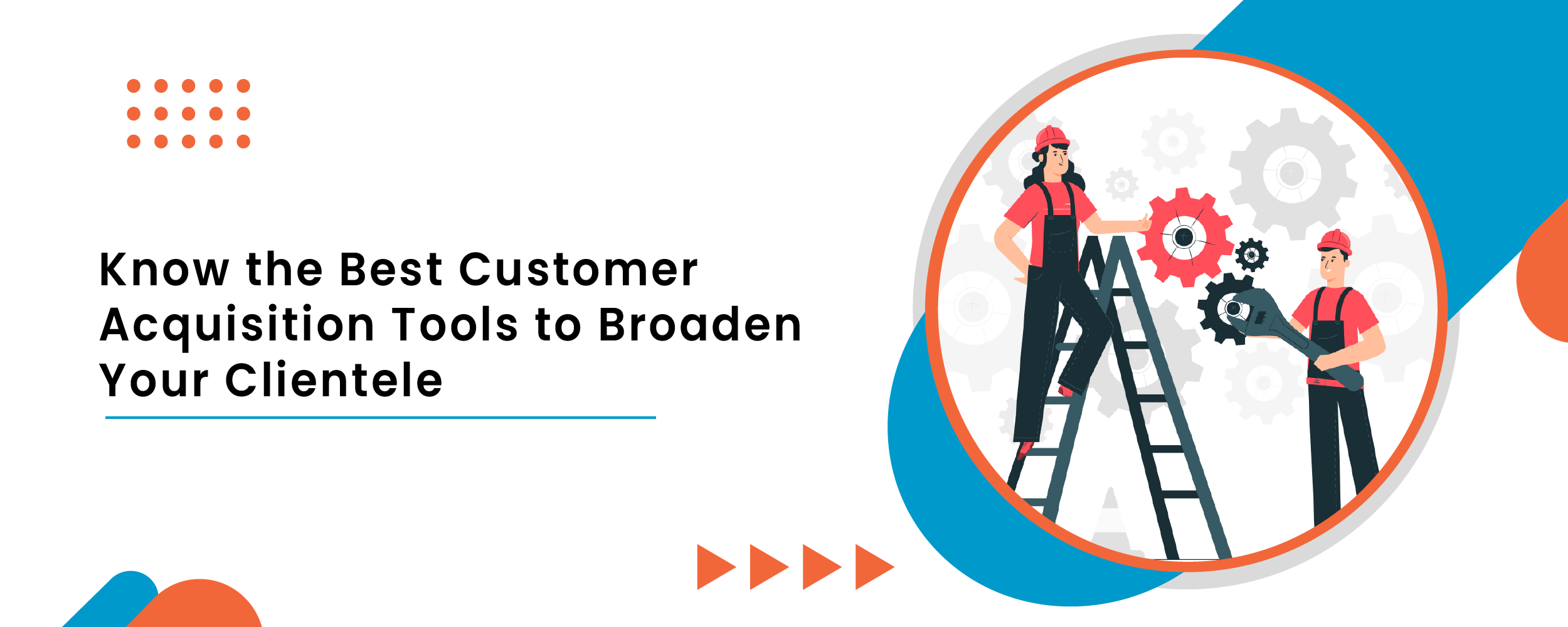 Customers make business!
Evidently, the major objective of many firms is to attract new clients. Because, what is a business without its customers?
It's the fundamental reason for keeping up with the development of marketing strategies, onsite retargeting, and outside advertising. The primary goal of any business is to attract customers and beat the competition.
Being an entrepreneur, you are aware of how difficult and time-consuming it is to bring new clients into the sales cycle. Thus, here is a list of trending, tried & tested customer acquisition tools that will help you build creative strategies that attract customers.
Here is the list of our Best Customer Acquisition Tools for you:
Email Outreach Tool
SellHack is a tool that enables users to find and verify prospects' emails and build lead lists. You can also send cold emails and follow-ups, and manage sales pipeline choosing activities. With a free plan, you can search up to 10 emails per month.
Email finders
Market and Sales Intelligence Platform solution produces results across sales and marketing operations. Free trial for 30 days (No card required) + Essential and Enterprise – one of the most convenient growth hacking tools.
Lead411 is a B2B Marketing/Sales Intelligence platform with relevant sales triggers and accurate decision-maker data so you can close more deals! Free trial for seven days + Small biz 100, Small biz 300, Enterprize. Works only for the US market, unfortunately, so not one of the best growth hacking tools if you are outside the US.
1000leads provides lead contacts based on your search criteria as an automated solution. You can receive all the info needed to make a new customer – one of the best lead generation growth hacking tools.
Find Prospects with AeroLeads Lead Generation Software. Email Finder, Email Verifier, B2B listing building Tool. Get 20+ leads free leads to start with.
LeadIQ is the fastest way for sales teams and recruiters to build lists of verified contact data from the web and sync it with Salesforce. Get started with ten free emails, 50 profiles + Pro, Growth, Business and Ultimate monthly plans.
One of the best lead-search growth hacking tools! Find thousands of influencers & leads instantly in any country. Outreach to them at a fraction of the time and cost! Ninja Outreach is a blogger outreach software CRM perfect for influencer marketing. Empower your PR team to find and outreach to bloggers.
Tool #7 – Etools
One of the fastest growth hacking tools, Etools is powerful outbound prospecting and email outreach tool for finding the best domain or company email addresses in seconds.
Not sure who to contact at a company? Hunter is the easiest way to find professional email addresses. Give a domain name and get the list of all the emails related to it found on the internet.
Rapportive shows you everything about your contacts right inside your inbox. They combine what you know, what your organization knows, and what the web knows.
Clearbit provides powerful products and data APIs to help your business grow. With contact enrichment, lead generation and financial compliance.
Find anyone's corporate email address using Voila Norbert. VoilaNorbert helps to search for email addresses and related data. Search for whom you are interested in writing first name, last name, and company domain. The tool will show email addresses and results.
Tool #12 – Toofr
Thousands of inside sales reps use Toofr tools to find email addresses, look up emails, and verify emails in their CRMs.
Find and verify email addresses with this online tool. Search by a person's name, domain, or social network to find and validate individual or bulk emails.
Buzzstream allows you to review your outreach efforts. It provides solutions like press lists, the building of media or influencers, links monitoring, pitching, researching prospects, mailing, and helps in content distribution. In general, it brings your outreach efforts to the next level. Used by companies like Canva, Adobe, and Shopify.
Email Marketing tool
Aweber is an email marketing service provider. It provides all the possible solutions to grow your email list, increase sales and engage with your audience. It helps you to run your business with ease by getting more customers and boosting sales through landing pages and sign-up forms. They have tailored web push notifications according to customer's interests and so on. Aweber controls everything end to end which helps in ensuring that our emails stay out of the junk folder.
FireDrum is a tool used by top marketers, that enables them to generate appealing and engaging email templates that drive more traffic and earn more clicks than usual. The email templates are customizable, giving you full flexibility and your creativity an extra dose. On average, marketers switching to FireDrum save up to 50% or more.
Popcorn is a CRM and Email Marketing Software, that helps in generating and managing your leads in one place, which means you no longer need to maintain mailing lists. Popcorn offers you tagging, reminders and sales pipelines, which make it easy to find the right prospects for your business.
When it comes to email marketing, mail chimp is the first choice of email marketers. This tool has changed the perspective of email marketing. This is an email automation tool, which claims to generate higher revenues. It also helps you to create a click-worthy content drag-and-drop design tool.
DirectIQ is an email marketing tool that also provides an A/B testing campaign setup. Rather this tool also offers customized templates for emails as well. This tool is also suitable for marketers to integrate social media with their email campaigns.
Mailsend is a tool that makes your email marketing easier. It helps you to create, manage and send newsletters to your email subscribers. It has an in-build drag-and-drop template builder that helps you to create easy and attractive email templates with ease. You can create a number of templates with many customizations available on this software.
Salemate is a sales-oriented email software that focuses on increasing your sales. This tool helps to target potential leads and convert them into customers with all automated and well-designed emails. Since the tool focuses on sales, so it also offers bulk messages, calls, voicemails and more, all in one place.
A pocket-friendly email marketing tool for marketers, who wish to escalate their businesses through email marketing. This tool enables you to customize and design email templates with the help of its drag-and-drop feature. It provides data and insights of your subscribers to personalize emails according to the people.
Another useful email marketing tool that grows businesses with its intuitive features. With this tool, you can design your messages, add more visuality, get personalized with texts and more. The all-in-one marketing tool which take your marketing skills to next level.
Public Relations Tools
Anewstip is a PR tool for searching out media, influencers, and journalists who mentioned about certain subjects on social media, articles, and other platforms. Additionally, it has features like setting up alerts, scoring, and filtering by mentions including keyword, subject, language, topic, and time.
Awario is a social listening tool that provides insights into the market, competitors, and customers. By using this tool, you can also test web search mechanisms for businesses. Tracking of your brand's mentions is across blogs, social media, forums, and news sites.
Muck Rack is a PR tool that enables communication with journalists: searching them by topic, keywords, location, etc., monitoring the content posted by them. In Pro Plan, you can do a lot more things like building media lists, media monitoring emails, and tracking brand mentions by journalists. Additionally, there is integration with social media in reaching relevant people, also through other features, you can get a lot of information that will help to create lists of media outlets.
Prowly is a comprehensive public relations platform. Some of the functionalities are an online pressroom, contact with journalists and bloggers, and measurement of effectiveness. Additionally, Prowly has a CRM feature, SEO optimization for content, press release distribution, email templates, analytics tool, and a dedicated press center – press office, blog, content platform, and website.
Business Wire offers optimization and distribution possibilities, in terms of public relations, investor relations, press releases, channels, audience targeting, tracking, and founding your business searching through search engines. The audience is targeted based on various data segments. This tool works on a large scale of 89,000 media outlets in 162 countries.
PR Newswire enables to produce, target, distribution, and optimize content. It is possible to do this on a very large scale when it comes to different countries and languages. Some of the features are customer service, help with reviewing your content, easy usability, tracking insights, and SEO service.
Tool #6 – HARO
HARO (Help a Reporter Out – a.k.a. HARO) is a PR tool that connects journalists and bloggers with the public to gather valuable feedback. Haro shares its database of sources with opportunities to maintain relevant relations in the media.
PRGloo is a platform that provides media relations features like influencer lists, reaching journalists, and contacts management. It also provides press release creation, distribution stack, and newsrooms for certain audiences.
PR.co allows you to publish your press releases online according to your brand values, having the company's digital newsroom. Your audience can better understand your image, and brand interests, through the creation of reading experiences. It is easy to organize contacts with CRM, and send messages to stakeholders. Through inbound PR and your newsroom, PR.co helps you to acquire new profitable connections, allow your audience and media to follow your press releases, and grow your company's press list. Additionally, this tool has an option to scale your newsroom selecting different languages to get the interest of local journalists.
GlobeNewswire is a PR tool that helps you to distribute press releases through online newsrooms globally. Your target audience is selected to fit with brand experience and goals. Targeting worldwide is beneficial and fast, acquiring media contacts and relevant customers. Also, some features are available like social listening, media monitoring, media contacts database, press release distribution, creating newsrooms, and measurement analysis.
Prezly is a PR tool that has PR CRM built-in and allows you to create online newsrooms, visual press releases as well as targeted PR campaigns.
It is a well-performing tool used by famous companies, for example, RedBull. Moreover, you can track the best contacts to acquire and identify more possibilities. After preparing everything you can start conducting PR campaigns to delight the right audience.
Cision is a PR outreach tool that helps to connect with journalists from top services, for example, New York Times, and CNN. You can track competitors with analytics, your brand positioning in media, keywords mentioned in media, etc.
Meltwater monitors media coverage across both news and social media and enhances brand management. They have developed a series of products which helps to focus on how to stay on top in our digital strategy and marketing performance.
Mention helps brands and agencies in monitoring the web and listen to their audience. Mention also helps in managing social media. It helps in engaging our audience in a relevant way to grow our brand.
CoverageBook uses data from SimilarWeb and pulls monthly audience figures from the entire website. This data is considered as the numbers that stand on the day the coverage is uploaded to Coveragebook.com and is also based on all visits to the website the previous month. By using Coverage book we can spend less effort reporting on coverage and use our energy more on other important parts of PR.
Brand24 is a social monitoring tool for businesses of all sizes. It gathers and analyses all publicly available mentions of your keywords on the Internet. And it is all accessible from a single dashboard. It is also an award-winning app that helps you in tracking & engaging people talking about your company.
Covered Press is an all-in-one PR analysis, press tracking, and reporting tool. It is a single platform for many PR activities. With the help of this tool, publicists can brand their own analytics portals and reports for clients through white labelling.
An affordable tool for client's press release distribution. PRWeb is owned by Cision (another PR Tool), PRWeb's pricing is dependent on the level or type of publications that you prefer. It also provides response and tracking features for showcasing impact and results.
Critical Mention is a media tracking tool where you can search TV, radio, online news, and social media to monitor mentions of your brand and trending topics relevant to your client. With this service, you can clip and share broadcast coverage and analyse the outlet's audience and reach. Subscriptions to the site come with 24/7 support and account management.
Brandwatch is a corporate-level social sites monitoring tool that can track ongoing PR campaigns. You can track related topics, mentions, user intent, share of voice, and the top websites that mention the company. The tool can be greatly beneficials during crisis situations or if you need to track your competitor's steps.
Agility PR Solutions provides effective, yet reliable media database, tracking, and analytics solutions for communicators. The service helps you broadcast and examine the results of press releases, providing access to more than 7 lakhs+ journalists, influencers, and bloggers across the world. It also offers targeting and distribution options for reaching industries for targeting individuals based on location or job title.
About the Author
Chandala Takalkar is a young content marketer and creative with experience in content, copy, corporate communications, and design. A digital native, she has the ability to craft content and copy that suits the medium and connects. Prior to Team upGrowth, she worked as an English trainer. Her experience includes all forms of copy and content writing, from Social Media communication to email marketing.