Perfect SEO Strategy for SaaS Company – Expert's Secret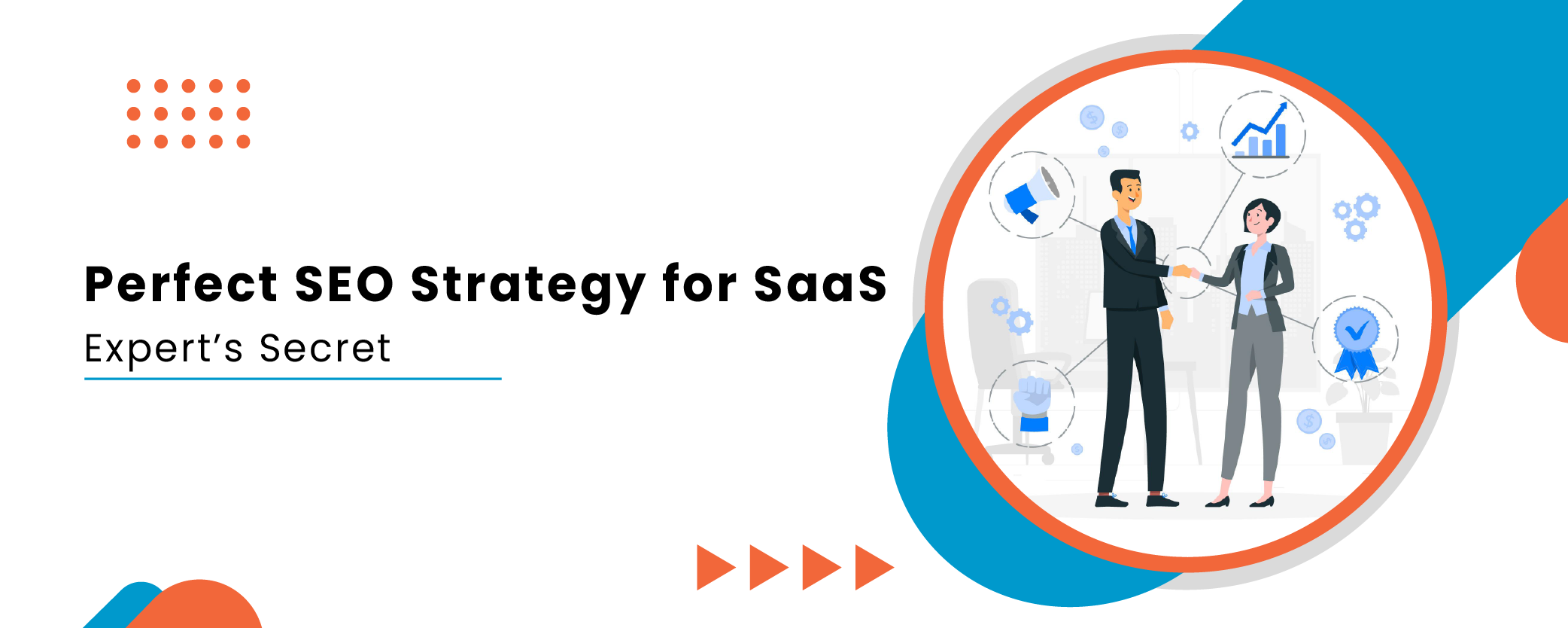 SaaS or Software as a Service is a rapidly expanding sector – and there's no better time than now to launch, grow and scale a SaaS brand. However – with so many SaaS companies mushrooming across the world each day, you need to be smart about how your position yourself so you can emerge as the right choice for your target audience and outpace your competitors. 
And the key to getting there? Creating comprehensive SEO strategy for SaaS company. SEO for SaaS can help achieve the marketing goals of your SaaS organization.
What is SaaS SEO?
The first thing we need to address is: what is SaaS SEO? Much like any other form of SEO, it's about building awareness and generating traffic and organic visits to your site using search engine optimization. An SEO strategy for SaaS company boosts organic traffic to your SaaS website by implementing strategies that help you rank on top of Google's SERPs. An SEO strategy for SaaS company focuses on the kind of customer (B2B or B2C) to weave in relevant keywords with a focus on on-page SEO, off-page SEO, technical SEO, and site architecture. 
Why do you Need to Invest in an SEO Strategy for SaaS?
SEO has a whole range of benefits:
It gives your company visibility
It helps build trust with your audience and positions your company as a thought leader
It helps generate awareness about your brand and your product, specifically
It boosts traffic to your website
It helps boost sign-ups for your product
SEO has to compound benefits over time. The more you keep it at, the more you will grow, expand your digital footprint, generate leads, and retain customers. Here are some must-haves that the experts use for the perfect SEO strategy for SaaS.
Keyword Research: Intent
Keyword research is an integral part of an SEO strategy for SaaS company. It involves determining what keywords users search for in Google and other search engines to find the SaaS product they are looking for. Understanding the searcher's intent is important to implement a successful SEO strategy for SaaS company, as there are many different angles to consider from the user's perspective. What kind of result is the searcher looking for? It is usually based on 3 parameters:
Awareness: This is when a user is aware of a term but isn't seeking an opinion or excessive information about it.
Research: This is when the user is aware of the search term and is looking for more information on how it will affect them.
Transactional: This is when the user is looking to make a purchase, or take a purchase decision, or narrow down their options.
Keywords: Information and Transactional
Once you know the intent, you can create the right kind of informational and transactional keywords. For example, an informational keyword would be something along the lines of "applications for photo editing" or "how to edit your phone photos like a pro."
On the other hand, when it comes to transactional keywords, as a SaaS company, your strategy should be to nudge the user towards a signup or a trial. This can include branded and product-related keywords, or pure play transactional keywords like "sign up," "request a demo," "buy now," etc.
Technical Audit
An SEO strategy for SaaS company involves a technical audit. You may have your keywords and content in place – but if your site isn't optimised, search engines cannot crawl it. Technical SEO is a must-have in any SEO strategy for SaaS and refers to website and server optimisations that will make it easier for search engines to crawl and indent your site. Things to look out for in a technical audit include 404 errors, page load time, pages wit too little content, duplication of content, how responsive and mobile-friendly your site is, etc. Since you are a SaaS company, people who visit your site will expect a certain level of speed and digital savvy.
Content Strategy: Follow the E-A-T Principle
You have your keywords and your site audit done. Now, it's time to start creating content. And when you do, you must follow the E-A-T principle. Content that signals
E – Expertise
A – Authority
T- Trust.
Your content needs to show readers that you have expertise in your product, authority in your domain, and build trust through what you offer.
Since your product is unique and you know it best, you can look to create content around topics related to product features, use cases, industries/people the product caters to, and the benefits of the product.
Your content can be produced to fit these categories since addressing these concerns will fit all the boxes of E-A-T. The keywords you target should find a place within these categories so that people at various journey stages can find your product and interact with your website.
Create Content for Paying Customers, Not Just Prospects
An SEO strategy for SaaS company also involves curating content. SaaS companies operate on a model where they initially take in trial customers who test the product out over a free trial period and are then nudged to take the premium or paid version. It's important to create content for those trial and demo users – but you also need to look at how many of those people turn into paying customers.
Instead of creating content only for trial users, make sure your buyer personas reflect loyal customers and create content from their POV. This will make it less transactional and offer content that speaks to how your SaaS product helps people solve their unique problems. When you create content positioned to generate organic traffic, you should target both customers: people who are looking for the solution you offer, as well as prospects who are at the awareness stage.
SEO Strategy for SaaS Company: Scale up with upGrowth
Consider this as a SaaS SEO checklist before building an SEO strategy. If you are looking for someone to help you with your SEO strategy for SaaS – we might be able to help. upGrowth is a growth marketing agency with years of experience with B2B SaaS content marketing strategy and implementation projects. upGrowth, a SaaS SEO agency, has built and executed SEO strategies for b2b SaaS companies, helping businesses boost traffic, gain leads, and retain customers.
From on-page and technical SEO to keyword analysis and off-page SEO, we can help you with a strategy that will help you outrank your competitors and attract the right customers for your product. From keyword analysis to blog topic curation to content writing services and site architecture and page optimisation, we'll handle it all – so you can focus on other aspects of your business.
If you'd like to know more about our services, get in touch with our growth consultants by filling out this form or mailing us at contact@upgrowth.in. We look forward to creating an SEO strategy for SaaS and bringing effective growth to your company.
FAQs
What is SEO for SaaS?
SaaS SEO is the practice of boosting organic traffic to your SaaS website by employing tactics that place you at the top of Google's search engine results pages (SERPs). SaaS SEO consists of a number of components, including on-page SEO, off-page SEO, technical SEO, etc.
What are the best SEO strategies for a SaaS company?
It is obvious from examining the expansion of some of the most successful SEO strategies for saas company that their SEO approach is the primary factor in their success. Some of the best SEO strategies for SaaS companies are:
Defining your KPIs and goals.
Identifying the customer personas
Evaluating your direct and indirect competitors.
Creating a keyword strategy based on your personas' issues or difficulties.
Defining keywords to Improve Landing Pages on Your Platform.
Is SEO important for SaaS?
One of the most crucial components of your marketing plan is SEO. It is an essential component of any organization, but especially SaaS businesses. If you run a SaaS company, you want to appear high in Google searches so customers can locate your goods. You need SaaS SEO services for other reasons besides just that, though.
How can I build quality backlinks for my SaaS company?
An efficient SaaS SEO plan must include backlinks because search engines use them as a ranking factor. This is why a key component of any SaaS marketing plan must include SaaS link building. Following are some ways you can build backlinks for your SaaS company –
Guest Postings
Linked brand mentions
Podcasts
Infographics
CEO interviews
Product reviews
Testimonials
What are the best SEO strategies for a SaaS company?
The best SEO strategies for a SaaS company start with a solid keyword research. To develop your plan, you must know which keywords to target, therefore let's start here, as we do for all of our SaaS clients.
Understanding searcher intent can be the most crucial component of keyword research and developing a plan because there are many various aspects to how people use terms while using Google.
The concept underlying searcher intent is foretelling the outcomes a search engine user expects to find.
Read More:
SEO for Financial Services: Financial Services Essential SEO Strategies
Best SEO Strategy for E-commerce Website That Actually Works
Essential Questions Startup Founders Should Ask Before Hiring an SEO Agency
Google Search On 2022 – What's in it for Businesses?
SEO Agency for SaaS Product: 10 Reasons Why you Need an Experienced SEO Agency
About the Author
Chandala Takalkar is a young content marketer and creative with experience in content, copy, corporate communications, and design. A digital native, she has the ability to craft content and copy that suits the medium and connects. Prior to Team upGrowth, she worked as an English trainer. Her experience includes all forms of copy and content writing, from Social Media communication to email marketing.