Best SEO Strategy for E-commerce Website That Actually Works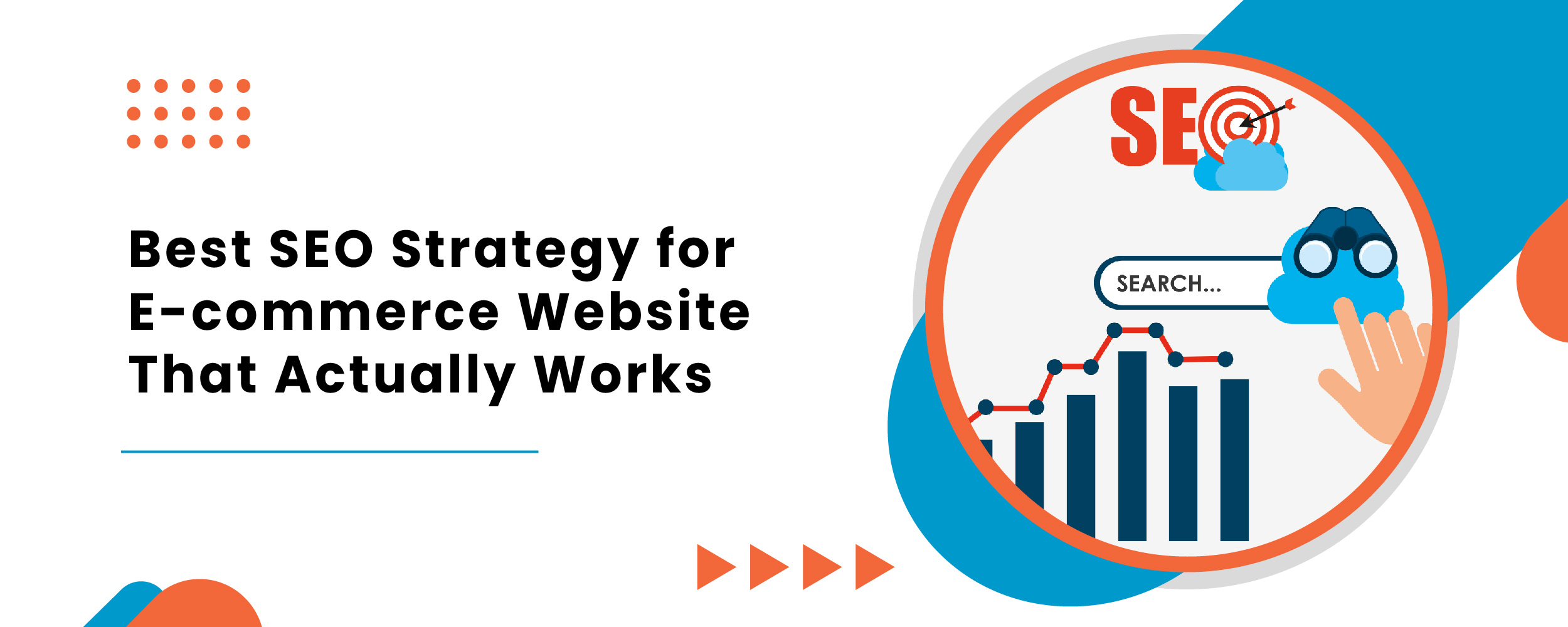 In the age of Instagram shops, Reels, and Facebook carousel ads – it may seem pointless to focus on things like SEO if you run an ecommerce website. But the fact is that SEO is actually a tool that can be easily executed – and will bring you returns if done right.
The best SEO strategy for ecommerce websites involves a good combination of keyword research, targeting the right keywords, and both on-page and off-page SEO tactics. While social media requires you to create a campaign, make creatives, shoot videos, and target specific personas, SEO requires dedicated and steady upfront effort. But, once you rank for those keywords and searches, you can make regular sales and become the top choice, thanks to the best SEO strategy for ecommerce website you have put in place. 
Here's a rundown of some of the SEO best practices for ecommerce you should employ to boost visibility and conversions for your store. 
Keyword research
You need to create a keyword strategy based on search volume, keyword difficulty and search intent. There are millions of sites – so you need to focus on ways to get discovered by people with the right search intent. Use tools like Ahrefs to gather data on the keywords you have picked. Tools like Google Analytics and Moz Keyword Explorer are also helpful in gathering data. And use Google KW Planner to uncover the approximate search volumes and CPC to determine buyer intent. You also need to ensure you are specific and actionable with your keywords. This is part of creating the best SEO strategy for an ecommerce website. 
Amazon suggests and long tail keywords
It doesn't get bigger or better than Amazon when it comes to the sheer volume of products listed on any single site, so it makes sense to learn a thing or two about the best SEO strategy for an ecommerce website from the retail giant. Amazon is a literal goldmine for high buyer intent keywords. Start typing in your seed keyword to search for useful keywords on Amazon. Then, look at the autofill suggestions that Amazon spills out – these are all keyword ideas related to your product or service that you can use for later and mine in Google. 
Product descriptions
Your product descriptions are another section of your ecommerce website you shouldn't ignore. Have the basics in place – price, photo, alt text, title, etc. – but use the space for a detailed description to add keyword-rich information about the product that your audience may be searching for. A well-crafted description will entice the shopper – and search engines! Include information and text that customers will find useful. And then optimize by doing further keyword research to understand the intent behind each keyword.
Then, divide those keywords into informational keywords (great for blog posts) and purchase intent keywords (ideal for product descriptions and to drive conversions). This is one of the best SEO strategy for ecommerce websites.
Off-page SEO for ecommerce
Don't ignore one of the best SEO strategy for ecommerce website: off-page SEO. This includes activities done away from the website in an attempt to increase the ecommerce website's rankings. Some of the more common off-page SEO activities include building backlinks, encouraging branded searches, and boosting engagement and shares on social media.
Backlinks are a ranking signal that Google uses to determine whether you deserve to be in the SERPs. The more backlinks you receive from high-quality sites, the more authoritative your site is to Google.
The good news is, generating backlinks for ecommerce sites isn't all that hard. Guest posting on blogs related to your niche is a fun, easy white-hat tactic to build links and readership. You can also try to write for product review blogs and websites. Simply email the founders/publishers of those blogs, and ask if you can write a few promotional guest posts for few. And be sure to include images!
When your ecommerce website is recommended to the audience by reliable, authentic sources, it is one of the best SEO strategy for ecommerce website conversions and traffic. 
Technical SEO
Why do people visit an e-commerce website? Because you have something they need – and they intend to purchase it at some point. Your technical SEO needs to be clean and sound, move beyond sitemaps, and correct meta tags. If the internal linking if off, if there are redirects, if the URLs are long and complicated – you're not on the right path. The best SEO strategy for ecommerce website includes technical SEO. 
Inserting canonical tags and refining your homepage internal links for the right content can improve technical SEO and steer people in the right direction.
You also need to have tidy URLs: short, keyword-rich URLs that don't run a mile long with sitenamee/category/subcategory/product/product name/product number. Phew! That's way too long, will likely confuse Google, and dilute any impact keywords may have on your URL.
Keep your URLs short and with a 1-word description for the category, followed by the subcategory and then the product. For example
https://mywebsite.com/stationery/journals/daily-graitude-journal
When your URLs are easily read by shoppers and search engines, it's a win-win for all.
Next, if you want to ensure that your SEO strategies are concrete, you can rely on an SEO checklist that can help you improve your result.
Abide by an SEO checklist – 
Review this checklist to determine what modifications and improvements you may make to your SEO strategy.
Include relevant keywords
Tidy up the website's architecture
Include meaningful content
Put appropriate title tags in
Put alt tags
Make it mobile-friendly
Allow quick load times
Install Google Analytics and Search Console
Ensure the security of your URL and website
SEO to Level Up Your E-Commerce Game
In conclusion – SEO can level up your e-commerce game, big time. With the right keywords, product descriptions that click on an emotional and search-intent level, sound page structure and some effort with backlinks, SEO can bring you long-term gains and a regular inflow of new customers. So take these tips on the best SEO strategy for ecommerce website and start today!
FAQs
1. What are the best ecommerce SEO tools?
Some of the best SEO tools out there include:
Google Analytics,
Google Search Console,
Google My Business,
SEO Site Checkup,
Google PageSpeed Insights,
Google Structured Data Testing Tool,
Google Keyword Planner
Google Tag Assistant.
Other great tools include Ahrefs, SEMrush, KWFinder, Moz Pro, Ubersuggest, Screaming Frog, WooRank, and SEOquake. 
These tools can help you build the best SEO strategy for an ecommerce website. 
SEO needs to be woven into several aspects of your e-commerce website: the content, the page layout, link building, URL structure, meta, and more.
To understand how to build the best SEO strategy for ecommerce website considering these factors, read our exhaustive SEO Resources blog, with details about tools to optimize your website from all angles.
2. Is SEO important for ecommerce?
In one word: YES!
Whether you look it up on a blog or approach an SEO agency for ecommerce, they can both attest to the fact that SEO can boost your chances of getting discovered and boosting conversions.  You need to figure out your best SEO strategy for an ecommerce website because the numbers don't lie: statistics indicate that 44% of people start their online shopping journey with a Google search. And 37.5% of all traffic to ecommerce sites comes from search engines – more than via social media. If you want to get more traffic and sales to your ecommerce website, then sound on-page SEO and some well-planned off-page SEO for ecommerce is a critical first steps to gaining the right customers. 
3. How can ecommerce search be improved?
Ecommerce search can be improved with a combination of on-page SEO, off-page SEO and an intuitive search interface within the website. Helpful text within the search box – similar to what Amazon does – for example, "search for products, categories or brands" should appear in the box to guide the user.
The box should also be populated with past search queries. And of course, the placement of the box where users can easily find it is important. This is among the best SEO strategy for ecommerce website.
4. How can I make sure my ecommerce website is mobile-friendly?
Today, ecommerce businesses need to understand that a considerable percentage of their audience uses mobile to scroll & shop. Thus, it is important to make your ecommerce website mobile-friendly. Here are some tips that will help you make your ecommerce website mobile friendly –
Ensure that your web page loads swiftly.
Add compelling calls to action.
Improve the user experience.
Simplify the checkout procedure.
Connect social media to your e-commerce website.
5. Why is upGrowth best suited if you are managing ecommerce business?
upGrowth has industry experts who have worked with multiple ecommerce websites to develop successful SEO strategies. upGrowth's SEO strategies align with your business goals. The SEO team curates strategies after a thorough audit and analysis of the website.
6. How important is product page optimization for SEO?
Sales and revenue can all be increased with product page optimization. Your product pages need to be mobile-friendly. This is how more and more customers are searching online. Your content will reach your target audience more quickly and offer a better user experience on sites that load rapidly.
7. How do I write an SEO plan?
An SEO plan aims to raise a website's position in search results so that it may draw in more natural traffic. Technical SEO, content strategy, on-page SEO, link-building, and user experience are some of the fundamental pillars this plan builds upon.
Consider the following pointers before creating an SEO plan –
Make a list of topics.
Make a list of long-tail keywords based on these topics.
Build pages for each topic.
Set up a blog.
Create a consistent blogging schedule.
Create a link-building plan.
Compress media files before uploading them to your site.
Read More:
Perfect SEO Strategy for SaaS – Expert's Secret
Squat Challenge – A Healthy And Creative Strategy for Small Businesses
How to Rank E-Commerce SEO Sites to Increase the Revenue
Essential Questions Startup Founders Should Ask Before Hiring an SEO Agency
A Compilation of SEO Resources: Find the Best, Relevant & Latest SEO Growth Tools
About the Author
Amol has helped catalyse business growth with his strategic & data-driven methodologies. With a decade of experience in the field of marketing, he has donned multiple hats, from channel optimization, data analytics and creative brand positioning to growth engineering and sales.