Google Search On 2023 – What's in it for Businesses?
Published: October 6, 2022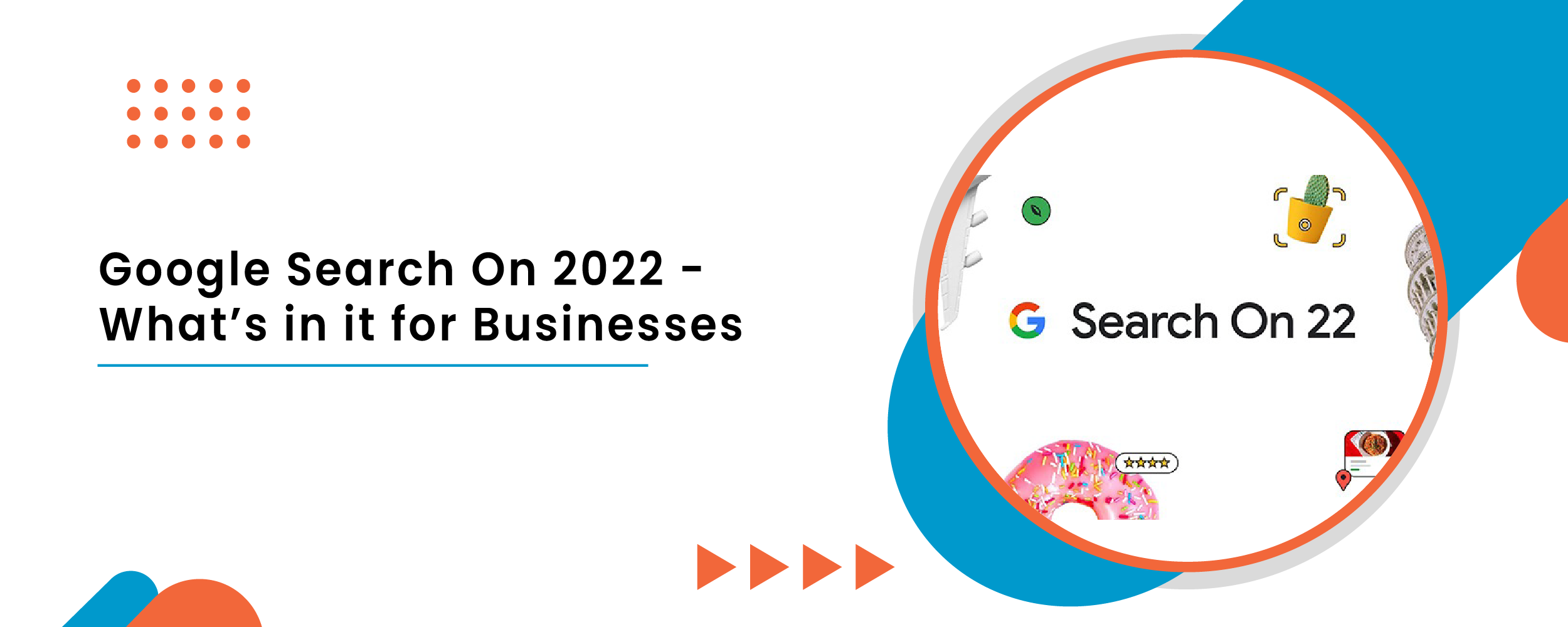 Searching for a needle in the haystack? Well, Google Search On 2022 will make sure you find it! It's 2022, and if you are abstaining from the marvelous updates of Google Search On 2022, your business is missing out on a lot! (Take our word for it)
Launched in 1998, Google Search has transformed businesses with its updates, AI-supported technology, and customer-centric approach. The Google Search On 2022 updates is based on how a customer perceives information and enriches the user experience with each update.
Google Search On 2022 has modified the latest update's visual, language, and audio features. Here are the latest 10 updates of Google Search 2022 and what they hold for businesses –
1. Multisearch expanding
What is Multisearch Expanding?
Why text when you can click?
Google Multisearch Expanding is a literal expansion of search possibilities focusing on Visuals. You can use Google Multisearch on your camera phone to perform an image search using Google Lens and then add a text search on top of the image search.
Then, Google will present you with visual search results based on both the image and the text query.
Camera – the next Keyboard
With Multi Search, we can now take pictures and add text to it that points to something, ask a question about it, and show an entirely different way of searching here! For example, click a picture of a doughnut and add text to it as "Purse", and the new way of search starts showing you results for a purse that exactly resembles the doughnut!
Example: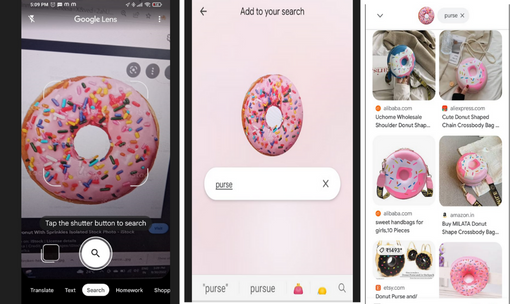 The benefits:
Search habits of everyday folks will upgrade; people will type less and search with their cameras more. In the upcoming months, Google will add multi-search to 70 new languages. Google introduced multi-search for English- and US-based inquiries last year.
The role of SEO:
Investing in high-quality photography would be a great starting point. Every website should have detailed information about its product: images, product details reviews, videos, and many rich content pieces. Every digital asset should be optimized to rank for the keyword you are targeting, which will help you organize for multisearch.
For instance:
Flipter and Amazer are 2 eCommerce companies selling the exact same products. Flipter focuses on on-page SEO, off-page SEO, image SEO, reviews, and videos. In contrast, Amazer focuses only on on-page and off-page SEO.
What do you think will happen when a person uses google lens to understand a product and buy it? Flipter will be on the top with its images, and the traffic will go to flipter,, which will result in more revenue.
We also believe this is just the beginning of image SEO. In the future, there will be many updates related to image searches.
2. Multisearch near me is coming soon
What is Multisearch Near me?
You may zoom in on those picture and text searches using the near me feature to hunt for products or anything else using your camera and get local results. So you can search for a restaurant that serves a particular meal.
Google's latest feature for the food and restaurants business
Google is planning to launch a new feature in which users can search via google lens for any dish and see the local restaurants that offer it.
This feature also lets the users narrow their search down to spicy dishes if that's what they're looking for. Google will also replace old blurred menu card pictures with digital menu cards for better menu visuals for its users.
Google users will now be able to make reservations directly from Google and even share the restaurant details with friends that can come over. They can also choose to dine in or takeaway options available on Google.
Example:
The benefits:
The importance of Google My Business Listing and updating it regularly is emphasized in this update.
More and more people will rely on google maps to explore different locations and make decisions. This decision will be made based on the overall experience of the listing.
Multisearch near me also means if a business is not competing with other companies on Local search, they are leaving much revenue on the table.
The role of SEO:
Suppose a restaurant wants to win the search game. In that case, they have to pull up their local SEO chops and focus on the complete experience, the images, the reviews, and the information the owner posts.
For Instance:
We suggest that restaurants make a complete business profile, add every menu item as a product, and upload images of the menu.
Multisearch near me will help Google locate your restaurant for particular dishes where you are unmatched. And when it comes to individual dishes, you can ask customers to rate the restaurants and the unique dishes.
Multisearch near me will give a positive signal to google about people liking your particular dish.
3. A clearer Google Lens-translated text
What is Google Lens?
You can now literally see the world from Google Lens.
Google Lens can read back content written in a foreign language and translate it. Google is incorporating Lens with some of its enhancements to its remarkable visual translation technology from Google Translate.
It will interpret signs written in other languages when you take a picture of them.
It's so much fun to use Google Lens, which enables you to translate text by pointing your camera at it in nearly any situation. Now, Google Lens will deliver that translated content in a more polished and integrated manner. It will debut later this year.
GAN models—also referred to as generative adversarial networks—are used by Google to improve how the translated text is displayed.
The "Magic Eraser" feature on images uses the same technology as the Pixel smartphones.
Ability to break language barriers
With significant advancements in machine learning technology, Google has gone beyond translating text to translating pictures.
Capture a random image with a different language text you see, and then click on the translate option below. Now we can see the magic, where the whole text in the image gets translated to our desired language.
The below image gives you a clear understanding of where an image in Kannada gets translated to English.
The benefits:
People will be able to understand different languages and signboards, and going to other locations and not knowing the language is not an issue anymore. We are moving towards a global village at a faster pace.
The importance of image will go beyond search, which will be a big part of the google ecosystem. Google will dominate the image translation market.
The role of SEO:
Now SEOs can put images with information; translation will not be an issue for people coming to the website from different parts of the world.
Example: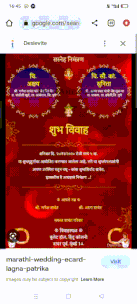 4. Google iOS App shortcuts
What is Google iOS App?
Shortcuts are added to the iOS version of the Google Search app, making it more straightforward for users to search, translate, perform a voice search, translate, upload screenshots, and more. This feature will soon be extended to Android users.
The benefits:
Undoubtedly, with this feature, Google Search On 2022 will make navigation more convenient, and the search journey will be changed completely.
For instance:
Shortcuts always make life easier, don't they? Earlier, to understand the audio, a different app was needed to identify the music, now you can access it in a shortcut.
Example: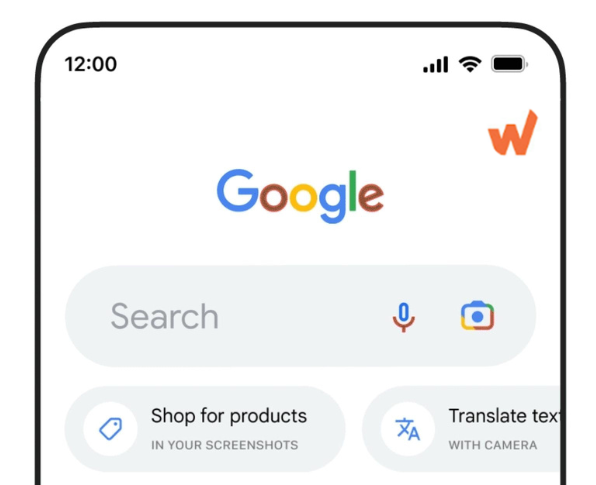 5. New Search refinements
What are the New Search Refinements?
Google Search On 2022 can now read your mind (at least to some extent).
Google is introducing new search aids and improvements for both the search results page and the autocomplete feature. Google will now provide tappable words as you input your question, allowing you to build it as you go. This is a query builder that works by simply tapping on words.
Google will now focus on related queries below the search box for a better search experience.
Now for every search term, we can find related tappable terms that can enhance our overall search experience. This feature will enable us to explore more options available online.
New Search refinements will also help people to find the right words for their queries.
Example: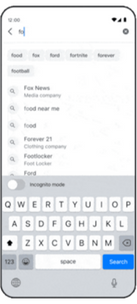 The benefits:
New Search refinements will change how we search as now people will be more aware of the topics and dimensions they can look for. Topic expansion or pillar pages will help a lot in ranking. People will get many options and a new perspective on what they can search for.
The role of SEO:
The importance of pillar pages will drastically increase. Since Google is showing all the relevant pages and links related to the search term, it becomes crucial to make pillar pages.
New Search refinements will increase your chance of ranking.
For instance:
Earlier, we used to look for "places to visit in Pune", and a blog popped up explaining all the different places. After this update, we will get other places with their images, reviews, where you can stay, and more in the search results.
6. More visual information
What are the added Visual updates?
It is a literal visual feat!
Google now displays search results that are more aesthetically pleasing for specific queries. Visual information lets you learn more about travel, people, animals, plants, etc.
Depending on your search, Google will display brief films, recommendations, and suggestions for things to do. Google will also visually emphasize the information in this UX that is more pertinent.
The benefits:
A website with more visual content will have the upper hand in search results as Google is looking for visual assets to show in SERP.
The travel websites will be impacted drastically.
The role of SEO:
Add more visual content about places you list on the website. Visual information could be especially beneficial for travel websites.
For instance:
Example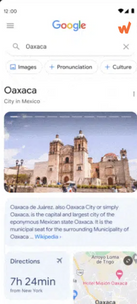 7. Explore as you scroll
What are the new explore updates?
Understanding today's scroll culture, Google Search On 2022 has updated the search results.
Sometimes, the more you scroll through the Google Search results, the less relevant the results become. That makes it obvious, right? Google ought to place the most relevant information at the top.
Google has developed a new explore option to provide searchers with ideas related to their query but not precise matches.
This new explore function allows users to discover information outside their original search topic.
Example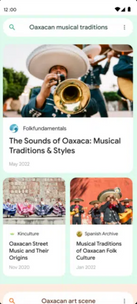 8. Discussion and forums
What are the updates for Discussions & Forums?
Discussion and forums in SERP is an added feature that allows users to broaden their search scope. For U.S. English results, Google Search may now include a section for "discussions and forums."
Discussion and forums in SERP aim to make it easier for people to locate first-person accounts of individuals on the subject across various online discussion platforms, including Reddit, but beyond simply a particular forum platform.
The benefits:
Discussion forums will be shown in SERP. It will help people get different perspectives on the topic they are searching for.
The role of SEO:
Be active in different discussion forums and talk about the niche you are working in; talk about your product and services in these forums, which will increase your reach and give your content real estate in SERP.
For instance:
A business starts posting about themselves on quora and giving relevant answers; They will eventually be listed in the SERP wherever a relevant query is searched.
Example: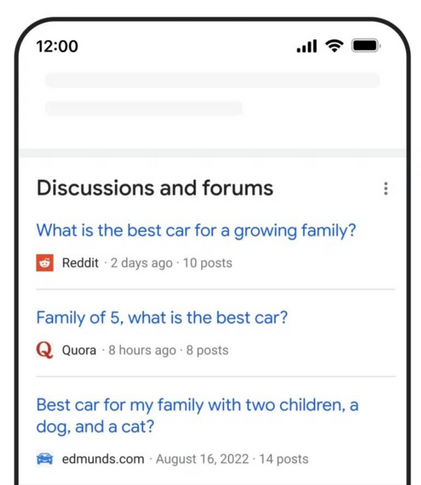 9. Translated local and international news
What is the update in the News feature?
Google made it possible to locate translated news coverage for national and worldwide news stories. Google Search will provide translated headlines for news results from publications published in different languages using machine translation.
You will receive "authoritative reporting from journalists" based in the nation affected by that news story.
The benefits:
Users can get multiple perspectives and information from the news posted in different languages. Translated local and international news will help users in making more informed decisions.
Example: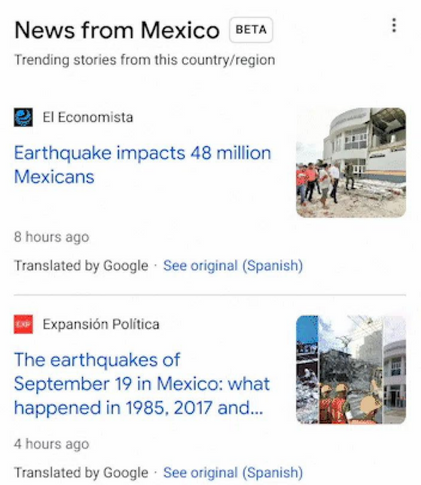 10. About this result displays personalization
What are the updates in result display personalization?
Additionally, Google displays whether personalization is taken into account in the About this result feature.
If the search results are tailored, Google will now let you know. Additionally, Google will let you alter or disable personalization.
Accordingly, Google will allow you to customize that within the new shopping capabilities if you declare that you prefer a particular brand or department.
The benefits:
People will have drastically personalized results; this will, in turn, set back SEO who are pushing their websites on competitor keywords. Now SEOs will have less power to show users their website when a competitor is searched, which will negatively impact metrics such as Impressions, CTR, revenue from organic search, etc.
Example: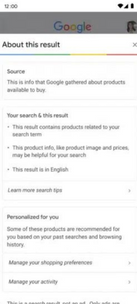 With all of these features in place, has Google turned its back on privacy? Of course not!
Focus on user privacy
With privacy and safety as an urgent concern these past years, Google has been working on a large-scale project to empower customers with more choices and innovate in advertising.
They've developed an experimental set of guidelines and an SDK proposal that gives users control over choosing the kind of ads they'd like to be served within a well-developed control center. The proposed SDK would also allow a new tracking API that masks the user's device identity but still allows them to be trackable across different apps and platforms.
How many times in a day have you found yourself searching on Google – "best cake shop near me", "mobile repair shop near me", "best dentist near me", and on goes the list! It is safe to say that Google Search pushes customers to businesses and can be considered the 'red carpet' that brings customers to a business's doorstep.
Google Search has not only put businesses on the map but has also given them recognition. This bold feature catalyzes the growth of a business's visibility. Here's how different sectors are thriving on Google Search and its unique new features –
Conclusion
Google Search is expanding the scope for customers and businesses to reach their target. Advancements like Google Search On 2022 are a crucial reminder of just how far the search has come and how far it can go with our help. With these developments, we're developing new search and advertising experiences that more accurately depict how consumers interpret information.
About the Author
Chandala Takalkar is a young content marketer and creative with experience in content, copy, corporate communications, and design. A digital native, she has the ability to craft content and copy that suits the medium and connects. Prior to Team upGrowth, she worked as an English trainer. Her experience includes all forms of copy and content writing, from Social Media communication to email marketing.