How upGrowth Catapulted Fi's Organic Growth Beyond Boundaries by elevating Fi's Clicks by 200,000+ and Impressions by 7,000,000+ in Just 9 Months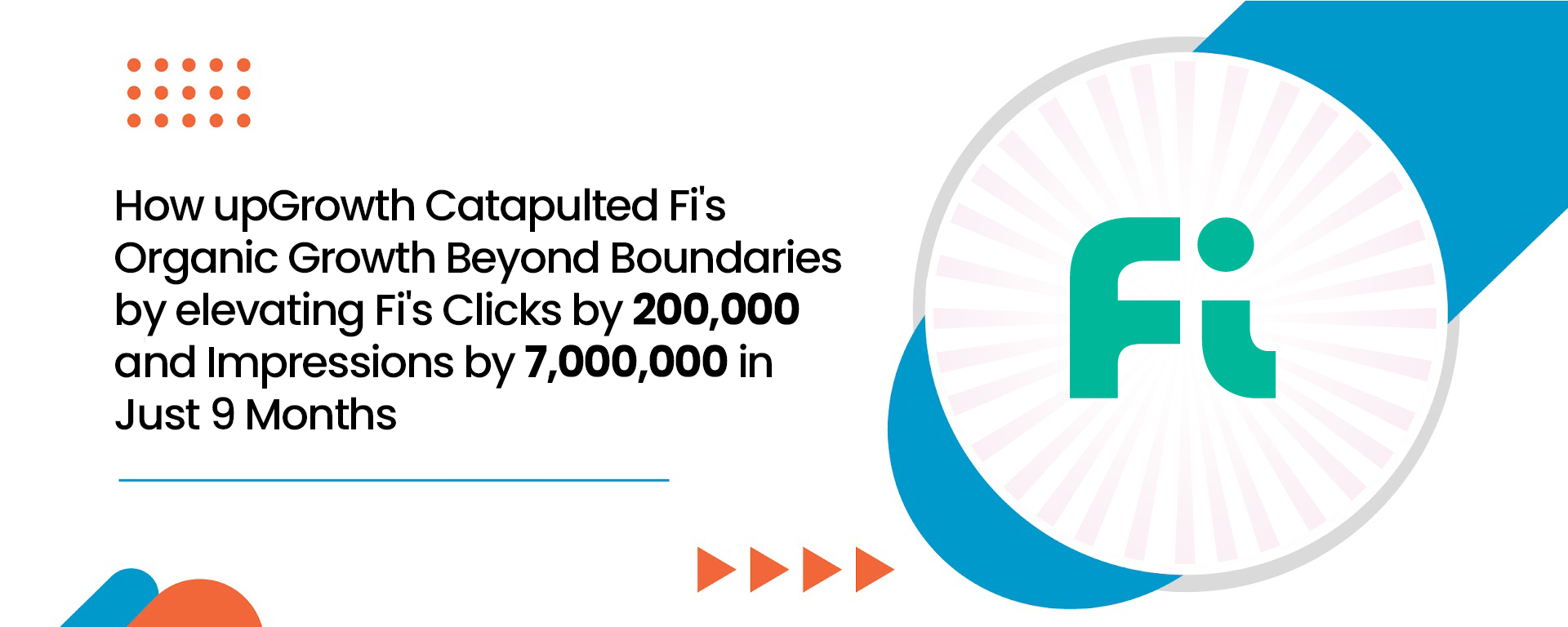 Introduction to Fi and its goals for increasing organic traffic
With a focus on the tastes and demands of the current generation of tech-savvy customers, Fi.Money offers a modernized and sophisticated version of traditional banking services. The "2.0 bank version" alludes to Fi.Money being an updated and technologically advanced substitute for conventional banks.
Fi.Money provides a variety of online financial services and solutions that are different from what traditional banks typically offer. These offerings include budgeting tools, online account management, smartphone apps, and seamless interaction with cutting-edge financial technology.
Fi.Money encountered difficulties drawing users to their site. They mostly received traffic from sponsored searches and paid advertisements and had not yet significantly improved their visibility or ranking on search engines for pertinent terms linked to their industry or products. Fi.Money wanted to improve and streamline the approaches it takes to achieve organic growth.
upGrowth actively implemented an organic growth strategy for a prominent fintech brand, Fi. UpGrowth excelled in providing valuable insights and guidance to enhance Fi's online presence and performance. Here are some key points that upGrowth had taken care of:
Increase the quality and quantity of traffic on the website.
Increase traffic from non-branded keywords by initiating different tracks of content creation.
Launch Growth Experiments to boost traffic through regular intervals to reach +1M organic traffic by Mid 2023.
Initial Assessment and Strategy Development
The Fi.money website encountered a situation in April 2022 when it was mainly receiving clicks from those searching for the brand itself. This demonstrated the necessity of optimizing the website using SEO techniques, both basic and advanced, to increase its general presence on search engines. In addition, the site's non-brand-related keywords were not ranking, necessitating upGrowth's intervention to solve this issue as soon as possible.
Beyond branded searches, the objective was to increase the website's search engine ranks for a broader range of relevant keywords by diversifying the website's click sources.
| | | |
| --- | --- | --- |
| Month | Benchmark Clicks | Benchmark Impression |
| April 2022 | 58200 | 740000 |
When upGrowth conducted an audit of Fi.Money's website, the SEO team discovered that a significant portion, specifically 30% of the website's pages needed to appear in search engine indexes. upGrowth proposed an instant indexing experiment to address this issue, which resulted in the rapid inclusion of previously unindexed pages in search engine indexes.
This intervention improved the website's overall visibility and potential for attracting organic traffic.
The process of content improvement that the upGrowth team undertook for Fi's website involved identifying top-performing content, analyzing its performance, and making improvements to enhance its organic results. Here's a breakdown of the steps:
Identifying Top-Performing Content: The upGrowth team assessed the existing website's content to determine which pages had the highest organic traffic and engagement.
Content Analysis and Improvement: After selecting the top-performing pages, the team analyzed each page's performance metrics, content quality, and user engagement.
Search Intent Analysis: The upGrowth team conducted a search intent analysis for each keyword associated with top-performing content.
Content Relevance and Competitor Analysis: The content was evaluated to ensure that it was not only relevant to user search intent but also superior to competitors' content.
SEO Enhancement: Using the SEO Writing Assistant tool, the upGrowth team aimed to improve the content's visibility on search engine results pages (SERPs).
Results Monitoring: The upGrowth team continued to monitor the performance of the updated content, which included tracking organic traffic, engagement metrics, and conversion rates to assess the effectiveness of the improvements.
By following these steps, the upGrowth team aimed to not only retain the value of existing top-performing content but also enhance its impact by aligning it with user intent, improving SEO, and delivering a superior user experience.
The subdomain of Fi.Money was hindering its attempts to increase traffic.
Team upGrowth's Advice: The upGrowth team, which specializes in SEO and online marketing, provided advice regarding the subdomain issue. They suggested two potential actions to address the problem:
Kill it:
This entails completely ending the subdomain. In other words, remove the subdomain and any associated material from the website.
Move to Subfolder:
As an alternative, upGrowth advised moving the subdomain's content to a subfolder within the primary domain. This would entail incorporating the subdomain's content into the organizational framework of the primary website.
Regardless of the choice Fi.Money made, the outcomes were favorable, leading to improved results for the website. This emphasizes the need to strategically choose website structure and content optimization for enhanced exposure and user engagement.
Performing a content gap analysis and researching topics were essential for optimizing website content and catering to Fi's target audience's interests. Here's an overview of what these processes involved:
Content Gap Analysis
A content gap analysis involved identifying the topics or keywords the target audience searched for.
Process:
Keyword Research: upGrowth identified relevant keywords that were related to Fi's industry, products, and services.
Competitor Analysis: upGrowth studied Fi's competitors' websites and content to identify the topics and relevant gaps in the content strategy.
Existing Content Audit: upGrowth evaluated Fi's current website content and categorized it according to the identified keywords.
Gap Identification: upGrowth compared the keywords with Fi's existing content.
Content Creation Plan: upGrowth developed a plan to create new content that fills the identified gaps. This included blog posts, articles, infographics, and other suitable content formats.
Topic Research
Topic research involved exploring and understanding the relevant subjects to Fi's audience.
Process:
Brainstorming: upGrowth generated a list of potential topics relevant to Fi's industry and audience.
Content Relevance: upGrowth evaluated the relevance of each topic to Fi's audience's interests and needs.
Keyword Integration: upGrowth aligned the chosen topics with relevant keywords to ensure Fi's content remained discoverable by search engines.
Audience Pain Points: upGrowth researched the common challenges, questions, and pain points that Fi's target audience faced and tailored the topics to address these issues.
Competitor Analysis: upGrowth noticed the type of content that Fi's competitors were producing and this helped identify gaps or unique angles to explore.
Quality and Depth: upGrowth focused on providing in-depth, valuable, and accurate information that helped establish Fi's website as a reliable source of information in the industry.
Content Topics Based on Keyword Data: By conducting keyword research, upGrowth was able to find pertinent keywords and use them to develop niche content ideas. Utilizing this strategy increased the likelihood of generating organic traffic by ensuring that the material being produced is in line with user needs.
Meta Tags: Meta tags, including meta titles and descriptions, can be optimized to increase click-through rates and search engine visibility.
OG Tags (Open Graph): These were particular meta tags used to improve shared link appearance and increase engagement.
Twitter Cards: Similar to OG tags, but for Twitter, this allowed Fi to attach rich media experiences to tweets referring to the content, thereby making them appealing and instructional.
Structured Data Markup: This involved incorporating particular code into the Fi website to aid search engines in comprehending the context of Fi material. It resulted in more comprehensive search results (such as highlighted snippets) and improved page categorization.
Mobile-Friendly SEO Optimisation: Responsiveness and responsive design improved user experiences and search rankings.
Refinement of Website Architecture: A well-structured website architecture made it simpler for search engines to crawl and index the information, improving visibility in search results.
upGrowth's techniques successfully grabbed users' attention and addressed Fi's search intent, as seen by the increased traffic in both the Discover and SERP (Search Engine Results Page) parts of Google.
Both results demonstrated that the content was valuable and pertinent to consumers, which is a crucial objective of successful SEO and content marketing efforts. To maintain and improve the website's exposure and engagement, it was critical to keep an eye on how well the content was performing, analyze user behavior, and make improvements as necessary.
Removing unnecessary and low-quality content from a website indeed provided a significant boost to its overall performance and user experience.
Importance of Removing Unnecessary and Low-Quality Content:
Improved User Experience: Removing content that doesn't add value improved navigation and made it easier for users to find what they were looking for.
Enhanced SEO: upGrowth improved Fi's overall SEO ranking and visibility by removing low-quality content.
Faster Loading Speed: Unnecessary content slowed down the website's loading speed, so removing such content led to quicker load times, which was crucial for retaining visitors.
Approach to Removing Content:
Content Audit: upGrowth conducted a thorough content audit to identify which pieces of content were unnecessary, outdated, or of low quality which included blog posts, articles, images, videos, and other content elements.
Quality Assessment: upGrowth evaluated each piece of content based on its relevance, accuracy, usefulness, and engagement metrics.
User Intent: upGrowth analyzed user behavior data to determine which content was rarely visited or had a high bounce rate.
SEO Impact: upGrowth assessed the SEO performance of each piece of content.
Engagement Metrics: upGrowth used analytics tools to track engagement metrics such as scroll depth, time on page, click-through rates, and social shares.
Redirect or Update: For content that could be improved, upGrowth considered updating it to make it more valuable.
Regular Maintenance: upGrowth scheduled regular reviews of the content to ensure it remains fresh and aligned with Fi's audience's needs.
By removing unnecessary and low-quality content, upGrowth streamlined Fi's website, improved its overall quality, and created a more positive user experience. This, in turn, led to increased user engagement, higher search engine rankings, and better achievement of Fi's website's goals.
Blog Traffic Result – From Dec'22 as Compared to the Commencement Month, April'22:
| | | | | |
| --- | --- | --- | --- | --- |
| Month | Clicks | Growth | Impression | Growth |
| April 2022 | 183 |  | 27100 |  |
| December 2022 | 109000 | 59463% | 4130000 | 15140% |
Discover Traffic Result – From Dec'22 as Compared to the Commencement Month, April'22:
| | | | | |
| --- | --- | --- | --- | --- |
| Month | Clicks | Growth | Impression | Growth |
| April 2022 | 0 |  | 0 |  |
| December 2022 | 6250 | 6250% | 222000 | 222000% |
Offering interactive tools like calculators to consumers improved their experience, kept them interested, and compelled them to stay on Fi's website longer. The usefulness of these calculators was further increased, and the website's general SEO performance was improved by optimizing the text supporting them.
Here's how the process was unfolded
Calculator Curation
Content Optimization
SEO Innovation
upGrowth improved the user experience by mixing interactive features like financial calculators with well-optimized content. This resulted in increased time spent on Fi's website, improved user satisfaction, and potentially higher search engine rankings due to the valuable and relevant content provided to users.
Here are the results
Calculators Traffic Result – From Dec'22 as Compared to the Commencement month, April'22:
| | | | | |
| --- | --- | --- | --- | --- |
| Month | Clicks | Growth | Impression | Growth |
| April 2022 | 0 |  | 0 |  |
| December 2022 | 6700 | 6700% | 229000 | 229000% |
upGrowth's link-building efforts have led to improved rankings of Fi's website! The significance of link building in off-page SEO cannot be overstated, since it has a big impact on the authority and search engine visibility of the website.
Here is how the described procedure was broken down
Link Building Strategy:
upGrowth concentrated on getting backlinks from pertinent, high Domain Authority (DA) websites. The authority of the Fi website increased as a result of receiving backlinks from high DA domains.
Content Placement:
upGrowth produced insightful and pertinent articles that were pertinent to the Fi.Money website. Then, these articles were posted to external websites with domain authority scores of at least 50.
Implementation of Keywords:
The content posted on external websites was optimized using keywords associated with the industry and products offered by Fi.Money. The alignment of these keywords with the overall SEO strategy guaranteed consistency across on-page and off-page activities.
Higher Rankings:
After a few months, Fi's website ranked higher as a result of the keywords employed in the link-building process. The website's authority increased as a result of backlinks from high DA websites, and it also performed better in search engine results for the desired keywords.
Search engines view links to content from trustworthy websites as evidence of its legitimacy and applicability. Increased organic traffic, healthier search engine rankings, and a more prominent online presence can all result from this.
Performing continuous content audits and using key performance indicators (KPIs) like rankings, traffic, and on-page engagement to create regular reports was an approach by upGrowth to ensure Fi website's content remains effective and aligned with their goals.
Continuous Content Audits
Regular Assessment: upGrowth consistently reviewed the website's content to ensure it remained relevant, accurate, and valuable.
Scheduled Reviews: upGrowth scheduled regular content audits based on Fi's content creation frequency and industry trends.
In-depth Analysis: During each audit, upGrowth thoroughly assessed the performance and quality of the content.
Key Performance Indicators (KPIs) for Content Evaluation
Rankings: Fi's content was evaluated by upGrowth for how well it performed for the targeted keywords on search engine results pages.
Traffic: upGrowth analyzed the amount of organic traffic each piece of content received.
Engagement Metrics: upGrowth evaluated on-page engagement metrics like time on page, scroll depth, and bounce rate to provide insights into how users interacted with the content.
Backlinks: upGrowth monitored the number and quality of backlinks that the content was earning. High-quality backlinks indicated that other websites considered Fi's content authoritative and valuable.
End-of-Month KPI Reports
End-of-Month Report: At the end of every month, upGrowth compiled a comprehensive report that highlighted the KPIs for each piece of content. This report provided a clear picture of how Fi's content contributed to the website's overall performance.
Actionable Insights: upGrowth utilized the data to make informed decisions about content updates, optimization, and future content creation.
Adjusting Strategy: Based on the KPI reports, upGrowth made necessary adjustments to the content strategy that involved refreshing underperforming content, creating new content on popular topics, and optimizing for improved engagement.
By combining continuous content audits with regular KPI reporting, upGrowth ensured that your website's content remained effective, relevant, and aligned with Fi's audience's needs and interests. This iterative approach allowed upGrowth to refine the content strategy over time and drive more promising results.
The Cumulative SEO Process that upGrowth initiated in April 2022 helped Fi achieve the following Organic results by the end of December 2022.
| | | | | |
| --- | --- | --- | --- | --- |
| Month | Clicks | Growth | Impression | Growth |
| April 2022 | 58164 | | 739729 | |
| December 2022 | 200000 | 240% | 7000000 | 846% |
When it comes to Fi's organic marketing initiatives, upGrowth has succeeded in achieving beyond Fi's expectations. A score range of 8 to 10 suggests high satisfaction and effectiveness in producing the desired outcomes for Fi's organic marketing objectives.
Such a recurrently favorable response speaks well of upGrowth's ability and experience in implementing successful organic marketing tactics for its clients.

Manjusha Karkera is an enthusiastic content marketer who has created numerous engaging and compelling writing pieces for various clients and companies over the years. She enjoys writing pithy content and copy on various sectors like fashion, beauty and wellness, sports, fitness, education, etc. Prior to Team upGrowth, she worked as a Marketing Communications Specialist. Her overall experience includes all forms of content writing and copywriting.