Understanding The Average Customer Acquisition Cost by Industry
Published: February 14, 2023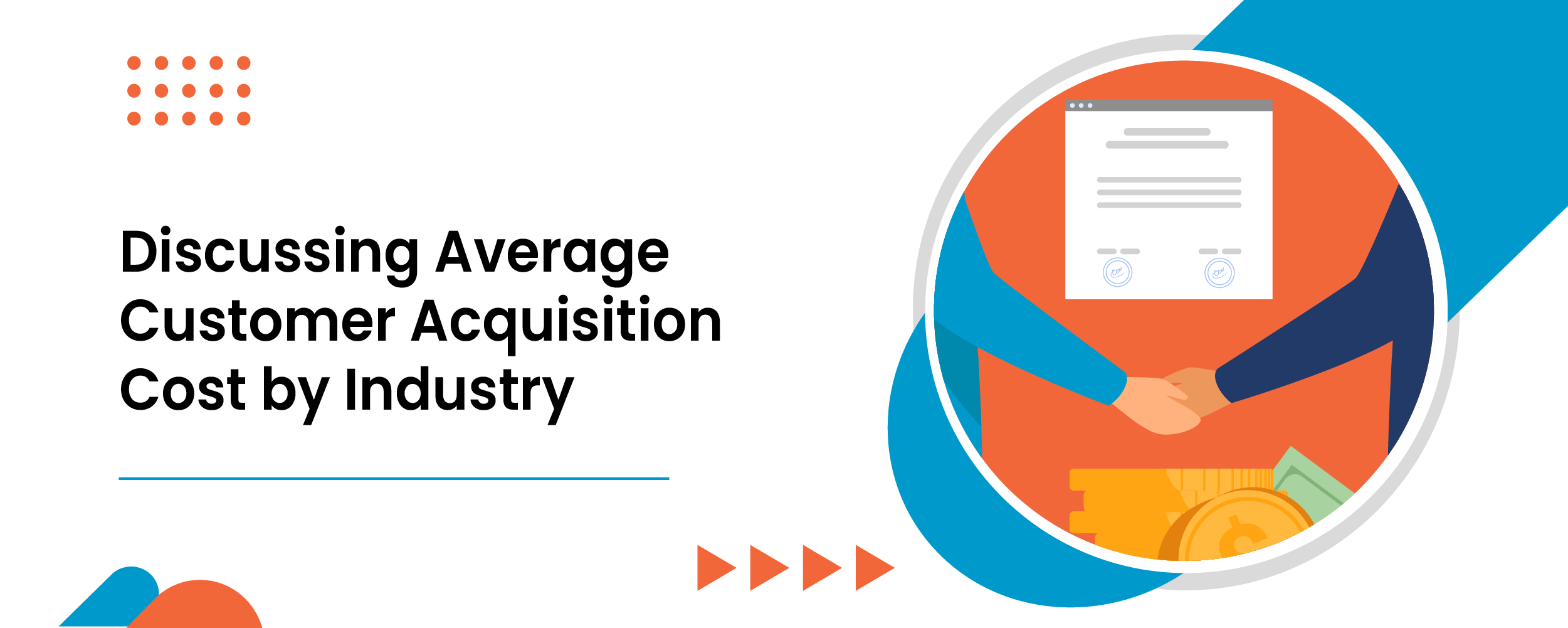 Online businesses are aware that there are several e-commerce indicators that they must be aware of to expand their businesses. However, one statistic and expenditure stands out above all others. That is the average customer acquisition cost!
Businesses may evaluate how their various marketing types work for them by understanding the average customer acquisition cost in India. They may assess their spending about their revenues and identify potential hazards and issues.
Calculating your client acquisition cost helps you understand where your money is going and shows you how much profit margin you need to earn to be profitable.
What is the significance of CAC?
Knowing the average customer acquisition cost of e-commerce or any other sector is important since these prices may make or break your company. Furthermore, once you have a customer, you must strive to keep them. You would have wasted your money anyway.
According to data, acquiring a new client is 5 to 25 times more expensive than retaining an existing one. However, client acquisition is important if a company is just getting started. As a result, you must be mindful of the expenditures so that you do not overspend.
Furthermore, client acquisition is a continuous activity. No company ever stops pursuing new customers. They may, however, shift their attention away from acquisition and towards retention to create more sales from their present and loyal clients.
How to calculate customer acquisition cost
There are several answers on how to calculate customer acquisition cost, so you need to know which method works best for your business.
The standard customer acquisition cost formula
CAC = Marketing and sales expenses / Number of new customers
This is the usual client acquisition cost formula used by most companies. To calculate CAC, divide marketing and sales expenditures invested for a certain period (for example, a month, quarter, or year) by the total number of new customers acquired during that time period.
Average e-commerce customer acquisition cost
You will undoubtedly need to invest in client acquisition if your e-commerce shop is just getting started. However, as you fight to keep clients, you should eventually be able to lower the average cost of acquiring a new customer for your e-commerce business.
In e-commerce, acquiring customers frequently entails utilizing various digital marketing techniques or platforms. These may include paid search engine marketing (SEM), social media marketing, content marketing, email marketing, and search engine optimization (SEO).
E-commerce automation solutions, especially marketing automation, which aids business owners or marketing managers in accelerating their marketing process, are used in several of these marketing strategies.
Average customer acquisition cost by industry
It is only reasonable that this number varies from industry to industry because various items may have different average CACs.
The average cost per new client, broken down by industry, is as follows:
Travel: $7
Retail: $10
Consumer Goods: $22
Manufacturing: $83
Transportation: $98
Marketing Agency: $141
Financial: $175
Technology (Hardware): $182
Real Estate: $213
Banking/Insurance: $303
Telecom: $315
Technology (Software): $395
What is an effective average customer acquisition cost?
A good Customer Acquisition Cost varies by the industry and tactics used. However, comparing your CAC to Customer Lifetime Value is a smart approach to assess it (also known as LTV). LTV evaluates how much money a client is projected to deliver to your business throughout their engagement with you. What is an appropriate CAC ratio? The ideal LTV to CAC ratio is believed to be 3:1.
Conclusion
It takes time to acquire new clients. Customer acquisition is your first step if you're just starting. The second factor is retention.
Even as you progressively retain clients, you'll be hunting for new ones, whether for new goods you're offering or to extend your customer base. Simultaneously, calculating the average client acquisition cost in your e-commerce firm can ensure that your business is moving ahead rather than backward.
CAC is more than just acquiring many customers at the lowest possible cost. It is all about attracting consumers who will have the longest – or at least a very prolonged – connection with your company.
You'll want to study customer behavior, segment those customers, retain them, and use various e-commerce indicators to guarantee you're on the right road if you want to boost your chances of increased profitability. Understanding consumer behavior includes knowing where clients are on various social media channels and in the purchasing cycle.
FAQs
How much should my customer acquisition cost be?
Typically, businesses will compare their customer acquisition cost to their customer lifetime value. A CAC: LTV ratio of 1:3 is typically regarded as a decent ratio; however, it varies widely depending on the company.
What is customer acquisition cost in India?
CAC refers to the resources and expenses spent to acquire a new client. Customer acquisition cost is a critical business measure that is frequently used in conjunction with the customer lifetime value (LTV) metric to assess the value produced by a new customer.
About the Author
Amol has helped catalyse business growth with his strategic & data-driven methodologies. With a decade of experience in the field of marketing, he has donned multiple hats, from channel optimization, data analytics and creative brand positioning to growth engineering and sales.