Raise your Hands for upgrowth's 'All Hands' – All about Growth, Celebration, and Learnings
Published: January 31, 2023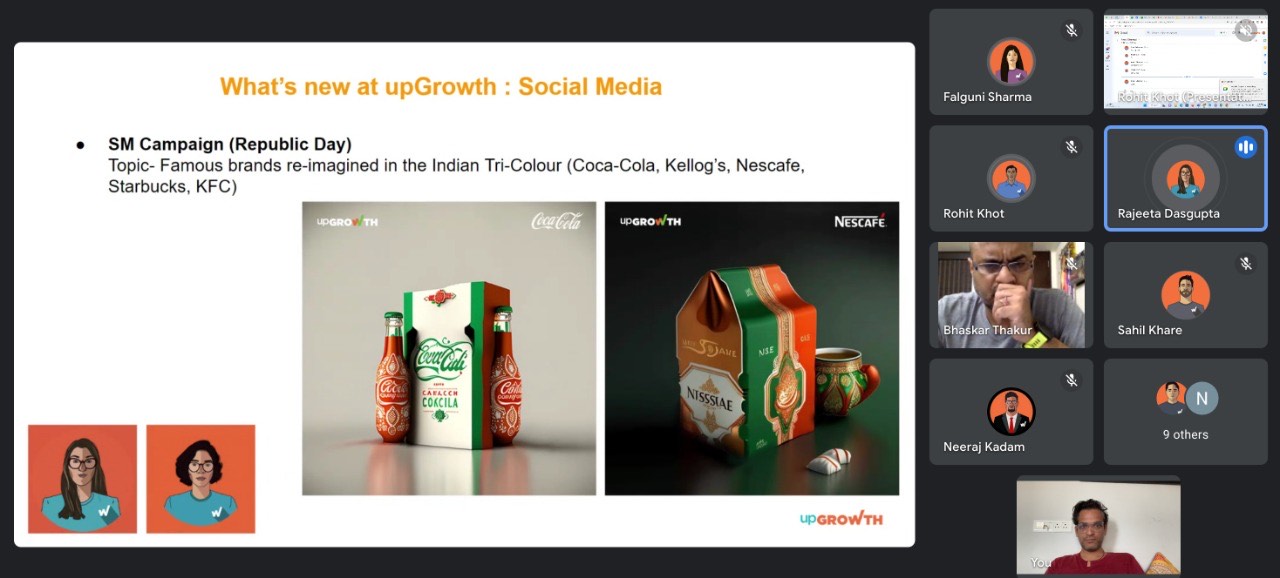 Introduction –
Agency life is fun, quirky, spontaneous, and adventurous! The team is always on their toes and looks out for each other. upGrowth is no exception.
When it comes to hiring elite candidates, upGrowth stands first in the race. At upGrowth, we make sure to constantly create a company culture that reflects the organization and the people working in it. Customer success is greatly rooted in our culture, and we are a highly dynamic growth hacking agency that serves nothing but the best.
A monthly ritual that upgrowth ensures to follow is conducting a monthly team meet where we speak on the achievements of an individual and of the group, celebrate wins, build collective consciousness, share personal experiences, keep organismal values intact and make new joiners feel easy as we are 100% virtual (WFH) organization.
Brands that touched the sky through upGrowth:
We don't just work with our clients; we understand their vision and goals. We act as their extended team and always strive to deliver MORE!
Delicut
upGrowth conducted a bold experiment with Delicut. The January targets for Delicut for the entire month of January were achieved in just first ten days. So we decided to take a pause on the ads and check whether the sales were a huge dip or not.
But the sales remained consistent, ensuring that we were building and working on something consistent and robust. Ads drove the sales that Delicut received, but they were somewhat dependent on ads, which was a great hit. The ROI increased significantly, and Delicut kept getting sales without spending. 
Check out our growth journey with Delicut.
Modanci
We started working with Modanci in October 2022. Modanci is a local ayurvedic and personal care brand in Satara. Modanci is a family-owned business with a background of 25 plus years of experience in ayurvedic, health resort, and helping people with ayurvedic products and medicines, and procedures and processes.
Modanci wanted to productize their solutions and have a good sale. They had the products with them but needed help understanding how to grow. They needed complete guidance on rising from a local brand to an international one.
We created the big scale for Modanci, a growth strategy, and a road map that guided them on how to approach it and what budgets will be required. 
Everything was shared with complete research and with the data bag solutions, which helped them vision branding marketing advertising. They were surprised and delighted with the result that upGrowth helped them achieve within a span of time. Here are Modanci's results.
Fi.Money
Fi.Money is a neo-bank for next-gen bankers who prefer digital banking. When Fi.Money approached upGrowth, and they didn't appear in any search snippets, but six months after the execution, they appeared in +15,000 search snippets in SERP and were extremely happy with the achievements. 
Take a look at upGrowth's successful growth experiments with Fi.Money.
Flowing with the trends: Growth Experiment
Social media experiments & seasonal branding:
How boring would social media be if we did not hop on the current trends & affairs? upGrowth hops on every opportunity of following trends. Be it blinkit's famous 'doodh mangoge' or money heists campaign, it's fun to tag along with the trends.
This 26th of January, keeping the patriotic essence in mind, upGrowth dressed up some famous brands in tricolor. Coca-Cola, Kellogg's, Nescafe, Starbucks, and KFC. And the results were absolutely stunning! Check out the visual treat, our Republic Day post.
Alongside this, we also implement seasonal branding by changing upGrowth's logo based on events like Jan 26, Christmas, Diwali, etc.
Growth Experiment: Decision Tree
Founders can have many questions (too many!). These questions can pop up at any stage of the business. At the initial, expansion, growth stage, or any point of the business journey. This is why upGrowth launched Decision Making Trees in January 2023.
A decision-making tree will help businesses make complex decisions in digital marketing. The decisions include questions based on various digital marketing concepts and areas like – SEO, Growth Marketing, Content, Social Media, etc. 
For instance, you will find an answer to the question – Does your website content meet your target audience's needs?
Through decision trees, we vision helping founders and business owners get answers to business-related questions.
We will be launching more decision making tress this year, if you want us to build any particular decision making tree please let us know.
A Peek Into the Team
Well, you have heard about what upGrowth does – the experiments, the growth, the clients, and so on…But who is the driving force behind these collective efforts? With Growth Drivers of upGrowth, you get to meet the brains behind these successful strategies.
We talk about what a digital marketer's day looks like and answer questions like – how is their day? how to keep updated in this ever-changing digital world? What will one be required to do if one is willing to get in their shoes?
It's fun, spontaneous, and it's informative. Watch Episode 1 of Growth Drivers of upGrowth and watch Avani spill some powerful Social Media Marketing secrets.
This activity is experience sharing for people working in particular roles. All the gathered information will be converted into a podcast and uploaded on various channels and platforms like Gaana, Saavn, Spotify, YouTube, etc.
upGrowth plans for Feb 2023
January 2023 was off to a great start, and we have some amazing things coming up in February.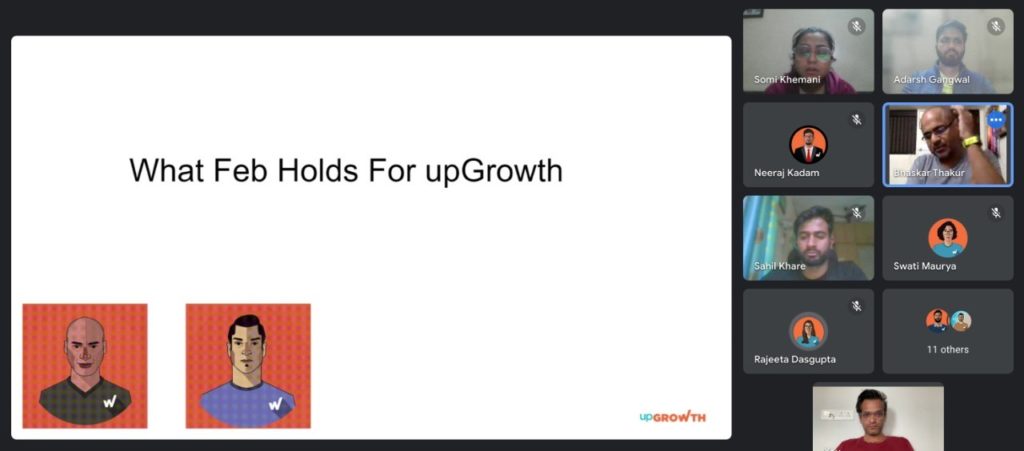 In the month of February, upGrowth is pleased to announce the onboarding of a new fintech client and a client from the home care industry who has received Series C funding.
Also, we are on the path of hitting a home run by hiring as a service, which we'll experiment with in 2023. Check out our Plans for February 2023 here.
Retreat Planning
Despite the work-from-home, team upGrowth has kept this amazing work culture alive. But to fuel this spirit, upGrowth team plans a retreat every once in a while. We plan team meetings and outings for a day or two. The outings include meeting over lunch, treks, going to a resort, and enjoying the day the most.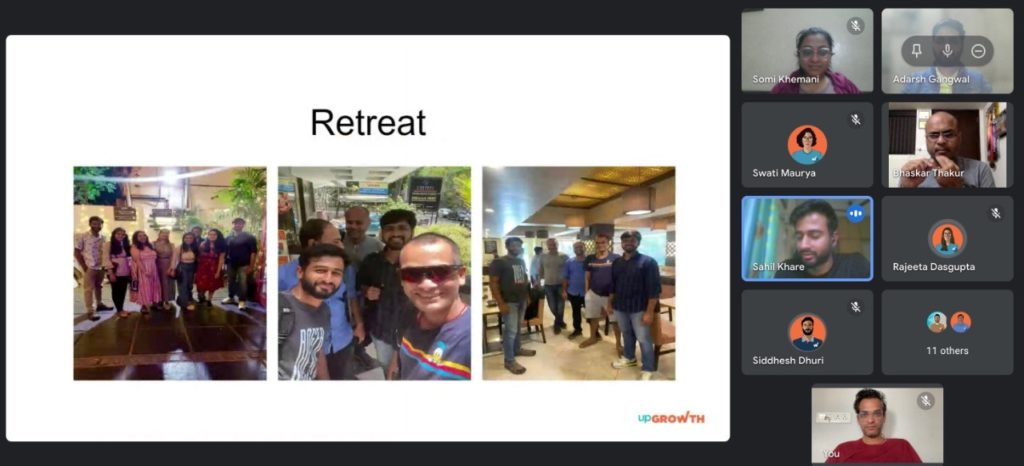 Meet Somi – The Adventurous Soul
Digital marketers, without a doubt, are always on a roll! But every once in a while, it is great to take some time off the chaos of Social Media.
Somi Khemani, our Digital Marketing Strategist, shared the best experience of her life when she traveled to Vietnam and felt very proud of herself as this was her first international trip.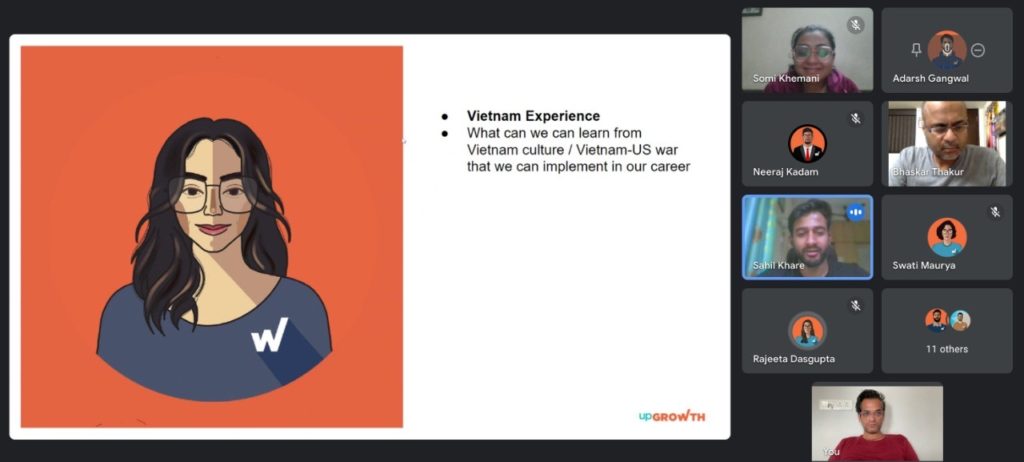 Below mentioned are the key highlights of her beautiful trip.
How travel helps you grow, from Somi's perspective –
It breaks the monotonicity and gives you new experiences.
It makes you grow as a human as you meet different people from all across the world.
It makes you humble and provides the patience to respect others more often.
It makes you understand yourself more.
It makes you braver and smarter to tackle tough times.
She also experienced many unplanned events, which turned out to be one of the first among many new experiences which will surely be cherished for her entire life. She tried various types of food irrespective of her likes and dislikes, had deep, meaningful conversations with the beautiful locals, and made friends for life with wonderful people.
Conclusion
Uniting the team around a common cause binds us together and ensures everyone is working toward the same goal. We, at upGrowth, create a vibrant work culture so that the mission goes beyond just earning revenue. We have individuals onboard with unique skills and personalities centered on a definite goal that defines success.
About the Author
Manjusha Karkera is an enthusiastic content marketer who has created numerous engaging and compelling writing pieces for various clients and companies over the years. She enjoys writing pithy content and copy on various sectors like fashion, beauty and wellness, sports, fitness, education, etc. Prior to Team upGrowth, she worked as a Marketing Communications Specialist. Her overall experience includes all forms of content writing and copywriting.