All about Email Marketing: Introduction, Benefits & the Professionals
Published: October 10, 2022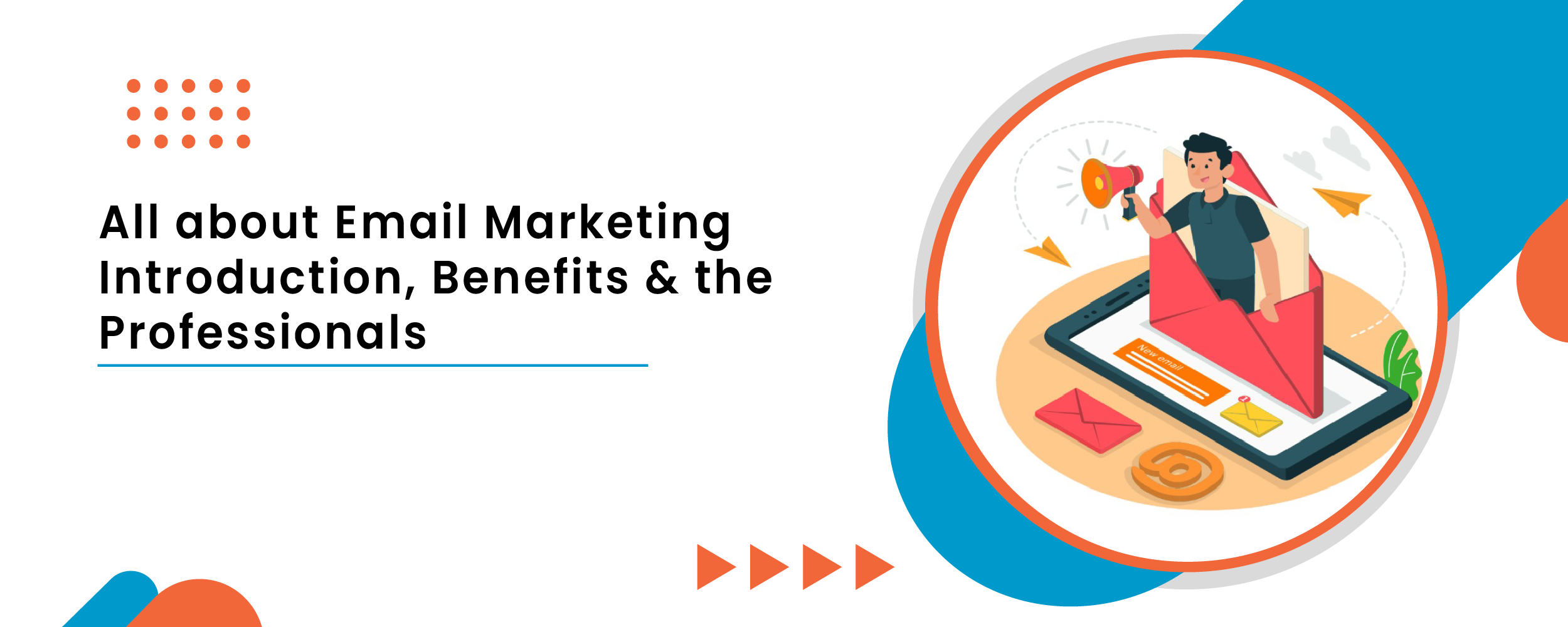 Email advertising is very much alive and as opposed to popular belief, it is thriving. Email marketing is becoming more and more popular as privacy concerns on social media platforms are multiplying.
Email marketing is a fantastic tool for businesses to advertise goods and services, cultivate customer relationships, and connect with prospective new clients.
Every year, the effectiveness of email as a marketing tool is questioned. However, the statistics indicate that it is more powerful than ever.
306.4 billion emails were sent and received daily on average in 2020.
Email is the main route for lead generation for 89% of marketers.
Compared to the industry average of 10.69%, 22% of marketers report email click-through rates over 20%.
One study found that 59% of marketers believe email to be their most profitable channel, and studies have shown that email is more effective than social media at attracting new customers.
But to achieve the best results, an effective email marketing strategy needs a team of experts in many fields. In order for businesses to create an efficient email marketing team, there is a requirement for a variety of email marketing specialists to fill these jobs.
These following roles, when working collaboratively, create a successful email strategy –
Email Marketing Strategist
Project Manager
Email Designer
Copywriter
Email Marketing Developer
Data Engineer
Email Marketing Strategist
Specialists in email marketing create programs that support brand campaigns and increase visitors. With this, they can firmly establish their position in the cutthroat industry and guarantee that their brand experiences success, in the present and future.
The strategist is the one who develops the overarching email marketing strategy. They are in charge of managing campaigns and ensuring that specific objectives are well-defined and considered.
A strategist must know how to conduct target audience research and identify potential revenue-generating opportunities.
In order to achieve a business's marketing objectives, they basically need to decide how to apply email marketing the best.
An effective email marketing campaign requires a solid strategy.
Email Marketing Project Manager
The project manager's primary responsibility is to coordinate the efforts of the email marketing team members in their other duties.
The professional implements email campaigns based on the specified marketing objectives—loyalty, acquisition, sales, CRM, or customer life cycle. The Email Marketing Project Manager divides the client database into groups for each strategy based on the target audience she hopes to reach.
They are in charge of assigning resources and compiling the materials needed for email marketing.
Project managers establish deadlines for various tasks and monitor their timely completion. Other responsibilities include informing several departments of a project's status and any potential issues.
Additionally, they are in charge of overseeing applications like Slack and Sharepoint for communication and email automation platforms.
Email Marketing Designer
The email's appearance and feel are the designer's concern. They are the ones who work with visual content like pictures, videos, GIFs, and graphics and are aware of how conversions are impacted by these elements as well as others like white space, color, and contrast.
The designer creates, arranges, and coordinates digital elements for an email campaign or digital marketing advertisement. The professional is responsible for creating visually appealing HTML emails from scratch or using preexisting HTML email templates. You can format the email's content using cascading style sheets (CSS).
Email marketing designers must be aware of the limitations imposed by various email clients as well as how emails are seen on various devices.
To ensure a design that will be responsive across desktop, mobile, and several email inboxes, it is necessary to collaborate closely with the strategist and developer.
They must recognize and comprehend a campaign's primary goals and ensure that the company's image and messaging are consistent.
Email Marketing Copywriter
The email marketing copywriter is responsible for creating high-quality content and converts.
Without high-quality, engaging content, even the best email marketing techniques and designs are virtually meaningless.
The copywriter's initial objective is to persuade recipients to open a promotional email. And after it's opened, to spur them on to action.
A skilled copywriter knows that people read emails differently than they read web pages. Without addressing email design, we cannot discuss email copy. Because of this, copywriters and designers must collaborate to ensure their skills are complementary.
Email Marketing Developer
The developer technically codes the email that the designer creates.
They are in charge of creating the email's inline CSS and HTML.
Different email clients display emails differently. Because email clients do not all use the same rendering standards, developing for email is more challenging than developing for the web.
The members of the email marketing team tasked with handling the technical aspects of email automation, deliverability, and ensuring that emails are not blocked by spam filters are known as developers. They also collaborate with designers to ensure that emails look as they should on all devices and email clients.
They are in charge of A/B testing and the related tools to determine which version of an email performs best with your audience, and they should be knowledgeable about various email marketing platforms.
Email Marketing Data Engineer
A data engineer makes sure the appropriate data is contained in the email.
Email campaigns for businesses frequently involve segmentation. Additionally, having a data engineer on your team will aid in avoiding unsuccessful segmentations.
In order to optimize upcoming campaigns, the data engineer will additionally review and analyze performance information. In this manner, the email marketing team may ascertain the best times and days of the week to send emails, the subject line kinds that perform the best, and other elements that can enhance the success of an email marketing campaign.
Businesses can hire employees internally, hire independent contractors, or contract out the full email marketing campaign.
Also Read:
Email Marketing Growth Hacks Complete Guide
Why Email Marketing Is Important For Your Business
Incredible Free Tools for Email Marketing
About the Author
Amol has helped catalyse business growth with his strategic & data-driven methodologies. With a decade of experience in the field of marketing, he has donned multiple hats, from channel optimization, data analytics and creative brand positioning to growth engineering and sales.