Incredible Free Tools for Email Marketing
Published: August 14, 2018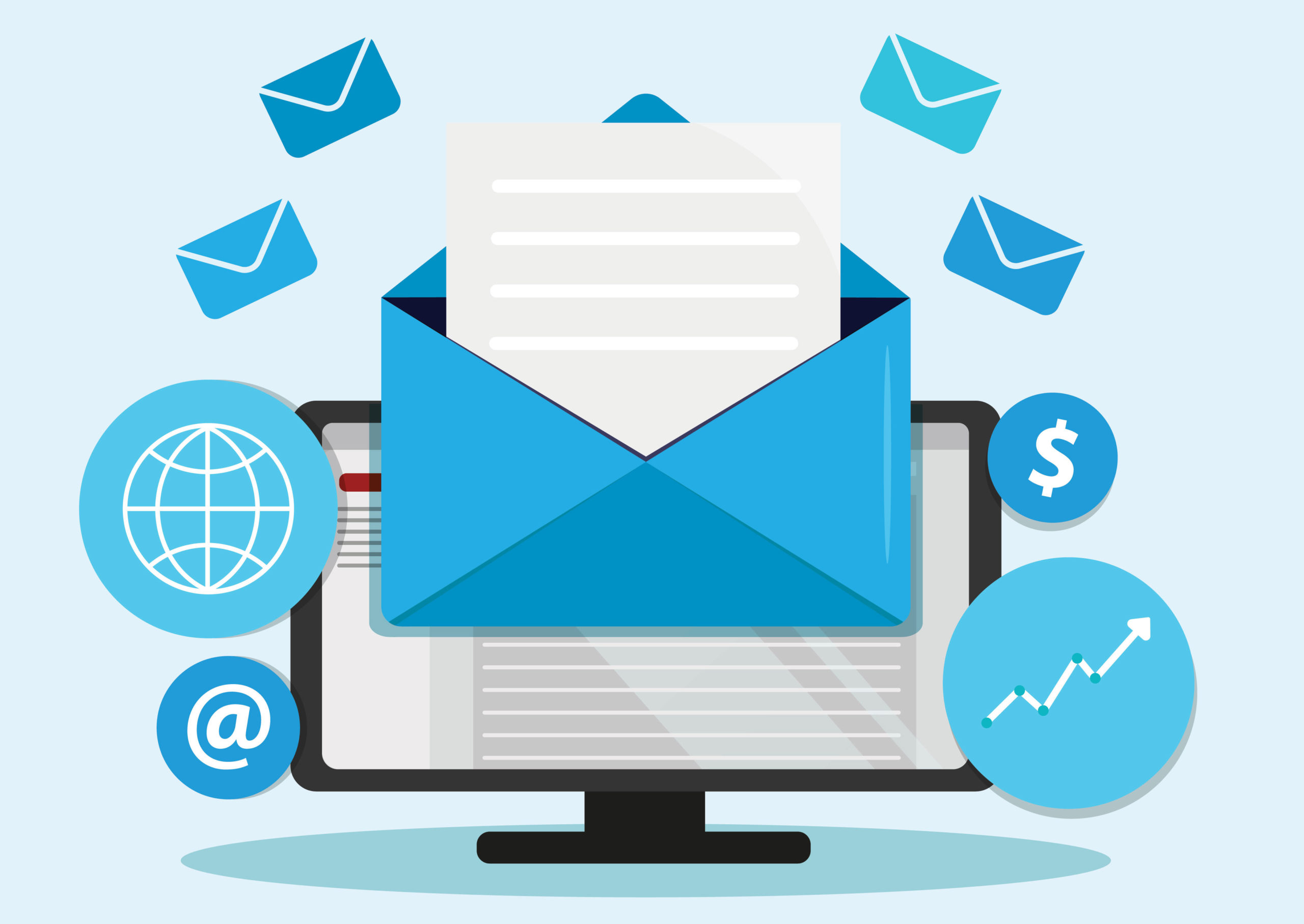 Mad Mimi
E mail marketing is one of the best forms of marketing to reach out to your customers on a constant basis. Customers need to be reminded of the brand every now and then. E – mails are the best technique to reach out to your existing customers.
Make it simple, Make it memorable, Make it inviting to look at, Make it fun to read – Leo Burnett.
Emails are the best form of re-marketing a brand generally invests in for long term success.
If used with appropriate planning, email marketing can prove to be a boon to convert your traffic into gains. However, there many free and cost effective email marketing tools available to the business world.
MailChimp is one of the most-frequently used email applications as it has a base of over 6 million users today.
Their user interface consists of customized signup forms you can integrate into your website or your Facebook page, dozens of customizable templates, social sharing integration and a full-featured API to sync existing customer databases, shopping carts, etc.
MailChimp is ideal as it is free for up to 2,000 subscribers—and you can send up to 12,000 emails per month. However, the free plan has limited features for usage.
Paid plans are very affordable as they range from $10 to $450 per month, depending on the number of subscribers and emails you send per month. The $450 per month plan permits up to 85,000 subscribers and also a million emails.
MailChimp's robust automation ensures your emails get to the right people at the right time. Target customers based on factors namely behavior, preferences, etc. You must trigger a series of emails with an API request.
This feature lets you customize for Mailchimp and include new rules of working.
Here is a demonstration of the dashboard in Mailchimp. At a very basic stage, Mailchimp allows you create a list, campaigns, etc. You can also build on your audience and avail plenty of features within.
Sendicate is one of the most simplest tools that offers email marketing services. The platform emphasizes and focuses on content with an amazing editor that lets you pick and choose what you want to add to your emails, compose your emails way before you are ready to send them out and then release them at the right time.
Search filters make it easy and convenient to segment your subscribers for strategic marketing. Pricing for this unique service starts at $9 per month for unlimited emails to 500 subscribers. However, up to 1000 emails to 500 subscribers is always free.
This is an active dashboard for Syndicate which reads the prospects, mails and website statistics for a particular email campaign.
This email platform allows you choose from a variety of fully-customizable email marketing templates. Share your emails on eminent social platforms such as Facebook, LinkedIn, Twitter and Google+ take advantage of a fully-branded subscription center where your customers can set up their preferences, enter their information and even edit their profiles.
The users fall in love with the live ticker that delivers the stats as they're happening. This tool is ideal for those who are less-than-patient when we're waiting for metrics. It's freely available for up to 500 email addresses.
When you are considering more than 500 contacts, prices start at $15 per month. It is totally affordable, and it's really amazing.
This email marketing platform – StreamSend simplifies email marketing with simpler opt in and out features, list segments, opt-in confirmation, list managements including importing and exporting of available contacts.
In this, the special feature of Email Analyzer tests your messages in 30 different email clients. If you've ever sent an email marketing campaign, you seem to be extremely familiar with the phase of different email clients rendering your code in various and absurdly wacky ways.
Their plans start at $19.90 per month for up to 2,000 emails. Moreover you can use this platform for a free 30-day trial.
Here we see how Streamsend really works.It has plenty of features within its mail service which allow you connect better with your customers
Campayn is a fabulous platform that allows you to import the contacts from your Yahoo!Mail and Gmail address books to pioneer your subscriber list. This platform also offers ready made templates, sign-up forms to add subscribers & followers and autoresponder emails to ease the stress of following up.
The package of 20,000 emails to 500 subscribers is free. This permits you test out this platform's functionality before your subscriber list grows.
However, the paid packages commence at $10 per month for 1,000 subscribers.
Emma is a platform that offers ready-made email templates and really amazing visuals, along with response graphs and analytics data. This platforms analytics assists you to look beyond the surface data to identify current trends over time and also dig deep into data for maximum result outcome.
The pricing here starts at $45 per month up to 2,500 subscribers and 15,000 emails. It further goes up to $199 per month for unlimited emailing and all the bells and whistles, that includes a dedicated account manager. If your needs are even more personalized, you can call to request a quote for the enterprise level, which will then offer a plan
The image above explains the features of Emma and its dashboard with its many features. The visuals explain for themselves as to the number of features on offer.
Mad Mimi is a platform that makes email marketing simple and to the point by focusing on just the emails. Everything is very straightforward and plain.
This platform allows you to view your most recent stats on the front page and see an image of your latest email to help you recall just how it previously looked.
If you seek and look forward for a little more than the basics, social media features, drip emails and more can be applied as add-ons. The pricing package starts at $10 per month for 500 subscribers.
This is the dashboard of Mad Mimi. Not only does it consist only of general emailing tools, but also of various statistics that help calculate various metrics.
Mailjet is a complete email automation tool along with a host of templates. Moreover, there are website widgets to capture email addresses & sync with your contact list.
It has analytical tools to help you adjust your marketing efforts in order to ascertain the greatest impact. The price plans start at $7.49 for 30,000 emails per month.
This is how your contacts list in Mailjet would look like. You can create contact lists and keep the communication channel running in every list.
Benchmark Email's editor works very much like a Word document, for totally streamlined and simplified design – even if you're not an accomplished designer. This platform gives you freedom to customize signup forms for Facebook, Twitter or your website.
You can also track important metrics like open rates and social shares. Benchmark Email is freely available for 14,000 emails for up to 2,000 subscribers.The plans with unlimited emails start at $11.95 per month for up to 600 subscribers.
This dashboard of Benchmark email allows you view recent statistics, recent links accessed and also helps you create a list, email, etc.
This amazing platform offers email marketing as a unique component of marketing products, which focuses on social media marketing, event marketing, online surveys and many other applications.
With numerous email templates to choose from, real-time analytics & sharing functions, Vertical Response is a comprehensive email platform.
Vertical Response offers a price structure that is basically feature-specific. You can avail Vertical Response for free for up to 300 subscribers and also customize your needs accordingly.
Above is the platform of Vertical Response with all its features and emailing options to choose from.
This platform allows you to create your own templates with an easy-to-use template builder. You have to simply choose from a variety of layouts, select colors and then customize your text and images.
You can even access personalized messaging. Campaign Monitor's emails are also optimized for mobiles. It is indeed the perfect solution for today's mobile-driven users. The signup is free and you can send campaigns starting only at $9 per month.
As Campaign Monitor monitors all the campaign and its insights, in the image above, a comparative analysis of 2 versions within a campaign is displayed and compared.
FreshMail is a platform which is totally free for 500 subscribers and 2,000 emails per month. The paid plans start at around $14 per month.
This interface offers a commendable section of features for email marketers, including A/B tests, time-optimized messages, transactional emails, auto-responses and much more.
It also allows you to create barcodes for retail discounts and enticing promotions for your subscribers.
The above image explains how you can measure your mail campaign performance especially by taking location preferences into consideration. It gives a detailed analysis of how to go about with the future emailing campaigns.
ExpressPigeon is a dominant email marketing platform with an amazingly clear comprehensible interface. This platform offers scaling pricing for businesses depending on the number of subscribers with paid plans.
The offer also includes an unlimited volume of sent messages. ExpressPigeon allows you send 1,000 emails to up to 500 subscribers every month for free. The paid plans start at $9.99 for 500 subscribers offering unlimited mailing service.
The above dashboard of Express Pigeon allows the company measure their email performance and also gives a report or a summary on the entire email campaign.
Constant Contact and email marketing go hand in hand. It's one of the most detailed and advanced email marketing applications on the web, with a variety of superb tools, such as surveys and event marketing, that you can charge with a fee.
Constant Contact's built-in analytics are incredible and so are its impressive customizable template database & social sharing features. You can get started with Constant Contact for $20 per month once you have successfully experienced the 60-day free trial.
The above dashboard lets you an insight into the number of contacts newly established, and also measures the overall growth over a month or so.
Aweber focuses on features such as follow-up, HTML email marketing templates, signup forms, RSS-to-email, a full-featured API and autoresponder. It possesses a learning database featuring live webinars, video training, a complete knowledge base to help you navigate the features and a blog with tips on maximizing and improving your email marketing campaigns.
It is priced at $19 per month for up to 500 subscribers once you have worked on the 30-day free trial.
Above is the dashboard of AWeber and it gives a detailed outlook of emails sent, whether they have been opened or not, the bounce rate, etc. This dashboard allows the email marketers vary their strategy and think ahead.
iContact has established a name for itself in the email marketing scene, offering numerous email marketing templates to choose from.
It consists of an easy drag-and-drop interface for users without any advanced design skills and integrated social sharing features so you can share your messages with Facebook, Twitter and LinkedIn.
Deep contact history offers an in-depth view of all your interactions with each subscriber, so you can manage your relationships more effectively. The pricing generally ranges from $14 for 500 subscribers to $79 for 10,000 subscribers per month.
The above description allows you to view your mails, surveys, autoresponders and also if you have any self created image library.
Interspire is an amazing platform with features that allow you automate your list management, optimize your click-through rates and track feedback with surveys.
Advanced reporting allows you see the full activity of a single lead for maximum personalization and analysis. The pricing in this platform starts at $495 for a single user. It may seem really pricey. However, a lifetime fee as such is worth an experience.
The above diagram explains the dashboard of Interspire. It displays the email addresses along with the format of the email. It also tells us in which contact list does it feature.
SimplyCast is an email marketing platform offering custom templates for clients. They also delve into email client rendering so you're ensured, your campaigns won't look like absurd to your subscribers.
They offer sub-accounts too, so you can give other users access with specific permissions. A campaign cross-check provided within, ensures you're not missing any important details before your message goes out.
It's a free service up to 3,000 email contacts. However, the paid plans are really affordable if you have a larger list.
Above is the dashboard of Simply Cast that displays its features. Along with email, you can also be well informed of its Autoresponder, Web Tracking, Events, social media reach etc.
SendGrid is a platform that provides reliability, scalability, comprehensive, real-time analytics and also, a full-featured API.
The prices start at $9.95 per month for a massive offer of 40,000 emails.
The dashboard in SendGrid displays every statistic in correspondence to emails sent, clicked on, opened etc. It allows companies to understand the current trends and what must they expect in the future of emailing.
ActiveTrail is a fully-featured email marketing platform that's priced at about $7 for 500 subscribers and unlimited emails per month. Its simply perfect if you're a newbie to email marketing and don't yet have a large subscriber list yet.
You'll be sure to benefit from 100% deliverability, advanced reporting and management features with a lot more on offer.
Sign up for a free Business Growth Consultation
Email Marketing for Startups : Do's and Don'ts of Email Marketing
We have establishes that Email Marketing is one thing that will stay forever, even if trends change, technology updates or businesses takes a paradigm shift.
Let's follow a step-by-step approach in managing email marketing as given below :
Choose wisely
For a startup, it is necessary to use tools that won't cost a lot (or are free). At the same time, they need to be effective. There are plenty of tools for this.
These tools will help you with your email marketing.
There are templates, there are social media sharing options & detailed reporting and much more. You can signup for free and also read their blog for some good advice on email marketing.
You can send up to 4K emails to 300 contacts every month for free, use mobile-friendly, free images & graphics and flexible design.
The ScopeIt button, various viewing styles – plain text, mobile, desktop, security of private stuff are some of the amazing features that come with using Litmus, which is absolutely free.
4. Pictaculous
MailChimp's extended service for colour palette for your emails, Pictaculous does an amazing job in creating colourful emails for free.
Create effective content
This is an important task. A wrong word can create blunders & an appropriate word can make your potential customer, your actual one.
This tool has everything you need to send out epic content to your readers. It integrates with tools like HubSpot, MailChimp, Gmail, Outlook and Cronycle.
Publicate has an easy-to-use drag and drop editor that allows you to push your favourite content to newsletters and webpages.
Listen to experts
Experts are a great combination of knowledge, experience & have an understanding where to use them. They clear your clouds of doubts & create a clear picture & direction to move forward.
Most of the tools we mentioned have blogs of their own. There are also some expert blogs in email marketing that you can follow & learn from. They provide amazing insights into various aspects of email marketing.
Zapier
Mailchimp
Litmus
Vertical Response
From choosing the right tools to connecting the customers by way of your creative genius, you can ace email marketing with constant connect & efforts. Focus on optimizing what you have in the best possible way.
Conclusion
Many companies, firms and individuals use these tools and achieve desirable results.
Which one is your personal favorite? Let us know in the comments below. We look to read your feedback
About the Author
Amol has helped catalyse business growth with his strategic & data-driven methodologies. With a decade of experience in the field of marketing, he has donned multiple hats, from channel optimization, data analytics and creative brand positioning to growth engineering and sales.