Yoast vs SEMrush: Unveiling the Best SEO Tool for Your Website
Published: October 20, 2023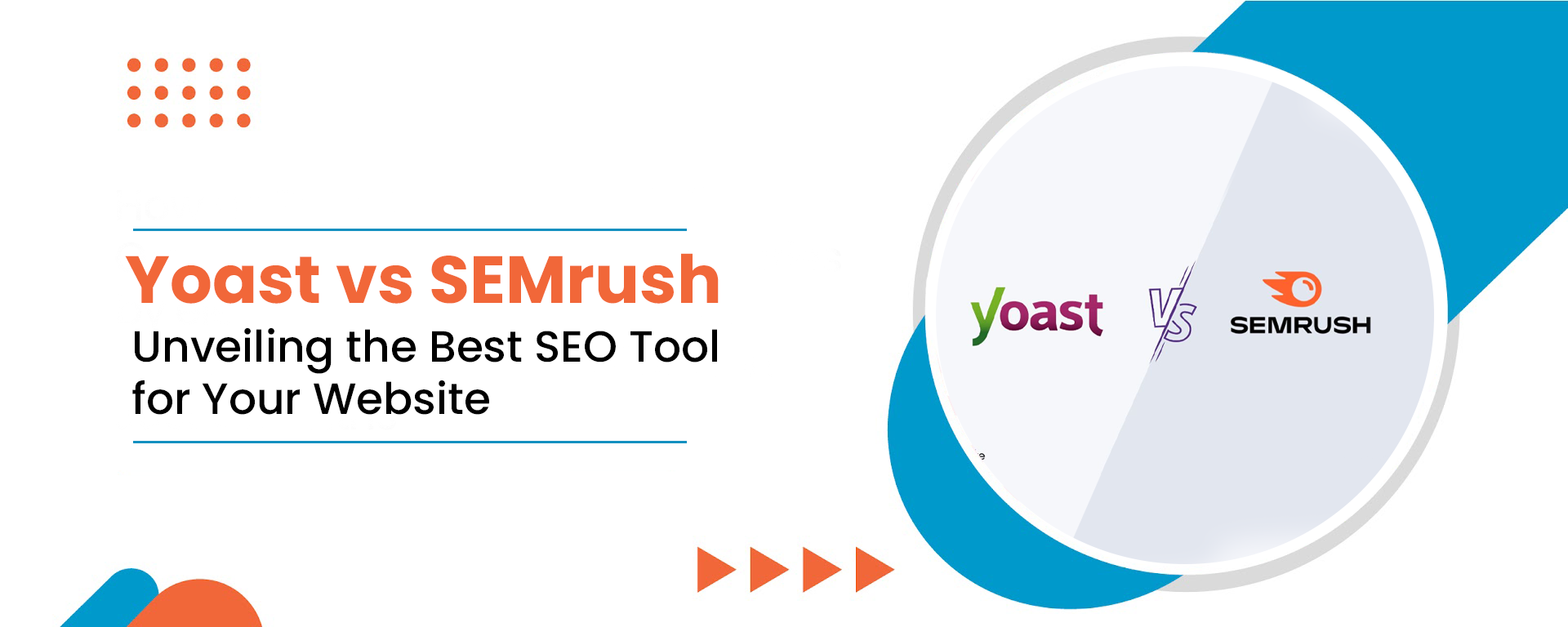 Overview and features of Yoast SEO
Using the comprehensive Yoast SEO WordPress plugin, users can improve their on-page SEO and make their content more search engine friendly. It is well-liked due of its intuitive recommendations for creating SEO-friendly content and user-friendly interface. Users may wish to take into account supplemental tools like SEMrush for more general SEO requirements like keyword research and competition analysis even if it primarily focuses on on-page SEO improvement. Here is a list of its attributes:
1. Readability Analysis:
Yoast SEO evaluates your content's readability and makes recommendations for improvement.
It measures sentence and paragraph length, the distribution of subheadings, and the usage of transition words to improve understanding.
2. SEO Analysis:
Yoast SEO evaluates your content's SEO friendliness and suggests how to improve it.
It examines outbound and internal links, keyword density, meta tags (title and meta description), and keyword optimization.
3. Internal Linking Suggestions:
As you write, it provides pertinent internal links that help your website's overall structure.
4. Redirect Manager:
The redirect manager in the plugin makes it easy to set up and manage 301 redirects, maintaining SEO value when URLs change.
5. Schema Markup:
Search engines can better comprehend your content with the help of Yoast SEO's support for schema markup, which could result in rich snippets being displayed in search results.
6. Premium Features:
A premium edition of Yoast SEO is available with cutting-edge features like multiple target keywords, content insights, and access to round-the-clock assistance.
7. Content and SEO Snippets:
You may choose a focus keyword for your content using Yoast SEO, which also shows you a preview of how it will look in search engine results.
It assists you in coming up with intriguing titles and meta descriptions that are geared to enhance click-through rates.
8. Breadcrumbs:
Breadcrumb navigation is a plugin feature that improves user experience and SEO.
9. XML Sitemaps:
Automatic XML sitemap generation by Yoast SEO makes it quite simpler for search engines to crawl and index your website.
10. Canonical URLs:
It enables you to designate the preferred version of a page and set canonical URLs to prevent problems with duplicate content.
11. Social Integration:
With the help of Yoast SEO's choices for setting social media metadata, you can make sure that your material will appear fantastic when shared on websites like Facebook and Twitter.
Semrush overview and features
The SEMrush toolbox is designed to help businesses increase their online presence and make informed decisions. There are many features available for SEO, competitive analysis, keyword research, content optimization, advertising, and other things.
Key Features of SEMrush
1. Competitive Research:
SEMrush offers information on the online strategies of your rivals, including the top keywords, backlinks, and marketing initiatives they are using.
2. Position Tracking:
Users can track the search engine rankings of their website for particular keywords and follow its performance over time with SEMrush.
3. Keyword Research:
Users can find profitable keywords, evaluate their search traffic, competition, and trends, and spot chances for long-tail keywords.
4. Site Audit:
SEMrush is a site audit tool that checks for website SEO problems and makes suggestions for enhancing on-page SEO.
5. Backlink Analysis:
Users can examine their and their rivals' backlink profiles, spot harmful links, and look for link-building chances.
6. Content Marketing:
It provides tools for content analysis and optimization that assist users in producing exciting and SEO-friendly material.
7. Local SEO:
It offers management tools for managing local SEO, such as local keyword tracking, maintenance of business listings, and review tracking.
8. Content Marketing Platform (CMP):
Users may plan, develop, and manage content marketing initiatives with the help of SEMrush's CMP.
9. PPC (Pay-Per-Click) Advertising:
SEMrush provides resources for setting up and managing PPC ads on websites like Google Ads.
10. Reports and Analytics:
Users can create customized reports to track their digital marketing effectiveness and share findings with coworkers or clients.
11. Training and Support:
In addition to customer support, SEMrush provides instructional materials such as webinars, tutorials, and a knowledge base.
12. Advertising Research:
SEMrush offers information on the ad wording, keywords, and spending of competitors' paid advertising campaigns.
13. Social Media Management:
Users may check interaction data, schedule and evaluate social media posts, and monitor their online activity.
14. Market Analysis:
For the purpose of informing marketing plans, SEMrush provides statistics on market competitiveness, industry trends, and audience demographics.
Summary: Yoast vs Semrush
The choice between Yoast and SEMrush depends on your specific needs and goals:
Yoast SEO:
Ideal for WordPress users looking for on-page SEO improvement.
Restricted to on-page SEO only inside the WordPress community.
Offers tips for SEO and readability analysis.
Focuses on improving specific content components.
Provides options such as canonical URLs and XML sitemaps.
SEMrush:
Suited for a wider variety of digital marketing requirements.
Suitable for companies and marketers seeking a complete arsenal for marketing.
Provides keyword research, backlink analysis, and competitive analysis.
Offers solutions for content optimization, site audits, and other tasks.
It goes beyond SEO to cover a variety of digital marketing topics.
In the end, Yoast SEO is a niche WordPress plugin, but SEMrush is a flexible digital marketing tool that goes beyond SEO. Your decision should be in keeping with the scope of your internet presence and your specific marketing goals.
SEO Writing Assistant: Yoast vs Semrush
Here is a comparison between SEO Writing Assistants in SEMrush and Yoast:
Yoast SEO Writing Assistant:
Built especially for WordPress users.
As you are writing or editing material, it provides real-time readability analysis and SEO tips.
Gives advice on how to use keywords, make information easier to read, and organize it.
Enhances the SEO of specific WordPress pages and articles.
Focuses on WordPress' ecosystem's on-page SEO optimization.
Restricted to WordPress content and websites.
SEMrush SEO Writing Assistant
A standalone tool appropriate for a wider range of websites and content management systems (CMS).
Provides tips for content optimization and real-time SEO advice.
Suitable for bloggers, marketers, and content producers operating across numerous platforms.
Reveals specific information on the target audience's engagement, voice, and readability.
Provides a broader range of services, including content optimization for websites other than WordPress, including blogs, articles, landing pages, etc.
Integrates with the extensive collection of digital marketing tools from SEMrush.
In conclusion, both Yoast and SEMrush provide SEO writing assistants, but their compatibility and range of functionality vary. For WordPress users, Yoast's SEO Writing Assistant offers on-page SEO advice within the WordPress environment. While providing a more comprehensive selection of content optimization features, SEMrush's SEO Writing Assistant is a standalone tool appropriate for many CMS and website systems. Your decision should reflect your needs for content management and a CMS.
Integration: Yoast and Semrush
Yoast and SEMrush integration can be advantageous for anyone seeking to combine the strengths of the two technologies. Here is how they can work together even when their main functions differ:
Yoast SEO (for WordPress):
Provides features including canonical URLs, XML sitemaps, readability analysis, and SEO advice.
Primarily concentrates on WordPress's on-page SEO optimization.
Best for WordPress website content optimization for certain pieces.
SEMrush:
Provides information on market trends and rivals.
Offers a complete toolkit for digital marketing, including site audits, keyword research, competitive analysis, and backlink analysis.
Suitable for more extensive digital marketing plans than just on-page SEO.
Integration Approach:
1. Keyword Research: Use SEMrush's keyword research tools to find high-value keywords that you can incorporate into your Yoast-optimized content for WordPress.
2. Content Strategy: SEMrush can help you create a content strategy based on your keyword research. The content can then be optimized using Yoast before being published.
3. Site Audits: To find technical SEO issues, do thorough site audits using SEMrush. Yoast can assist with maintaining on-page SEO once problems have been fixed.
4. Backlink Analysis: Your link-building activities can benefit from SEMrush's backlink analysis. Yoast can make sure the information you're connecting to is search engine optimized.
5. Competitor Analysis: SEMrush may offer competitive insights through its competitor analysis. Yoast can assist you in applying these suggestions to your WordPress site.
Yoast is a WordPress-specific plugin specializing in on-page SEO optimization, whereas SEMrush provides a broader selection of digital marketing tools. If you manage other parts of digital marketing outside of the content of your WordPress website in addition to having a precise on-page SEO strategy, integrating them can assist you in gaining access to both.
Yoast vs Semrush – Conclusion
In conclusion, the choice between Yoast and SEMrush depends on your specific needs and goals:
Yoast SEO (for WordPress):
It's ideal for WordPress users who want to improve on-page SEO within the WordPress community.
Centered on enhancing the SEO of certain WordPress posts and pages.
Offers features like canonical URLs and XML sitemaps.
As you generate or change material, the tool offers real-time readability evaluations and SEO advice.
Ideal for individuals who manage content mostly within WordPress.
SEMrush:
Suitable for more diverse digital marketing requirements than only on-page SEO.
Gives information on industry trends, rivals, and more general digital marketing tactics.
Integrates not just with WordPress but also with other content management systems.
Perfect for companies and marketers looking for a flexible marketing toolkit.
Provides a full range of digital marketing tools, such as site audits, competitive analysis, backlink analysis, and keyword research.
Your decision should be in line with your unique goals and the size of your web presence. Yoast is a good option if you're interested in WordPress content optimization. SEMrush offers a wider variety of tools and insights, but, if you need a comprehensive digital marketing package that goes beyond on-page SEO.
FAQs
1. In terms of on-page SEO, how does Yoast's plugin compare to SEMrush's suite of tools?
When comparing Yoast's plugin to SEMrush's suite of tools in terms of on-page SEO, it's essential to understand their respective strengths and purposes:
Yoast SEO (for WordPress):
In the WordPress environment, specifically created for on-page SEO optimization.
Offers features including canonical URLs, XML sitemaps, and metadata optimization.
Aims to make individual WordPress posts and pages' SEO better.
Ideal for individuals who manage content mostly within WordPress.
Provides advice for SEO as you generate or change content in real time.
SEMrush:
Includes on-page SEO elements in its extensive range of digital marketing solutions.
Suitable for a wider range of digital marketing requirements, such as backlink analysis, competition analysis, and keyword research.
Offers tools for conducting thorough keyword research, content optimization advice, and content audits.
Enables you to keep track of rankings and check the effectiveness of on-page SEO.
Provides information on market trends and rivals.
2. Which tool, Yoast or SEMrush, offers better keyword research capabilities?
SEMrush is known for offering superior keyword research capabilities compared to Yoast, especially when it comes to the depth and breadth of features:
SEMrush:
Conduct competitor keyword research to find out the terms your competitors are using and ranking for.
Using SEMrush's keyword research tools, you can discover new phrases and examine their search volume, level of competition, and market trends.
Providing keyword gap analysis enables you to find keyword opportunities where your rivals are succeeding but are not.
SEMrush is appropriate for international SEO campaigns since it gives users access to local and worldwide keyword databases.
It provides sophisticated tools for developing thorough keyword strategies, including keyword grouping and analysis of keyword difficulty.
Yoast SEO (for WordPress):
Compared to SEMrush, Yoast's keyword tools need to be improved in content analysis and readability tests.
It offers suggestions for each individual WordPress post and page's keyword optimization.
Yoast does provide some fundamental keyword functionality, but its main objective is on-page SEO optimization for the WordPress platform.
SEMrush is a better option if your main objective is developing your keyword research, analysis, and strategy. SEMrush is a complete solution for keyword-driven digital marketing strategies because it provides a broad range of sophisticated keyword research features. Yoast, on the other hand, offers a different level of keyword research skills and is primarily intended for on-page SEO within WordPress.
3. Can you explain the pricing models for Yoast and SEMrush, and how they differ?
Certainly, let's break down the pricing models for Yoast and SEMrush, highlighting their differences:
Yoast SEO (for WordPress):
The plugin from Yoast is available in both free and paid editions.
Yoast SEO Premium, the premium edition, includes cutting-edge features like redirect management, internal linking ideas, and increased support.
Each website where Yoast SEO Premium is installed must pay an annual subscription cost.
It is more cost-effective for those with many websites because the price fluctuates depending on how many websites you wish to use.
Basic on-page SEO capabilities including content analysis, metadata improvement, and XML sitemaps are included in the free edition.
SEMrush:
SEMrush uses a subscription-based pricing structure with multiple options to suit diverse demands.
Pricing for SEMrush is tier-based, with higher-tier plans offering additional features and functionalities.
There are four primary levels of plans, labelled "Pro," "Guru," "Business," and "Enterprise," each offering a different set of features and functionalities.
A free trial with restricted access to SEMrush's functionality is available.
The cost of SEMrush plans varies depending on the quantity of projects, keywords monitored, and availability of other tools like content marketing platforms and historical data.
4. Which tool is more suitable for beginners in the field of SEO: Yoast or SEMrush?
Particularly if your main goal is to optimize WordPress websites, Yoast SEO is typically better suited for SEO newbies. This is why:
Yoast SEO (for WordPress):
Checks for readability are provided by the plugin, which is useful for improving text.
Its committed user base and community make it simpler for newcomers to locate information and assistance.
Yoast helps beginners develop their SEO techniques by offering real-time feedback and recommendations as you generate or update content.
Yoast is user-friendly and smoothly integrates with WordPress sites because it was created exclusively for WordPress users.
Because of its simple user interface, on-page SEO advice are simple for beginners to grasp and apply.
SEMrush:
SEMrush is a strong tool, but it also includes functions that go beyond on-page SEO, which could be confusing for newbies.
Although its interface is thorough, people who are new to SEO may find it more difficult to learn.
SEMrush is a feature-rich digital marketing software, so beginners might not initially need to use them all.
Users that wish to conduct in-depth keyword research, competitor analysis, and other sophisticated SEO chores are better suited for using it.
5. How do Yoast and SEMrush handle technical SEO aspects like site audits and schema markup?
SEMrush and Yoast SEO approach technical SEO issues differently:
Yoast SEO:
Yoast SEO primarily focuses on on-page SEO within WordPress.
While it offers features like readability analysis and on-page content optimization, it doesn't provide comprehensive site audit capabilities.
It does offer some schema markup features, like adding basic schema data for posts and pages, but it's not as robust as SEMrush in this aspect.
SEMrush:
Technical problems like broken links, crawlability, duplicate content, and more are thoroughly examined by SEMrush. It is a useful tool for dealing with technical SEO concerns because it makes suggestions for enhancing certain technical components.
SEMrush provides thorough technical SEO tools, including tools for site audits. To find problems affecting how well search engines rank your website, you can conduct in-depth site audits.
SEMrush provides a Schema Markup Generator tool that enables users to produce structured data markup for a variety of content, goods, and events. This function can increase the visibility of your website and help your content appear better in search results.
6. Which tool provides more comprehensive competitor analysis features, Yoast or SEMrush?
Compared to Yoast SEO, SEMrush offers more in-depth competitor analysis tools. This is why:
SEMrush:
SEMrush is a flexible and effective tool for digital marketing that offers a variety of capabilities for competition analysis.
You may identify the top-performing keywords and content of your competitors by using SEMrush's extensive insights into their organic search rankings.
You can also keep an eye on the backlink profiles of your rivals, which is crucial for comprehending their link-building tactics.
It enables you to perform competitive research by looking at the websites, keywords, backlinks, and advertising tactics of your rivals.
The competition analysis tools from SEMrush enable you to monitor the PPC campaigns used by your rivals in their online advertising.
Yoast SEO:
Specifically created for WordPress users, Yoast SEO is an on-page SEO plugin. Although it provides some fundamental SEO analysis and suggestions, optimizing specific pages and content is its major objective.
Yoast SEO lacks the robust competitor analysis tools that SEMrush offers.
Read More:
The Battle of SEO Titans: Ubersuggest vs SEMrush
A Comprehensive Comparison: SEMrush vs Moz for SEO Success
Rank Math vs Yoast: A Comparison Guide
2023 SEO Showdown: Ahrefs vs SEMrush – Which Tool Reigns Supreme
What is Technical SEO? Exploring the Technical Aspects of Website Optimization
About the Author
Chandala Takalkar is a young content marketer and creative with experience in content, copy, corporate communications, and design. A digital native, she has the ability to craft content and copy that suits the medium and connects. Prior to Team upGrowth, she worked as an English trainer. Her experience includes all forms of copy and content writing, from Social Media communication to email marketing.