Learn More About How and Why Google Ads is Revolutionizing the Growth of Retail Businesses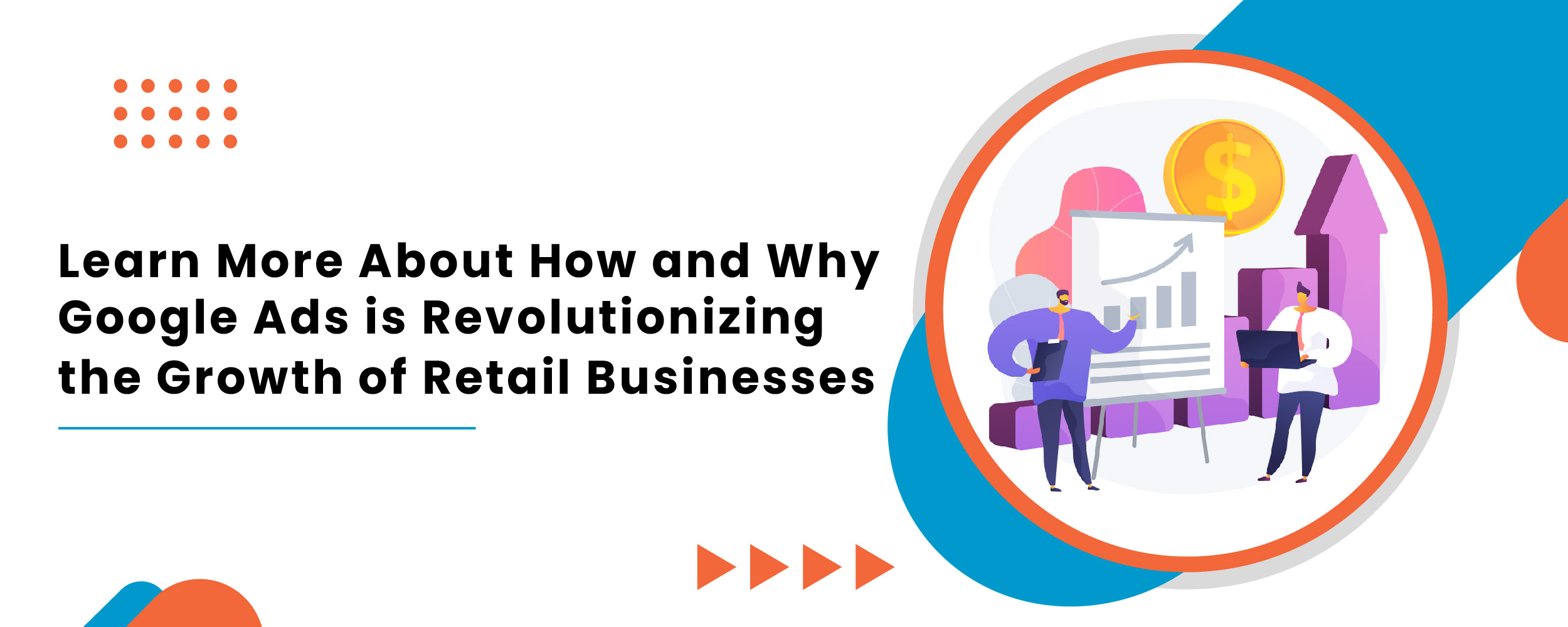 In today's fast-expanding digital era, search is the first touchpoint to make a purchase and 66% of users ranked Google & YouTube as their first choice platforms to research products online.
Why Google Ads? Online Shopping behavior & buying in India is defined by 3 human truths:
Brand experiences for users have search as their entry & exit points.
Shopping should not be just a function, but fun as well. But trust still matters the most.
The use of a single platform, or, an omnichannel approach which can integrate multiple shopping categories.
At the same time, pricing, quality, speed of delivery and reviews heavily influence the buying decision of the user.
Future of Google Ads Automation – How Google Adopt AI to reduce more Human Efforts
Let's Understand how Search Guides Users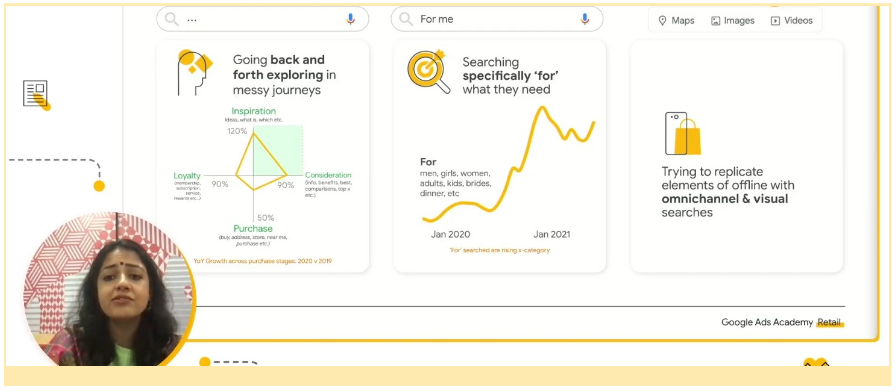 Sorting the messy user journey online: Answering what is, which is and many other user questions that inspires users and drives their purchase decisions

Specific Searches: Providing filtered results on user query by gender, age and other filters
Replicating Offline elements: Making visual experiences a lot more appealing than ever before
This leads to shoppable categories that are classified as shock, sticky and new categories based on search terms from users.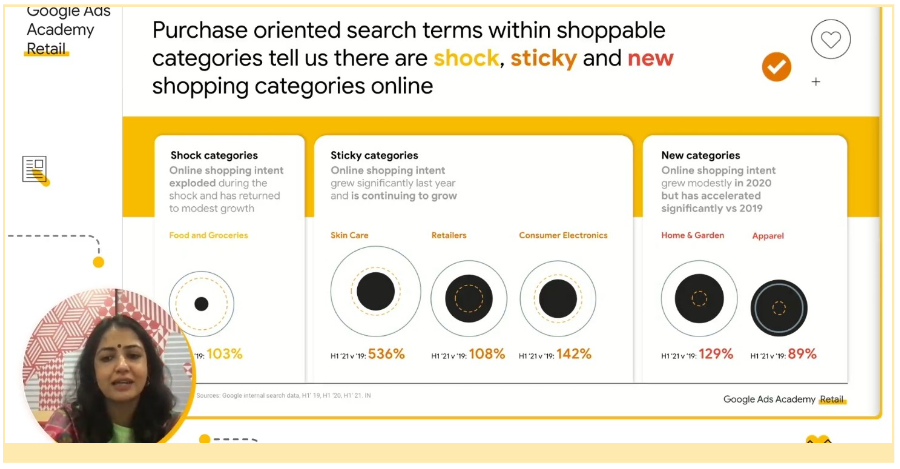 A highly accurate calculation from research companies also shows that Indian retail brands have a mammoth $2.64B global opportunity in 2022.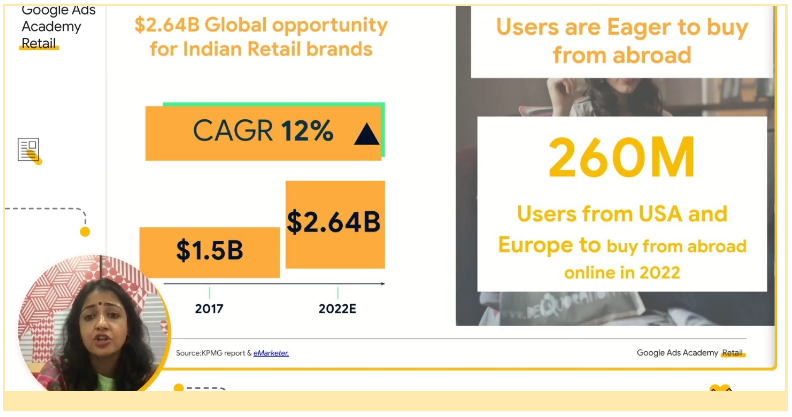 Data Safety and Privacy
Shoppers want more, and the demand for privacy and security of their data and online behavior is something to be taken care of. Owners and founders of browsers, search engines, shopping sites etc have to work at maintaining privacy and security.
Data is vital to the future of online shopping and is handled by advertisers to enhance the audience strategy and create a competitive advantage while understanding user behavior by analyzing web and app visitors.
However, search engines and their respective platforms are becoming smarter to ensure the data collected online is safe and only used by someone who is authorized to do so from the point of view of optimizing user experiences which will further boost online shopping.
This is done not only by machine learning but also with manual intervention which irons out any flaws that may have existed, and this gives us significant results.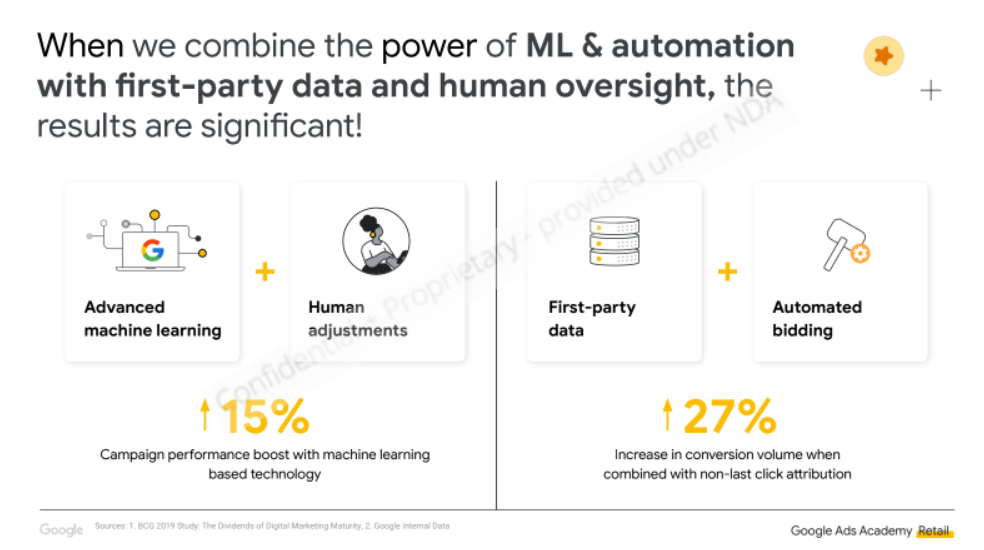 An ideal "Retail Business Journey" should adopt the given strategy right from customer research till going global.
However, it's much more important to evaluate if each touchpoint has been addressed enough, considering all aspects of your business.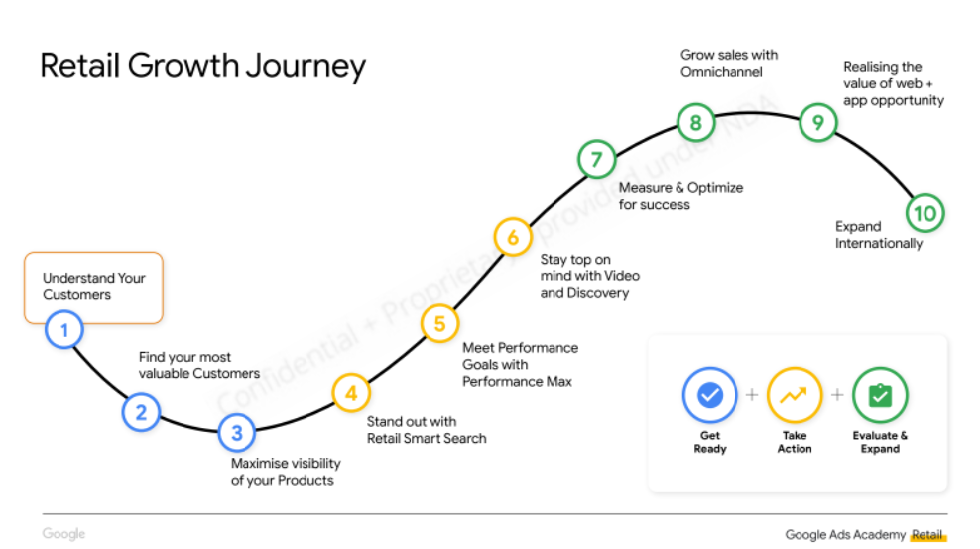 It's important to measure success at every customer touchpoint – but take into account that not all customers are equal and not everyone brings the same value to your business
Now the Question: How does Google Ads Deliver for Your Business?
Sitara Foods, a homemade pickle business from Hyderabad started in 2018 and today, they serve more than 160 countries while upsizing their strength from 4 to 50 employees. 90% of their business is in the form of international orders.
Which Google Ads Attribution Model is Best for Your Business Objective?
The important statistic here is 80% of their overall business comes from Google ads.
Before running the ad campaigns, it's important to analyse the 4 objectives of your Retail Business Journey from the point of view of online advertising:
Sales Volume in terms of target Cost Per Acquisition (CPA)
Sales Value in terms of Return on Ad Spend (ROAS)
Profit as Maximum Conversion Value at a specific Return on Ad Spend
Lifetime Value by forecasting based on the historical data of online buyers and conversions
It always makes sense to combine Google recommendations, smart bidding strategies and your own insights for any Google ads campaign. Build an automation strategy slowly, based on the insights and performance of your ads in their initial run of 2-3 weeks.

Opting for Responsive Search Ads provides you better ad performance, more flexibility in terms of device-based advertising, simplicity of your message while giving you more control of your costs and creatives.

Further Dynamic Search Ads help to augment your reach by showing the right content at the right time from your web properties without you needing to define it. This drives more clicks and higher CTR resulting in lower CPA
Performance Max is another type of campaign from Google Ads which helps you in reaching your customers directly on the best of the inventories where they will be available while keeping in mind your goals and objectives.
Google Ads Performance Max Campaigns: a Complete Guide
You can also stay visible to prospects who want to connect with you by being more focused on intent based searches and keywords.
Working on small factors like updated product information, tax numbers, product visibility through titles, descriptions & attributes help to improve Click Through Rates and conversions. Maintaining a clean Google Merchant Account further boosts your ad performance.
You should also make use of Google Merchant center to find reports on price competitiveness about your most important products and services and compare them in the marketplace while deciding the bidding price for the clicks.
Also, learn in detail about best sellers reports and get the right insights on sales by products and locations worldwide.
The Wrap Up
Google Ads is an ever-evolving platform and is widening its reach with each passing day. It is a proven and potent tool to bridge the gap between you and your target audience, provided all parameters to connect with the prospects and customers are well analyzed and researched beforehand.
About the Author
Amol has helped catalyse business growth with his strategic & data-driven methodologies. With a decade of experience in the field of marketing, he has donned multiple hats, from channel optimization, data analytics and creative brand positioning to growth engineering and sales.