How to Leverage Amazon Reviews And 7 Ways To Get More Amazon Reviews For Better Sales In 2021
Published: February 15, 2021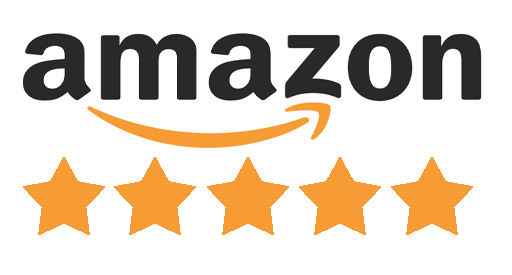 Every e-commerce seller has one main goal: to sell more.
E-commerce, as all know, is an intangible shopping format, where customers rely on image, video and product descriptions to arrive at a purchase decision.
And that's not the only thing which helps a prospective customer convert – product reviews and ratings play a critical role as well.
When customers cannot physically touch, feel and see a product, they rely on the word of others who've purchased before them. Even in the physical/brick and mortar retail world, word-of-mouth offers some of the best marketing.
And being able to have similar positive word-of-mouth marketing from customers online helps put your products in the shopping carts of more customers.
Know More

5 Amazon Hacks for a Successful PPC Campaign to Increase Your Sales

CRO Optimised And SEO Enabled Copywriting Can Boost Your Sales
Amazon is one of the biggest marketplaces in the world, and with millions of people using the platform each day, it's a great place to sell your stuff (even if you have your own ecommerce site) and leverage reviews.
Amazon reviews offer busy prospects the opportunity to skim through star ratings if they're pressed for time, or read detailed, longer reviews (sometimes, even with images) from fellow customers.
Being one of the largest e-commerce sites, Amazon reviews carry their weight – they are seen as a trustworthy source of information for new buyers.
Here's a look at how Amazon reviews work and how you can use them to sell more.
Why Customer Reviews Are Important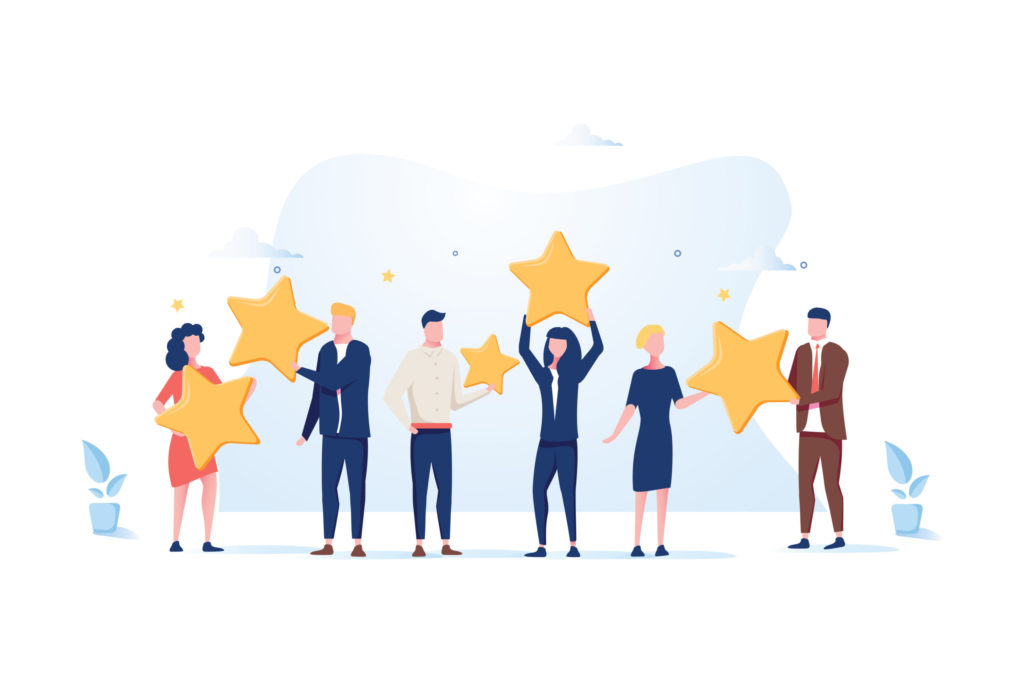 Customer reviews are a window to the quality and usefulness of your products and services for first-time buyers.
They are essential to building trust in your e-commerce operation. Allowing your audience to see product reviews typically increases the overall conversion rate, and also gives insight into different aspects about your product, some which may go beyond what you are able to put into the product description.
Reviews are a must for any product – and when selling on Amazon – especially when you sell on Amazon – it can get you more mileage.
One of the first things any user does on Amazon when searching for a product is to scroll down and see the number of reviews, and the average rating, from 5 stars to 1. This gives a better picture of whether people who purchased the product are satisfied with it or not.
According to a research report from Spiegel Research Centre at the Medill School of Journalism at Northwestern University, a whopping 95% of shoppers read reviews before purchasing a product- making reviews a sacred space and product prime real estate that can be used to drive more conversions.
The report goes on how to highlight that the likelihood of a product ending up in the shopping cart increases by over 200% when it has 5 reviews or more. That's a staggering statistic!
The report also touches upon the fact that the more expensive a product is, the more importance people place on reviews.
The conversion rate for lower-priced products with reviews was 190%, while the conversion rate for higher-priced products with reviews was 380%.
This is a clear indicator that if you expect people to part with a large sum of money, they want to see what the ROI/worth of the product is from fellow customers!
The Amazon Review
Amazon has a great system for reviews.It has room for stars, along with space to write a proper review – as short or as detailed as necessary – and even add pictures to go along with it.
There's also a sense of authenticity, since the prospect can see the name and image of the reviewer along with date and geographical location of the review, and ascertain whether it is an Amazon "verified purchase." (This is indicated under the name of the reviewer, in the signature orange colour and font that Amazon uses.)
Amazon reviews allow shoppers to glean a lot from just a single glance at the bottom of the page. There is a graph that shows the average number of 5-star to 1-star reviews, giving prospects an overall feel of whether the product is worth the money.
And for people who are looking to do a little more research, they have the option to deep-dive into the more detailed reviews that follow below the average star rating graph.
Amazon is a world within itself – and just like Google, the platform is pretty smart when it comes to search. Each time a user runs a search on Amazon, the algorithm looks for products that are relevant to the keyword used.
And, how Amazon rates each product for authority is based on product reviews. The more reviews your product has, the better are the chances it will appear on page one of Amazon's search result.
There's a lot of power in a good Amazon review – and you can leverage that space to gain positive reviews and boost sales of your product.
Here is the some reviews of one the Amazon account handled by us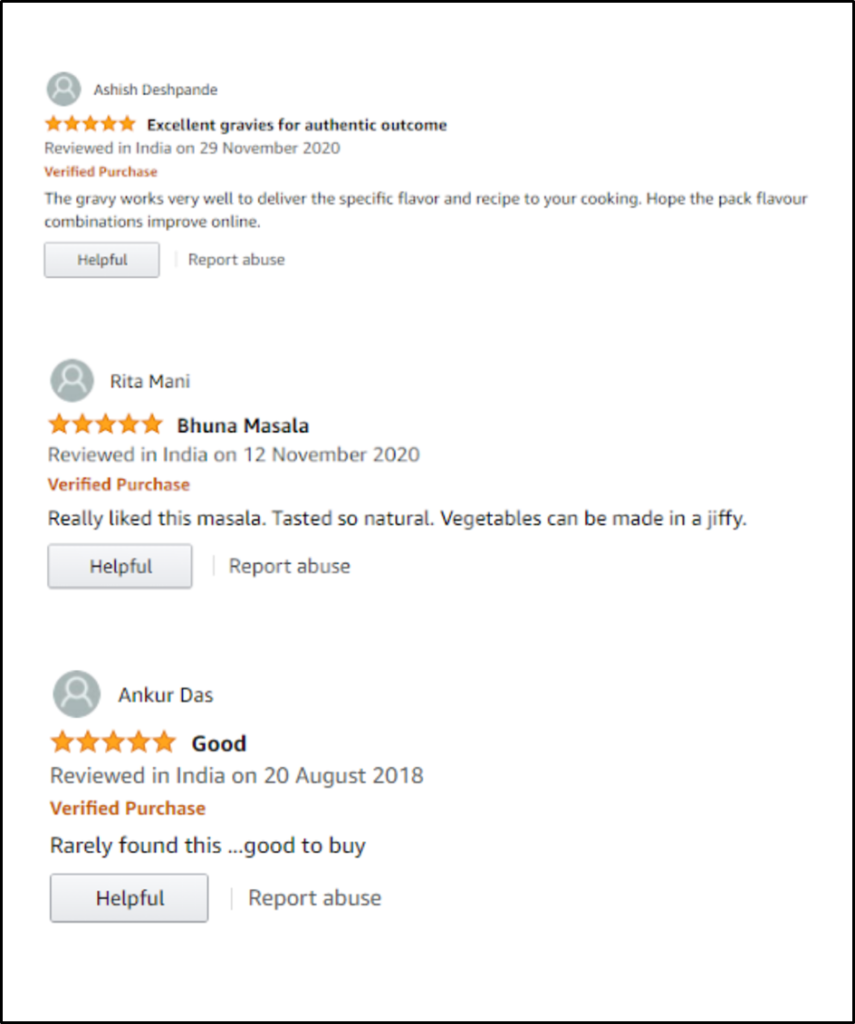 Setting Up Your Amazon Page For Success
Before you start getting rave reviews on Amazon, you need to set up your page for the win.
Make sure to claim and customise Amazon pages. When a user searches for something, Amazon throws up a lot of different results for that search – so you need to ensure that your Amazon page tells your brand and product story in the same manner your website does. (A search for "peanut butter," for example, can show results for everything from peanut butter to peanuts to peanut candy and chocolate peanut butter cups and cookies.)
If a shopper happens to find your brand over the course of their Amazon search, your page should include all pertinent information related to your product and brand: product details, testimonials and reviews.
This adds credibility, builds trust, and will nudge the shopper towards making a purchase.
Impact Of Listing Page And Amazon Reviews On Your PPC Ads
Reviews also have an impact on your sales from an indirect point of view – through your PPC ads. PPC ads pull the customer in from the web based on what they are looking for, so you should ensure your Amazon listing is in tip-top shape.
Each and every click from a PPC ad to your listing is going to cost you – so make it count and give the user what they are looking for! This includes:
High quality photos that show the product, its features, and its benefits.
Keywords in the listing that match what you are using in your ad campaign.
Descriptive and keyword-rich title
Descriptive and readable bullet points that highlight the product USP
Competitive pricing, discounts and offers prominently displayed
Ample reviews
Reviews propel your ad to the next level because they boost confidence and build trust. Ideally, you should have 6-10 verified reviews on your product page before launching your PPC campaign. Prospects will land on your page for all the right reasons if you've incorporated all of the above-mentioned like keywords, titles etc – but if they see an empty reviews page, they will be skeptical. Has anyone even bought and tested out the product?
So, quality reviews – and your honest responses to them – will certainly make your PPC campaign more successful.
How To Get More Customer Reviews On Amazon
Be polite and ask: Well – you have to ask! That's the only way you will get more reviews. You can send an email to customers after they've made a purchase and ask them to share their experience and takeaways from the product.
But it's not about sending out any old email saying "please write a review," – it's a pretty intricate process that's a marketing exercise in itself. Your messaging needs to have a human element to it and not sound like an automated message.
Streamline the process: You need to streamline when and how you contact your customers, how you provide after-sales support, and how you present yourself. You need to show yourself as a brand that's invested in the customer and wants to cultivate and maintain the relationship, instead of being a one-and-done solutions provider.
Send a thank you email – this is a message of gratitude thanking the customer for choosing your product over others in the market. Let the customer know you are there for them, and that they can reach out to you for further assistance.
Send a thank you email – this is a message of gratitude thanking the customer for choosing your product over others in the market. Let the customer know you are there for them, and that they can reach out to you for further assistance.
Send a thank you email – this is a message of gratitude thanking the customer for choosing your product over others in the market. Let the customer know you are there for them, and that they can reach out to you for further assistance.
If you have an account on Amazon, checking your page everyday to see if a sale has been made can be exhausting and time-consuming. Instead, use an email sequencer. An email sequencer automates the above process. It will automatically send out a mail after the purchase is made, and follow it up with more emails on dates specified by you.
Make it easy: You should make it easy for the customer to write a review for your product. Remember, you need it more than them. Ask insightful questions instead of vague ones.
What was the difficulty the customer faced before using your product? How did your product help? What happened when they used it? What would the customer say to someone planning to purchase the same product?
You should also make sure the forms are optimised for mobile, and easy to find.
Early reviewers programme: For young companies and new products, getting Amazon reviews can be an uphill battle. That's where the Early Reviewer Programme can help. It is available for products that have less than five reviews and cost $15 or more.
After you opt in for this programme, Amazon will request for reviews of the product on your behalf – from participating shoppers. Once these shoppers buy the product and write a review, they receive a gift card from Amazon.
The positive is that you get more reviews – but the downside is that you have little control over who reviews your product, and what they say.
Discounts and promotions: People are price conscious, and sometimes, your product may be out of their price bracket. When you offer discounts and run regular promotions, the likelihood that more people buy your product increases. You can discount your products regularly through the year, and ramp up your review requests during those times to naturally generate more positive reviews.
You can also offer an introductory discount for new products and generate more reviews.
Leave a note: Include a note in the package you send your products in. A handwritten note, enclosed in the package your product is shipped out in, can include a thank you message along with a request to write a review on your Amazon listing page. It's a small gesture, doesn't take up too much time or energy, and you'll find that people respond quite positively to handwritten notes.
Use social media: Everyone is on social media these days – so why not reach out to your customers there? Remind people on social media. Every so often, invite your social media followers to review your products on Amazon.
You don't necessarily have to offer a discount, gift or incentive – just explain why reviews matter and why you're asking for help. Be honest and transparent – your customers will appreciate it and respond better.
Respond to negative reviews: You will get negative reviews – it's part of the game. How you respond or handle those comments, is what determines whether you make more sales.
Use negative reviews as a learning experience – criticism can be a valuable teacher. Improve your product and systems. Understand what customers are unhappy with – these negative can actually benefit your business. Respond appropriately. You don't have to offer a refund, but show interest in remedying the situation and learning from your mistakes.
You should also approve the bad reviews.
Don't delete them, even if you're tempted to.
The reality is that if you only have positive reviews on your site, you lose credibility with customers. Nothing is perfect, and customers won't believe that you or your products are. If they don't see a single negative review, they'll become skeptical.
A study shows that close to 70% of shoppers will trust reviews for products that have a mix of good and bad reviews. But be sure to approve reviews from verified shoppers and not random accounts.
A Look At Both Good And Bad Product Reviews
With so much information available to customers at their fingertips, reviews are a useful tool to have you in your kit. Reviews give consumers the opportunity to read dozens of To be able to facilitate good reviews for your product, you need to know what a good one – and a bad one – looks like. So here are a few examples of what constitutes good reviews, and bad ones.
A good review: A good review is a powerful tool in your arsenal. The star rating will help boost your overall score and grab eyeballs on Amazon. A good review will have a balanced view, details about what the customer liked and didn't like, and be as thorough as possible, so it doesn't feel one-dimensional. Word length can vary – but it should be long enough to include all pertinent information, but not so long that prospective customers will drop off. Reviewers should also disclose if they were given a sample/free product in exchange for a review.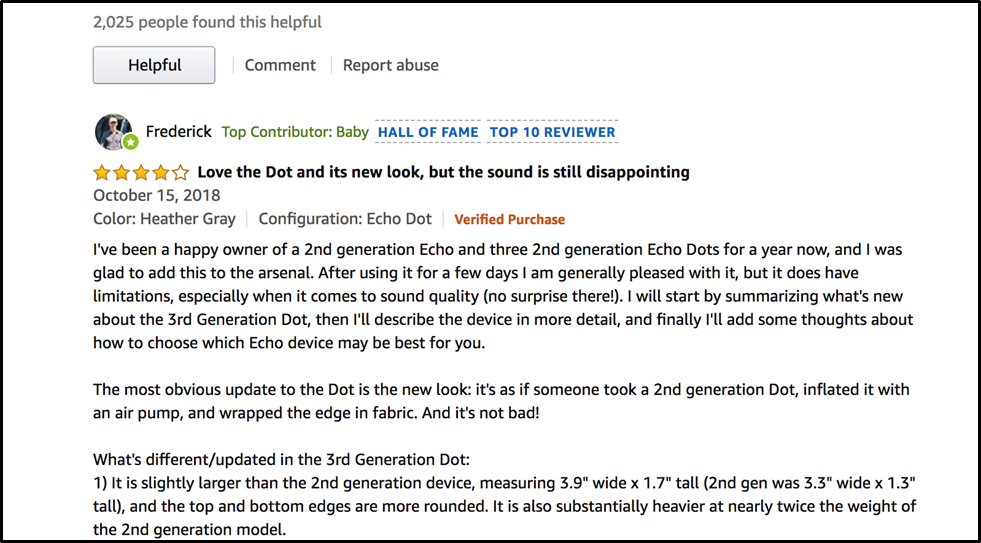 A bad review: Will likely have a low star rating with a list of what has gone wrong, along with images, especially if the product is damaged or inconsistent with the description. Or to illustrate what went wrong. An honest negative review will not be abusive in nature or an attempt to troll the brand or manufacturer, but a genuine grievance, and a warning to other customers. And, from the brand point of view, it is ideal that you respond in a timely manner, be informative and solution-oriented, respectful and a response you have taken time to write – no copy-pasting here!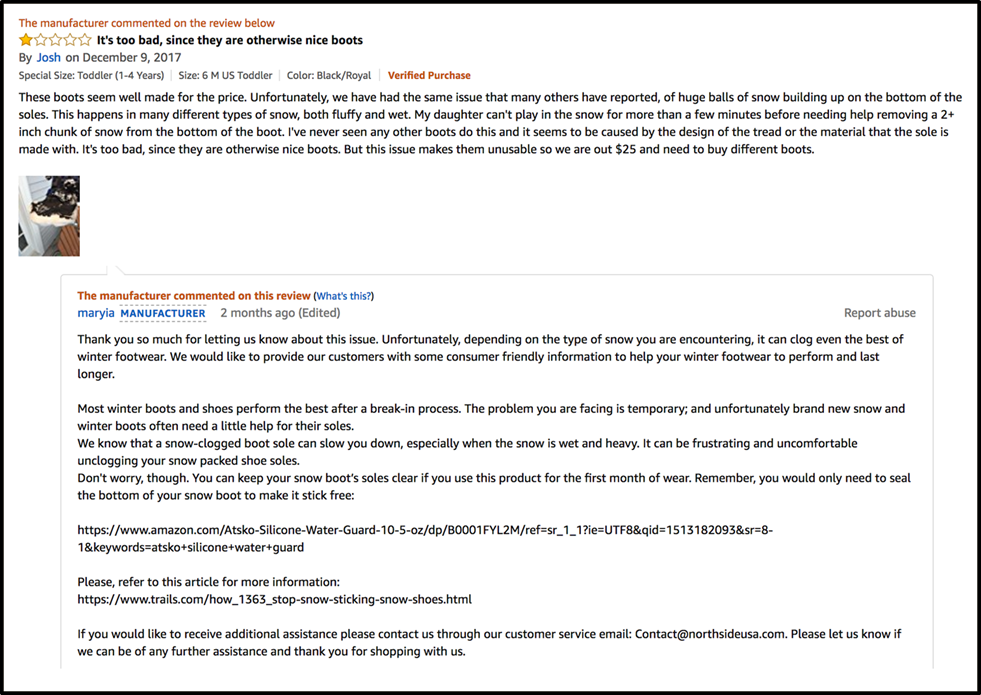 Reviews Are A Two-Way Street
In conclusion, remember reviews are a two way process of give and take.
Communicate with your customers to ask them for reviews – and more importantly, acknowledge their kind words and the positive reviews they leave.
Respond with gratitude to positive reviews. If a customer takes the time and effort to leave you a positive review, you should take the time to acknowledge it and express your appreciation.
Now that you know how powerful the Amazon review can be, why not set up your page and get the ball rolling? Reviews give you an opportunity to build a better relationship with existing customers, and build trust amongst your customers and prospective customers.
So, get cracking!
About the Author
Amol has helped catalyse business growth with his strategic & data-driven methodologies. With a decade of experience in the field of marketing, he has donned multiple hats, from channel optimization, data analytics and creative brand positioning to growth engineering and sales.