Growth Drivers of upGrowth: Ep 3 – #BTS of Paid Social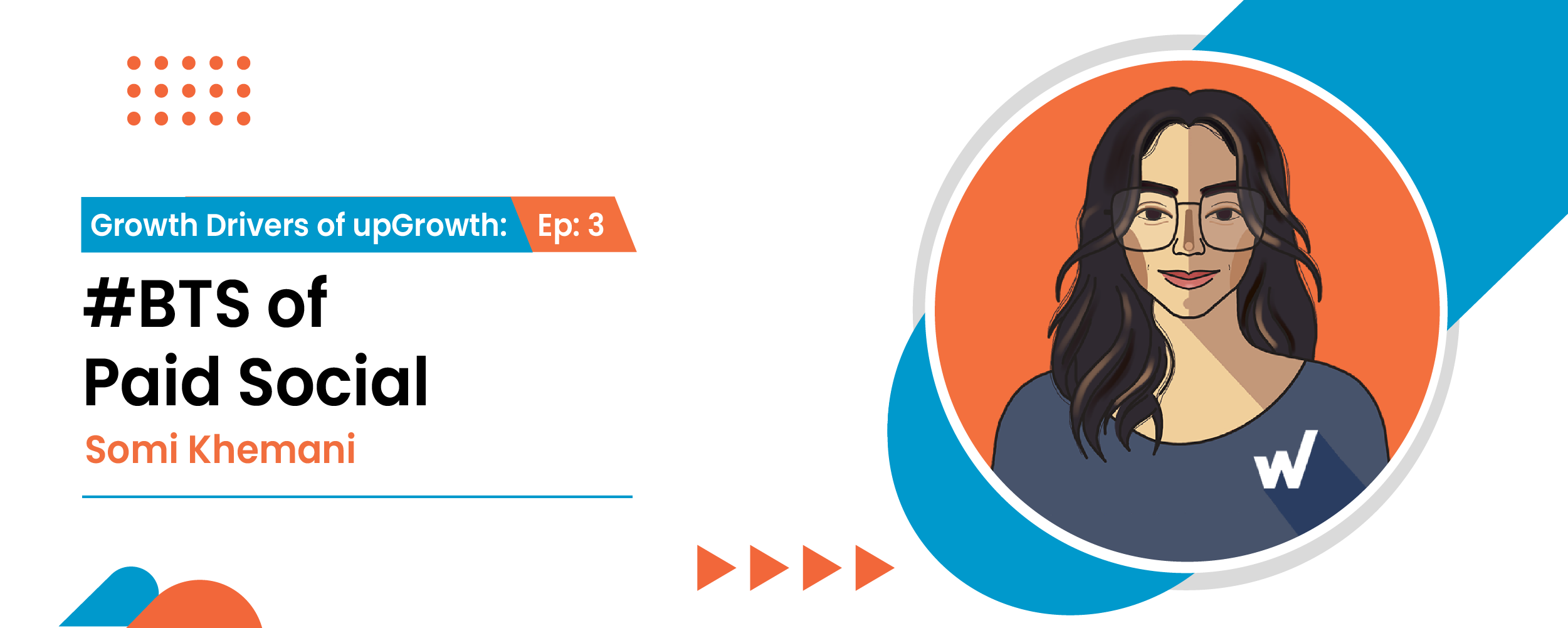 Paid ads are a rage! Thanks to its tremendous ability to generate leads, grab attention and increase revenue, Paid ads have been a preferred marketing choice of founders and marketers all over!
But Paid ads are not a cakewalk!
If one doesn't know paid ads, it can lead to a loss of money and resources. Considering the gravity of this topic, we have with us upGrowth's marketing experts, Sahil & Somi discussing how to leverage paid advertising for one's business.
Somi Khemani, our account manager with a colossal experience in social media management and development, shares growth tips (along with some brownie points) for paid marketers.
Their chat answers various essential questions, such as –
How to stay updated with the changing algorithms and updates of Facebook & Instagram?
How to measure the success of Social Media campaigns?
Is it beneficial for a new business to dive directly into paid ads?
What makes paid advertising one of the most relied marketing tools is its ability to reach the right audience. The success of your paid social media advertising depends on how well you know your audience.
Paid commercials typically offer an improved brand presence and a broader pool of prospective customers. To ensure that more customers see and choose the advertised brand, they typically target the audience looking for goods or services similar to the promoted brand.
Mr. Zuckerberg has made it increasingly easier to follow one single strategy for Facebook. Thus, keeping yourself updated with paid advertising trends is just as important. But according to Somi, our subject matter expert, the key to staying abreast of these trends and ever-evolving algorithms is to explore, try and succeed.
Sahil and Somi further discuss the importance of a content calendar in paid advertising. A content calendar is excellent for brainstorming, keeps your Facebook page organized and on track, and promotes consistency.
Planning a content calendar makes it easier to maintain the consistency of posts on social media. You can plan your content calendar, like a week, or a month, depending on how much time you can spare on content.
There are many aspects to paid marketing that vary according to the platform. What works for Facebook might not work for Instagram. Each platform has unique paid marketing features that need marketers need to study.
Watch the entire conversation here and discover the secrets of paid social media marketing.
CTA – Watch the Full Interview
Conclusion
UpGrowth's digital marketing team has been assisting businesses in scaling their marketing goals. With the brand-new series – Growth Drivers of upGrowth, we hope to offer advice and strategies. Stay tuned as we return with another episode discussing another aspect of digital marketing.
While you're out and about, do you like to learn about digital marketing? Click here to visit our podcast channel.
Topics for blogs
Paid Social – An evergreen trend
Advertise right with paid social marketing
Read More
Growth Drivers of upGrowth: Ep 2 – A 'Chat' about the New Bot in Town
What's Hot & Brewing in the World of Social Media Marketing? Hear it from Avani
About the Author
With a massive Digital Marketing experience, Sahil is the jack of all trades and master of one. A Project Manager, Sahil has helped business accelerate their growth with his growth hacking and strategizing expertise.