Growth Drivers of upGrowth: Ep 2 – A 'Chat' about the New Bot in Town
Published: February 8, 2023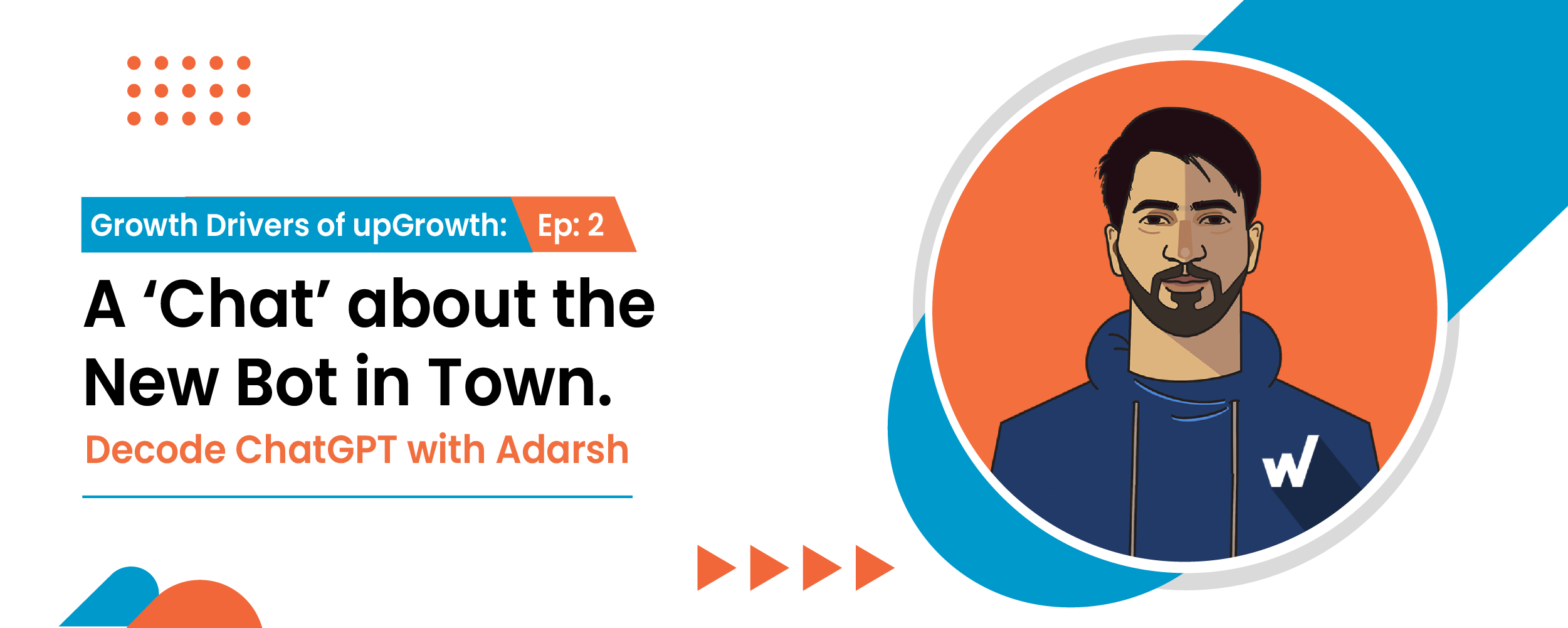 Digital Marketing Tools are a savior! They are efficient time-savers who are making the lives of Digital marketers easy! One such tool that is dominating the digital marketing tool is ChatGPT! It is the new talk of the digital marketing industry, and marketing experts are all over it.
So today, we have with us Adarsh and Sahil elaborating on ChatGPT. Hear out their enlightening conversation here.
Adarsh, our growth marketer, is well-versed in ChatGPT and how it simplifies the lives of digital marketers. Many questions about ChatGPT have not been answered by the tool explorers –
What is ChatGPT?
How can ChatGPt assist digital marketers?
Will ChatGPT replace content writers?
What are the pros and cons of ChatGPT?
ChatGPT not only generates content but also might save you a brainstorming sess. ChatGPT is an open AI platform that can converse with you in the most humane manner possible. The dialogue form enables marketers to converse with ChatGPT in the most colloquial manner.
ChatGPT can also help in strategy-building tasks. Try asking ChatGPT for ideas to scale up an email marketing campaign for a client doing a revenue of two million dollars a month. The AI tool gives answers to specific, narrowed-down queries.
Adarsh & Sahul further discuss if ChatGPT is a threat to content writers. At the end of the day, ChatGPT is an AI and can miss out on factors such as brand tonality, context, thorough research about the brand, etc.
ChatGPT can be a great assistant but cannot replace writers as it lacks the human touch and, thus, fails to understand the brand's emotion and persona. As an assistant, This AI can do wonders!
It can generate captions, strategies, blogs, pointers, etc. Basically, it lays down a framework for a certain task that humans can later refine.
ChatGPT as an assistant
Since its launch on 30th November 2022, ChatGPT has been used by 100 million people. In terms of digital marketing, ChatGPT is used by –
Social media marketers: Social media marketers for generating captions, producing effective social media strategies, and other mundane tasks.
SEO specialists: SEO specialists find themselves dependent on content writers for basic SEO tasks such as generating meta titles, meta descriptions, blog topics, etc. ChatGPT can assist them in creating such content and also assist in creating SEO strategies.
Email Marketers: ChatGPT can assist in creating efficient emails and suggest email marketing strategies.
Growth Marketers: Growth marketers can rely on ChatGPT for email marketing. ChatGPT can assist in creating efficient emails and suggest email marketing strategies.
Content Writers: As ironic as it sounds, ChatGPT can create content for content writers and spare them some time to be extra creative. ChatGPT can provide the basic framework for a blog and save content writers some time.
Not just this, ChatGPT can contribute to every other aspect of digital marketing.
But like every other man-made technology, ChatGPT has its fair share of pros & cons.
Watch Adarsh and Sahil deep dive into the depths of ChatGPT.
Watch the Full Interview
Conclusion
A digital marketing agency – upGrowth, assists organizations in achieving their digital marketing objectives. Our goal with the brand-new series, "Growth Drivers of upGrowth," is to provide marketers with guidance and tactics. Stay tuned, and we'll be back with another episode and another digital marketing topic with our industry experts. Keep an ear out for "Growth Drivers of upGrowth" Episode 3!
Like to study digital marketing while you're out and about? Visit our podcast channel by clicking here.
About the Author
Focused on providing measurable results with minimal effort, Adarsh is a growth expert, constantly next-levelling his expertise. He is an experienced and trusted asset with extreme analytics skills.
Analysis for strategizing to hit an all-time high and keeping track of the growth. Targeting long-term growth jo returns rukne na de.