Essential Questions Startup Founders Should Ask Before Hiring a Social Media Marketing Team
Published: October 19, 2022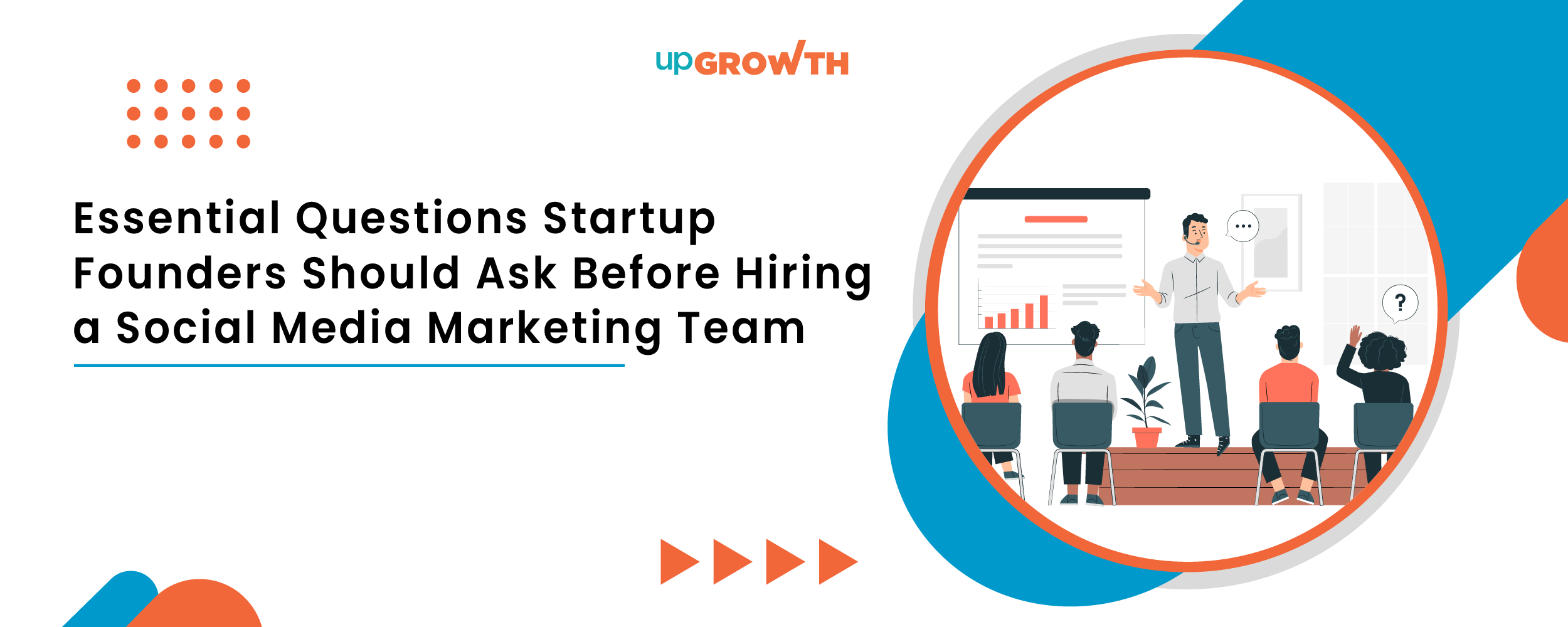 We sincerely hope that this sixth article of our "start-up founder series" will assist founders in managing the various aspects of marketing their companies. The importance of decision-making was the first issue we covered in our series.
The post emphasizes the IMPs an entrepreneur should take into account before making a decision about the expansion of their business.
Next, there are numerous articles that cover different marketing fields like PPC and SEO. What are the key ingredients for a successful PPC campaign?
In a similar vein, we dug deep into SEO and attempted to address some of the founders' issues, such as what aspects of SEO they should be aware of.
We discussed email marketing and how founders may better understand their team and process in our most recent piece.
In the next leg of our series, we have a very significant topic that many business owners swear by and rely on for exponential growth. We are talking about none other than the giant of Social Media Marketing.
The Power of Social Media Marketing
It is a useful tool for sharing, creating, and sharing information as well as for communicating with customers locally and globally. Through reviews, advertising, and marketing strategies, social media can affect consumers' purchasing decisions.
With Social Media Marketing, it becomes simple to spread the word about your products and mission. Using social media and linking your website to it will significantly improve the amount of traffic to your website.
The strength of social media is remarkable since it allows you to reach a huge audience quickly after placing an advertisement, which lowers your costs and helps your adverts reach your target audience.
As a founder, it is important to incorporate social media marketing and invest time and money in it. Of course, it is impossible to be involved in every aspect of your business, especially the vast ocean of social media marketing.
Thus, you can stay abreast of the latest developments in your social media marketing strategies with the help of these questions that you can ask your social media marketing team.
Here are some questions that you can ask your Social Media Marketing Team to curate better & successful strategies for your business.
Social Media Manager
Role of a Social Media Manager:
Planning, designing, implementing, and administering strategies for a company's social media accounts are some key responsibilities of a social media manager. Their skill level impacts how well the company can represent its brand value online.
Which social media network(s) will best suit your company?
Ask them to provide a summary of the "personality" of your business brand. Before evaluating the possibilities of the current social media channels, they ought to have done some study about your business and your target audience.
Each of these platforms—Facebook, Twitter, Instagram, Pinterest, YouTube, and TikTok—is distinct and uses a separate set of marketing strategies. Pay attention to the channel or channels where your target audience is most active.
What are the most important social media indicators that a company needs to track consistently?
The first metric should be Engagement. There must be measurable talk about your brand and business, regardless of the channel. The success of social marketing is driven by content; thus, if your content is bad, no one will engage with it. Your ideal team should have experience creating and gathering pertinent material for your intended audience.
The second metric is Leads. The outcomes of your social media efforts should be overwhelmingly favourable, but ultimately, you should be generating leads of some kind. Why? Because a firm needs to see a return on its investment when it invests resources (ROI).
Have you ever had to deal with a crisis on social media?
Inquire about their definitions of social media crises and the procedures they would take to deal with a crisis.
It's time to implement a "best practices" protocol if the organization doesn't already have one. This would be outlined in your social media policy and, among other rules, should be consistent with how you now resolve disputes.
The next important position in a social media marketing team is –
Social Media Executive
The role of a social media executive:
Social media managers create and publish content for each social media account of a certain firm. The work of other employees, including social media professionals, is frequently overseen by many social media executives.
In a nutshell, a social media executive is responsible for keeping a tab and maintaining a company's social media platforms.
Here are some questions you can ask your social media executive professional.
How do you make social media campaigns engaging?
A social media executive is also responsible for making the campaigns attractive and sending the right messaging to potential clients. Depending on the campaign or promotional activities, a social media executive should experiment with creative communication forms, such as gifs, carousals, videos, etc., to attract a broader audience.
A founder will get an idea of how creatively the professional is thinking and whether the individual is able to give justice to your brand.
How do you create a social media calendar?
A social media executive needs to have a well-defined and organized calendar in place. This calendar is created based on multiple factors that the founder provides to the executive, such as product openings, festive offers, international days, etc.
The calendar will clearly indicate whether your social media executive is mindful of the posts and fully aware of all the new things your brand will be releasing.
This will give the founder a clear picture of the upcoming social media strategies and whether all important aspects are being covered in the calendar.
Next, we have –
Social Media Specialist
The role of a social media specialist:
The professional builds brand awareness enhances marketing initiatives and boosts sales. Also, the company's social media strategy is planned, implemented, and monitored by social media specialists.
Social media specialists work on developing and distributing content to various platforms, communicating with their communities and audiences, and planning and implementing social media strategies. A social media specialist must also track data and insights across each platform in order to evaluate results.
These questions will help you understand if the activities of a social media executive are right on track.
What would be your strategy to improve communication with the customers?
Before improving customer communication, it is important to have a strong customer base that can turn into 'potential buyers'.
Understandably, gathering customer information is a hassle for social media marketers. This is where ContactOut can help.
ContactOut is an easy-to-use tool that salespeople and recruiters can use to discover verified email addresses that are ideal leads and applicants by using ContactOut's email address lookup service. Now social media marketers can quickly compile lists of prospective clients or job candidates
Customers make a business successful. Thus, it is essential to be in touch with them, know their opinion, take timely feedback and work on the brand accordingly. There are multiple ways to get in touch with the customer.
A social media executive should plan customer engagement campaigns or posts like quizzes, polls, contests, etc., to understand their customer's preferences and choices better.
How should a business evaluate the performance of its social media marketing?
Depending on the organization, the answer to this question will vary, such as:
The answer to this question will let you know if the social media executive is aware of a business's short-term and long-term goals.
If you consider conversion a goal, tracking material downloads, online purchases, webinar registrations, and online lead generation form submissions should be monitored. This will determine how many people took the necessary action as a result of each using these measures.
If engagement is the aim, how many people contribute to the discussion by counting the number of comments, replies, reposts, and retweets, the postings receive?
And if raising awareness is your goal, reach, volume and exposure should be considered to determine how far your message has traveled.
We now have the actual creators of social media campaigns, that is –
Creative Team
The role of a creative team:
The creative team includes a content creator and designer. We have creative and successful social media posts when these two professionals work collaboratively.
There are several options for content creation on the internet. You can create online text, share newsletters, make blogs, and so on. A person who curates and shares content for social media platforms to entertain or educate an audience is known as a social media content creator.
A social media designer's duties include web design, video editing, graphic design, and user acquisition through social media.
Here are some questions to ask the creative team in order to ensure creative posts and campaigns for your brand.
What are the different forms of content that you would choose for our brand?
This will give you a peek into the writer's knowledge about your brand and whether the individual has done thorough research about your brand, competitors, tonality, etc. It is extremely important for a creator and a designer to be aware of the brand tonality, persona, brand's colors, and other intricate aspects of your brand.
This question will help you understand how creative your creative team is. There are multiple options that the creative team can choose for your brand. E.g., gifs, videos, reels, carousel posts, etc.
The Wrap
Social media marketing has the power to generate immense revenue for your business. Thus, it is an important part of your business. Know the procedure before you outsource your social media marketing duties. It is nearly impossible for a founder to participate in every aspect of a company's operations.
These questions will help you better communicate with the rest of your team and keep you informed of all changes to your marketing plans. Whether it is operations or report analysis of posts, these questions will help you understand if your extended team is on the right path and working independently. Therefore, if you merely know which things to watch and how your work will be much simpler.
FAQs
What does a social media team do?
A social media team's primary goal, whether an external agency or an internal team, is to expand the company by strategically producing content, running advertisements, and interacting with the target market on various social media platforms.
Is it beneficial to hire a social media marketing team?
Hiring social media gurus can definitely get an advantage in terms of content ideas and campaign strategy. There are tried-and-true formulas used by agencies that have produced results.
Additionally, they are aware of social media failures, which can assist you in avoiding mistakes that have cost other companies thousands of dollars.
How much does a professional social media marketing team charge?
There cannot be a fixed price. It depends on multiple factors such as marketing tenure, campaign structure, the goal of marketing, etc.
Does social media marketing help a brand?
Absolutely yes! Because you're advertising to individuals who have chosen to engage with you by following your account, promoting and sharing your items on social media is an easy approach to improve lead generation, boost conversions, and increase sales.
About the Author
Chandala Takalkar is a young content marketer and creative with experience in content, copy, corporate communications, and design. A digital native, she has the ability to craft content and copy that suits the medium and connects. Prior to Team upGrowth, she worked as an English trainer. Her experience includes all forms of copy and content writing, from Social Media communication to email marketing.