Roll up your sleeves, get your feet wet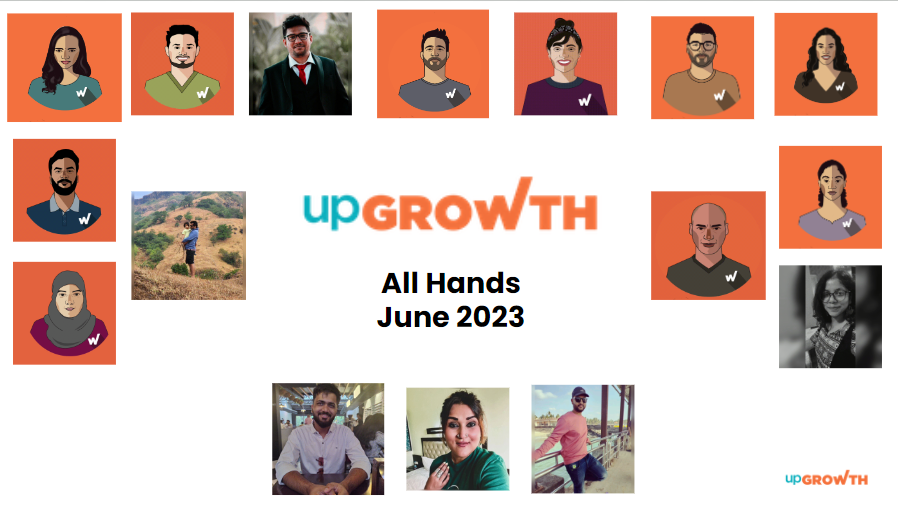 upGrowth has a fantastic culture that includes conducting monthly team meetings to celebrate achievements, share personal experiences, and build collective consciousness. This is a great way to foster a positive and supportive environment. We prioritize recognizing both individual and group achievements, as it helps motivate and engage our team members on a greater level.
Maintaining strong organizational values, even in a virtual work-from-home (WFH) setup, is crucial for team cohesion and success. By making new joiners feel at ease, we ensure a smooth onboarding process and encourage a sense of belonging from the start.
Being a highly dynamic growth hacking agency, it's evident that upGrowth is focused on delivering exceptional results for our clients. By emphasizing customer success and constantly striving to be the best, we set high standards for our team and push them to excel.
The fun, quirky, spontaneous, and adventurous aspects of agency life brings excitement and creativity to the work environment. The upGrowth team is always on their toes and looks out for each other, fostering a sense of camaraderie and teamwork.
upGrowth's visit at Prakruti Health Centre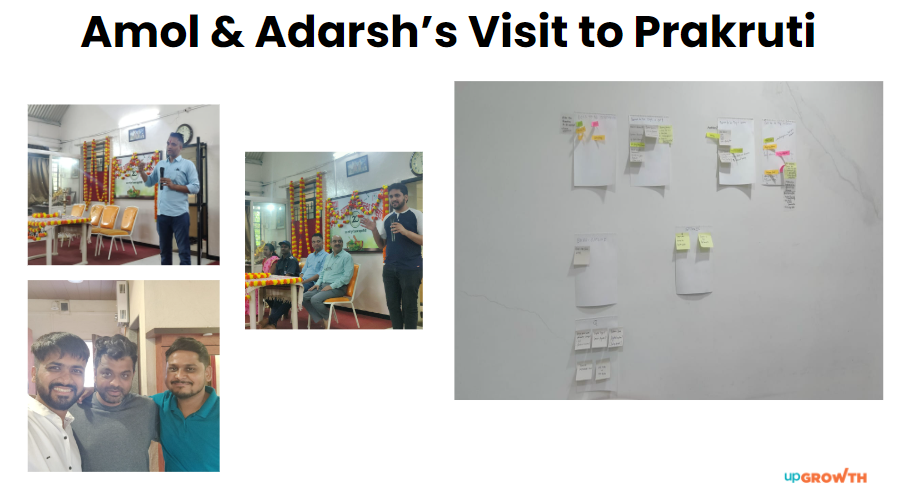 Upgrowth's Involvement
Amol and Adarsh from upGrowth examined the Prakruti Health Centre. The health center's infrastructure, amenities, and general state were reviewed and assessed. Assessing the property is necessary to comprehend the center's situation and spot potential improvement or development areas. They had talks and made suggestions about how to improve the services and offerings at the health center as a result of this examination.
Property Examination and Strategies
Amol and Adarsh examined the property, which assessed the health center's facilities, layout, and infrastructure. Additionally, they discussed strategies that might pertain to improving operations, marketing, or overall effectiveness of Prakruti Health Centre.
Energetic vibes & Life-Changing Moments
The experiences at Prakruti Health Centre were profound and transformative, fostering a vibrant and upbeat atmosphere.
Customer interviews
Amol and Adarsh spoke with customers and conducted interviews to get critical feedback on their requirements, preferences, and experiences. Customer interviews are crucial for enhancing services and comprehending the clientele.
Restaurants and Chefs
Prakruti Health Centre has its own dining facilities. It places a priority on giving its consumers wholesome food.
Interactions with Therapists and Doctors
Next, Amol and Adarsh had conversations with the Prakruti Health Centre's medical staff. The purpose of this contact was to learn more about the services offered or the medical philosophy of the centre.
Reviews on Property and Interior Designs: 
Amol and Adarsh offered feedback and suggestions on the property and interior designs for improving the aesthetics and functionality of the health center's premises.
Celebrated Amol Sir's Birthday: 
Prakruti honoured Amol on his birthday by celebrating his birthday during their visit to the health centre.
Bhaskar finished Comrades Marathon, South Africa, again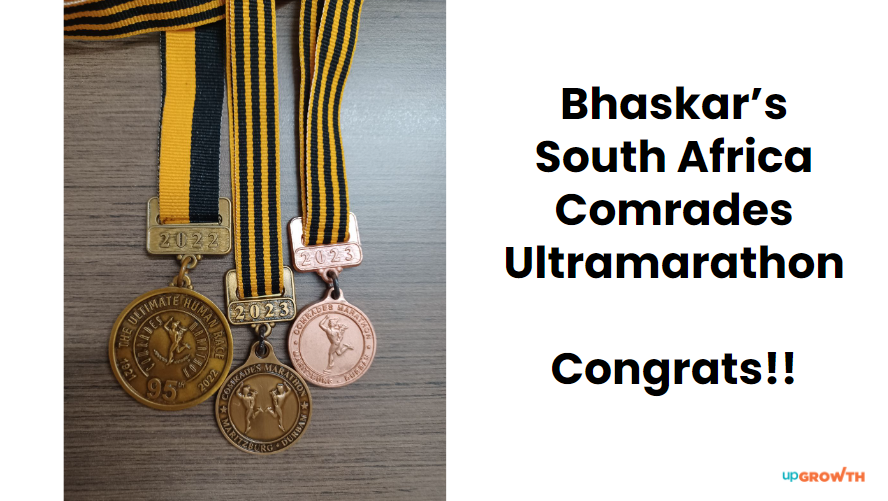 The ~90 K Comrades ultramarathon is the ultimate human race where you represent your country. Finishing the Comrades Marathon is a significant achievement. Doing it two consecutive years, back to back is a blessing!  
Such accomplishments require dedicated training (running about 400 Km/ month for 4-5 months), proper nutrition, and careful pacing during the race. It's also important to note that overcoming cramps during a race of this magnitude can be quite challenging, so Bhaskar's ability to persevere through the discomfort speaks to his resilience and determination.
Conclusion
upGrowth has cultivated a culture that values excellence, collaboration, and personal growth. By combining these elements with regular team meetings and a supportive virtual environment, we are building a strong foundation for success.
Read More:
Raise your Hands for upgrowth's 'All Hands' – All about Growth, Celebration, and Learnings
February's All Hands is All About New Changes, Opportunities, and Learnings!
About the Author
Manjusha Karkera is an enthusiastic content marketer who has created numerous engaging and compelling writing pieces for various clients and companies over the years. She enjoys writing pithy content and copy on various sectors like fashion, beauty and wellness, sports, fitness, education, etc. Prior to Team upGrowth, she worked as a Marketing Communications Specialist. Her overall experience includes all forms of content writing and copywriting.