Maximizing the Efficiency of Your Billing Process in Accounting
Published: January 5, 2023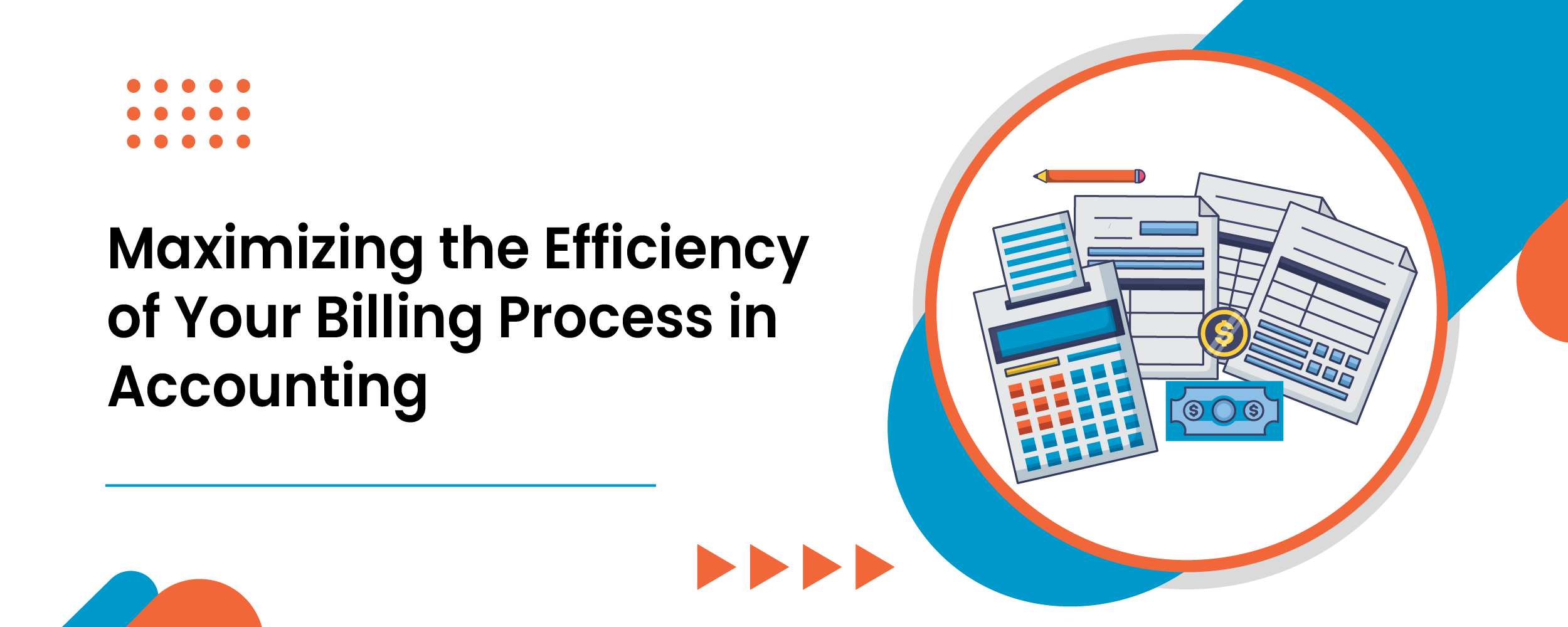 Start-ups and small businesses often find the billing process hectic and annoying. The entire billing process is undoubtedly time-consuming but is quite an essential element for every business. Usually, many customers tend to pay their bills on time; however, there is no guarantee that this will remain the same for every business.
It is significant for every business to have an effective invoicing system in place, no matter how small or large they are. The billing process is vital for every business as it ensures that the payments are received on time and the business can run smoothly.
What does billing in accounting mean?
In simple terms, billing can be referred to as a step-by-step process of raising and sending invoices to customers to settle their dues. An invoice is a commercial document businesses use to record sales and request payment from customers.
An invoice specifically includes the buyer and seller's contact information, details of the product that a buyer purchases, and the pricing and payment details of the product. Invoices serve as a source of record-keeping documents for every business.
Ways to optimize the efficiency of the billing process in accounting:
Always Communicate With Clarity
It is crucial to always have straightforward and clear communication with the customers and the vendors at the initial stage. The billing process runs smoothly when the initial interactions with the clients are taken care of in a detailed manner. Businesses can consider taking some form of deposit at the beginning of every new contract to exemplify a sense of seriousness and confidence that values work.
Having a deposit amount also ensures a sense of security. Along with clear communication, one also needs to have updated documentation in place to avoid any future misunderstandings.
Set All The Terms In Place
Before making a contract, it is important that both business and the client agree on a particular set of terms. This will help the clients be sure that they are free from future surprises. Agreeing on a dedicated set of terms not only helps improve customer relations but also helps businesses increase their chances of getting paid on time without delays.
Every business should take care and clearly state the following terms:
– The basic fee and additional fees, if any;
– The types of payment accepted;
– Type of billing (whether hourly or on a project basis);
– The timeline of when the project is to be completed;
– The timeframe in which the client is supposed to pay the invoice dues;
– The penalties charged if in case the bill is past due.
Use Digital Tools
Online payment solutions make payment processing easier for clients. Through digital tools, businesses tend to receive payment without any unwanted delay. These tools also ease digital invoice creation so businesses can have an efficient invoice and billing process.
Make Sure To Get Paid On Time
Businesses will likely get paid on time if they put terms on their invoice. Adding a due date on the invoice is an add-on benefit, as clients tend to complete the payment beforehand.
Learn Your Clients
In order to keep on receiving regular payments, it is crucial to understand and learn how a particular client behaves. It is vital to know whether a client is genuine or not. A business needs to clarify information and details related to payment modes and frequencies to avoid any unnecessary future conflict.
Automating Invoicing Process
Creating invoices for every client individually during every business cycle is hectic and unproductive. Additionally, following up with the clients manually for payment updates is, again, quite time-consuming. Automating invoices helps businesses set reminder alerts for clients and schedule and track multiple invoices simultaneously, so the business can pay attention to the rest of the other important business parameters.
Penalties For Late Payments
Clients don't necessarily like spending more than what they initially agreed to. Setting penalties for delays in payments will ensure that clients don't miss the payment deadline under any conditions. A respectful reminder to the client before the final due date will help them process the payment at the earliest possible time.
Final Words
The truth is every business needs revenue to survive in the constantly growing and challenging market. A business is sure to encounter an immediate downfall if the revenue generation by any means is stopped. Therefore, an effective and efficient process and obtaining regular and adequate customer payments is a must. Investing the right amount in billing is essential to ensure maximum efficiency and eliminate the chances of losses.
Other Startup KPI Metrics
Understanding and Maximizing Monthly Recurring Revenue
The ARR Advantage for Startups: Understanding and Calculating Annual Recurring Revenue
Using ACV to Measure the Success of Your Sales and Marketing Efforts
Total Contract Value – A Key Metric for Evaluating Business Performance
Why Customer Lifetime Value Is the Most Crucial Metric for Your Business
The Importance of Accurately Calculating Deferred Revenue
Maximizing User Retention: How to Calculate Daily Active Users
Compounded Monthly Growth Rate: Understanding and Calculating Compounded Monthly Growth Rates
Calculating Your Company's Total Addressable Market (TAM): A Step-by-Step Guide
Measuring Monthly Recurring Revenue: Expert Tips and Advice
About the Author
Manjusha Karkera is an enthusiastic content marketer who has created numerous engaging and compelling writing pieces for various clients and companies over the years. She enjoys writing pithy content and copy on various sectors like fashion, beauty and wellness, sports, fitness, education, etc. Prior to Team upGrowth, she worked as a Marketing Communications Specialist. Her overall experience includes all forms of content writing and copywriting.