How Can a Food Tech Startup Grow From 4 Figures to 7 Figures in a Year?
Published: April 17, 2023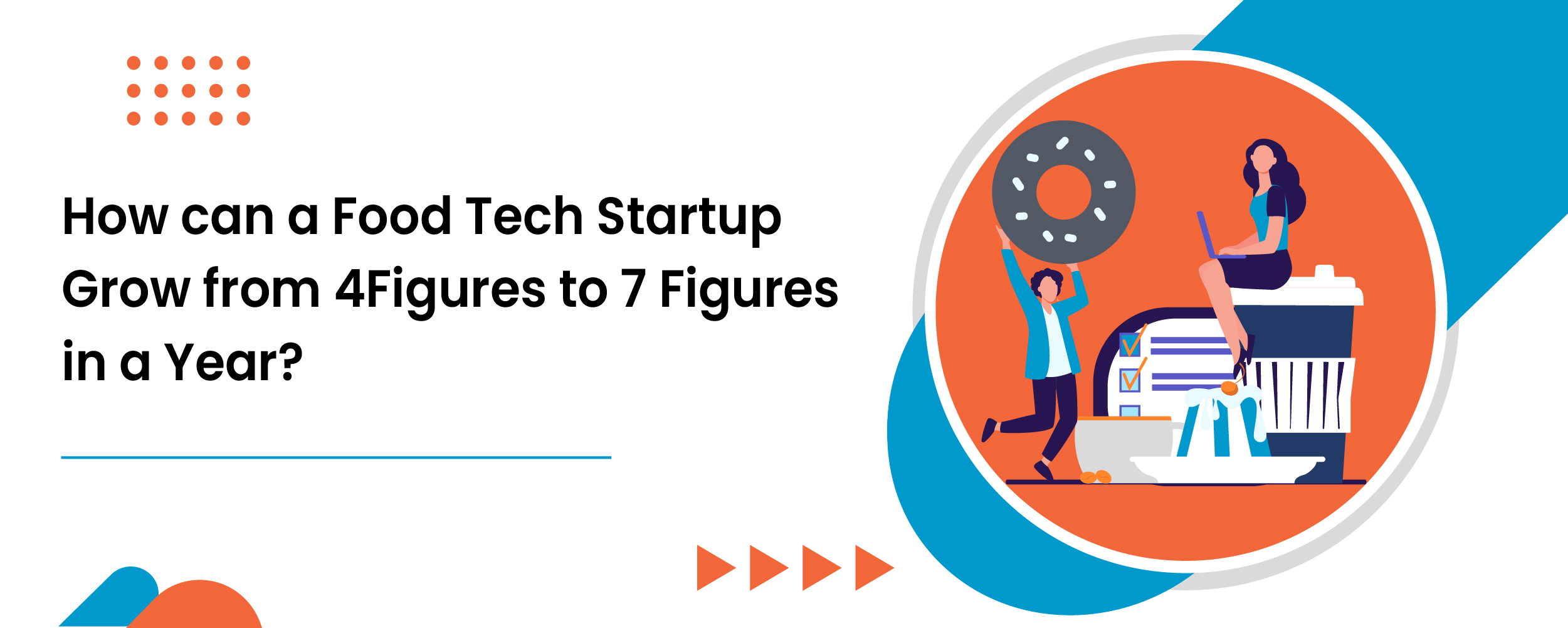 Introduction
It sounds challenging, but it's not impossible to achieve if you are able to execute what upGrowth recommends as the point of action (POA) for achieving growth from four figures to seven figures in a year for a food tech startup.
A food tech startup based out of the middle east approached upGrowth for growth. The problem statement was clear – "We want to grow our business."
Develop a Growth Strategy That Works
For a food tech brand, upGrowth created a growth strategy that focused on not only digital channels but also customers, processes, and overall experience with the brand on every touch point that matters. upGrowth started with understanding the business, products, pricing, competition, current digital channels and a lot more.
upGrowth believes that growth is achieved through a robust strategy followed by good execution. upGrowth looked at the overall business performance and set a vision of where the startup needs to be within one year with forecasted numbers and aggressive month-on-month growth targets.
A full-funnel growth strategy is important to unlock growth. The full-funnel strategy will include
Acquisition strategy
Engagement strategy
Retention strategy
Referral strategy
upGrowth developed an overall business strategy looking at the competition and market scenarios and current business, supported by channel strategies.
Setting a vision is very important while making strategy; upGrowth aimed for seven figures at the start of the year which sounded impossible at that time but was achieved with great strategy and good execution.
upGrowth not only focused on digital channels and recommended offline channels, which will fuel growth further. The offline strategy was clear; be present where the target audience is present and grab their attention.
Market research and understanding the audience are vital to creating a growth strategy.
Defining the Target Audience and Use Cases
upGrowth understood the target audience by researching digital analytics and interviewing stakeholders such as founders, the customer support team, and the marketing team. Every tool and every team gave minute details about the customers; some examples are:
Customer preferences
Common queries
Buying time
Buying week
Why do they love the company?
Why are they not using the product?
What efforts from the company will customers appreciate?
Location
Age
Occupation
Note that it's important to back information with data. This will help the company create a growth strategy for each audience and determine what resources and strategies to use for different audiences. The step is essential as this is crucial for creating a channel strategy.
upGrowth also defined the use cases for all product types and audience segments. This helps in creating content and messaging for each audience segment.
A growth strategy is effective if we have audience segmentation and use cases defined for each segmentation, which will help in content, social media, and overall channel strategy. upGrowth recommended targeting different segments with separate communication, resulting in an increased ROAS.
Scaling What Product Works and Focusing on Optimisation of Efforts
When upGrowth started the engagement with the company, we distributed all the efforts among different products. upGrowth categorised the products with sales numbers, and we got a winner. Analytics numbers, website sales numbers, and customer support interviews backed the research. Then an experiment was conducted wherein paid efforts on the highest-selling product were increased. The experiment was successful and increased ROAS. We scaled the experiment and dedicated a majority of the paid growth efforts to the star product.
Earlier, the product, which drove 50% of the sales, started driving 90% of the sales. The company began to be recognised for its star product.
The experiment boosted sales, which led to supply chain and operational errors. Process optimisation, product standardisation, and new product development were some of the efforts initiated post-scaling of the experiment.
Process improvement was a major step the brand needed to sustain its growth.
At upGrowth, we focus on the holistic growth of the business; that's why process improvements and other strategies were suggested that were not related to digital growth but helped the business grow holistically.
Amazing things can happen with one experiment!
Experimentation with Acquisition and Retention Strategies
upGrowth believes in growth which is a result of conducting thoughtful experiments. upGrowth started an experiment in acquisition channels.
After months of studying the sales numbers, upGrowth observed that sales numbers dip at a particular period every month regardless of the festivals or any other external factors. The same continued despite the increase in the ads budget. upGrowth understood the pattern and did a very bold experiment. The experiment was to switch off ads in the same period when sales take a hit. This was done to understand whether ads affect sales in that particular period and double down on ads when they are effective. We shifted the budget between two date ranges, and the results were mind-blowing!
The food tech company ended up having the highest ROAS for the month ever, the highest sales in a month, the highest sales in one day and the highest number of orders of the hero product in a month. Everything was achieved within a single month.
It was a bold decision to switch off ads when you have big targets. upGrowth exceeded the monthly target by a significant margin.
The same was done in the retention channel. They did not follow segmentation earlier and sent the same emails to all audiences. This was also the case because of the small database. But as the database got bigger, upGrowth started segmentation and sending tailored messaging to the segmented audiences. This resulted in more sales from active customers and reactivating the customers who were not buying earlier.
Conclusion
When upGrowth started to work with the food tech startup, it was a different business. We have come a long way.
The results speak for themselves. In the last 12 months:
Delicut revenue grew more than 700%.
Team size doubled
Introduction of new products
Kitchen processes are automated to make operations efficient.
High-end technology is being used to take custom orders and manage the kitchen.
At upGrowth, we always focus on the overall growth of the business and help our clients as partners.
upGrowth is now planning for further expansion of the business. Interesting times ahead!
About the Author
Focused on providing measurable results with minimal effort, Adarsh is a growth expert, constantly next-levelling his expertise. He is an experienced and trusted asset with extreme analytics skills.
Analysis for strategizing to hit an all-time high and keeping track of the growth. Targeting long-term growth jo returns rukne na de.