Essential Questions Startup Founders Should Ask Before Hiring an Email Marketing Team
Published: October 17, 2022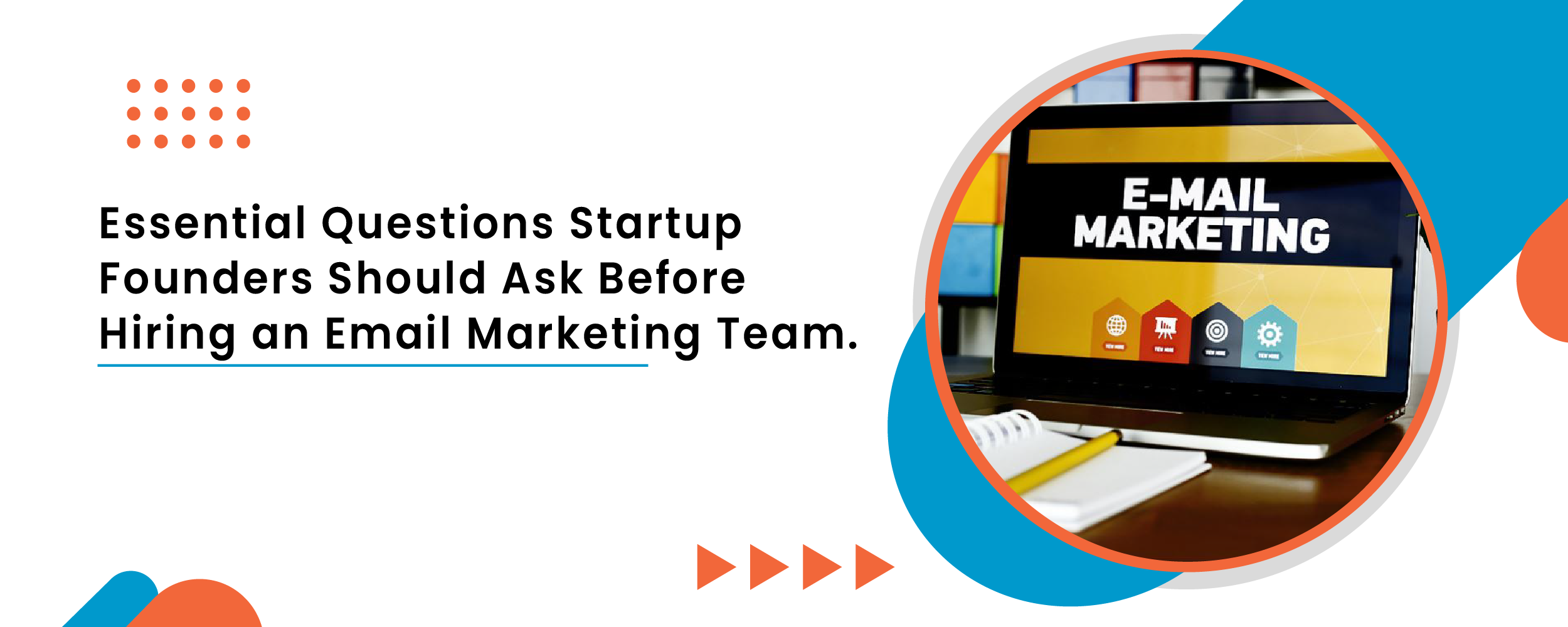 Welcome to the 5th article of our 'startup founder series.' Our genuine attempt is to help founders manage the multiple arenas of marketing their businesses, considering the precise questions to ask email marketing providers.
We started our series with our first topic, the critical power of decision-making. Thus, the article highlights the IMPs for a founder to consider before deciding on their business growth.
Next, we have multiple articles discussing the various marketing sectors, such as PPC and SEO. What are the essential factors when running a successful PPC campaign?
Similarly, we dived into the depths of SEO, and what parts of SEO our founders should be aware of are some of the Founder's questions we have tried to answer.
Moving on to yet another crucial aspect of marketing, our 5th article of the series throws light on 'Email advertising.' Email advertising is very much alive, and as opposed to popular belief, it is thriving. Email marketing is becoming increasingly popular as privacy concerns on social media platforms are multiplying. Email advertising is most significant, so we must understand the questions to ask email marketing providers.
But to achieve the best results, a founder needs to know the A, B, and Cs (also Zs) of email marketing and know what to expect from your email marketing team.
To a non-specialist, email marketing sounds as simple as 'sending out emails for conversions. But is it as simple as it sounds?
Let's get down to the roots of email marketing with a more profound understanding of questions to ask email marketing providers.
The Foundation:
What is email marketing?
Email marketing is a commercial message via email, usually to a group of people. It entails sending advertisements, requests for business, or sales by email. Email marketing can broadly include every email sent to a customer, current or potential.
Email marketing has broadened its scope and is no longer limited to the traditional text format. New email marketing formats include newsletters, seasonal campaigns, cart emails, etc. Email marketers have become increasingly competitive and, thus, creative.
Email marketing has become a medium for improving sales and branding, building customer loyalty, promoting products, and more.
The Founder's role:
As a founder, you need more time to create each campaign, make it live, scour the reports and plan the following strategy. So, what should be a founder's move? A founder must see the email marketing process and its intricacies to know the progress.
Communication between the founders and the email marketing team is essential for the smooth functioning of the email marketing process.
From curating the emails' themes and agendas to understanding email campaigns' reports, the founders need to stay abreast of the developments in their email strategies.
The following roles, when working collaboratively, create a successful email strategy, email marketing strategist, project manager, email designer, copywriter, email marketing developer, and data engineer.
So now that you are familiar with the basics of email marketing, here are some questions and KPIs a founder must monitor to make email campaigns effective and successful.
Email marketing questions to ask your Email Marketing Strategist.
Role of an Email Marketing Strategist:
Email marketing specialists create programs that support brand campaigns and increase visitors. With this, they can firmly establish their position in the cutthroat industry and guarantee that their brand experiences success in the present and future.
The strategist is the one who develops the overarching email marketing strategy. They are in charge of managing campaigns and ensuring that specific objectives are well-defined and considered. Here are some essential questions to ask your email marketing strategist.
How do you evaluate our email marketing strategy?
The primary responsibility of a strategist is to monitor the results; based on those results, professionals should always experiment with new campaigns.
The strategist should know that assessing all options is necessary to enhance your email marketing based on marketing objectives, as this helps define the strategy.
The strategist should be able to balance the efforts between the campaigns that will yield a quick return and those that are part of a long-term goal but require more commitment because of the limited resources.
How do you set a communication strategy? Show me some examples.
The strategist should know the art of communication. There is a thin line between spamming customers and conducting 'healthy communication.' Your strategist should be looking for ways to communicate as much as possible with your customers while continuing to keep inbox placement and increase our business metrics.
Also, this is where the strategist can let his creative juices flow.
Communication is an art; the more creative your emails are, the higher the chances of getting customer responses.
The questions to ask your Email Marketing Project Manager.
Role of an Email Marketing Project Manager:
The project manager's primary responsibility is to coordinate the efforts of the email marketing team members in their other duties.
The professional implement email campaigns based on the specified marketing objectives—loyalty, acquisition, sales, CRM, or customer life cycle. The Email Marketing Project Manager divides the client database into groups for each strategy based on the target audience she hopes to reach. Here are some questions to ask your Email Marketing Project Manager:
How are you updated with the newest technology, software updates, and best practices?
This will demonstrate the degree of dedication and enthusiasm candidates have for the field and their professions. Additionally, it will provide insight into their professional routines and workflow, aiding recruiting decisions.
Which brands excel at email campaigns, designs, the responsiveness on mobile devices, frequency, etc.?
Candidates with credibility will be able to cite examples from other businesses and organizations. By citing examples that may take time to be visible, great candidates will demonstrate their attention to detail and capacity to spot innovation.
What is your deliverability performance, and how do you avoid being viewed as spam?
The ability to speak technically about deliverability codes and the steps they have taken to increase deliverability to the inbox is required of applicants. Finding a candidate with a well-thought-out plan to avoid being seen negatively is vital because this is a crucial issue for email marketers.
Email Marketing Designer
The role of Email Marketing Designer:
The email's appearance and feel are the designer's concern. They are the ones who work with visual content like pictures, videos, GIFs, and graphics and are aware of how conversions are impacted by these elements, as well as others like white space, color, and contrast.
The designer creates, arranges, and coordinates digital elements for an email campaign or digital marketing advertisement. The professional is responsible for creating visually appealing. So here are some questions that you need to ask your designer:
How do you design the email to resonate better with my brand?
You can tell if your email marketing designer has gotten your brand's tone and feel right by the answer to this question. A brand has certain aspects, like its color palette and other frivolous elements like the border, font, etc. These features must sync with your brand image and tonality to be consistent throughout all the campaigns and ensure that the customer imbibes the same tone.
Is the design mobile-friendly?
Emails, websites, and even photos are moving toward mobile optimization. It's just how things are right now, and by 2022, researchers anticipate that there will be 5.5 billion mobile users worldwide.
When using their phones, people are more inclined to check their inboxes.
Finding the significant players in mobile-friendly design is the first step in producing mobile-friendly emails. These are screen size, connectivity, device orientation, email clients, and other elements. A founder already has a benefit just being aware of these factors.
What should be the placement of the CTA?
The answer to this question will tell you whether the designer has in-depth knowledge of Email design. A CTA is a literal game-changer. The placement of CTA has the power to convert a customer, and if not placed correctly, you can also lose a potential customer.
Email Marketing Copywriter
The role of Email Marketing Copywriter:
The email marketing copywriter is responsible for creating high-quality content and converts.
Without high-quality, engaging content, even the best email marketing techniques and designs are virtually meaningless. The copywriter initially aims to persuade recipients to open a promotional email. Here are some questions to ask your email copywriter to get unique and excellent content.
What is your approach when curating content for a specific campaign?
A copywriter needs to conduct thorough research before actually penning down words. A copywriter needs to understand the campaign's concept and idea; only after understanding the campaign can the copywriter imbibe the brand tonality into the copy.
The answer to this question will also give you an idea about the copywriter's process before drafting the emails.
Email Marketing Developer
The role of an Email Marketing Developer:
The developer technically codes the email that the designer creates. They are in charge of creating the email's inline CSS and HTML.
They are tasked with handling the technical aspects of email automation and deliverability and ensuring that spam filters do not block emails. They also collaborate with designers to ensure emails look as they should on all devices and email clients.
They are in charge of A/B testing and the related tools to determine which version of an email performs best with your audience. These questions will help you understand your developer better.
How do you keep up with the most recent advancements in email marketing?
Your email marketing developer needs to stay abreast with the latest trends in the market. Many resources are available to keep up with in email marketing. The following are Pardot/Salesforce-specific products: The Pardot DRIP and Spot. The following websites: taxi for Email, Braze, HubSpot, Litmus, and general email marketing news.
How do you enhance the performance of an email?
The email marketing developer ensures that the email design is well received. Based on the results of previous email campaigns, the developer is expected to incorporate changes in future campaigns and produce good results.
Email Marketing Data Engineer
The role of Email Marketing Data Engineer:
A data engineer makes sure the appropriate data is contained in the email.
Email campaigns for businesses frequently involve segmentation. Additionally, having a data engineer on your team will aid in avoiding unsuccessful segmentations.
As your level of insight rises, you'll need someone to combine data from several sources into a single dataset with a set of standard KPIs and dimensions.
How do you optimize the campaigns?
This will help you understand whether the data engineer is vigilant and keeps a tab on the performance of the emails.
The data engineer will also analyze performance information to optimize upcoming campaigns. In this manner, the email marketing team may ascertain the best times and days of the week to send emails, the subject line kinds that perform the best, and other elements that can enhance the success of an email marketing campaign.
Businesses can hire employees internally, hire independent contractors, or contract out the entire email marketing campaign.
How do you store data, and what is your reporting method?
The data of email marketing can be overwhelming. Thus, for a third person to understand the data and deduce from it, it is important to have organized, up-to-date data that is delivered to you periodically.
The Wrap:
When you outsource your email marketing responsibilities, you should know the process. As a founder, it is impossible to be a part of all the functions of a business. Thus, your work will be much simpler if you know which aspects to monitor and how? These questions will keep you abreast of all the developments in your email marketing strategies and help you coordinate better with your extended team.
FAQs
Email marketing: What is it?
A direct marketing in which you use email to advertise the goods and services your company provides is called as a email marketing . It might let clients know about your most recent products or promotions. It can be crucial in educating people about your business or keeping them interested between purchases.
What are the benefits of email marketing?
The benefits of Email Marketing cannot be overlooked. It is gaining popularity as a low-cost channel to promote your business and boost sales.
Customized material.
Helps in gathering surveys and feedback.
Enhances sales.
Engages your audience in conversation.
Brings visitors to your website.
Sends campaigns on time.
Improves lead numbers.
Reaches the correct audience at the appropriate moment.
Is Email Marketing costly?
Email advertising need not be expensive. It's among the most cost-effective strategies to engage your audience and increase sales. Many inexpensive email marketing providers are available, each with its unique cost structure and feature set.
Is Email Marketing effective?
Undoubtedly! It is more effective than ever. Even though social media and other messaging platforms are becoming increasingly popular, research demonstrates that email is still the most effective way to communicate with people. It's expected that the number of email users will increase.
Does social media marketing help a brand?
About the Author
Chandala Takalkar is a young content marketer and creative with experience in content, copy, corporate communications, and design. A digital native, she has the ability to craft content and copy that suits the medium and connects. Prior to Team upGrowth, she worked as an English trainer. Her experience includes all forms of copy and content writing, from Social Media communication to email marketing.