BrightLocal vs. Moz Local: Key Differences and Features Explored
Published: November 3, 2023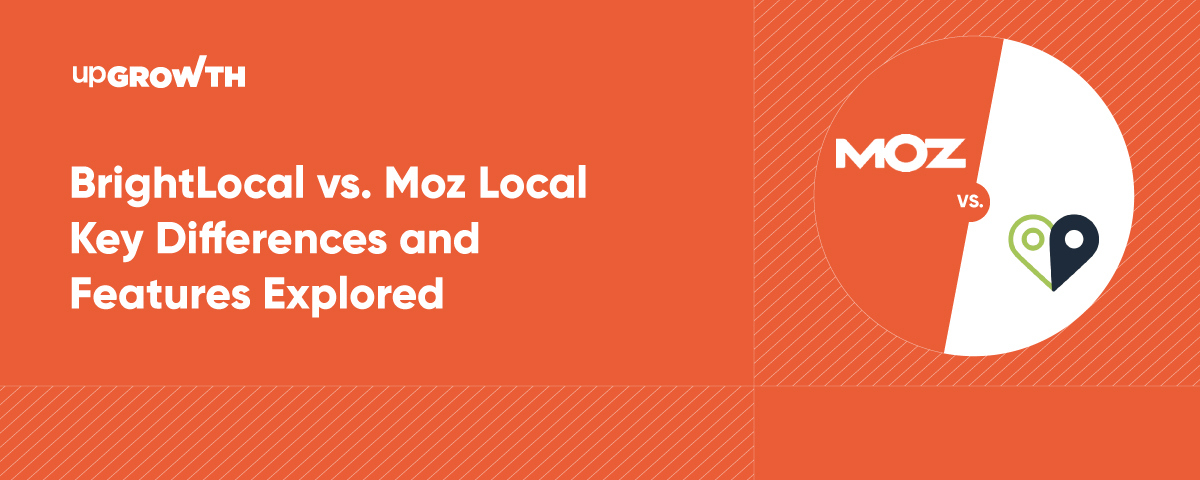 Moz Local vs. BrightLocal – Comparison
Moz Local and BrightLocal are valuable tools for managing local business listings and online reputation. Here's a brief comparison:
Moz Local:
Moz Local is your trusted choice for managing local company listings and reputation across various websites, including Google and Facebook.
It offers features for local SEO, providing businesses with tools to enhance their visibility in local search results.
Moz Local provides data and insights on local search performance, assisting businesses in making informed decisions.
It is part of the Moz suite of SEO tools, which includes a range of features for on-page optimization, link analysis, and more.
BrightLocal:
BrightLocal simplifies local marketing for small and medium-sized businesses and advertising agencies.
It provides tools for local SEO audits, rank tracking, review management, and citation building.
BrightLocal offers reporting and analytics features to monitor local SEO efforts' effectiveness.
The platform is dedicated to making local marketing more accessible and efficient for businesses of various sizes.
The choice between Moz Local and BrightLocal depends on your specific business needs and objectives. Both platforms offer solutions for managing local listings and reputation, but the choice may be influenced by your organization's size, goals, and preferences.
Moz Local vs. BrightLocal – Features & Benefits
Moz Local is a comprehensive tool that offers the following benefits:
Integrating Google and Facebook:
It provides insights into your online presence on Google and Facebook, making it easy to post data and increase your visibility in key areas.
Precise Listings, Content Clients:
Moz Local helps maintain accurate business listings on platforms like Bing, Foursquare, and Apple Maps, ensuring that customers can easily find your business.
Automated Support:
Moz Local addresses concerns about confusing duplicate listings by automatically identifying, confirming, and removing duplicates. This ensures that your clients receive accurate information.
Keep Up With The Updates:
The platform keeps you informed through notifications and an activity feed, helping you keep track of conversations, changes, and any issues that require your attention.
Review Management:
Moz Local enables you to provide efficient customer service and collect sentiment data from reputable websites in one location. Interactions with customers build trust and enhance your online reputation.
Moz Local is a wonderful tool for businesses examining to maintain accurate online listings, manage their online reputation, and stay informed about their online presence across various platforms.
BrightLocal offers a comprehensive set of features on its all-in-one platform to assist businesses in managing their online presence and reputation:
BrightLocal Features:
Managing Reputation:
Businesses can monitor and create internet reviews from a single location, making it easier to manage their online reputation. Displaying positive reviews can help attract new customers.
Tracking Rankings:
The platform provides tools for tracking local search rankings, allowing businesses to recognize their current position and devise strategies for improvement.
Client Reporting:
By providing the option to generate white-label reports that can be shared with clients, BrightLocal streamlines customer reporting. Open reporting improves consumer trust and communication.
Source Development:
BrightLocal supports the creation and maintenance of a list of nearby businesses. Ensuring citations are consistent across platforms enhances a business's authority and reliability.
Comprehensive Audits:
Businesses can perform local SEO audits to ensure their online presence is search engine-optimized, helping improve their visibility in local search results.
With the help of BrightLocal's platform, businesses can manage their online reputation, keep an eye on local search rankings, generate reports for clients, keep citations constant, and improve local SEO for their website. Because of these qualities, it's a great choice for companies trying to improve their local internet presence.
Moz Local vs. BrightLocal – Pricing Comparison
Moz Local offers the following pricing plans:
Lite – $14.00 per month:
Listing Management
Automated Location Data Distribution
Continual Syncing of Location Data
Standard Directories Submission
Data Aggregator Submission: Foursquare
Data Cleansing Process
Automated Duplicate Deletion
Google & Facebook Integration
Activity Feed & Notification Alerts
Review Monitoring
Preferred – $20.00 per month:
All features included in the Lite plan
Reputation Management
Social Posting
Optional Add-On: Data Aggregators (US only) for $4/month
Elite – $33.00 per month:
All features included in the Preferred plan
Additional Directories Submission
Optional Add-On: Data Aggregators (US only) for $4/month
Pricing plans are available in numerous sizes and features to meet the needs of all size businesses. Local business listings and online reputation management can be managed using the plan that best fits a company's requirements.
BrightLocal offers the following pricing plans:
Track – $39.00 per month:
Track local rankings
Audit citations, GBP (Google Business Profile), and on-site SEO
Monitor GBP and website performance
Competitor Insights
Customizable white-label reports & emails
Agency Lead Generator
Citation Builder (pay as you go)
Manage – $49.00 per month:
All features included in the Track plan
Sync business data across Google, Bing, Facebook, and Apple
Suppress external edits
Schedule GBP Posts
Bulk post to multiple GBP listings
Grow – $59.00 per month:
All features included in the Manage plan
Monitor and respond to reviews
Run review generation campaigns
Create a review widget for your site
These pricing plans cater to businesses and agencies with different needs for managing their local search rankings, citations, online reputation, and Google Business Profiles. Users can select the plan that aligns with their specific requirements.
Conclusion:
Both Moz Local and BrightLocal serve as valuable partners in the digital space, simplifying the often intricate aspects of online listings and reputation management. These tools are designed to assist both small businesses and marketing agencies enhance their online presence. By making informed and strategic investments in your online presence, you can expect substantial growth for your company in the digital world.
FAQs
How do BrightLocal and Moz Local differ in terms of local search optimization features and capabilities?
BrightLocal and Moz Local offer distinctive features and capabilities in the realm of local search optimization:
BrightLocal:
Local SEO Audits
Citation Building
Review Management
Google Business Profile (GBP) Management
Competitor Insights
Review Widgets
Moz Local:
Listing Management
Automated Duplicate Deletion
Data Aggregator Submission
Social Posting
Review Monitoring
These are reliable and efficient tools, but depending on your particular requirements, they might address different facets of local search engine optimization. Moz Local concentrates on accurate listing management, data collection, and review monitoring, whereas BrightLocal prioritizes thorough audits, citation building, and review management. Depending on your company's local search optimization aims and objectives, you may have to choose between the two.
Which tool, BrightLocal or Moz Local, provides better tools for managing and optimizing local listings and citations?
Both BrightLocal and Moz Local offer tools for managing and optimizing local listings and citations, but they cater to different aspects of this process.
BrightLocal provides strong tools for managing and optimizing local listings and citations. It excels in:
Local SEO Audits
Review Management
Citation Building
Google Business Profile (GBP) Management
While Moz Local offers listing management and review monitoring, it has a strong focus on precise listing management and data aggregation. Moz Local's strengths include:
Data Aggregator Submission
Accurate Listing Management
Automated Duplicate Deletion
Both are useful tools; which one you choose will depend on your needs and preferences. For companies that value thorough audits, review management, and citation building, BrightLocal is a great option. However, Moz Local is suited to companies who are interested in review monitoring, data compilation, and accurate listing administration. The choice should align with your goals for managing and optimizing local listings and citations.
Can you explain the pricing models for BrightLocal and Moz Local, and what factors should businesses consider when choosing between them?
Pricing plans that meet the demands of businesses with different requirements and sizes are provided by BrightLocal and Moz Local. Below is a comparison of their pricing models and the variables that businesses should take into account when making a decision:
BrightLocal Pricing:
BrightLocal offers three pricing plans: Track, Manage, and Grow, with monthly fees ranging from $39 to $59 per user.
The Track plan focuses on core local SEO features, including local ranking tracking, citation audits, and competitor insights.
The Manage plan includes additional features such as sync across major platforms (Google, Bing, Facebook, Apple), suppression of external edits, and GBP post scheduling.
The Grow plan further adds review monitoring, review generation campaigns, and the ability to create review widgets for your site.
Moz Local Pricing:
Moz Local offers three pricing plans: Lite, Preferred, and Elite, with monthly fees ranging from $14 to $33 per user.
The Lite plan includes fundamental features like listing management, Google & Facebook integration, review monitoring, and automated duplicate deletion.
The Preferred plan builds on this foundation, adding reputation management, social posting, and an optional data aggregators (US only) add-on.
The Elite plan enhances the offering with additional directory submissions and the same optional data aggregators add-on.
Factors to Consider:
Scalability
Local Presence
Budget
Reporting
Feature Priorities
In the end, your particular business objectives, priorities, and financial limits will determine which of BrightLocal and Moz Local is best for you. After deciding which features are most crucial for your local search engine optimization approach, choose the platform that best fits your needs.
In terms of ease of use and user-friendliness, which tool is more accessible for businesses new to local SEO: BrightLocal or Moz Local?
Both BrightLocal and Moz Local are intended to be user-friendly; but, depending on the user's choices and level of experience, there might be some variations in usability.
BrightLocal's UI is renowned for being simple to use and intuitive. It provides a simple, easy-to-use dashboard that even novice users may easily navigate. Because of its straightforward design, the platform is usable even for companies with no prior experience with local SEO. To help consumers get started with their local SEO efforts, BrightLocal also offers a number of useful resources and tips.
Moz Local has a comparatively simple UI and is also user-friendly. It helps users set up their local listings by providing step-by-step instructions. The Google and Facebook integration of Moz Local makes it easier to manage your company listings on both sites. It might, however, have a somewhat higher learning curve for customers who are completely new to local SEO than BrightLocal.
To sum up, companies that are new to local SEO can use both platforms. BrightLocal's user-friendly interface and resources for beginners may give it an advantage in terms of usability and ease of usage. Nevertheless, Moz Local also prioritizes usability in its design and offers instructions to assist customers with the setup procedure. Which option a user finally chooses may ultimately depend on their personal preferences.
How do BrightLocal and Moz Local handle local search audits, reputation management, and reporting?
While Moz Local and BrightLocal both provide tools for reputation management, reporting, and local search audits, their approaches to these areas differ:
BrightLocal:
Local Search Audits: BrightLocal is very good at conducting local SEO audits. It gives a thorough analysis of the local SEO performance of your website, points out areas that need work, and makes doable recommendations. Audits of on-site SEO, citation consistency, and other topics are available to users.
Reputation Management: Strong reputation management options are available from BrightLocal. Individuals have the ability to track reviews on the internet, write new reviews, and evaluate opinions on various review sites. This supports companies in keeping their favorable internet reputation.
Reporting: BrightLocal prioritizes reporting highly. Because it offers white-label reports and emails that can be customized, it is a good option for companies who want to send clients branded reports. Reports might include information on citations, reviews, rankings, and other local search-related topics.
Moz Local:
Local Search Audits: Moz Local does not have the same depth of local SEO audit capabilities as BrightLocal, while offering tools like automated duplication removals and data aggregator uploads. Listing management and data accuracy are its main areas of emphasis.
Reputation Management: Moz Local offers review monitoring as part of its reputation management service to assist companies in keeping tabs on their internet reviews. On the other hand, BrightLocal might offer more features for reputation management and review generation than it does.
Reporting: Moz Local informs users about updates and problems pertaining to their online listings through activity feeds and notification notifications. But unlike BrightLocal, it doesn't place as much emphasis on white-label reporting.
BrightLocal is a great option for companies and agencies searching for an all-in-one solution because of its extensive local search audit capabilities, powerful reputation management features, and customisable reporting. Moz Local is a good option for companies who value exact listings, as it focuses primarily on data dissemination and proper listing administration.
Which tool offers more advanced analytics and insights into local search performance, BrightLocal or Moz Local?
Compared to Moz Local, BrightLocal provides more sophisticated metrics and insights into local search success. BrightLocal gives users access to comprehensive statistics and analytics so they may evaluate a range of factors related to their local search strategy, such as:
Local SEO Audits: In-depth insights into website performance, citation consistency, on-site SEO, and other areas are provided by BrightLocal, which provides thorough local SEO audits. The audits aid users in pinpointing areas in need of enhancement.
Rank Tracking: Users may monitor their local search rankings for particular phrases, which gives them insight into how visible they are in search results and how those rankings fluctuate over time.
Competitor Insights: By offering competition data, BrightLocal enables companies to assess how they perform in relation to competitors in the local search market.
Customizable Reporting: Because it places a strong emphasis on customisable white-label reports, BrightLocal is a great option for agencies looking to distribute branded reports to customers.
Review Monitoring: The software provides sophisticated tools for monitoring reviews, allowing businesses to monitor internet reviews, evaluate sentiment, and quickly reply to feedback.
Although it offers useful options for managing listings and keeping track of reviews, Moz Local's statistics and reports are not as comprehensive as those offered by BrightLocal. As such, BrightLocal is probably a better choice for companies and agencies looking for sophisticated statistics and insights into their local search success.
About the Author
Manjusha Karkera is an enthusiastic content marketer who has created numerous engaging and compelling writing pieces for various clients and companies over the years. She enjoys writing pithy content and copy on various sectors like fashion, beauty and wellness, sports, fitness, education, etc. Prior to Team upGrowth, she worked as a Marketing Communications Specialist. Her overall experience includes all forms of content writing and copywriting.