How Small Business can Use Digital Marketing to Compete
Published: August 14, 2018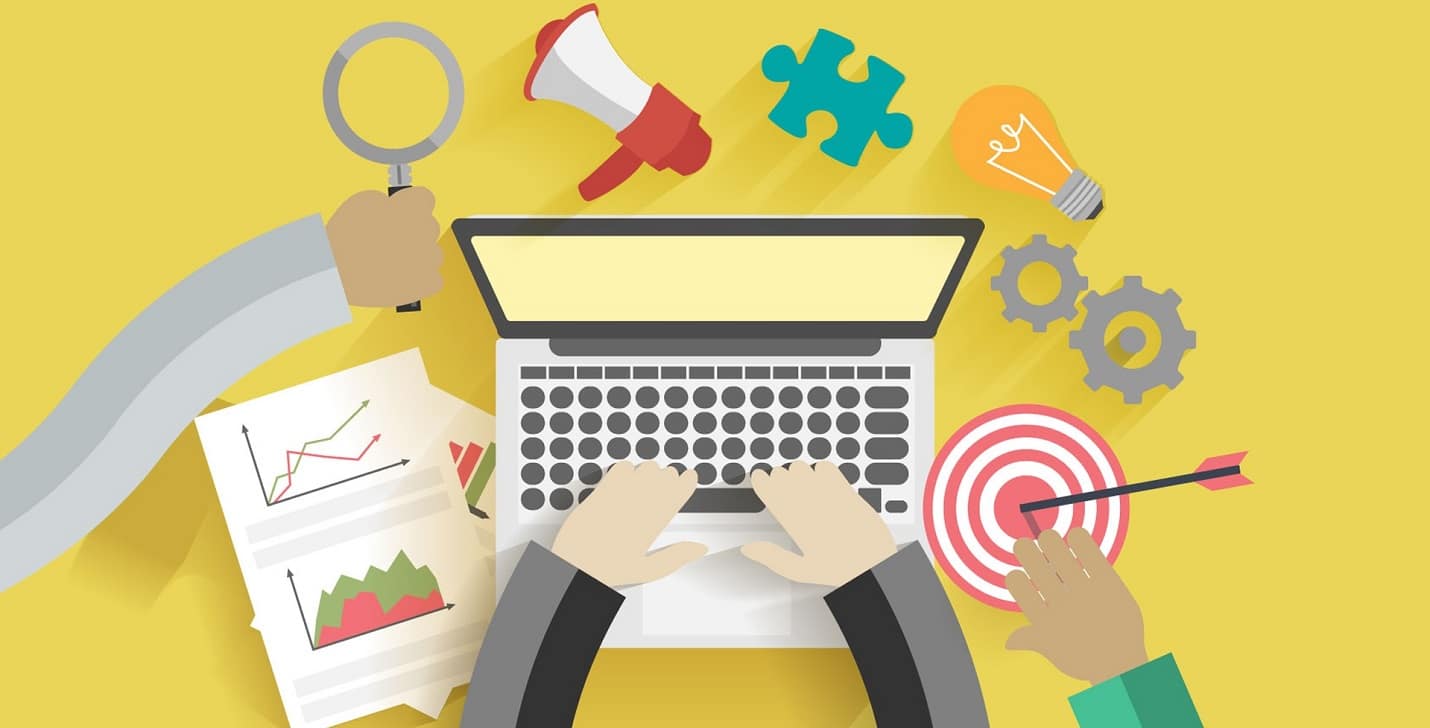 Digital marketing campaigns have become important options with regards to reaching a wider audience. Digital marketing for small businesses means going online with their product and service offerings and thus providing with a flexible marketing potential.
Since technology has quickly advanced during the last half of the century, strategies related to marketing have also followed out, it provides both new as well as interesting ways in reaching wider audiences. One of these technological innovations is digital marketing. The importance of digital marketing in today's scenario lets your business successfully reach more customers and increase sales volumes due to its versatile nature.
WHAT IS A DIGITAL MARKETING CAMPAIGN?
A digital marketing campaign utilizes digital media in order to reach customers in the market. Such a campaign primarily uses the power of the Internet. Small businesses can market their products and services using the internet technology. In actuality, the Internet is arguably the fastest growing digital platform in the world today.
Social media and search engines have created substantially useful marketing options to any kind of businesses (small, medium and large). What's important here is being aware of the best online options that you can use in order to reach more customers for your business.
Small businesses have more marketing options than they have ever had before. Low barriers to entry on marketing automation and social media platforms present massive opportunities for smaller businesses, yet it also means increased complexity and more channels to keep on top of.
Benefits of using digital marketing for SMEs can lead to increase in their business by utilization of various techniques. This although increases the complexity of SMEs, but digital marketers usually deal with such complexities providing the SMEs with useful insights. Digital marketing career is taken up by experts who are well versed with the tools and techniques and understand the business scenario and market capabilities.
IMPORTANCE OF DIGITAL MARKETING IN TODAY'S SCENARIO
The number of changes, SMEs are needed to undergo these days, are enormous to update oneself on the current standards. Businesses are leveraging technology as an integral part of their daily operations, either as how they operate on a daily basis, or how they process orders. Hence, implementing technology in the day-to-day activities is the need of the hour.
Small and Medium enterprises (SMEs) are often unaware on the intricacies of a prolific marketing campaign and it is high time to make them aware of the trending marketing policies to attain more visibility.
This is where digital marketing comes into the scene, and some of the most important parameters, which should be kept in mind while opting for Digital Marketing:
Website creation: to create a website with all the basic information about the brand that is relevant for the customers
Search Engine Marketing: website visibility increases the traffic in the website
SMS/E-mail Marketing: sharing SMS/E-mail is also an important mode of marketing for SMEs
Consumer Reviews: the review of the target customers regarding the brand or the products is one of the best ways to stay in touch with the customers and also gives scope for more development
Social Media: in the present time, the social media presence is sure to create more visibility of a brand because of its maximum number of reach
Digital marketing is essentially harnessing digital media for reaching out to a wider customer-base in a cost effective yet swift way. It primarily entails the use of internet to amplify the effect of the marketing campaign, alongside measuring the impact through online monitoring and measuring tools.
BENEFITS OF USING DIGITAL MARKETING
Here are a few beneficial ways in which SME? can maximize their reach, through Digital Marketing:
1) Role of digital marketing in modern world cannot be neglected. It is an exceptional way for promoting SMEs aiming to compete with well-established brands. Digital marketing services available for SMEs can arm them with a flexible marketing potential that increases sales volume/
2) Digital marketing agency for small businesses provide much more cost-effective than any conventional modes of advertisement in reaching out to target potentials, while establishing a direct contact with both, current and potential customers.
3) Digital marketing for small businesses involves marketing campaign with precise targeting to reach maximum potential customers thus ensuring the prices at which these solutions are available are cost-friendly for SMEs.
4) Digital Marketing Solutions come with a lot of statistical capabilities as well, which helps SMEs to put in their time and money to the most effective audience only. It assists SMEs in connecting with experts who keep themselves up-to-date with the developments taking place. It also offers SMEs with a limitless freedom to incorporate changes in their ongoing campaigns, when the need arises.
IMPORTANCE OF DIGITAL MARKETING IN TODAY'S SCENARIO
In present times, a digital marketing campaign is one of cost-effective ways in reaching your most targeted prospects. Where traditional advertising campaigns typically costs a lot, the digital media rescued a number of enterprises around the globe by offering cost-effective marketing opportunities.
With digital marketing campaigns, dramatic changes in advertising as well as marketing have been observed. Online marketing isn't just for small business, it also lets enterprises establish direct contact with both their current and potential customers.
Whenever advertising is done online, you no longer need any long-standing commitments.
Truth be told, website traffic channel like pay per click, or PPC could be modified and/or updated regularly.
Going for the services of a digital marketing firm means going for the service of experts who are up-to-date when it comes to the latest developments that are taking place in the market today. These professionals make it a habit to be in the know regarding any and every change that's taking place.
Digital marketing campaigns have proven to greatly benefit businesses since they let you get in consistent touch with your potential customers. Thanks to their target-oriented as well as cost-effective approaches, it has become possible to promote products and services in a way like no other. Likewise, these campaigns create long-lasting as well as positive impressions on your brand as well as your potential customers.
Target-oriented digital marketing campaigns tend to catch the attention of visitors who can potentially turn into leads or high-paying customers.
Digital marketing campaigns provide you with total freedom when it comes to implementing changes for your campaigns whenever a need arises. In fact, they could be done without you having to wait for very long.
Lastly, don't be left behind by your competitors. One or more of your competitors probably are doing digital marketing to get mores customers in your market. Don't let them, implement digital marketing campaign for your business today. Contact a reputable company that will guide you and give you the best service possible.
What are the trends should you look out for that can affect your business?
SUCCESS MANTRA – INBOUND MARKETING AND GROWTH HACKING
A good product will speak for itself
Fundamentally, growth hacking can't happen until you've developed a product-market fit. It should be tested with early users, and designed with a specific target audience in mind. So what does this mean for you? It means growth hackers are building a momentum for growth for a validated product. And that's why people are drawn – because they want something that works, too.
In case of digital marketing for SME, inbound marketing and growth hacking can work miracles if implemented properly. Inbound marketing focuses on pulling the potential customers towards your SME brand with a constant focus on developing long term relationships.
WANT TO USE INBOUND MARKETING TO GENERATE LEADS FOR YOUR BUSINESS ?
Growth hackers aren't just marketers
You've probably seen the term 'growth-hacker' on a list of buzzwords for marketers. But a growth hacker is more than a marketer. Growth hacking throws out all the rules we know about marketing and advertising, and combines the skill sets of a salesman, social media marketer, data analyst and programmer with the sole purpose of customer acquisition. Possessing these skills means it's easier to set sights on rapid growth, and take concrete actions to reach it.
Does your Business need Growth Hacking?
This Consultation will help give your business the first push towards Growth in this Digital era.
We're tired of the traditional marketing tactics
Look no further than Dropbox, where the referral program gave users a chance to introduce a good product to their friends and get rewarded for it. Customer acquisition was organic; driven by word-of-mouth reviews. The truth is, we're all looking for that next big thing. The growth campaigns that break the rules and make us sit up and listen are the ones that generate the most tweets and conversations on Facebook – and in a digitalized world where social media is everything, that can mean a lot.
CONCLUSION
Currently, two options are feasible here? opting for a professional service from a digital marketing agency or going the self-learned way through educating oneself about various ways to promote. Although, the latter has its share of positives, the first option should be the obvious choice for most SMEs as it saves time, and energy, while getting the best digital marketing service from experts, into play.
As time progresses, it is becoming difficult to ignore the benefits SME's can get from investing their ideas and capital in a digital marketing campaign, in comparison to depending upon just traditional marketing mix. With time we'll get to see further developments which would truly empower this valuable form of marketing to revolutionize our consumption pattern.
Digital marketing is truly a dynamic marketing media that can be used by any businesses. It's hard to ignore the benefits which your business can get from launching a digital marketing campaign. Whether you have a limited or big marketing budget you can still use this promising vehicle to effectively promote your site in the most promising and cost-effective media.
About the Author
Amol has helped catalyse business growth with his strategic & data-driven methodologies. With a decade of experience in the field of marketing, he has donned multiple hats, from channel optimization, data analytics and creative brand positioning to growth engineering and sales.