5 Reasons Social Media Is Going To Be Big In 2021
Published: September 14, 2020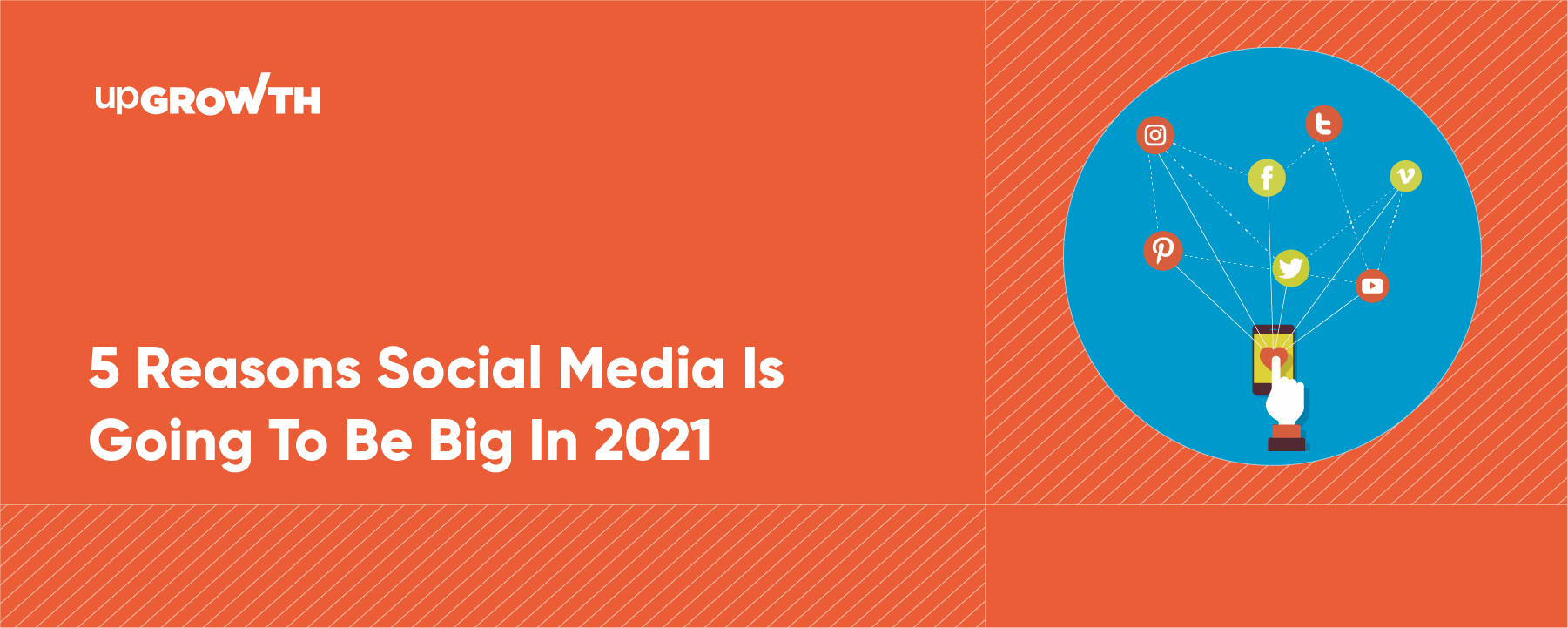 Social media marketing has now become an essential tool for businesses. From branding to running campaigns to enticing customers with shoppable ads, social media marketing is not a "should-have" but a "must-have." From forging a brand voice to engaging with your audience, social media has a lot to offer. Here are a few reasons why social media is going to be big in 2021.
Social Media Is Mobile, And So Is The Future
Look around you: everyone is walking around with a smartphone in their hands. If you are thinking about marketing, then you need to think mobile. Most people check their social media on their mobiles. You need to be able to connect with customers on a mobile platform.
Targeted Messaging For An Engaged Audience
These days, the best way to get through to your customers is with messaging that speaks specifically to them. Are you looking to gain a general following or is there a specific set of people you want to attract? You first need to figure out who exactly you are selling to. Post this, social media can help you craft a message that speaks directly to the demographic in question. Social media is important because you can target people on a local, regional, national and global level.
Also Read

How to handle negative comments on Social Media like a professional

Should you Build an Inhouse Social Media Team or Outsource it to an Expert Social Media Agency

Impact of Social Media on Buying Habits of an Indian consumer
Ephemeral Content Is Gaining Popularity
Attention spans, unfortunately, are getting shorter and people are consuming content in very different ways now. Snapchat and Instagram have ushered in the era of stories, and of content that is available for a short period of time. Facebook has also introduced this feature. Since this kind of content is gaining popularity. It's only natural that social media platforms which offer it are going to be big in the year ahead.
The Rise And Rise Of Video
Visual-based content has increased by leaps and bounds since smartphones today come equipped with cameras, enabling access to photos and videos. And video is the way the internet is headed – a Cisco study shows that by 2022, 82% of all content will be in video format.
With attention spans shrinking and people wanting brands to get straight to the point, videos are the best way to put forth information in an accessible and digestible format. And with almost all social media platforms, including Facebook, Instagram, Snapchat, LinkedIn, Twitter, Tumblr, Pinterest, WeChat and Weibo supporting video in varying lengths, brands are most likely to bet big on social media next year.
Localized Content Is The Way To Go
The coronavirus pandemic has forced us to look inward, introspect and support more local businesses as the way we shop has changed. With deliveries taking longer than usual, people are turning to nearby stores to fulfil their needs.
Having local brand social media pages is a must, since this allows your business to communicate on a personal level. It also helps you discover your business. (Instagram has now started implementing location pages so that it's easier to search for and explore products nearby.)
The importance of social media can't be denied – there's a whole words of customers waiting to be tapped. Now I'm positive that you have an idea about why it is important and how it can help you grow your business. So why not start today and grow your social media presence?
FAQ:
What are the types of social media marketing?
There are many different kinds of social media marketing. But the 6 most effective types of social media marketing in 2020 are Facebook, Instagram, Twitter, Pinterest, LinkedIn and Snapchat.
You can employ different kinds of social media marketing, from content marketing to influencer marketing, depending on your budget, timeline and end-goal.
Content marketing works best over time, when you have been able to generate backlinks and get SEO traction. Influencer marketing, on the other hand, can earn quick results for low effort, but may require you to incur a high cost.
But the benefit of using social media marketing is that you can have consistent leads coming in from the time your time your website and handle are live.
2. How does social media impact business marketing?
You need to use social media for business marketing in today's digital landscape, no two ways about it. The main benefit if social media is that you will begin to get leads and eyeballs almost as soon as you sign up.
With social media, it is possibe for brands to increase brand awareness among customers, build a company image and gain increased exposure, which in turn drives traffic to the company, converting leads into paying customers.
Social media also impacts business marketing by boosting brand loyalty amongst customers, and we all know that it's much more economical to keep existing customers than to find new ones. Through social media, customers and brands also have the opportunity to converse with each other in real-time.
By being responsive on social media and keeping customers happy, you increase their satisfaction levels.
3. Some tips on social media marketing?
Social media is an important tool to grow your business onlibe. Here are a few tips on social media marketing to help you improve your marketing strategy.
Set goals: Use the SMART goals strategy (Specific, Measureable, Attainable, Relevant and Timely) to create the foundation for a successful social media campaign.
Identify your audience: your message will not get through, and it won't be relevant, if you don't tailor it to your target audience – the people most likely to listen.
Select the right platforms: There are plenty of social media platforms out there, but to see results, you need to use a platform which works best for you and where a majority of your audience can be found. For example, B2B businesses will find greater success on social media while retailers are better off using Instragram and Facebook.
4. How can we grow our business on social media?
In today's digital landscape, you should have your business on social media.
Here are a few ways you can grow your business on social media.
Firstly, identify your goals.
Secondly, understand the needs and painpoints of your target audience, and create content that caters to that.
Thirdly, interact often! This lends a human touch to your business and lets them know that there is a soul behind the brand persona.
Fourthly, be sure to link to your website on all your social media handles, so that your leads and customers can learn more about your products and services.
fifth, make sure you produce valuable content on a consistent basis. People need to see that you are active and responsive on social media, since it is a medium where interactions happen in real time.
5. How to do marketing on social media?
So what is the best social media marketing strategy? You must be wondering how to do marketing on social media. Here are three things to keep in mind.
Set goals that make sense: This should be specific to the size and scale of your business and the growth trajectory you are looking at.
Research your target audience: Understand who they are, what makes them tick, what their pain points and problems are, and position yourself as a solution to those problems.
Analyse the competition: It's very important to do a competitor analysis to gauge what tactics they are employing and how they are attracting customers. It's not about copying their strategy, it's to determine what's working for them and what conclusions you can draw to adapt your own campaigns accordingly.
About the Author
Chandala Takalkar is a young content marketer and creative with experience in content, copy, corporate communications, and design. A digital native, she has the ability to craft content and copy that suits the medium and connects. Prior to Team upGrowth, she worked as an English trainer. Her experience includes all forms of copy and content writing, from Social Media communication to email marketing.