Should you Build an Inhouse Social Media Team or Outsource it to an Expert Social Media Agency
Published: August 14, 2018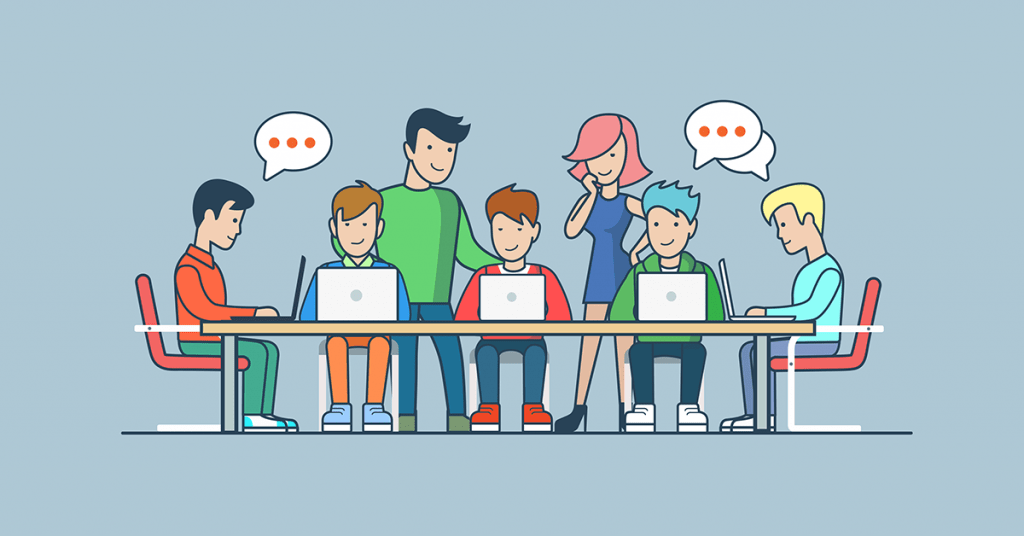 Every part of our lives is documented on social media today. Everyone has a presence, an online persona and anyone with a smartphone are doing their best to ensure that they are visible in the digital world. For start-ups, it is almost an unsaid rule that you must have a social media presence that is in line with the work you do.
Don't consider yourself at a disadvantage if you are just beginning in the business field. Social media provides an equal and open ground to all and you can make the most of it.
Want to make a well-informed decision before partnering up with an agency?
Advantages of Using Social Media for Businesses
A majority of the youth and working class are online perpetually, and most of the time they're on social networks. That means you have ample access to them, to catch their attention, promote your product or service and get customers.
Hiring the services of a social media advertising agency should do the trick if you are occupied with other business details. While using a 360-degree approach is important it is equally important to know how to use certain social media platforms to your advantage.
Brand Awareness and Memorability
Social Media is the best way to ensure that your brand or product is seen by the huge population online. With the help of social media, your business would also score higher in search engine rankings.
Customer Relations and Service
The best way to encourage good customer care and satisfaction is not by being held up on customer service lines. Nowadays, people find the quickest way to convey their feedback, be it Flipkart, Amazon or Myntra, is through Facebook and Twitter where they receive quick replies and their issues get sorted within a day or less than that.
It is advisable for small businesses to use social media to attract potential customers and keep their present ones engaged.
Better visibility and better customer relations lead to increased brand loyalty which means better business. By optimizing your use of social media, through images, clips, videos, write-ups you can create a human persona for your brand/product/service. The better the impression you create on your customer, the higher is the likelihood for them to use your service or even recommend you to someone else which leads to higher conversion rates.
There are numerous factors to keep in mind while deciding whether to train your in-house team or to employ social media marketing agency services. Here are some of the pros of having an in-house social media marketing team-In-house social media marketing
Pros of In-house social media marketing
Nobody Knows Your Business Like You Do
You and your team understand the values that your business represents more than anyone else. No matter how clear your aim, vision, and mission are, it is your team that lives and embodies those values and can best express their own experiences. Having an in-house team handle your social media marketing also allows them to take more ownership of the process. Your team has deeper instincts about the culture, image, and brand of the business and can portray it better.
When you outsource your social media marketing to a social media content agency a lot of time gets spent over mediators and client servicing where your aim and requirements have to be explained to a third party who has no what your organization is about. To an external agency you are just another client, but to your team, you are THE client. You can save a lot of time on communications and confusion.
Social media agencies might also be a bit too expensive if you are a young start-up looking to carve a niche in the industry. Having an in-house team also gives more access to content thus saving time and allowing the team to post updates on social media in real time.
Level of Control and Independence
It is advisable for a small business to have in-house social media marketing as it allows them a certain level of control over the process while maintaining their independent ways of working.
You can ask for changes from your team until you are satisfied with the result without receiving flak from them, which would happen with an external agency. The work is also done with more speed and efficiency by an in-house team.
Cons of In-house social media marketing
This being said it is also important to take into consideration the cons of having an in-house social media marketing team.
Sometimes ideas need feedback and criticism from an outside perspective which is unbiased and unprejudiced. Having an in-house team working on social media optimization sometimes leads to tunnel vision where the members are so driven by company values and emotions that they are unable to see any shortcomings beforehand. One such example is a recent ad by Pepsi starring Kendall Jenner.
Made by an in-house team, the ad was called out for being 'tone-deaf' and 'out of touch' upon which they had to pull back the ad and mend relationships with customers.
More Expensive on Resources
Having an in-house team working on your company's social media marketing can sometimes turn out to be more expensive with regard to resources like time and money. It is both time-consuming as well as expensive to train your employees and help them recreate and develop the talents and skills that a social media agency has bountifully. It is irrational from a management point of view to spend precious resources on marketing.
Outsourcing to Social Media Agency
Trying to figure out whether to trust your social media with an agency or an in-house team is tough. No amount of wracking your brains can give you an answer which experience can.
However, all start-ups cannot afford the liberty of experimentation. We will help you out with some of the pros and cons of outsourcing to a social media advertising agency.
Pros of Outsourced Social Media Marketing
One of the biggest advantages of social media agency services is the level of skill and expertise they come with. They are aware and adept at using the latest tools in magnifying the power of social media to the company's advantage. Social media agencies for small businesses are knowledgeable about the ways of using different platforms on social media and maximizing their effect. Using social media agency services.
Due to working with numerous clients and projects, experts from social media optimization agencies understand the "Do's" and "Don'ts" of social media. They are familiar with the best practices to be used on social media to engage users and keep updating their knowledge through experience.
Like I mentioned earlier, it is immensely valuable to have an outsider's unbiased perspective that can help mould a social media campaign in the desired direction. The social media agency can give honest feedback on whether certain practices work or not.
Employing the services of a social media content agency can save a lot of time and money since they are skilled in their fields, have the technical know-how and can figure out the best way to make your company visible in the digital space.
Full-time Management of Social Media
Instead of having just a few employees trying to find time to work on your social media, it is better to engage an agency that can work full time on effectively enhancing your image on all social media. They can ensure good customer relations and satisfactions aiding in attracting new customers.

Cons of Outsourced Social Media Marketing
Since social media advertising agencies may be employed by multiple companies at once, it is difficult to get their undivided attention on your social media campaign. Due to numerous projects, it is also possible that your work may be delayed on helping up while they work on different brands and meet another organization's deadlines.
Incomplete Understanding of Brand Culture
Being an external agency, though they might be experts in their field and skilled in using the latest technology, they do not know and understand your business image and culture like your own employees do and hence, there lies a small chance of being portrayed wrongly on social media.
There is no easy way of saying this. Social media agencies are expensive and if you want to avail of their services, you have to meet the cost.
It's always better to strategize your startup's social media marketing to get unbelivable results
Conclusion
As a start-up, it is better to outsource your social media marketing to a social media optimization agency, in the beginning, to help get your business up and running.
It will help you attract and engage customers thus creating a loyalty. Once a few systems are in place and business starts running smoothly it wouldn't be a bad idea to invest in training your own employees on how to use social media effectively to promote the company.
FAQ
1. What is the function of a social media team?
A social media team's primary responsibility, whether an external firm or an internal team, is to expand the company by strategically producing content, running advertisements, and interacting with the target market on various social media platforms.
2. How do I start a social media team?
Five Stages to Creating an all-star social media team
Examine your present circumstance.
Create social media objectives.
Select your team's number.
Recognize the essential responsibilities.
Select your team's organizational framework.
3. Who do you need on your social media team?
A-Team: The critical participants in social media promotion
The boss of social media.
The author of the material.
The analyst of social statistics.
The neighbourhood coordinator.
The expert in paid advertising.
Maintain balance on your squad.
4. What is the price of hiring a social media team?
There is no precise average due to the variety of services available. The monthly price for essential social media services can be as low as $299 or as high as $15,000 for complete company packages. Yes, that is a genuinely fantastic variety. Your requirements will determine the best agency for you and how much it will cost to hire a social media marketing team.
5. What are the five features of social media?
Here are a few typical social media characteristics businesses use to interact with their target market.
Virality and the spreading of content.
Lead generation. – Sales and progress. – Audience engagement.
Reporting and analytics.
Communication and customer service.
Collaborative elements.
Be aware of your viewers.
About the Author
Amol has helped catalyse business growth with his strategic & data-driven methodologies. With a decade of experience in the field of marketing, he has donned multiple hats, from channel optimization, data analytics and creative brand positioning to growth engineering and sales.