Selecting the Right SEO Aid: SE Ranking vs. Ahrefs
Published: November 3, 2023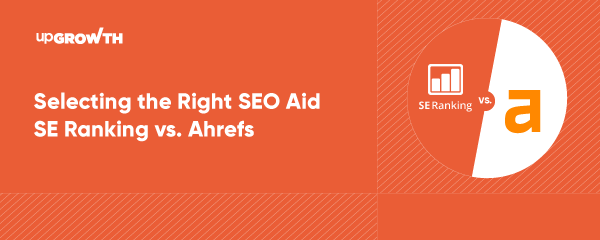 SE Ranking Vs. Ahrefs – Introduction
Ahrefs, founded in 2011 by Dmitry Gerasimenko, started as a backlink analysis tool and quickly gained a strong reputation for its accuracy within the SEO community. Over time, Ahrefs expanded its toolkit to encompass various SEO capabilities. Today, Ahrefs is a versatile SEO tool that includes features like keyword research, site audit, rank tracking, and more.

On the other hand, SE Ranking entered the scene in 2013 as a cloud-based SEO platform designed for entrepreneurs, agencies, and online marketing professionals. SE Ranking's toolkit covers a wide range of SEO tools, including keyword research, technical SEO audit, backlink analysis, and competitor analysis. Despite being a relatively new player, SE Ranking has rapidly gained recognition and is trusted by over 400,000 users worldwide, including small and large businesses.

When comparing these platforms, factors like their keyword research capabilities and pricing structures are worth considering. Both Ahrefs and SE Ranking offer robust keyword research tools, and their pricing may vary, making it essential to evaluate which platform best aligns with your specific SEO needs and budget.
SE Ranking Vs. Ahrefs – Keyword Research Features
SE Ranking: Keyword Research Features
SE Ranking boasts a comprehensive set of keyword research features. The platform offers access to a vast keyword database that includes over 2 billion unique search queries and search engine suggestions sourced from Google, Bing, Yandex, and Yahoo. This extensive database is regularly updated on a monthly basis to ensure data accuracy and relevance.
In addition to providing essential SEO keyword metrics, SE Ranking's keyword research reports are versatile and can also be harnessed to extract valuable PPC (Pay-Per-Click) insights for your target keywords. This dual functionality makes SE Ranking a versatile and valuable tool for organic and paid search optimization.
When comparing SE Ranking with Ahrefs or other SEO tools, its extensive keyword database and the ability to glean PPC insights are factors to consider, especially if your digital marketing strategy encompasses organic and paid search efforts.
Ahrefs: Keyword Research Features
Ahrefs' Keywords Explorer tool underwent a significant transformation in 2018 when Keywords Explorer 2.0 was launched. The update brought a range of new and impressive features to the flagship keyword research tool. Ahrefs also expanded its keyword database, making the tool even more valuable.
While Keywords Explorer may not have surpassed Site Explorer, Ahrefs' backlink analysis tool, in terms of overall usage and popularity, it remains a powerful resource for generating a substantial number of keyword ideas. The tool offers accurate data on search volume, keyword difficulty, clicks, and various other essential SEO metrics, making it remarkably effective for SEO analysis.
However, it's important to note that Ahrefs provides limited to no PPC (Pay-Per-Click) data. Users can access basic PPC information for their seed keywords through the "Ads history" report, but Ahrefs does not offer extensive support for PPC analysis.
When comparing SEO and PPC tools like Ahrefs and SE Ranking, it's essential to consider the specific requirements of your digital marketing strategy and whether the platform aligns with your needs for both organic and paid search optimization.
Backlink Analysis: Ahrefs vs SE Ranking
When comparing SE Ranking vs Ahrefs, it's important to note that Ahrefs excels in backlink analysis. Ahrefs' Site Explorer tool stands out as a powerful resource for delving into the intricacies of a website's backlink profile. This versatile tool facilitates auditing your site's backlinks and allows you to scrutinize your competitors' backlink strategies discreetly. With Ahrefs' advanced features for keyword research, you can gain valuable insights into your competitors' link-building approaches, enabling you to reverse-engineer backlinks from their top-performing pages. In essence, Ahrefs assists you in pinpointing link-building opportunities to enhance your website's visibility and surpass your organic competitors in search results.
In the realm of backlink analysis, Ahrefs outshines SE Ranking. In comparison to Ahrefs, SE Ranking also seems to have a lower link index.
Ahrefs maintains its reputation as a powerhouse in backlink analysis, boasting a more extensive link index compared to SE Ranking. What sets Ahrefs apart is the efficiency it offers – requiring fewer clicks in the overview report to access the data you seek.
SE Ranking Vs. Ahrefs – Which SEO Tool is Better for an SEO Audit?
When it comes to SEO audits, SE Ranking clearly takes the lead over Ahrefs.
Ahrefs' Site Audit tool is suitable for addressing fundamental SEO issues, but it might not provide a comprehensive view of your site's technical SEO health. Overreliance on Ahrefs' audit reports could lead to the misconception that your website is free of technical SEO problems.
On the contrary, SE Ranking offers a meticulous website audit, offering a complete assessment of your website's technical SEO well-being. It uncovers errors and warnings that may have escaped your notice. Moreover, SE Ranking excels at prioritizing technical SEO issues, helping you identify which errors demand immediate attention.
In summary, when it comes to SEO audit capabilities, SE Ranking surpasses Ahrefs, providing a more comprehensive and insightful analysis.
Pricing Plans: Ahrefs vs SE Ranking
Ahrefs: Pricing Plans
Ahrefs offers 4 monthly pricing plans:
Lite starts at $99/mo which includes 5 projects, 500 tracked keywords
Standard starting at $179/mo which includes 10 projects, 1500 tracked keywords
Advanced starting at $399/mo which includes 25 projects, 5000 tracked keywords
Agency starting at $999/mo which includes 100 projects, 10000 tracked keywords
It's important to note that Ahrefs does not offer a free trial. However, you can access their Lite or Standard plan for one week by paying $7. If you're a small business owner or manage a blog-based business, the Lite plan at $99/mo should suffice for your requirements. With this plan, you can track 500 keywords using Rank Tracker and analyze 175 domains per week with Site Explorer. If you're running an agency, you may need to upgrade to the Advanced plan at $399/mo, which permits you to add up to 3 users and offers higher limits for Rank Tracker and Site Explorer.
SE Ranking: Pricing Plans
SE Ranking currently offers 3 pricing plans:
Optimum starts at $39/mo which includes 250 keyword rankings, 10 websites
Plus starts at $89/mo which includes 1000 keyword rankings, unlimited websites
Enterprise starts at $189/mo which includes 2500 keyword rankings, unlimited websites
It's worth noting that the prices on these plans may vary depending on the number of keyword rankings you choose. For example, if you opt to track 500 keyword rankings within the Optimum plan, the pricing adjusts to $54/mo. What sets SE Ranking apart from many other SEO tools is its pricing structure, which deviates from the standard industry practice. While most SEO tools typically start at $99/mo for their basic plans (including Ahrefs), SE Ranking offers an attractive entry point at just $39/mo.
For small business owners or bloggers, the Optimum plan at $39/mo is likely a suitable choice that fits both their requirements and budget. However, if you run an agency, the Plus plan priced at $89/mo provides a more comprehensive solution.
Conclusion
Ultimately, the choice between Ahrefs and SE Ranking hinges on your priorities. If your primary focus is on link building and cost is not a major factor, then Ahrefs stands out as the top choice due to its comprehensive data and accuracy. On the other hand, if you place a higher value on keyword research (both for SEO and PPC) and effective site audit features, and if budget considerations are significant, then SE Ranking is better aligned with your requirements.
FAQs
What specific SEO tools and functionalities does SE Ranking offer that ahrefs may not, and vice versa?
SE Ranking vs. Ahrefs: Unique SEO Tools and Functionalities
SE Ranking:
Thorough Site Audit
Prioritization of SEO Issues
Keyword Tracking for Multiple Websites
PPC Insights
Affordable Entry Point
Ahrefs:
Comprehensive Backlink Analysis
Varied Pricing Plans
Data and Accuracy
Multiple Features
Detailed Backlink Reports
SE Ranking sets itself apart with its PPC analysis, site auditing skills, cost, and emphasis on SEO-related concerns. However, Ahrefs distinguishes itself with its thorough backlink analysis, many payment tiers, and precise data. In the end, your priorities and financial situation will determine which of the two tools you choose.
Can SE Ranking and ahrefs provide detailed keyword research and analysis, and how do their approaches differ?
Both SE Ranking and Ahrefs offer detailed keyword research and analysis tools, but their approaches differ in various ways:
SE Ranking's Approach to Keyword Research and Analysis:
Keyword Data: SE Ranking provides detailed keyword data, such as volume of searches, difficulty of the term, and cost-per-click (CPC) information for PPC advertising.
Research on Competitors: SE Ranking lets users examine the keywords and tactics of rivals, which can assist in finding worthwhile prospects.
PPC Insights: SE Ranking offers comprehensive keyword research for PPC and SEO, making it a flexible tool for digital marketing plans.
Cost-effective: SE Ranking's beginning price is reasonable, making it available to bloggers and small businesses.
Keyword Tracking: By allowing customers to watch keyword rankings over time, the tool helps them keep an eye on their SEO campaigns' success.
Ahrefs' Approach to Keyword Research and Analysis:
Competitive Analysis: Ahrefs is a specialist in competitive analysis, helping users spot gaps and opportunities by examining the organic and paid keyword strategies of rivals.
Data Accuracy: Ahrefs' data's precision is well-known, which is essential for making well-informed judgments on search engine optimization.
Content Gap Analysis: To produce more impactful content, users can find the content gaps in the tactics of their rivals.
SERP Analysis: Ahrefs helps customers comprehend the competitive landscape by providing in-depth analysis of search engine results pages (SERPs) for particular keywords.
Keyword Explorer: To assist with the creation of SEO strategies, Ahrefs' Keyword Explorer tool offers a wealth of information on keyword search volume, difficulty, and other factors.
Both SE Ranking and Ahrefs provide robust keyword research and analysis capabilities. SE Ranking is noted for its PPC insights and affordability, making it a suitable choice for smaller businesses. Ahrefs offers comprehensive keyword data, competitive analysis, and data accuracy, making it a preferred choice for those who prioritize detailed and precise keyword research in their SEO efforts. Your choice between the two tools will depend on your specific needs, budget, and the level of detail required in your keyword analysis.
Do SE Ranking and ahrefs offer backlink analysis and monitoring tools, and how accurate and extensive are these services?
Although Ahrefs and SE Ranking both offer backlink analysis and monitoring tools, there are differences in the precision and scope of these services:
Analyzing and tracking backlinks for SE Ranking:
Backlink Monitoring: By tracking alterations to their backlink profile over time, users can detect changes in the backlink landscape, as well as new backlinks and lost connections.
Backlink Analysis: SE Ranking gives users access to a backlink analysis tool that lets them look at the backlink profile of their website. It helps determine link quality by offering information on anchor text, backlink types, and referring domains.
Comprehensiveness: Ahrefs, which is renowned for having a large database of links, may have a more thorough backlink index than SE Ranking, despite the latter's offering valuable backlink insights.
Ahrefs's Backlink Analysis and Tracking:
Backlink Monitoring: Ahrefs provides backlink tracking tools that let customers keep tabs on alterations to their backlink profile and evaluate the effectiveness of their link-building campaigns.
Backlink Analysis: Ahrefs is well known for providing in-depth backlink research. It is a preferred tool for in-depth backlink investigation because of its expansive and constantly updated link index.
Comprehensiveness: Ahrefs is renowned for its data veracity, offering trustworthy details on the origins and caliber of backlinks.
How do SE Ranking and ahrefs handle competitor analysis and what insights do they provide for improving SEO strategies?
SE Ranking's Competitor Analysis and Insights:
Competitor Backlink Analysis: SE Ranking gives users the ability to examine their rivals' backlink profiles. This aids in locating possible link-building chances and comprehending the link-building tactics used by highly effective websites.
Competitive Keyword Research: Through SE Ranking, customers may find the terms that their rivals are ranking for in search engine results. For the purpose of finding keyword opportunities and weaknesses in your own SEO strategy, this information is priceless.
Content Gap Analysis: By contrasting their own material with that of rivals, users can perform content gap analysis. This helps with optimization and content production.
Competitive PPC Analysis: SE Ranking offers information on rivals' PPC campaigns, including the keywords, landing sites, and ad copy they are bidding on. You can adjust your own PPC approach with the help of this data.
Ahrefs' Competitor Analysis and Insights:
Backlink Gap Analysis: Ahrefs does a Backlink Gap Analysis, which shows you where you can build links by identifying the backlinks that your competitors have that you do not.
Competitor Keyword Analysis: Ahrefs provides a thorough study of competitors' keyword rankings as well as an estimate of the search traffic such rankings bring them.
PPC Insights: For more effective pay-per-click advertising, Ahrefs users can find the PPC keywords, ad copy, and landing pages of competitors.
Content Analysis: Ahrefs' content analysis tool can assist you in fine-tuning your content strategy by revealing which of your competitors' material works best.
Ahrefs and SE Ranking both provide insightful and useful competition analysis tools. SE Ranking concentrates on backlink analysis, PPC insights, and rival keyword research; Ahrefs offers comprehensive backlink gap analysis, content insights, competitor keyword analysis, and PPC statistics. By pointing out opportunities, gaps, and places where their efforts can be strengthened, these insights enable users to better their SEO and digital marketing campaigns.
Are there differences in the user interface and ease of use between SE Ranking and ahrefs, and which one is more user-friendly?
Both SE Ranking and Ahrefs offer user-friendly interfaces, but there are some differences in their designs and ease of use:
SE Ranking's User Interface and Ease of Use:
Dashboard: SE Ranking's dashboard is intuitive, with tools and functions arranged in an easy-to-use and navigable manner.
Keyword Tracking: The reporting system offers easily comprehensible data, and keywords are simple to set up and track.
Affordability: SE Ranking's user-friendliness for individuals seeking economical solutions is enhanced by its clear pricing structure and affordable entry point.
Straightforward Navigation: Users may easily access tools for competitor research, backlink analysis, site audits, and keyword research thanks to the platform's straightforward navigation menus.
Ahrefs' User Interface and Ease of Use:
Pricing Options: Ahrefs has a range of pricing plans, although individuals on a limited budget could find the fee prohibitive.
Detailed Dashboard: Ahrefs' dashboard offers an abundance of information and tools that may be too much for novice users to handle, but expert users will find them useful.
Data Accuracy: Users can trust the information offered thanks to Ahrefs' well-known data accuracy record.
Robust Features: Ahrefs has a large feature set, however there may be a learning curve due to its broad feature set. Some of the features it offers are backlink analysis, keyword research, content analysis, and more.
When it comes to ease of use, SE Ranking is frequently seen as being more simple and approachable, especially for users who are new to SEO tools or have limited resources. Though users may need some extra time to become fully acquainted with Ahrefs due to its vast feature set and thorough data, SEO professionals that need precise data and in-depth insights highly value the platform.
What is the pricing structure for SE Ranking and ahrefs, and do they offer different subscription plans to cater to various needs and budgets?
SE Ranking's Pricing Structure:
SE Ranking offers a straightforward pricing structure with three main subscription plans, each designed to cater to different needs and budgets:
Optimum Plan: At $39 a month, this subscription allows to monitor up to 10 websites and offers 250 keyword ranks. The amount of keyword ranks that you choose may affect the cost.
Plus Plan: 1000 keyword ranks and an infinite number of websites to monitor are included in this $89/month package. The cost varies based on the selected number of keyword rankings, the same as with the Optimum package.
Enterprise Plan: This package comes with 2500 keyword rankings and costs $189 per month. The cost varies based on the precise quantity of keyword ranks you need, just like with other programs.
Ahrefs Pricing Structure:
Ahrefs provides a more varied pricing structure, offering four subscription plans to accommodate different needs and budgets:
Lite Plan: The $99 monthly Lite plan includes 500 keywords tracking and 5 projects.
Standard Plan: At $179 a month, this plan allows you to track 1,500 keywords and has 10 projects available.
Advanced Plan: 25 projects and the capacity to track 5000 keywords are included in this $399 monthly subscription.
Agency Plan: At $999 a month, the Agency plan offers 10,000 keywords to track along with 100 projects.
To let consumers test the service before committing to a long-term subscription, Ahrefs also provides a 7-day trial for its Lite and Standard plans.
Pricing tiers are available from SE Ranking and Ahrefs to suit a range of demands and price points. Because SE Ranking provides a more affordable entry point, bloggers and small companies can use it. Even though Ahrefs is usually more expensive, its selection of plans makes it appropriate for a broader customer base, including agencies and more established businesses.
About the Author
Manjusha Karkera is an enthusiastic content marketer who has created numerous engaging and compelling writing pieces for various clients and companies over the years. She enjoys writing pithy content and copy on various sectors like fashion, beauty and wellness, sports, fitness, education, etc. Prior to Team upGrowth, she worked as a Marketing Communications Specialist. Her overall experience includes all forms of content writing and copywriting.