Which one to choose : Inbound Vs Outbound Marketing for Startups
Published: August 14, 2018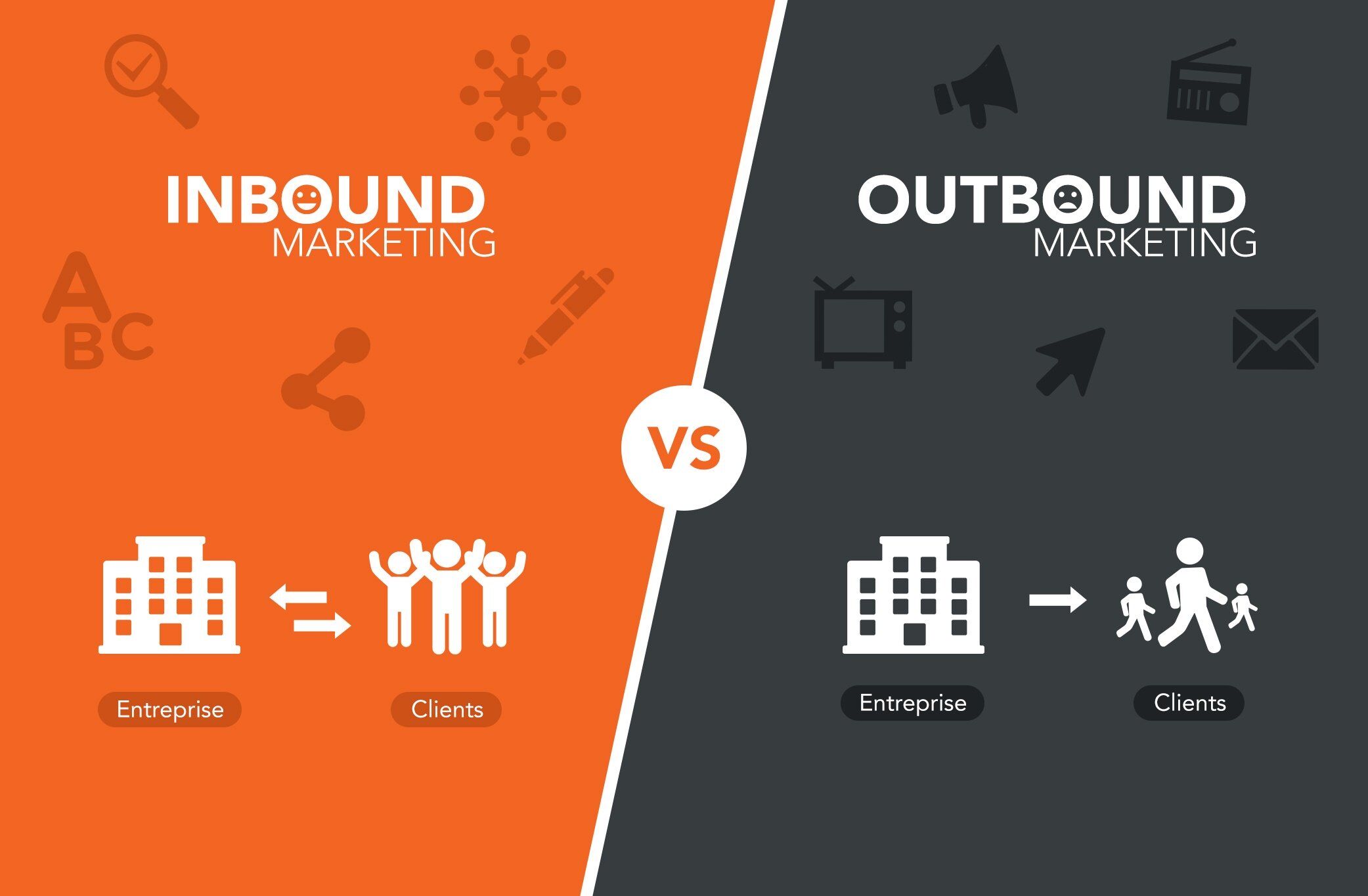 If you pay attention to marketing trends, you've heard people throwing around the terms "inbound marketing" and "outbound marketing," but what do they really mean?
Inbound and outbound marketing aren't just jargon, but these terms embody a kind of cultural shift in the entire concept of how marketing works, particularly across channels. Both of these concepts can prove very useful for your startup and can provide a well laid down plan to acquire and retain customers.
What is Inbound Marketing?
Inbound marketing is a marketing concept where marketers attempt to "pull" in potential customers with interesting content. Also called content marketing, it involves creating blog posts, social media, infographics, white papers, email newsletters, and other content that people actually want to read.
Search engine optimization, paid discovery, and paid search help people find marketers' content. If it's engaging enough, they interact with it, reading and sharing, and come away with a positive impression of the brand that influences later purchasing decisions. Inbound marketing is very hands-off and indirect: there's never a noticeable sales pitch.
Inbound marketing nudges customers down the sales funnel by increasing their engagement with the brand. Here's an illustration of how it works.
Inbound is designed to bring potential customers to your startup who are actively in the market. It's about getting found when they're looking, rather than forcing your message on people who may or may not be interested.
Another way of looking at it is that inbound marketing is designed to better align your organization with the Buyer's Journey, the natural process a modern buyer goes through when searching for a solution online.
The Buyer's Journey
1.Awareness Stage
Prospect has a problem they want to solve or an opportunity they want to seize.
2. Consideration Stage
Prospect has researched their problem, understands it, and is aware of potential solutions.
3. Decision Stage
Prospect has narrowed down the products/services and must decide which one to purchase.
As an example, let's talk about Clara. Clara owns a company that sells fancy electronic gadgets for teenagers. Cool, right?
Clara is looking understand how she can use different marketing strategies to drive sales for her growing startup.
After reading several marketing blogs on the topic, Clara decides that inbound marketing is the best strategy because she's looking to invest in long-term revenue growth.
In her research, she found several agencies who can help her implement inbound marketing and reached out to a few whose service offering aligned with her needs.
Sound familiar?
Typical inbound marketing tactics that help take someone through the buyer's journey include:
Blogging
Social media
Email marketing
Content creation
Lead magnets
SEO
Inbound marketing tactics like these are designed to help prospects discover the product offerings of your startup in the early stages of the Buyer's Journey and to educate them on the benefits of your solution, all while building trust throughout the process.
What is Outbound Marketing?
Outbound marketing is what used to just be known as "marketing." It's interruptive and it pushes itself at an audience, whether the audience wants it or not. TV and radio ads, telemarketing, banner and display ads, billboards, newspaper and magazine ads, cold calling, pop-ups and pop-unders, and contextual ads are all examples of outbound marketing.
Often termed as traditional marketing activities, outbound marketing makes an attempt to bombard the consumers with the startup's product offerings. Outbound marketing has fallen out of favor in the last 10 years. Oversaturation — especially on the internet — caused people to start ignoring display advertising.
Since the advent of the ad blocker, it's only gotten worse. Click through rates for display ads are now at a dismal 0.05%, and according to Hubspot's State of Inbound 2017, marketers consider paid advertising like print, outdoor, and broadcast to be the most overrated marketing tactic.
As opposed to marketing to people who are already looking for a solution like yours, outbound marketing aims at trying to reach as many people as possible, whether or not they are active buyers. It seldom depends on the hit rate in case of outbound marketing.
In general, outbound marketing tends to market to a larger volume of less-targeted people, using tactics like:
Commercials
Pay Per Click ads
Print ads
Billboards
Cold-calling
Direct mail
Unlike inbound marketing, outbound normally doesn't take the Buyer's Journey into consideration.
What Is the Difference Between Inbound and Outbound Marketing?
To review, here's the difference between inbound and outbound tactics.
| | |
| --- | --- |
| Inbound | Outbound |
| Pulls in interested readers | Pushes at everybody, regardless of interest |
| Written for the consumer's needs | Written for the product's needs |
| Interactive and fluid | Inert, one-way |
| Draws in customers | Seeks out customers |
| Is part of content consumption | Disrupts content consumption |
| Natural habitat: blogs, social media, opt-in emails, search, influencer marketing | Natural habitat: display ads, billboards, telemarketer scripts, magazines, TV ads |
Choosing between Inbound and Outbound
Anyone who says that either inbound or outbound is always superior is giving you a biased answer. To determine which one is best, you have to consider your specific business, audience, and your marketing objectives. Now all these parameters tend to vary according to the product offerings you have and also the audience you want to have.
Let us now consider the advantages of both inbound and outbound marketing in isolation.
What Makes Inbound the Best?
One of the biggest strengths of inbound marketing is that it is focused on providing value to your prospects. It's educational and often non-promotional.
Since inbound marketing aligns with the Buyer's Journey, it builds a relationship between your prospects and your brand. This also attracts prospects to your brand at the right time, as opposed to interrupting them at a time when they are NOT in the market for what you offer.
For this reason, buyers prefer inbound marketing over outbound marketing. Instead of being annoying, it helps them.
The other major strength of inbound marketing is the long-term ROI.
Generally speaking, inbound marketing requires a higher upfront investment and brings slower results for the first several months. However, those initial stages are necessary to build your digital marketing assets, increase your presence online, and rank higher in search engines.
Over time, the value of those assets increases at a higher rate than they cost to maintain or improve. Digital assets like blog posts and premium offers can continue to generate leads years after they were originally created without costing an additional penny.
Here is a checklist you need to go through before you start implementing Inbound Marketing. It will give you an overview – how you should begin devising a plan for you busines with Inbound Marketing.
Ready to hit the "Go" button on your campaign?
What Makes Outbound the Best?
The biggest strength of outbound marketing is its ability to get in front of a large number of people quickly and build awareness.
If done correctly, you can launch an outbound marketing campaign, get seen by millions, and have new customers within a few weeks, however, the results are more dependent on the money you invest.
Usually have to spend more to see more results and when you stop spending money, the benefits stop. Unlike inbound, you don't get many tangible, long-term assets that continue to generate leads with outbound marketing.
Also, outbound marketing tends to be more disliked.
In fact, entire businesses have been built on the premise of regaining the control that buyers have lost to outbound marketing. Take, for example, Netflix's attractiveness over TV's advertisement laden programming or the incredible success of AdBlock on the web.
The 5 main benefits of inbound marketing versus outbound marketing
It's easy to boost brand awareness. In the simplest terms, inbound marketing generates awareness about your brand. When you pair informational content and a targeted SEO strategy, you'll be closer to that coveted #1 spot on Google's search results. It's no secret that the higher your rank, the more awareness or eyeballs your brand will receive – and the more opportunities potential customers will have to engage with your company and its product offerings. The key is to work on how to promote your blog in a way that establishes your brand as a leader in your particular industry.
You'll retain customers.
Finding new customers is probably at the top of your marketing objectives, but once you've got them you need to keep them. The simplest way to do that is to build a relationship with your current customer base. Utilizing inbound marketing options lets you know your customers and what they need. You learn how to keep them interested in and informed about your brand, and it allows you to offer exceptional customer service.
It's easier to find new customers. The most common ways customers will find you these days is via blogs, organic searches, and a variety of social medial platforms. Instead of employing a full-time sales force, you can simply hire an SEO agency to get customers to come directly to you.
It costs less. As a start-up, you're probably working on a shoestring budget. The good news about inbound marketing is that it's much more affordable than outbound techniques.
It takes the pressure off your company. One of the first things you'll notice when you implement an inbound strategy as part of a plan to reach your marketing objectives is that it's much more analytical than outbound marketing. This allows you to more easily measure results and to gain specific leads. Potential customers have a personal interest of their own accord, which allows for more efficiency – and less stress – in your marketing plan.
Want to use Inbound Marketing to generate leads for your business?
Determining the best fit for your startup
There are startups that have found tremendous success by exclusively using inbound marketing or outbound marketing. There are also plenty who have done well by using both. Ultimately, you have to figure out what's right for your company by considering the following:
Your Market
First, you have to consider who your ideal buyers are and how they normally shop for what you offer. Where do they go to learn more about the types solutions you offer?
To get a better idea, take a look at your industry as a whole and your direct competitors. What marketing tactics are most common and seem to be most effective?
For any startup understanding the market and the competition is of prime importance. It provides the founders with a holistic view of the dynamics associated with their startup.
Your Goals
What are you trying to achieve?
Do you want to build brand awareness?
Drive traffic?
How many customers are you aiming to get and what's your timeline for that goal?
Inbound marketing is the best long-term strategy for stratups, but it's probably not going to dramatically increase business in the first few months. Outbound marketing, on other hand, can help you get customers in the door quickly, but it comes with diminishing returns.
More often than not, the best strategy is to combine a little of both, while taking an inbound approach to both – meaning you are measuring results accurately and you're aiming for long-term brand-building alongside short-term growth.
Your Brand
Finally, you should consider how the marketing tactics you deploy will affect your brand's image. Launching an aggressive cold-calling might get some sales upfront for your startup, but how will it affect your reputation long-term?
You only want to use marketing tactics that your brand can be proud of and that your customers would approve of if they knew how you executed them. More often than not, the truth comes out and it's incredibly difficult to overcome a bad reputation.
Developing a marketing strategy
If you are just getting started developing a marketing strategy for your startup business, then the path forward is clear.
Inbound marketing is your best bet
It is more effective and will ultimately cost less. You might also invest in more targeted traditional marketing if there is real evidence that you can reach your audience, but there is no reason to invest in large mass media advertising campaigns. Any traditional marketing that you do should drive people to your online resources.
If you are heavily invested in traditional marketing, you are probably seeing a drop in the effectiveness of your efforts. It may be time to start investing some of your marketing budget into inbound marketing. You can then align your traditional marketing campaigns with your online resources over time. As you move forward, you can shift more and more of your budget to inbound marketing.
The way people communicate is changing rapidly. Inbound marketing leverages these changes to more effectively promote your business. If you want to expand your audience, find new customers and grow, inbound marketing strategies are the way to go.
The role of marketing automation
Marketing automation software isn't strictly required to implement the inbound approach to marketing. It can, however, help you do so at speed and with a, crucial, data-driven view.
Marketing automation is the technology which can connect data from all marketing channels with customer records in your CRM, allowing for a true buyer-centric, multi-channel approach within which analysis and continuous improvement is possible.
So while the use of marketing automation may not be mandatory, we believe it is a necessity if you are to see the benefits of inbound within a reasonable timeframe and budget.
Conclusion
Given the way that it aligns with the preferences of modern buyers, compound returns and lower costs per acquisition, inbound marketing should be considered the essential foundation of any startup's marketing plan.
Outbound marketing channels can still be effective, and are perfectly acceptable as part of a full marketing mix. But relying on them alone for results is likely to lead to disappointment.
About the Author
Amol has helped catalyse business growth with his strategic & data-driven methodologies. With a decade of experience in the field of marketing, he has donned multiple hats, from channel optimization, data analytics and creative brand positioning to growth engineering and sales.