4 Simple Lead Generating Hacks For Your Social Media Marketing
Published: February 2, 2021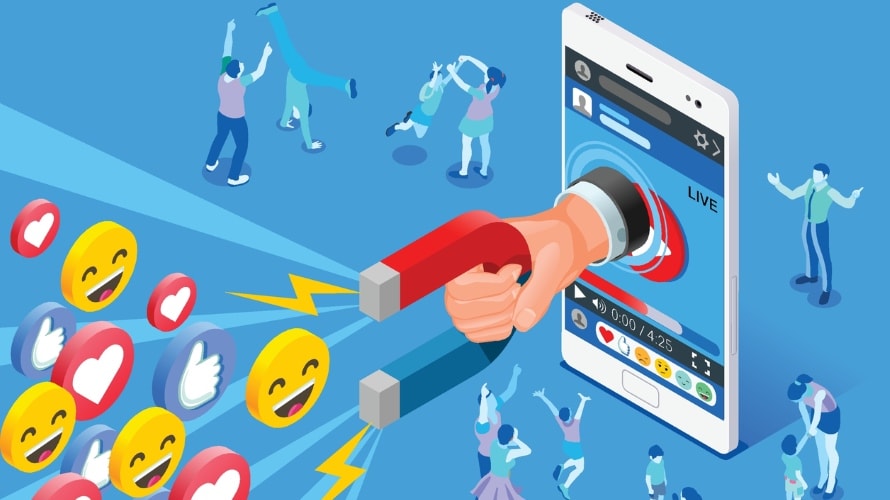 Social media can be an effective place to generate leads. But with the marketplace so crowded, how can you make sure you stand out above the competition and persuade those leads to give you their email address?
With just a few hacks, getting noticed is much easier. And not only that, people are taking action on your sign-up offers too.
When consumers are scrolling through their social feeds, they are doing so quickly. You only have a split second to win their attention. So let's look at 4 simple lead generating hacks for your social media marketing.
Have A Social Media-Friendly Incentive
Let's first think about what kind of offer would stop somebody scrolling and get them to take action. What are you offering people as an incentive to sign up via your lead capture form?
Consider something like:
A discount code for your online store.
A PDF e-book of your own hacks; things that your audience would love to learn from you.
A free lesson in the form of short video or email series.
Whatever you choose, it needs to be relevant to your audience's needs. Remember to cater to your customer avatar's pain points, and your offering will be more appealing.
But also make sure it is social media-friendly; in other words, a simple, digestible offer.
When people are scrolling through social media, most of the time they are taking a mental break from their day. They aren't looking for something very heavy to read. So keep your offer light, bite-sized and uncomplicated.
For a quick recap – check out our Web Story HERE, and share it with your network!
Make The Lead Capture Page Match The Social Post
This next hack is about branding, and the logic behind it is based on consumer psychology.
It is one thing to get people to look at your post and click on it. But consider your bounce rate too. Many people will look and click to see more, but will bounce away before sharing their email address with you.
If they have clicked, then we can assume that your incentive was tempting enough. So maybe the lead capture page they landed on was what put them off.
Many lead capture pages are too fussy, too wordy, or just unappealing. When you are asking for somebody's email address you are asking for their trust. And when you are asking for that on social media, you are working with a very short attention span.
So when you design your lead capture page, make sure it is simple and easy to understand at a glance.
Branding And Trust
Consumer psychology comes in next. Let's talk about the importance of the aesthetic of that lead capture page matching the aesthetic of the post that starts the customer's journey.
When you click on a post, you are not only responding to the offer, but also to the branding. You liked the look of it.
When you click through to the lead capture page, you want the look and feel to be the same. This goes deeper than aesthetics – it's actually rooted in neuroscience. When there is a mismatch in branding between one step and the next, we experience cognitive dissonance. This gives us an uneasy feeling that what we landed on wasn't what we expected.
But when the branding is consistent, we experience cognitive resonance, the feeling that we landed where we were supposed to. This gives us an enhanced feeling of trust and familiarity, making it easier for us to hand over our personal details.
Make sure the branding on your social media post matches the lead capture page it leads to. There are some great online tools you can use to create what you need for free. Check out LogoCreator.io and Canva.
Instagram Link Hacks
Hands up if you are endlessly annoyed by the lack of linking on Instagram! This is of course set up to encourage you to pay for Instagram Ads, instead of sharing links in your regular posts. Of course, we can direct people to the link in our bio to see our offer or sign up form.
But if you don't want to use your only link, the famous 'link in bio' for your lead capture form works well – and you don't have to miss out. Get a link hosting page, like LinkTree or Shorby, and customise your own page of links to showcase your opt in offer.
Now you can talk about your opt-in offers on your grid and in your Stories, still quoting 'link in bio', and not lose out on potential leads.
FB Ads Own Lead Capture Option
Our final hack requires a little budget to test out, but if done well it can give a real boost to your email list.
Facebook Ads has a lead generation option, which you might not have noticed if you aren't a regular Ads user. When you start creating a Facebook Ad, you are asked to choose a Campaign type. If you select 'lead generation', then the Facebook Ads Manager will walk you through setting up an advert which connects straight to a lead capture form.
This form is hosted on Facebook, so users don't leave the platform. This can be another way to gain trust, as millions trust Facebook.
Conclusion
So there you have it – 4 simple hacks to boost your lead generation on social media. I hope you can see how easy it can be to boost your leads and grow your business this way.
Remember to keep your offers and your lead capture pages simple on social media. When we are scrolling, our attention spans are short. Keeping this in mind gives you an advantage.
About the Author
Chandala Takalkar is a young content marketer and creative with experience in content, copy, corporate communications, and design. A digital native, she has the ability to craft content and copy that suits the medium and connects. Prior to Team upGrowth, she worked as an English trainer. Her experience includes all forms of copy and content writing, from Social Media communication to email marketing.