4 Reasons why Creating Theme Based Ad Group is Important
Published: April 10, 2019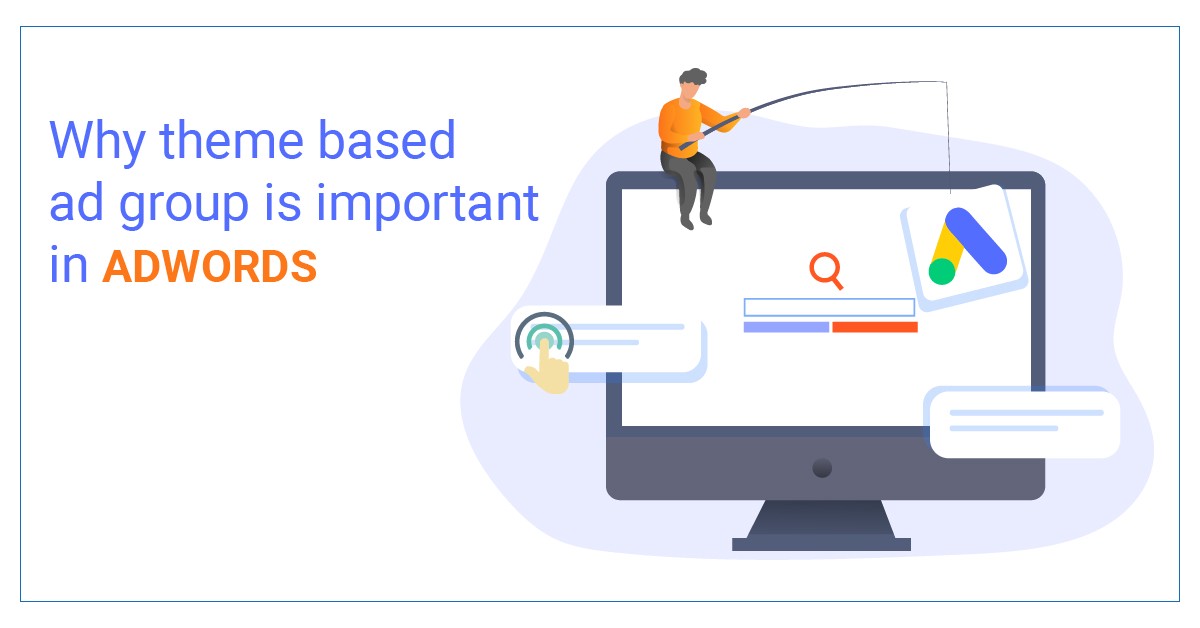 Introduction
In today's online business landscape digital marketers need to be aware of multiple aspects of how to build great contextual content to drive traffic to the webpages. Therefore, Ad groups are a necessity in this business. It increases the clickthrough rate (CTR) value and helps to reach targeted users groups.
With the right set of keywords applied to gain traction, the campaign will be a raving success. The Google Ads latent semantic indexing (LSI) can further boost conversions.
How are your Google Ads Campaign going?
Download 30 Points Google Ads Checklist to Run Highly Profitable Campaigns

Marketers should also know that it is vital to create theme-based ads groups. Why? There are many reasons why theming keywords ad relevance. It will drive more relevant traffic. It also directly affects the quality score of the ad group and the landing page.
The demanding business scenario pushes marketers to adopt best practices that have been implemented by many competitors. But does it really work every time? Sometimes it might be a risk to change business goals in the middle of a campaign. Hence, try to do your best to stick to your campaign goals.
However, it will be advised to subtly add competitor goals by appending them to your set goals. CTA in landing page works in the same manner. Never lose focus on the primary campaign goal. Because your aims may not match with that of the competitors despite the fact that both of you are selling the same products.
For example, Nike and Adidas are both sports brands, and they are the world's biggest brands in this realm. Their keywords are similar, but both these brands have mastered SEO in the keyword search within their respective domains.
Google Ads are the best tools to find out the performance of how the brand is faring against others. Also, keyword research is essential. Even a novice will emphasise on research. It matters when building up the mainframe of the master account, a list of variations should be maintained.
It helps when teams are brainstorming. This gives a clear idea about the route that the company plans to take when creating multiple ad campaigns.
If you want to get noticed in a competitive world that is evolving fast-take a look at these 4 reasons why creating theme based ad groups is essential to the success of a business.
What Is An Ad Group?
Marketers use keywords to reach relevant users. These are employed in an ad or an ad group. This acts as a base to target a set group of users who are searching for products online. Using that with one or more advertisements that carry a set of keywords can help. Along with that, a bid is set or Click Through rate (CTR).
An ad can also be termed as a cost per click (CPC). There are prices set for individual keywords within an ad group too. By using ad groups, you can systematically organise your advertisements and use a common theme like the type of products and services on offer on the website.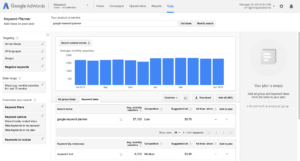 Image: Google keyword planner
By using a common theme based ad group, the reach is higher. Therefore, allowing more users to access the ad groups. It will increase the quality score as well. It helps if your products are shown by Google Ads to ad groups-because it automatically narrows the niche and there are 100% conversions for the products on sale.
Ad Groups Place In Ad-Structure:
An ad group design features a structure of the content of a PPC account. The ad groups will hold many accounts, and each account will carry multiple ad campaigns. When building the framework remember each search text ad campaign has many ad groups. Keywords and ads are organised and structured at the ad group level.
As a marketer, this is a must have for narrow niche research on keywords and ad groups. You have to plan accordingly by ensuring you have a framework that aligns with Google Ads.
In the below structure notice that it has a single master account with an appended campaign structure. It carries all the ad groups under one account. Keywords are an essential part of the structure because it is a vital piece when aiming to get successful PPC efforts.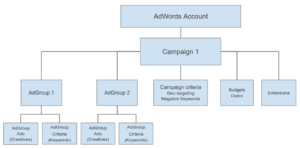 Image: Ad structure
First, separate out the brand keywords and non-brand keywords. It will add an edge as the user base is aware of the brand. Next, get your reports on brand traffic set. To keep the brand and non-brand section separate, keep the negative keywords in the brand section or vice-versa.
It will help in ensuring that the brand campaign receives relevant traffic and eventually conversions will grow. Once these steps are complete, start with funnelling the marketing campaigns. Try to keep a single target set of users.
Along with this funnel, add the conversion auction types, products or services offered to users, target audiences and geographical locations and countries of origin. These small but essential points are critical to building a robust ad group.
In the e-commerce space, organisational objectives and campaign goals must align to achieve success. Therefore, the structure of the brand campaign must have keywords that carry details about the business. Google Ads are high on transparency. Hence, it is a priority for marketers to showcase the industry category that the company falls under.
The final step is naming the campaign convention on a spreadsheet to avoid confusion for team members who will be in charge of the marketing campaign account files. The more campaigns that are added to the account, the more complex the management system will become. Hence, ensure that you plan your campaign timetables and resources employed carefully.
So, now that you have all the necessary details on campaign management and creating ad groups, keep in mind that you will need to develop theme-based ad groups. Theme-based ad groups are an essential part of building a campaign. It will further your organisational goals and objectives.
Understand the various kinds of economic and political markets that you are planning to penetrate into. After that, concentrate on these 4 reasons why creating theme-based ad groups are vital to your business.
4 Reason For Creating Theme Based Ad Groups
When you are in competition with known brands, you obviously want to get noticed by the market and competition. What can you do? Well, build a campaign that is compelling in content and matters to the targeted users.
In a world, where customer interactions are high on communications and marketing gimmicks, make the best use of marketing tools and make your ad drive the traffic it deserves when designing the main framework of the brand campaign.
These key reasons will transform your business ideas and help in achieving the goals of the campaign. It will give you an edge over the competition. Theme-based ad groups are ideal for a branded campaign. As the brand grows, it also results in revenue growth which is crucial for the success of a company.
There are a few steps that can make or break your campaign goals. The essential points to remember are to maintain a high or a good quality score. It will change the traffic flow to the website from general browsers to confirmed conversions.
Retail e-commerce sites have multiple requirements to reach the right audience. Try to keep the forms short and easy to fill. Engagement with the target customer group is vital. It will give insights into customer buying behaviour and a comprehensive glance into the type of content generated by competition.
Don't forget, the competition has similar campaign goals as you do. But some of these goals may differ in certain areas.Then again, everyone in the business is looking to grab a share of the pie.
International brands are aggressive in comparison to new or local (country specific) brands because they have the power of spending on ads and are highly inquisitive about new market trends. They are willing to take risks and adopt new ideas to evolve in markets which are economically challenged.
They know how to grow their revenues which a regular local brand may never achieve. Therefore, as a small and medium sized businesses with limited resources and tight budgets, it is imperative to plan a smart marketing strategy. Your plan must include the critical goals carved out for your campaign to be successful.
1. Good Quality Score:
If you want to get traffic in volumes and woo millions of customers within a short span, ensure that Google Ads genuinely likes you. If Google Ads does not trust your campaign keywords, it will not show your ads in the relevant categories. This will end up cutting down web traffic drastically.
Quality score is highly dependent on Google Ads trebling your reach. Ads that have keywords with theme-based campaign goals are recognised by Google Ads. The idea is to make your goals aligned with Google Ads guidelines.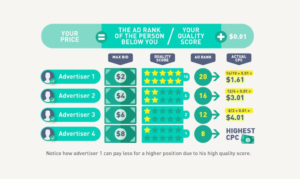 Image: Quality score
Give time to keyword research and refine the keyword search. Spend resources on comprehensive match types and learn to optimise your keyword strategy.
Along with this, gain concrete knowledge on nailing SEO! Keywords in the ad text are highly relevant when it comes to CTR impact which directly affects the quality score. Hence a high CTR will improve the quality score for the website in due course of time.
2. Makes Comparison Easy:
Performance comparison in the theme-based ad groups is easy. Since each product category is kept separate and the campaign has multiple accounts. For example, car tyres and car stereos will be put into different brand campaigns within the same Google Ad Master account. This will make it easier to track performance and CTR.
3. Specific Ad Copy:
Ad Groups are designed to mirror the main business webpages and its keywords. The menu from the web pages should be used to target the right set of audiences. This can further be employed in the subcategories of each ad group.
Let's take 'shoes' as an example, if the search criteria are for 'canvas shoes' and 'running shoes'. The framework and design of the campaign structure should be around 'shoes'. It makes the ad group copy specific and enhances the user experience.
Therefore, the ad text copy should have keywords which are specific, and these are known as exact match keyword. For example, Canvas shoes, Leather shoes, Running shoes and Walking shoes. Notice that the above category uses 'shoes' as the keyword match for the websites search criteria. It is often known as a broad match keyword.
The idea of using a specific ad copy helps to maintain a theme based on the business pages that are directly related to the product web pages. To further the user experience using keyword specific URLs gives you an edge over the competition. Why? Because it boosts the relevance of your ad group account.
This results in higher and improved quality in relevance, leading to a good quality score. By doing so, the traffic to the website increases and your business can have higher CTR.
If you want to add more specific components to the ad group and make the campaign stronger, try to add images, links and videos. The newer campaigns have an edge with videos. It is a fundamental rule to have short videos added.
Since the general user attention span is merely 3 to 5 seconds, after which they tend to lose interest if the ad doesn't catch their attention.
Ad campaign copy must be specific. Without specifics, the ad campaign loses its essence in value and traffic. Hence, this results in zero conversions. This will lead to massive business and revenue loss. Accordingly, build a campaign architecture which contains relevant keywords.
Use keywords after studying the competition and also focus on rankings.
For instance, 'red cocktail dress with grey neckline' is specific, and carries the exact match keywords a visitor will use. This is a good example where the details of the product is specific and describes the USPs of the product as well. Keywords with high rankings are trusted by Google Ads.
This results in your ad being shown by Google on a broad match search criteria. Including this, it will also feature on narrow niche search preferences depending on the keywords employed to get the traffic you want to see driven to your website.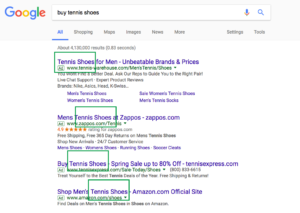 Image: Ad copy
Any business usually should have nailed their SEO and keywords to gain high volumes of traffic. But it is also necessary to have a planned marketing strategy for campaigns. A company's revenue will increase with well thought out goals that are projected by the marketing department.
4. Easier To Set Bids:
A well-informed marketer will focus on similar keywords. Why? Because with the more accuracy maintained, it will be easier to set a bid. Also, if related keywords have the same bid, performance tracking becomes less cumbersome.

Image: Performance tracking
There are multiple campaigns to track often, and in such a situation the master account has many resources responsible for growing the campaign strategies and developing additional campaigns.
Keeping a track can confuse people, so, it is best to maintain a spreadsheet. It will help when adding more keywords related to existing and new ad campaigns.
In Summation
It is these reasons behind creating theme-based ad groups which is key to the success of an ad campaign that makes you a master of keywords too! Research in keywords is absolutely necessary if you want to stand out in a crowded marketplace. Keywords similarity in Google Ads means higher visibility.
However, remember that keywords are the king of content in today's challenging economic and business conditions. Therefore, always keep evolving your keywords in conjunction with new market trends. Do not erase the old content and copy from your campaign accounts.
You will definitely need it in the future to ensure that you are able to reach the targeted user base. Instead, develop fresh content and marry them together. A combined force of keywords will draw more traffic. Familiarity invokes trust. And trust builds loyalty. Your business is as good as the value it generates in the form of brand loyalty.
So, the success of growing traffic volumes and good conversion rates is derived from a robust campaign strategy with a marketing approach that is aligned with Google Ads goals. Try to maintain good quality scores by developing a higher-ranking keyword framework.
Businesses succeed when the performance levels are high at the ad group level. Make it a priority to use similar or same match types while choosing keywords for the products and services for ad campaigns.
Remember, this is the online space and companies need to stay agile in terms of utilising the latest techniques in getting traffic to the websites. Hence, your ad copy must be accurate and product specific. And last of all, aim for easier bids. Pricing is a tough exercise, especially when budgets are tight.
So, smart marketing goals are necessary in such scenarios-which also includes ad spends. If you're able to cut expenses and yet gain market share, there is no stopping you from being successful in operating your business in the current market conditions.
About the Author
Amol has helped catalyse business growth with his strategic & data-driven methodologies. With a decade of experience in the field of marketing, he has donned multiple hats, from channel optimization, data analytics and creative brand positioning to growth engineering and sales.