How 3 Months Investment in Google Ads will Leverage Long Term Organic Growth
Published: March 18, 2019

With over 80% of consumers flocking to the Internet to read reviews, to find information and ultimately purchase something, it is important, more than ever before, that your business is easily found online. Poor or no exposure at all can make your business obsolete.
It does not matter if you have the most awesome service or product if people cannot find you via search results on Google or any other search engine for that matter.
Fortunately, there are a few ways to dominate the online landscape and the most popular ones are SEO (search engine optimization) and Google AdWords or PPC (pay per click).
How are your Google Ads Campaign going?
Download 30 Points Google Ads Checklist to Run Highly Profitable Campaigns DOWNLOAD NOW
The idea is to have an understanding on how a continuous investment in PPC, for example, Google Ads will have a sizeable impact on leveraging long term organic growth.
What Is the Difference Between Organic Growth and Google Ads?
Before we are able to achieve this understanding, the key lies in finding a distinction between the two components of organic growth and Google Ads.
Organic growth or more commonly referred to as Search Engine Optimization is the process of optimising a website to achieve the best ranking in organic search results on search engines such as Google.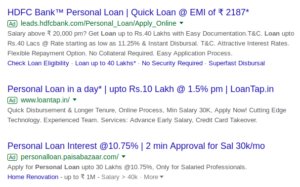 Image: Google ads
The organic search results that appear on top are highly relevant to search and Google recognises the website as an entity having high authority. You cannot pay to place a website on top in organic results. Several months of continuous work on the website and a select set of keywords can help you achieve organic rankings.
For a website to rank organically, it needs to have relevant content, a good reputation and should be easily readable by the Google bots.
Google Ads, on the other hand, is a platform that is run by Google, allowing companies or brands to advertise their website at predesignated screen positions along with relevant search results.
Advertisers pay-per-click on the advertisement and the ads show on the very top of the search results pages – higher than the organic search results – and on the sides.
Google Ads basically lets you cheat.
How?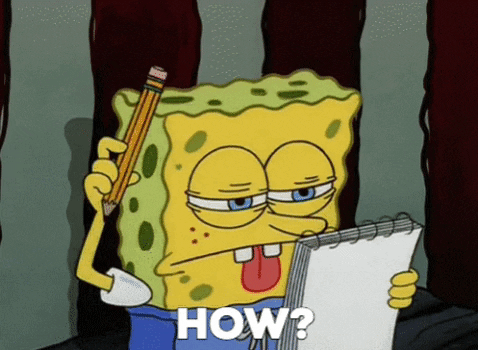 SEO is a long term process. You cannot expect to see results instantly. It may take six months or even up to twelve months and more in some cases to show you results. Whilst Google Ads lets you jump to the #1 position, that can only happen if you play your strategies right.
But everything said and done, Google Ads is a lot like renting a gorgeous apartment situated in a prime location where the heart of traffic is. But, once your lease is over, it is gone. Poof!
So, the smart thing to do here is to harness the power of Google Ads to reach your target audience when they are looking for your product or service. In the meantime, use that power to complement your efforts in search engine optimization.
Whilst SEO will help boost your website's organic rankings and enhance your overall website, Google Ads will get the word out of the specials, boost traffic and make sure that your ads show for competitive keywords.
How Long Does It Take to See PPC Results?
Can 3 months of investing in Google Ads help in leveraging long term organic growth – this key question needs to be answered first.
3 months is enough to see PPC results and understand if your campaign is actually working. Generally, the first month is all about gathering data and increasing visibility. Of course, you can also expect instant wins.
The second month is about refining the keywords to improve conversion rates and reduce the amount of wasted spend with the help of updating the negative keywords list, ideally on a daily basis.
Creating a negative keywords list will make your Google Ads more targeted and make sure that they are only visible to those who are actually interested in your product or service.
The third month is usually about pushing the boundaries of the campaign by adding more keywords and bringing in traffic from untapped markets.
Of course, you can continue to invest in PPC beyond 3 months, but this is a good window to judge whether your campaign is working, or you need to change tactics.
Steps to Setup a Google Ads Campaign
Step 1: Keyword list creation
Based on your company's goals, you can use specific or general keywords. You can use long-tail keywords to tailor yourself to the targeted market. If your business only operates in certain areas, you can use geo-targeting in your Google Ads campaigns and select keywords based on your geographic location.
Trouble coming up with keywords? Use the Google Ads keyword planner tool to get ideas.

Image: Google ads keyword planner
Once in the keyword tool, type a list of keywords that you want to use. This will generate ideas.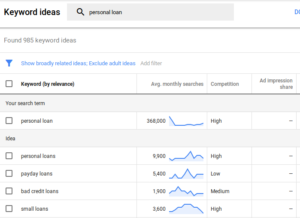 Image: Keyword ideas
Click search and Google will give you a list of keywords to browse through, along with the competition level of the keywords, global monthly searches, local monthly searches and approximate CPC.

Inclusion of negative keywords
Like we mentioned earlier, negative keywords enable you to remove or exclude specific keywords from your campaign. Your ad will not be shown in search results for these words.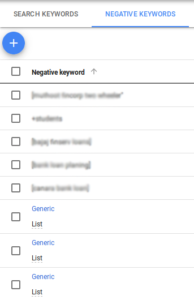 Image: Negative keywords

Step 2: Creating an ad campaign
Enter Google Ads and click on 'create your first campaign'.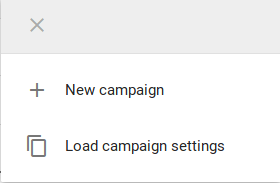 Image: Creating an ad campaign
Decide on the type of campaign that you want to run, such as:
Default: Ads appear on both Google Display Network and Google Search Network. This is great for quickly increasing CTR and is visible to a large number of potential consumers.
Display Network Only: Ads appear on Google Network Display's websites including partnering websites such as Gmail and YouTube.
Search Network Only: Ads appear on search results in Google and relevant websites that are a part of the Search Network including Google Images, Maps, AOL and Shopping. This gives you more control on how, where and when to position your ads.
Display Network Only (Remarketing): Ads are shown on the display network to potential consumers who have visited your website already. This helps in reaching out to people who have shown interest in your product or service in the recent past.
Search and Display Networks (Mobile Devices): Ads will show on tablets and mobile devices.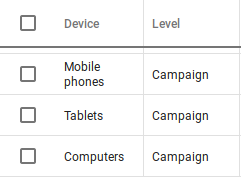 Image: Mobile devices
Location & language
Next, decide on the geographic location and language of your ad. This will help to optimise your ad further and make it highly targeted.

Image: Choosing geographic location
Networks & Devices
Customise the devices (laptops, desktops, tablet devices or mobile devices) and networks (Search Partners, Google Search, Display Network and so on) that you want your ad to be displayed on. If you choose default campaign settings, you can personalise it later as per your preferences and requirements.

Image: Networks
Bidding & Budget
When it comes to choosing a bidding option, your decision can be based on the following:
Allow Google Ads to set bids so that clicks are maximised within your budget
CPC (cost per click) that charges you only when someone actually clicks on the link
CPM (cost per thousand impressions)
CPA (cost per acquisition) is when you are charged when a person who clicked on your ad converted to an actual buyer
Now, Let's Take A Look at How Google Ads or PPC Influence Your Organic Results
As you must already know, PPC or paid ads does not affect organic rankings directly. Google actually has a real wall between the organic side and paid side.
However, there are indirect things that is beyond the control of the search giant. This causes organic search and paid ads to have a point of intersection. The scope of the leverage between the two platforms is of paramount importance here.
The likelihood of searchers (who see an ad) clicking an organic listing is high
Various studies including some conducted by Google itself shows that those searchers who see an ad are more likely to click on an organic listing.
Even if your ad is not being clicked the first time, it is still influencing the behaviour of the audience. Just by seeing an ad, the audience is building a familiarity with your brand. So, the next time that they see your ad or even a search result listing, they are inclined to click.
Moreover, when the audience sees ads from the same company is also appearing within organic listings, their behaviour changes. They start to trust the brand and wish to know more.
So, yes. In an indirect sense, Google Ads help to increase the ranking position of your organic listings. In turn, it leads to increasing the amount of organic traffic that you get from Google.
Paid results impact organic click-through rates (CTR)
What we have come to realise in so many years is that on an average, paid searches get somewhere between 2% and 3% of all the clicks, of the total search results in a paid click. As for organic, it is somewhere between 47% and 57%.
The increase in the number of searches each year means that there is no huge loss in organic traffic, but only relying on organic will not propel brands to the top. A successful search marketing strategy must involve both organic and paid search.
So that, when organic slows down, paid search speed up. Basically, when one channel shrinks, the other grows and vice versa.
So, it is important to remember that there are many other searches where there is an absence of paid clicks and there are several searches where paid actually gets a lot more of the traffic.
For instance, if you are searching for bedroom décor and you can see on your desktop or mobile how Google has rich image ads and you can view a selection of different styles amongst them. You can sift through a myriad décor option. Then, you will find ads that are below that, the normal paid text ads and after that, way down, you will find the organic results.
Probably, somewhere between 25% and 50% of all the clicks are going to the paid search results of this page, which is massively biasing the click-through rate.
This means that if you bid in certain specific cases, you can change the click-through rate curve for the overall SERP and also change the CTR opportunity for a particular keyword or keywords.
Why are users more likely to click on paid search results?
The answer is surprisingly simple – users are typically seeing paid ads before the organic search results in addition to the Google shopping results. As they lack the patience to scroll, they click on the first or the second option that catches their eye.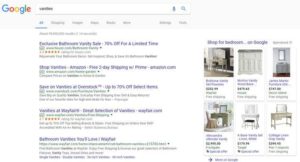 Image: Paid search results
Additionally, if users are using their mobile devices to search, almost none of the search queries will show anything else other than the paid ads, unless users decide to scroll down.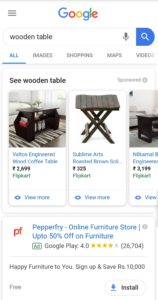 Image: Paid ads on mobile
The marked improvement in CTR with paid search intuitively makes sense due to the following reasons:
Ads serving on more queries
Larger ads, with more space given to each ad
Subtler ad labelling, making it less obvious that an ad is an ad
As you know, organic search CTR's increase will not just bring more traffic, but also improve ranking of your keywords and by extension the website.
After all, CTR is Google RankBrain's primary factor to determine whether a website deserves higher rankings.
High geographic performance
There are several categories to Search Engine Optimization and one of those is local Search Engine Optimization.
Local SEO is the process of targeting potential consumers near any brick-and-mortar establishment that you may have.
A majority of the Internet users make use of their tablets and smartphones to look for information, specifically geared towards places and services near them. And a high percentage of local searchers result in sales on the very same day.
Don't have a physical location? You can still leverage the power of local SEO by using your geographic data from Google Ads to boost regional, national or international SEO campaigns.
You can find your geographic performance in Google Ads, along with information like, conversions or revenue, impressions, clicks and CTRs.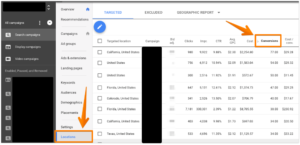 Image: Geographic performance
Once you have that data, you can make use of Google Trends to find out the kind of words or phrases being used by people to search for products or services of your industry in those specific locations.
You can also get an idea whether those phrases or words are shrinking or growing in popularity. Then, use that information to enhance your on-page SEO, as well as, refine your keyword targets.
Make use of Display Network audience information
Backlinks are considered to be a powerful off-site SEO factor. However, building links can be a real challenge and that is where Google Display Network data comes to the rescue.
If you are running display ads, you can make use of that information to find effective and powerful link building opportunities to boost your site rankings.
You can get an idea of the performance of your ads on the different websites that they have been displayed on at the 'Placements' report.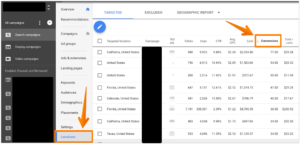 Image: Display network audience information
You can sort the performance result by conversions or clicks. If there are entries that look promising, you need to click through to the website and find out if the site has an engaged audience that can benefit your business.
If everything looks good, reach out to get a backlink from the website, through guest blogging or other link building methods.
This process helps in finding relevant and high-authority websites to build links from. And it paves the way for you to get most out of your PPC data!
In Conclusion
Google Ads does not directly impact organic results. But, 3 months of investing in a paid campaign will fetch you enough data to develop a better plan targeted towards increasing your organic growth.
SEO does not give quick results and it is a long term game. Before SEO results come into full swing, you can run Google Ads to boost your organic results albeit indirectly. From getting plenty of traffic to driving conversions and even sales, paid ads will give you a competitive edge.
About the Author
Chandala Takalkar is a young content marketer and creative with experience in content, copy, corporate communications, and design. A digital native, she has the ability to craft content and copy that suits the medium and connects. Prior to Team upGrowth, she worked as an English trainer. Her experience includes all forms of copy and content writing, from Social Media communication to email marketing.