When and How to Use the Google Disavow Tool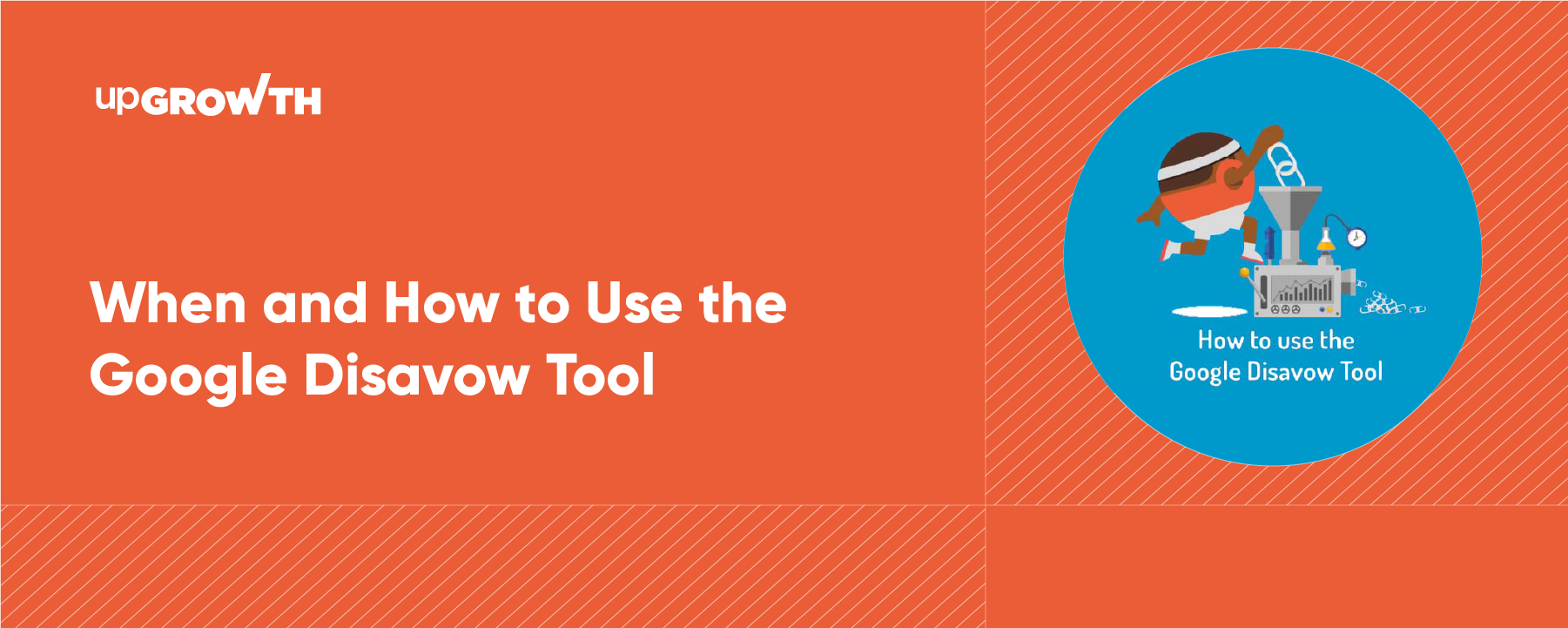 Introduction
In business, there are times when you need to take concrete decisions on what works for you and what doesn't. With competition continuously growing, some tools boost your website rankings, and others lead to pitfalls. These are called backlinks by digital marketers.
Want to learn how Growth Hacking can boost up your business?
Sign up for a free Growth Hacking Consultation

What are backlinks? So, backlinks are links created by various sources, and these are meant to increase visibility and help your site achieve higher rankings. Hence, the more numbers of backlinks that you have connecting to your site, helps the site to a winner! Do the results always go that way? Well, not always.
Some backlinks can cause your business to lose traffic which results in a fall in CTR numbers and finally leads to zero conversions. When in doubt use Google Disavow Tools to seek the right assistance.
Google's Disavow Tool helps you to clean up your mess quickly and precisely. But before you go about disavowing, let's get to down to basics. What are these basics? Try connecting with the site manager or owner to start the communication process.
You may write polite email mentioning your wish to discontinue and request for an elimination of the link. In layman terms, ask the owner to take the link down, and it should have no connection to your website after that.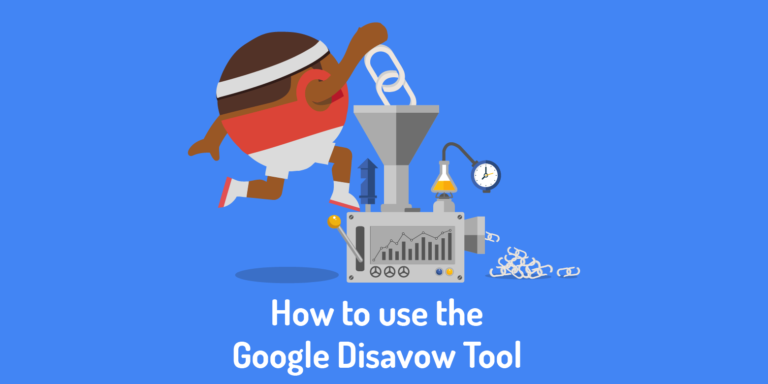 Image: How to use the Google Disavow tool
Rankings are critical in the online business scene. Today's digital marketers struggle to stay afloat in harsh and challenging business conditions. The dynamics of international marketing evolves every day. Most advertisers are budget conscious and want to make the most of a limited budget.
Trying to improve low rankings can eat away your monies when you stop auditing your business. So, gear up and get those audit hats on! It's time to cut off the spam and clean up your income generation channels.
Sometimes, it can be challenging when responses are slow and when people ignore your requests. That's when you take action and use Google Disavow. Remember that if you want your rankings to improve, first carry out an audit, a habit most digital marketers tend to push at the back of their minds.
Disavowing a link is telling the owner of the link that it's no longer acceptable to pull your rankings down. In other words, you are also labelling it as spam, and you want to treat your backlink strategy as an essential part of how your business is affected by trash.
Keeping bad backlinks off your profile and business sites are essential to keeping your business protected. It is a sneaky way for competition to gain an edge over you as well. You are hence rendering your useful and meaningful link to become useless because of the bad links you are carrying.
There are two ways to disavow a bad backlink – one is manual and the other is by using Google Disavow to curtail your losses.
To Know More about Tools

14 Free Tools for Content Marketing

Incredible Free Tools for Email Marketing
What Is the Google Disavow Tool?
Learn and master the use of the Google Disavow Tool. The benefits of using the tool is essential in furthering your reach in less than a month. Perhaps surprise yourself by watching your business grow faster than you ever expected.
So, what is the Google Disavow Tool? It is a part of the Google Search Console, which was formerly known as the Webmaster Tool. It is a tool to fight spam or better known as a bad backlink. The risk of getting penalised makes Google's war on link spam a valid one, and the Google Disavow Tool is an asset in such cases.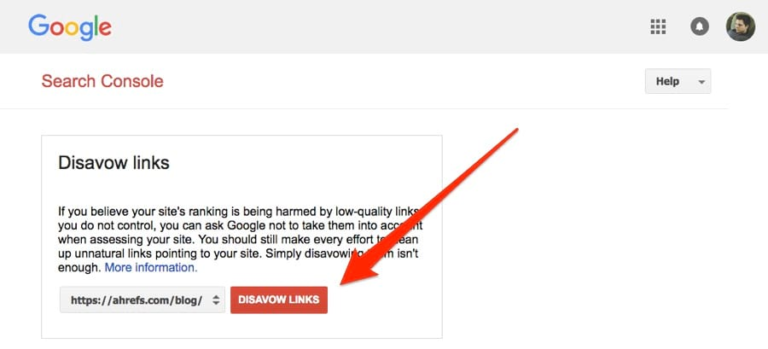 Image: Search console
What does it mean to disavow a link? Bad backlinks must be removed from your website as they can be detrimental to the company's reputation. There are many ways of gathering bad backlinks. Users can be responsible for accidentally creating a bad backlink by giving bad feedback about a product.
Even Google's algorithms can mistakenly take good backlinks from the old list and add to your website. However, it is now causing more harm. Hence, any bad links, whatever the cause of their existence will damage your reputation.
To tackle this challenge, begin by listing backlinks. To list backlinks, use tools that will help you gather the lists. Once you have done this, start with identifying the bad backlinks. Find out their source or owners.
While tools can help you find out what is bad and needs to be discarded. It is recommended you manually check them out. This way you have a better idea of what is good for the business and what- is not.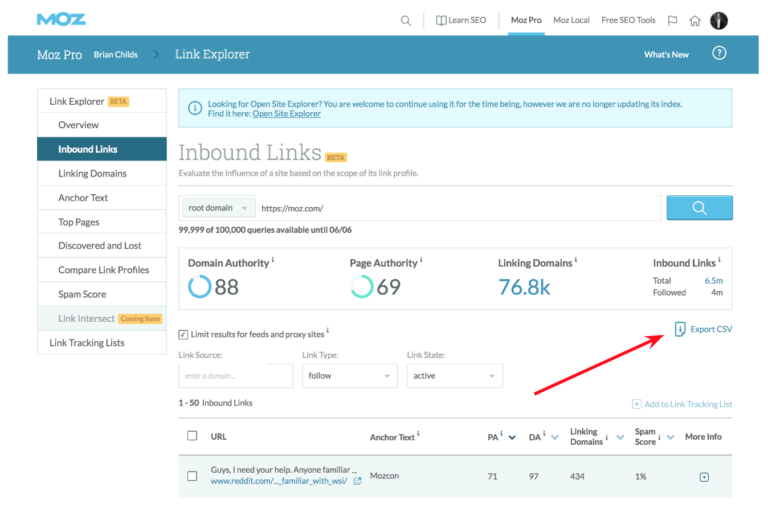 Image: Moz tool
In today's business landscape being updated on all fronts and protecting your online sites is critical to surviving in a competitive jungle. The competition will always look for reasons to beat you at the start line. It is how you plan your moves and get ahead of them which is a great way to assess your strengths.
Now that you know about the Google Disavow Tool, let us find how and when to put it to use for the benefit of the business.
4 Signs for When and How to Use the Google Disavow Tool
Note that it's recommended that you first try to contact the site owner. If other options fail, then use the disavow tool. The only reason for a business to eliminate a backlink would be because of a fall in ranking, and if it is hurting your SEO. Disavowing a backlink should be the last step in the process.
Google crawls of your site should be high. If the number of time Google crawls by your site is high, then it is definitely a good sign. It means that your visibility is excellent. Visitors to your site are finding your business relevant, and they are confirmed buyers.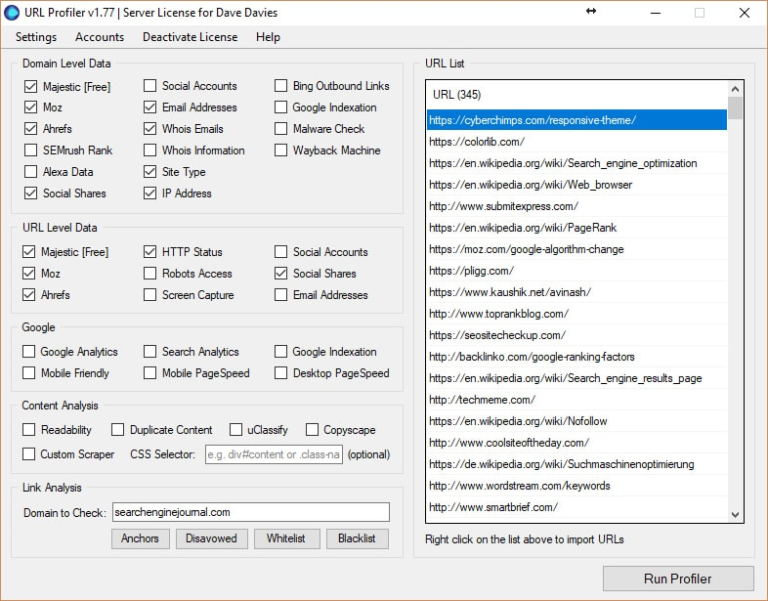 Image: Bad backlinks
The categories of bad backlinks are links in spam comments, links with a site which is not a part of the target market, spam link – the obvious and sites set up as links. So why all the fuss about eliminating a link? Certain links may be useful, but the answer is no.
According to Google a link from a site means that you have a vote on the quality of your page.
In the case of a good backlink, you can earn your website higher rankings on your domain authority and page authority scores. It also increases your website's visibility and traffic flow to the site doubles.
When you attempt to block or eliminate a backlink, Google shoots a prompt at you with a warning sign asking if the backlink is useful or meaningless. Don't get perturbed with this warning sign from Google. The algorithms are warning you as a word of caution and confirming if the link is causing your SEO any harm.
When to Use the Disavow Tool
Google Penguin is a tool which is useful if you want to find out which link is causing harm. According to the algorithm, it is supposed to penalise the use of a backlink which no longer holds true. What Google Penguin does is that it devalues the links, thereby adjusting rankings.
So, by eliminating backlinks which are a cause for concern, removing them is a benefit. Of course, Penguin might be adjusting rankings, but penalties still exist. There are manual penalties that a Google staff member hands out. What Penguin would hand out is an algorithm penalty.
By learning to use this tool effectively, you avoid low-quality scores, and you can ensure that you run a clean and good business.
When NOT to Use the Disavow Tool
Disavowing a link is only recommended when you are sure that you want to remove the links causing you to lose rankings. However, trying to contact the owner of the link should be your first option. If you are struggling to find out who the owner is, try a tool called WHOIS.
It is a useful tool to get contact details of link owners. The WHOIS service provider tool created by ICANN – Internet Corporation for Assigned Names and Numbers which enables you to see details of the owners.
If the WHOIS site does not give you any details, try connecting with via social media or blogs or search by site owner name on Google.
As tricky as it may get, it is always a good idea to protect your site from bad backlinks. You want to reach your customer, because you are here to do business. Hence, keep auditing your backlinks regularly. Research regularly on the repercussions that a case such as this may have on your business.
Keep a close eye on your budget as well. You do not want to find yourself in a spot and realize that you are low on cash. Plan your mainframe architecture carefully. Design your website to stay on the top of the ranking listings.
How to Easily Disavow Links
Google works hard to give your business relevance. Despite the crawls and indexes created, you can sometimes end up creating bad backlinks that are paid for links and other link schemes that violate the quality guidelines. Moreover, if you or your staff violates any of these terms, Google's opinion changes about your site.
So, if it is a bad backlink you want to eliminate, ensure that you have taken manual action and proceeded with the shutdown process. It is easy to go about the process of Disavowing links.
Google assessment on links is confirmed from its list of trusted sites. Hence start with listing backlinks. Find out if these backlinks affect your site negatively. Also, track if these incoming links are either spam, artificial and low-quality links which are causing low-quality score and harming visibility. Next, make it a point to note if these links have caused a manual action or are likely to cause a manual action.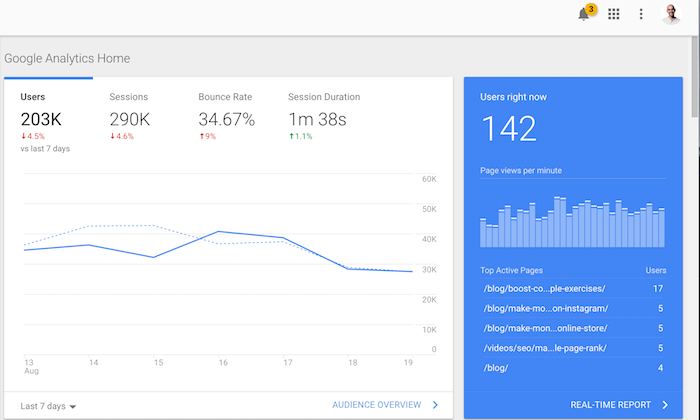 Image: Google Analytics
When you are through with this exercise, sift through the backlinks list and put these in categories such as its specific URL or domain. Also, when you want to disavow a link, it should be a text file encoded in UTF-8 OR 7-bit ASCII. The file name should end with .txt.
After that, you start to list down links to disavow on the Google Disavow Tool. Use a # for lines you want for yourself so that Google ignores these lines and focuses on links to disavow.
Once your list is ready, download the data of the URLs and site, and remember to remove the one you want to retain before you disavow. Once your list is ready, upload it to Google Disavow links tool page. Then select your website. After that, click on the Disavow Links tab, and then choose file and use the file you created for upload.
Note that this process takes time and typically takes weeks to get incorporated However, you will continue to see the backlinks from your list which have been disavowed as Google recrawls and indexes your site.
Do We Still Need to Disavow in the Era of Penguin 4.0?
Google's Penguin 4.0 and what is its role? It's an algorithm designed to fight spam links. It does not penalise websites for bad backlinks. It is Google's war on spam links in plain language.
Anything and everything wrong in the business of creating bad links are flagged by Penguin 4.0, and you would be penalised for committing an online blunder by creating bad links. Penalties are manually handed out. Google has staff members who work towards catching owners and link developers who violate these regulations.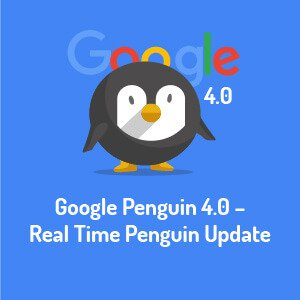 Image: Google Penguin 4.0
How does it work? Google crawls and indexes your site. While doing so, it also gathers details and information on all backlinks connected to your site. As it updates your site and indexes it, it also penalises backlinks which are either lifted if it is not a bad backlink and incurred when it is a harmful backlink.
So, do we need Google Penguin 4.0 today? Yes, you do need the support of its abilities to push down the bad backlinks so that your website can earn good rankings. Unlike previous versions which completely suppressed sites if you were manipulating links, Penguin 4.0 is fair in its actions.
The action taken is to devalue spam and help grow the site rankings. By doing so, it detects spam when Google recrawls and re-indexes your site. Now that you can devalue spam and grow, do you want to disavow a backlink? Of course, you should disavow a backlink that is causing your website harm.
Thus, by using the disavow tool thoughtfully, it will enable you to plan a marketing strategy which will help you render more time to research and develop new markets. Always remember, audits are excellent. Making it a habit and following it will save you billions of hours of work and many more in advertising budgets.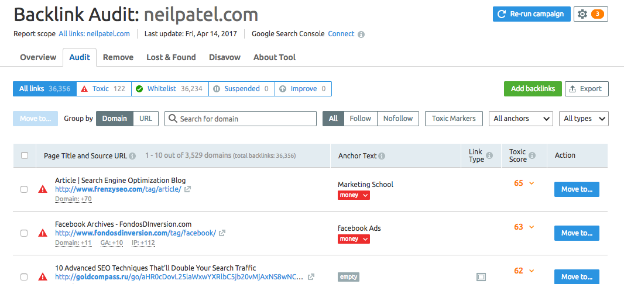 Image: Backlink audit
Summing Up
Now that you are equipped with some food for thought, start pulling out a list of backlinks and research their value. If it is causing your business harm, disavow them after taking manual action.
Remember, Google's algorithms never penalise backlinks, the staff at Google although can send you a manual penalty.
In a dynamic business landscape try not to give your competition the benefit of the doubt and research on how they plan their web hosting original backlink plans. It will be a great way to gain insights on how to measure the actual damage that you may face.
Among the many reasons why site rankings lose their standings are because of bad backlinks. If you are discovering this for the first time then make a note of all the signs to watch out for – Is the backlink a spammy link, or it could be a backlink which has no connection to your target audience whatsoever.
In some cases, it would a backlink accidentally created by a consumer who wrote a bad review about your store. The last thing to make a note of is that Google can mistakenly crawl and adding old links with good intent, but it turns out to be bad for the business at its current stage.
Keep your eye open and keep your ears to the ground. Online chatter has many ways of building awareness about how market evolution and economic progress are making waves in business. Some of these points are negative, but it helps combat a challenging situation to develop good business.
About the Author
Chandala Takalkar is a young content marketer and creative with experience in content, copy, corporate communications, and design. A digital native, she has the ability to craft content and copy that suits the medium and connects. Prior to Team upGrowth, she worked as an English trainer. Her experience includes all forms of copy and content writing, from Social Media communication to email marketing.