Why We Love Organic Social Media Marketing (And You Should, Too!)
Published: August 14, 2018

At first glance, Social Media comes across as a trend (to non Digital Marketers). Since their inception, Social Media sites such as Orkut (non – existent), Facebook, Twitter, Tumblr and many more have attracted millions of users.
Now you see social media icons everywhere and it is almost unusual or impossible to see businesses or brands not using them.
In tandem with other marketing channels, social media marketing has become a must-have component for any business that is interested in reaching to their target audience.
It's no more looked upon as something that is a nice-to-have for just branding and PR purpose.
In fact today it's an essential component of marketing mix most businesses look for.
Social media is no longer just about awareness, conversation and content.
It has now become an established channel for customer acquisition, re-marketing and engaging existing fans/customers to support retention programs.
To generate conversions through social media, you require to publish compelling, valuable content, execute different campaigns and devise a strategy for promoting said content.
In this process, you can leverage three different types of media – earned, owned and paid – and how to combine them successfully for lead generation efforts.
Let's walk through all three of them – 3 types of Social Media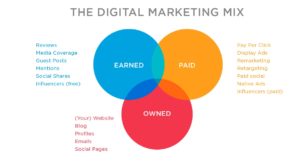 Earned Media
Earned media refers to the recognition you receive as a result – word of mouth. When customers become the channel.Sharing Content Mentions:
Shares
Reposts
Reviews
Example – Many influencers/bloggers on Forbes.com acquire earned social media traffic to drive both traffic and leads for them. The content/blogs here is shared and republished by other social media users.
Owned Media
Owned Media refers to content which is controlled by you. Obtaining (and owning) traffic through owned social media implies you're utilizing your own social media channels (Twitter, Facebook, LinkedIn, YouTube, etc.) to direct traffic to your website.Web Properties Website:
Mobile Site
Blog Site
Social Media Channels
Example – Ching's proves successful in this space because of its regular activities that promotes its presence on Facebook by adding innovative applications, quizzes, games, contests and more.
Paid Media
Paid Media refers to a way to promote content in order to drive exposure through earned media as well as direct traffic to owned media properties.
Advertising PPC
Retargeting
Paid Influencer Marketing
Paid content promotion
Social Media Ads
Example – Coca cola drives different paid social media campaigns which direct their fan base to engage more with them to likely increase product's sale.
Every business tries to find the balance between all the marketing channels for budgets and maximize the potential on social media. For this you need a strong Social Media strategy after reviewing your service/products, target audience and budget.
Like most beginners you would have drafted a rough social media strategy for your business. But have you weighed up the benefits of organic social media versus paid social media advertising?
Typical Social Media Objectives/ Goals include:
Increase follower-ship
Increasing engagement – shares, likes, comments
Positive sentiments – word-of-mouth
Great ROI (Return On Investment)
Improve customer service and retention
How do you decide whether to go for organic social media marketing or paid advertisement or both?
There is no one solution which fits for all, it always depends on business goal and objective(and a lot on budget).
What is Paid social media advertising?
A decline in organic reach is an opportunity in paid social media advertising.
You should consider paid advertising to grow your reach drastically by reaching maximum audience on social media. It can extend the organic reach of brand posts on popular social networking channels.
Consider paid social media advertising to add greater detail and focus towards targeting audiences that lead to direct exposure of brand.
Spend some money to get your content seen by potential customers.(not for small sized businesses)
Use Facebook or Twitter Audience Insights to know your specific audience.(if you have the right knowledge to use these platforms)
Create highly-targeted ads for them.
However, results of paid social media advertising are not permanent.
For example – You have promoted a post on Facebook which has given you good engagement and reach. But once that ad times out people will forget about your ad/product/service.
You cannot continuously engage with your audience through paid advertising because of budget constraints.
Need organic social media strategy to continuously engage with them.
You should regularly post fresh and timely content. How to generate this fresh, timely and relevant content on your social media page?
So here comes Organic Social Media Marketing
Organic activities are those that are not paid for. So in social media terms it's the standard posting of blog content, reacting to messages from your audience, making intriguing content, picture and video content and posting it free on any or all social media channels.
Organic is ideal for community management (if you have build one ).
You don't require paid campaigns to tune in to people are saying about/to you. Businesses need to realize that social media ads mimic their organic social presence. So Organic reach and organic social profile building is must for any organization.
Why Organic Social Media Marketing Important?
What's important is that the listening and learning elements are part of your organic approach to social media and very suitable for small and mid sized businesses; they should happen naturally by being actively involved with your audience.
Social advertisers search for approaches to connect with groups of people in light of a common interest/passion.
There are chances that audience from the same community having the interest in your business product/service will automatically get engaged with you.

What efforts need to be taken for Organic Social Media Marketing?
Social media content should always be monitored to see what's performing well and what isn't. You should also be regularly testing new content on different social media platforms based on where your target audience is.
Create quality and relevant content.
Maintain a schedule and a social media calendar
Ask Questions
Share insightful posts
Share link to third party useful resources
Respond quickly
Create and grow your own niche forum, community, or group
Use Hashtags
You can create a new hashtag for, or simply use trending industry relevant hashtags if what you're doing/saying is relevant to that audience. It helps foster new connections, as like-minded people can find each other based on a shared interest.
How to measure success of organic Social Media Marketing?
Use a in built available insights like Facebook and twitter insights to measure engagement of each posts. This will help you to understand what's working on your social media channel.
Learn about your audience and create ideal personas. Once you have an idea of who they are, use those insights to create highly relevant posts that will resonate with users.
Use monitoring tools. There are free or low-cost brand tools you can use to respond to every comment. For example – Hootsuite or Buffer to schedule and publish tweets on Twitter
Be Patient!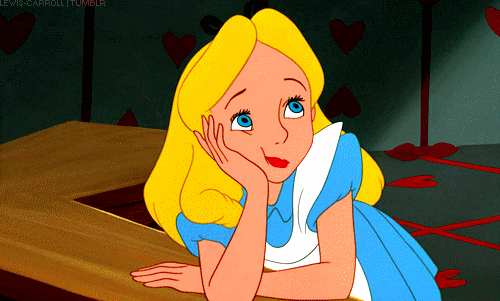 Organic social media marketing is a slow process and it takes some time before it generates success. It takes time to achieve your target if you decide to grow your business organically. But that doesn't mean that you don't set forth a target that you would like to achieve in a certain period of time.
It is necessary that you put forward a realistic target in the initial phases of posting before you aim to pull off the impossible. It would be even better if you break your target or expectations into small targets and achieve them over a certain period of time.
In this world of social media, patience is a virtue.
Small wins will not only give you a boost to act ahead, but also show you the ways in which you can enhance the way for a better result.
Content rules the Internet!
You can also use organic to increase audience engagement with your content.
For example, let's say you're a Event management website of Sports and you know that some of your followers are cricket fans.
If you have a new blog written/video blog on the recent interview with Sachin Tendulkar (Cricket sensation), then it makes sense to personally connect with the audience(or key influencers) via their preferred social network and tell them about the blog, and ask them to comment/share.
It's personal and increases the chance they'll see/read your content.
Quality sells itself!
You don't need to pay to share, but you do need authentic medium and an audience to share to.
When first starting out, you'll have only few people to talk to via social channels, so the relative impact of your content will be low.
So initially you need to take extra efforts to post it on forums, groups and other communities of similar interest or share it with influencers whose social sharing reach resonates with a far larger audience.
Solving the challenge
For small businesses, it's not always reasonable to pay for marketing on social media.
For others, it's about balancing the paid reach with organic. If you look at it from a social media strategist point of view having a strong organic social media plan and strategy is must no matter what kind of business you are in.
Be smart!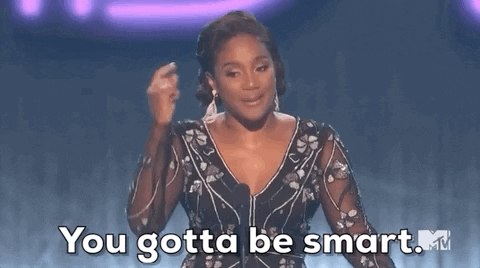 We now know that posting frequently where it's not necessary and posting irrelevant content for sake of meeting schedule deadline won't work. It will move away the interest of your audience by taking away the opportunity to connect with the right people.
Let us see few examples-
Platform : Facebook
What they do –
They post relevant and quality content.
And just see the way respond to comments.
Directly connect with the audience and form a relationship.
See how they respond to comments – all kinds of comments.
It makes you want to watch House of Cards, isn't it?
Platform : Twitter
What they do –
Spread their Twitter account around
Tell a story
Get people on their website
Platform : Instagram
What they do –
Using its strengths – adventure, photography
Users end up researching and following accounts of photographers, maximizing the brand's Instagram reach and leading to further engagement.
Understanding what audiences want on each platform
Simple and effective use of hashtags
Platform : LinkedIn
What they do –
Change generic "sell products/service" to something more personal and direct (quotes)
Not posting more than 5 posts/ week
Sharing blog posts
Conclusion
The secret to organic social media reach is almost same as the secret to ranking well on search engines – creating content for right people.
It's all about optimization, user experience, and high-quality content.
If you start thinking about your social media efforts in the same way you think about other marketing channels, you'll see the pieces fall into place. Finally, the true objective should be to collect an audience on your own website, not someone else's platform.
How do you maximize your organic reach on different social media platforms? Let us know in the comments below!
About the Author
Amol has helped catalyse business growth with his strategic & data-driven methodologies. With a decade of experience in the field of marketing, he has donned multiple hats, from channel optimization, data analytics and creative brand positioning to growth engineering and sales.