How We Generated 1M+ Impressions on Google Discover Within 15 days in January 2021
Published: February 10, 2021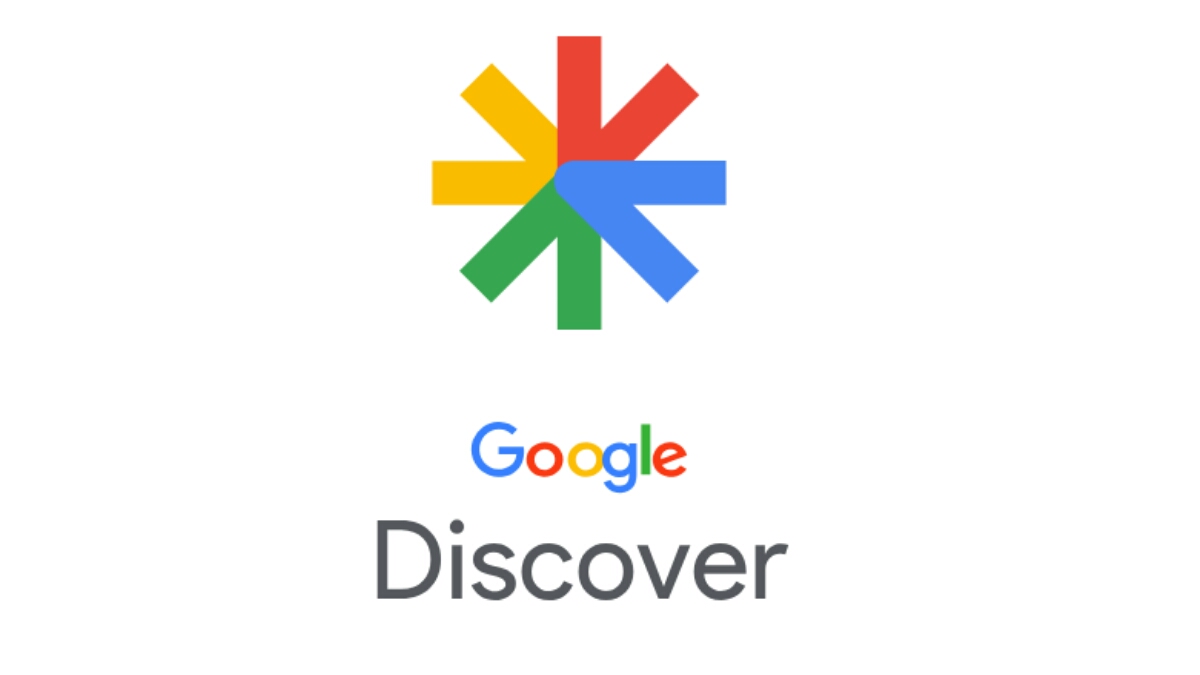 When running a business, we're all trying to grow our website traffic in one way or another – and a sudden spurt in clicks and impressions always comes as a pleasant surprise.
Here's something interesting we'd like to share with you – a screenshot showing 10 lac + impressions within the span of a few days on Google Discover. Pretty impressive, huh?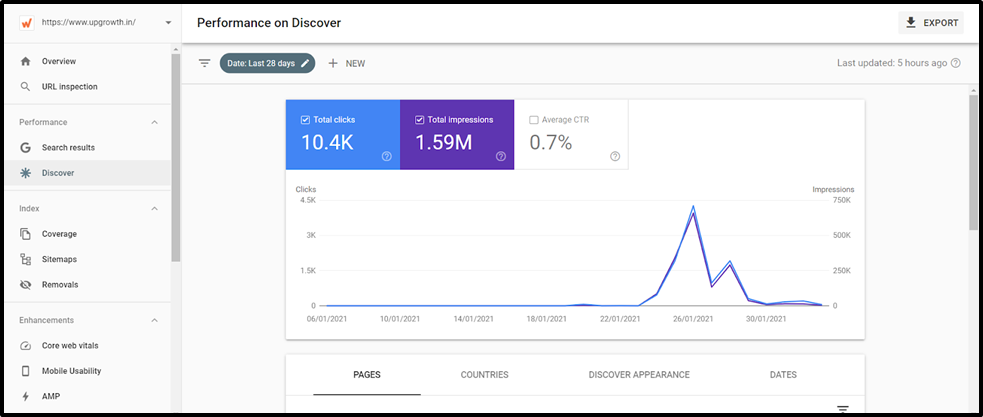 And here is a screenshot of our website traffic during the period of May 2020 till Jan 2021, take a look at the spick especially between Jan 15-31, 2021:

It shows we generated 1M+ impressions.
Question – How Did We Generate 1M+ Impressions On Google Discover Within 15 Days?

Answer – Using Google Web Stories!
Below is the step-by-step process of how we approached it. But before we do that, let's look at the context and creative process.
What Is A Web Story?
A Web Story is a visual format that lets you explore content at your own pace by tapping through, or swiping from, one piece of content to the next. Web Stories are a web-based version of the popular Stories format that blends video, GIF, audio, images, animation on text, and images to create a dynamic consumption experience.
What Are Google Web Stories?
Google Web Stories are a visual storytelling format displayed on the Google Search Engine Result Page. These Web Stories can appear in Images, Google Discover, and the Google app. When a user searches for something on the Google search engine, the results are displayed in grid views from multiple publishers.
How To Install A Web Stories Plugin In WordPress
Time needed: 3 minutes
Follow this easy step-by-step guide to install the plugin:
Step 1. Download the Google Web Stories Plugin (Plugin is out from Beta)
Here is the link : https://wordpress.org/plugins/web-stories/
Step 2. Add the new plugin to your WordPress
Under Plugins, 'Add New' as shown below.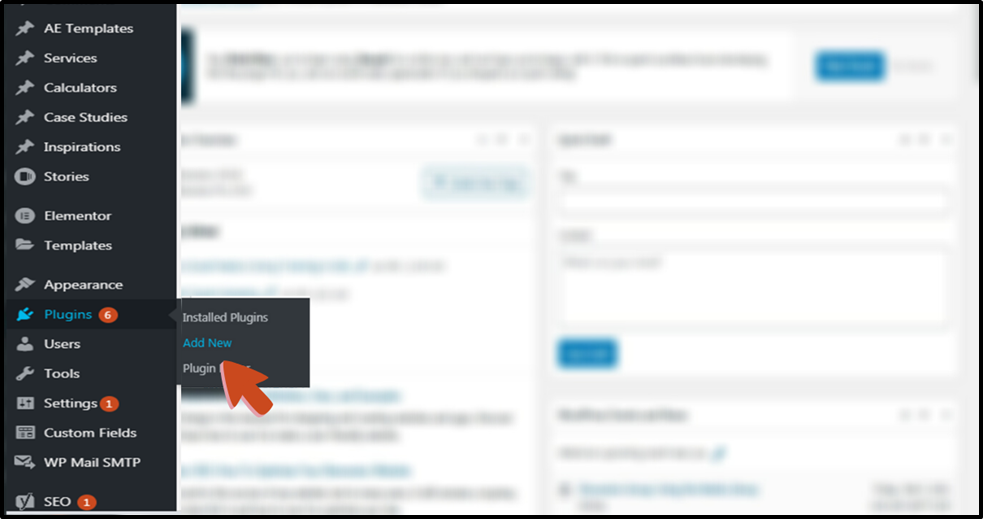 Step 3. Upload the new plugin to WordPress
Click 'Upload Plugin'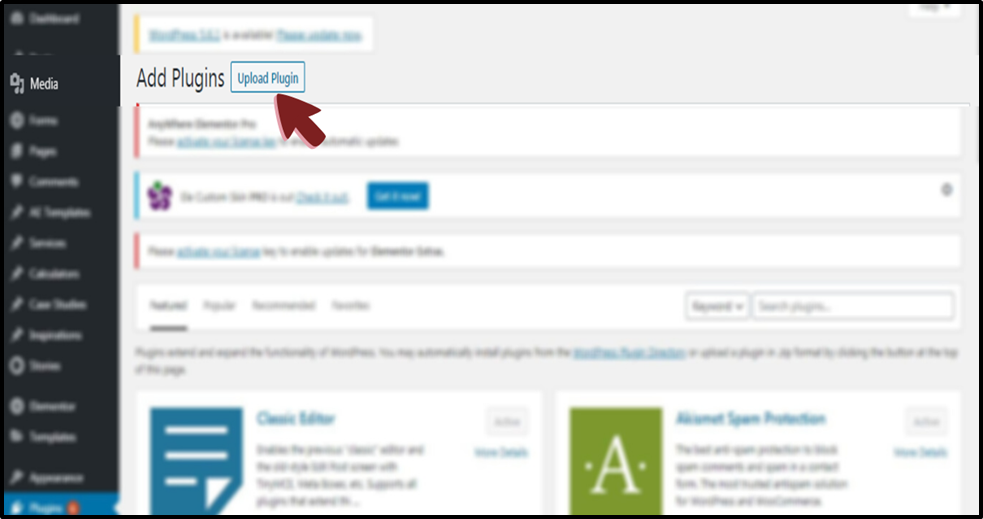 Step 4. Choose File
Click 'Choose File' to upload the Google Web Stories for WordPress plugin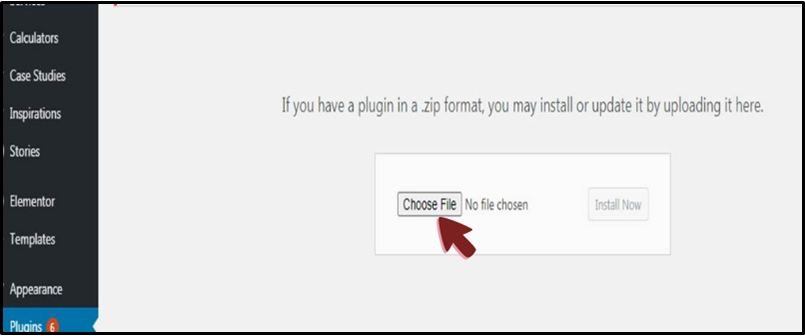 Step 5. Activate the plugin
Click on 'Activate' to start creating Google Web Stories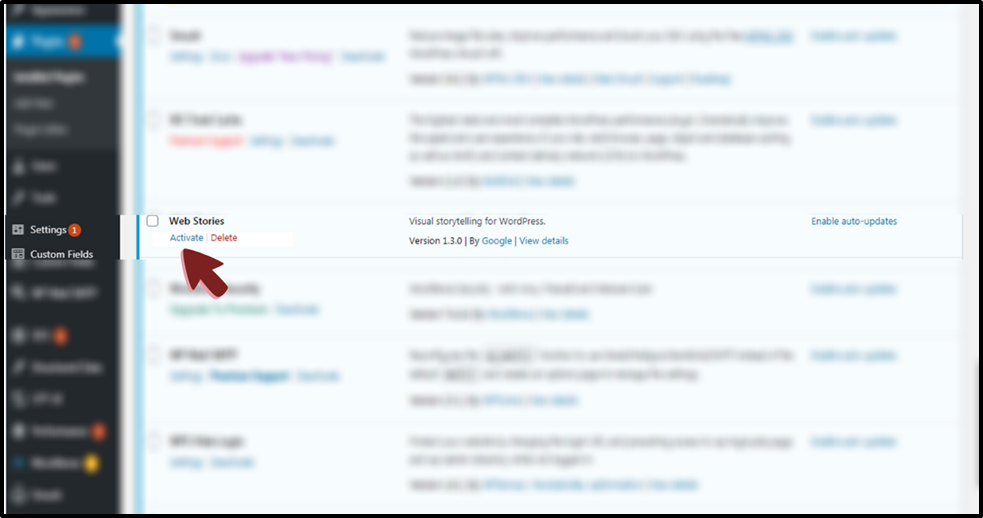 Step 6. Launch the editor
Launch the 'Google Web Stories Editor' to start creating stories.

How To Create Google Web Stories
Follow this pictorial step-by-step guide to create your first set of stories in Google
Click 'Add New' under Stories
Go to your WordPress dashboard and under stories, click Add New.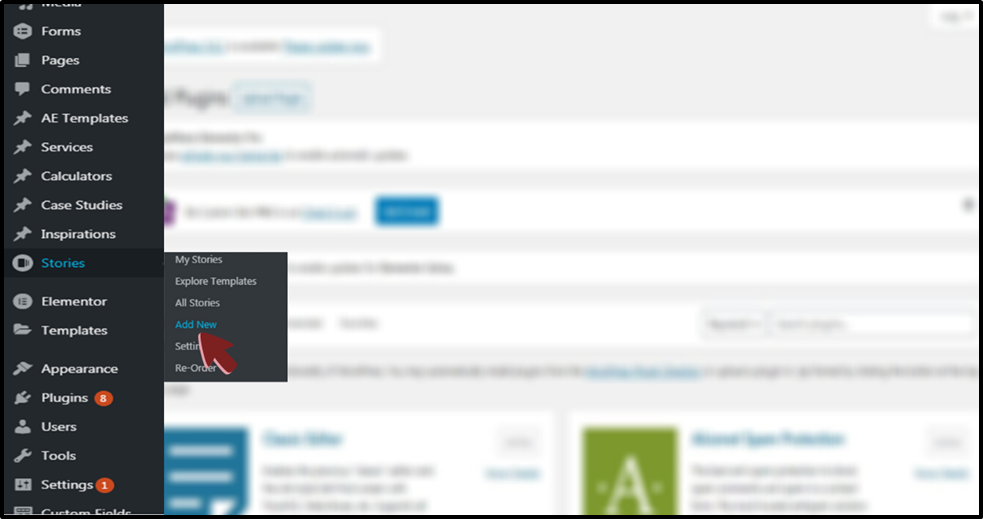 2. Create a new page
On the next screen, you will find something like this: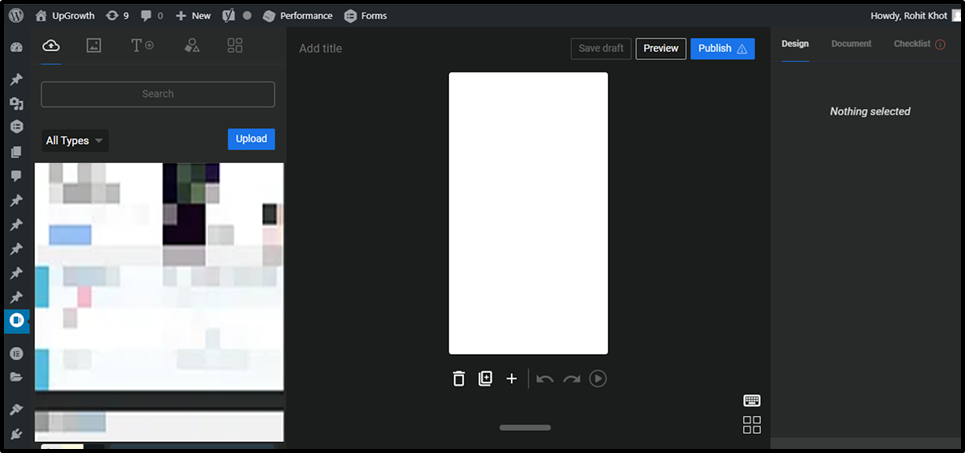 This interface can easily be broken down into the following sections for better understanding.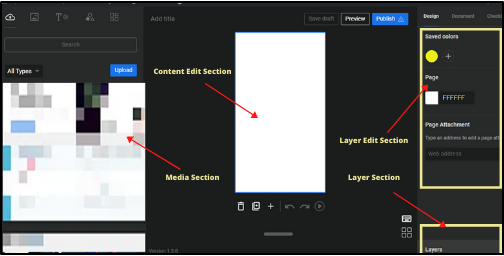 3. Keep adding new pages
Once done with your first page, click to add a new page. Feel free to add more pages to your web story – Google recommends 10-20 pages per story.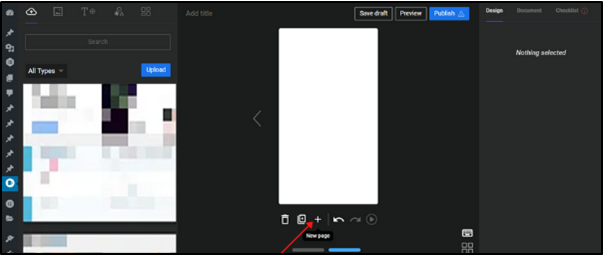 4. Publish your Web Story
Once you are done with all your pages, it's time to publish your story. Click on the Publish button to take the story online.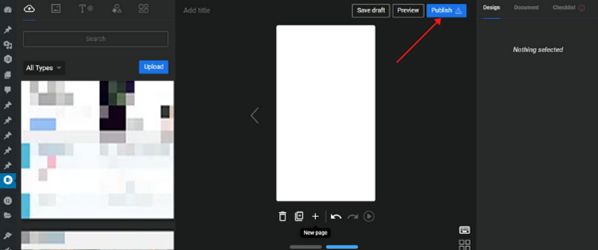 How To Plan And Strategize The Google Web Stories Creation Process
This part is crucial to creating a Web Story, and a lot of fun. We took trending topics and made Web Stories around them. How? We checked the highest-ranking blogs on some of those trending topics. For example, we searched for "digital marketing trends" and the first blog which popped up talked about the latest digital marketing trends for 2021.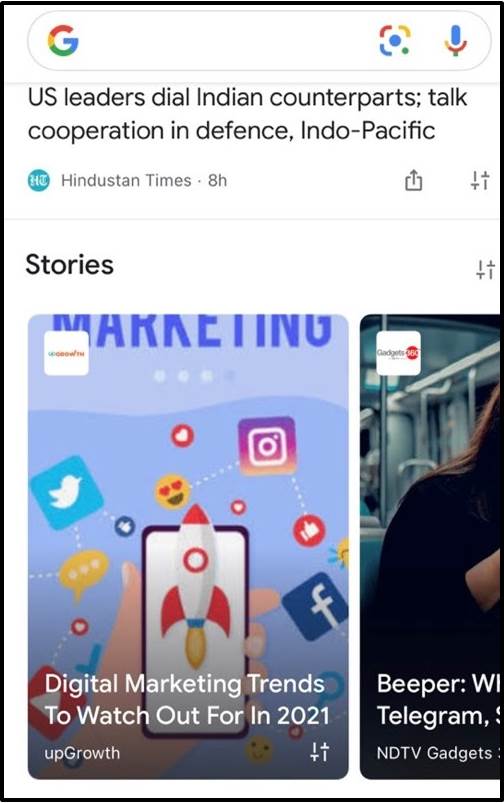 So we researched more about the topic and then made a Web Story on it. (By the way, this is one of our most successful Web Stories so far!)
Another approach we followed was, we selected the top 30 highest-ranked blogs on our website. (We extracted this data via the Google Search Console.) Once we had the data, we condensed paragraphs of those blogs into small snippets. We followed this method for every selected blog and by the end of it, we generated content for 30 Web Stories.
Now the question is – why select the highest-ranking blogs in the first place? The simple answer is, if the content on our website is ranking, it's quality content and people are liking it. So when you choose topics for stories, website traffic can help you decide. That's why it ranks on Google. So it made sense for us to create Web Stories and website stories on topics that people were already interested in.
How To Generate Content For Google Web Stories
A Web Story is a series of snippets of information that string together a story. It requires a fixed topic and a narrative arc, as well as compelling language and design that will get the reader to click-through to the last slide or page – and possibly take action.
Your Web Story needs to be informative, relevant, and relatable. Your audience should walk away both entertained and informed.
Make it informative: For your website stories, choose a subject that speaks to your readers. This could be anything from details about your product or service, to tips and tricks/best practices (related to your domain), or even a topical story designed around an event or ongoing trend.
Relaying useful information in a digestible format is key – with emphasis on useful. The reader should learn something from your story or walk away from it enlightened and informed.
Also note that the topic you choose should be relatable – either because it's useful to the reader/audience, or because it is being widely-discussed in your community.
Keep it brief: A Web Story gives you a finite space within which to work – so brevity is key. Keep your text short and to-the-point. For your Web Story, Google recommends not more than 280 characters per slide, inclusive of the title.
Make use of video: For your Web Story, Google encourages use of video. The world is consuming more and more short-form video content, and it's a great way to engage users. Plus, it also stays in line with being brief – you can convey more through a short video than through several lines of text.
First-person story letting also works well in the video format and helps establish a personal/emotional connection with the viewer. You can share opinions, commentary, perspectives, or even user-generated content and reviews.
Here's a look at one of our Web Stories with GIFs and video!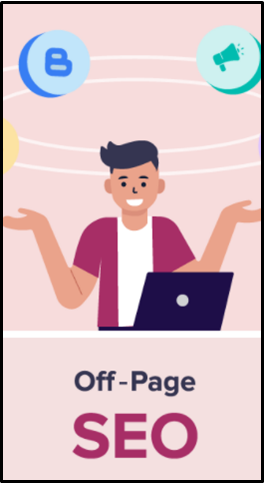 Good design is a must: Your Google Web Stories should be well-designed – catering to aesthetics, screen size, and the limited space you have within each page/slide. Try to use colors that complement each other, and make sure your text doesn't get cut or blurred against the background.
You should also create slides/pages that take advantage of your brand identity. This includes your logo, brand colors, font style, and other visual elements that speak to your identity.
Infographics and animation can also be incorporated into your stories to make them more engaging – they also make a topic easier to understand.
Conduct polls & quizzes: Polls and quizzes are a great way to boost engagement on Google Web Stories. Not only are they fun, but they also give the user a chance to interact with your brand on a personal level. Plus, it's a pretty fuss-free and low-effort way to create content, and the benefits are manifold.
The goal of website stories is better engagement. You need to be creative and build anticipation so that your followers/audience will stick and interact with the story. Use a unique voice and tone and keep it consistent within the story so it holds the attention of the reader/viewer.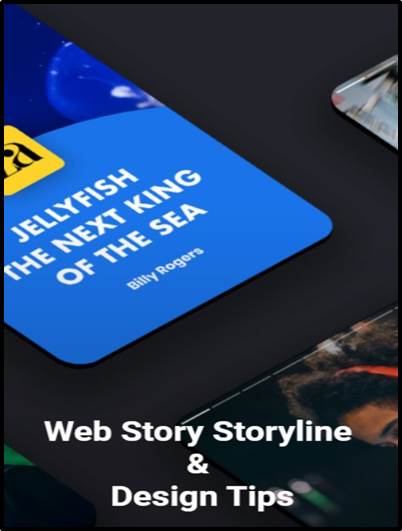 How To Do SEO For A Web Story
Here are some SEO guidelines to follow to create winning Google Web Stories. When you follow the right SEO guidelines for your story, Google will find it easier to discover it.
Title: Keep titles for your website stories shorter than 70 characters.
Make sure Google Search can find your story: Add your Web Stories to your sitemap. You can check to see if Google can find your Web Stories with the Index Coverage Report and Sitemaps Report in Search Console. Don't include a noindex attribute in your story, since this blocks Google from indexing the page. Remember – web stories, website need to have some link for better reach.
URL format: Google Stories are integrated into a wider URL strategy. For example, if your "India Travel" articles are using a format like "/new-york/travel/title-of-article.html" then consider using the exact same directory structure and URL format for your Stories. Y keep. If you change it, you will end up with 2 URLs for the same story!
Stories linking to website pages/blogs: Integrate Google Stories into your website by linking them from your homepage or category pages where applicable. For eg, if your Story is about the education domain and you have a page that lists all your education articles, then link that Web Story on that category page.
Meta Data: Whenever you create Google Web stories, you should upload all the meta tags. Make sure to include the meta title, meta description, schema.org, OGP, Twitter card, etc.
Image alt text: Add meaningful alt text to images where appropriate to optimize for accessibility and indexability of your content.
Web Stories should be self-canonical: All Web Stories must be canonical. Make sure that each Web Story has a link. Eg. : <link rel="canonical" href=" URL of Web Story">
The Breakdown: How We Generated 1M+ Impressions Within 15 Days
So here's how we did it.
Creation of a Web Story Tracker : Our Web Story tracker was our go-to guide during the creation process. We created a simple Google sheet which had all the selected blog links, along with links to the Google documents which had the condensed content for our Web Stories. This served as a sort of Google stories creator master document which we could refer to at any time in the web story making process.
The sheet also also had a column for meta descriptions and another column with a link to the images folder.
The tracker was important because when someone had to make a Web Story, they could refer to it and pull what they needed.
Once the content was ready, the creator of the Web Story had to update the sheet with the live link and title of the Web Story.
The sheet helped us consolidate information, coordinate effectively and avoid confusion. Everything was in one place, everyone knew what they had to do and which column to update. A Google stories creator sheet helped everyone in the process.
Bonus: Get the Web Story Tracker template here!
Content shortening: As we mentioned above, we used a simple approach towards crafting content for our Google Web Stories. We looked at top-ranking blogs within our domain, as well as our own company blogs and articles that ranked on Google and were popular amongst readers.
Then we condensed the selected content into digestible, bite-sized chunks suited for the Web Story format and adhering to the character limits and best practices prescribed by Google.
We crafted content slide-by-slide, with a short headline and pithy text to go under it. And then, it was just a question of formatting it with relevant visuals!
Web story SEO: While creating a Web Story, we focused on the following critical SEO tactics:
Quality content
Web Story title
Web Story description
Image alt text
URL format
Meta tags
Canonicalization
Page attachment
Web Story visualization and flow: According to Google, Web Stories are a new publishing format on the web, similar to those found on social media platforms like Instagram, Snapchat and Facebook.
They are as effective as video and blogging, but easier to create. They give you the opportunity to tell a visually compelling story with a link back to your content. Web Stories can appear in the following places:
Google Discover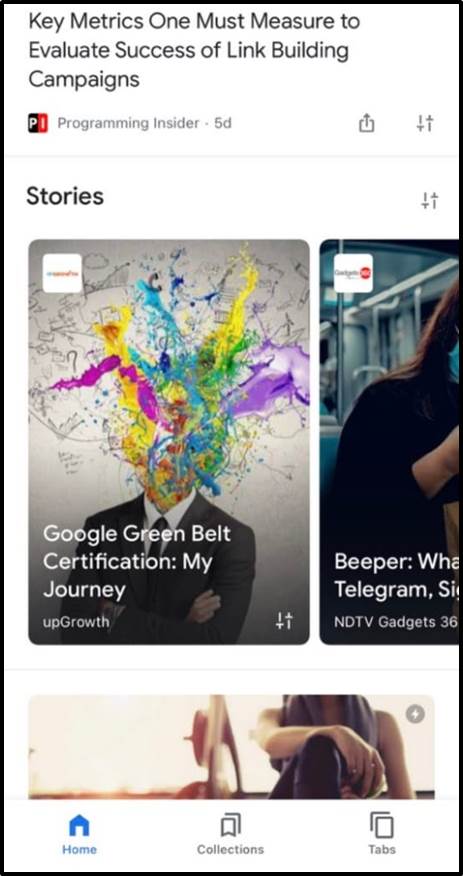 Google Search

Google Images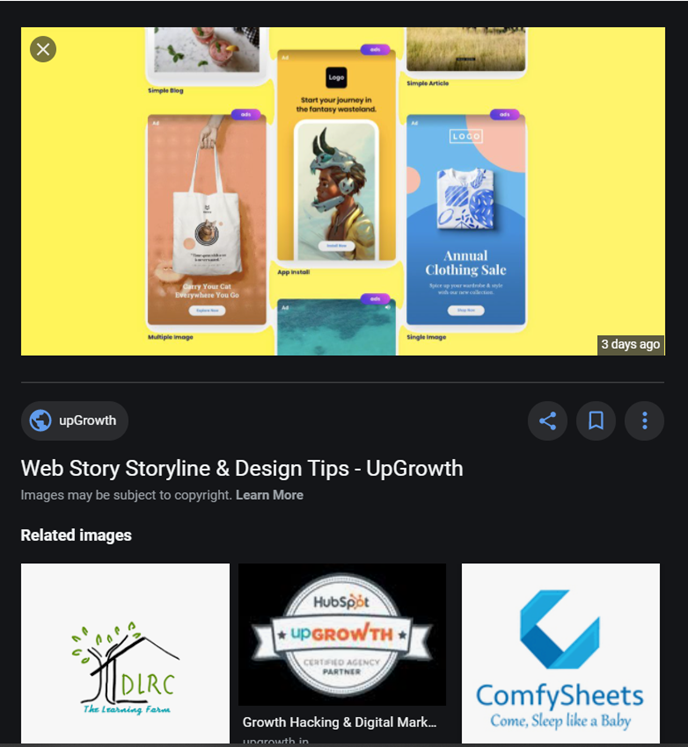 The benefit of Google Web Stories: Web Stories allow you to expand your site's visibility across three major Google properties. Plus, they are economical: Google offers easy and effective tools to create Web Stories and once ready, you can embed it on your site or have it indexed in Google just like any other post.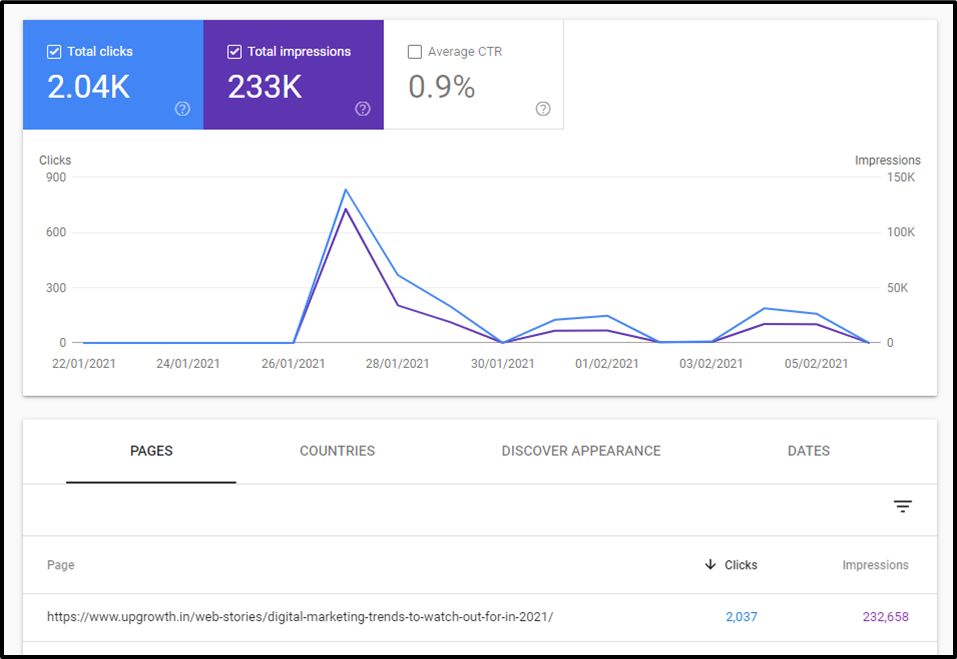 Another Screenshot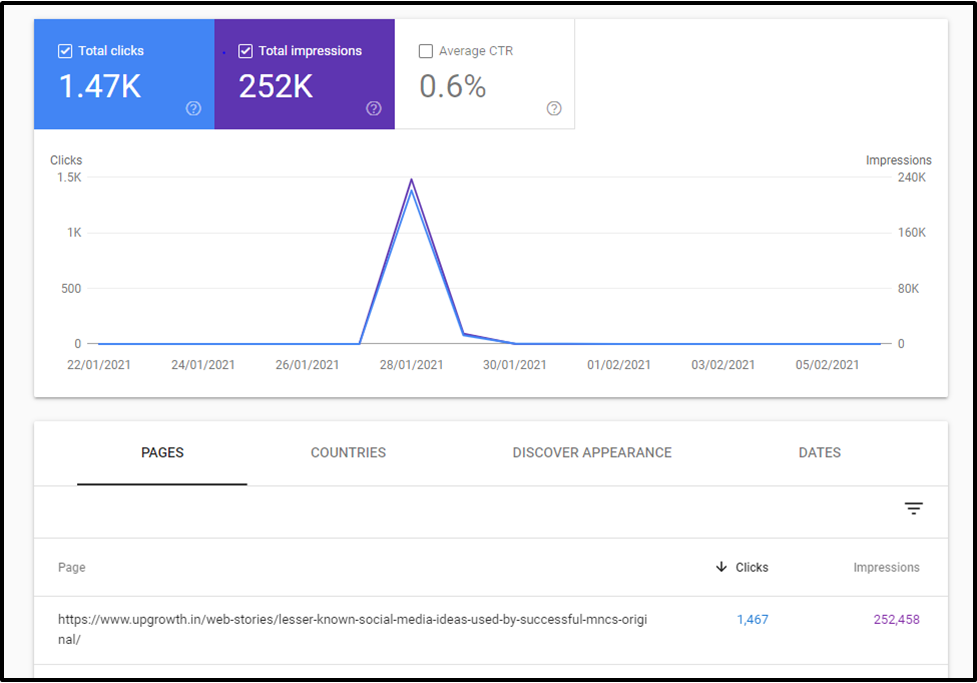 What We Found After Analyzing Our Data
Traffic can skyrocket: We all like to see the J curve in our business. But what we witnessed was something different. We like to call it the needle curve. After publishing 4-5 stories, pur in-house story web maker ran a check and found that one of them ranked on Google Discover and that is what was responsible for the needle curve.
We checked analytics to see how our Stories were doing. We were astonished by the results and immediately sent a screenshot of the data to the rest of the team – everyone was shocked. We saw a 1,00,000% increase in our website traffic! All of this happened within 24 hours of publishing that one story.
We doubled our efforts and Google Discover had more for us – we were ranking one story a day and our website traffic shot up exponentially.

Traffic can also come down as fast it goes up: Another finding? Traffic can also come down as fast as it goes up! A single well-performing Web Story is not a permanent resource to bring traffic to your website. Web Stories can bring huge traffic to your website for upto 4 days.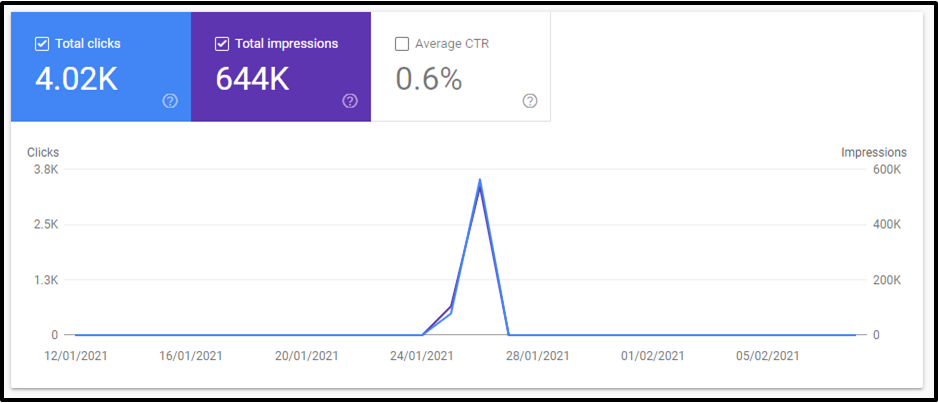 However, as Google keeps updating trends on their Discover platform, they will not publish the same Web Story a second time. Your Web Story may get traffic again after 4 days, but not as much as earlier.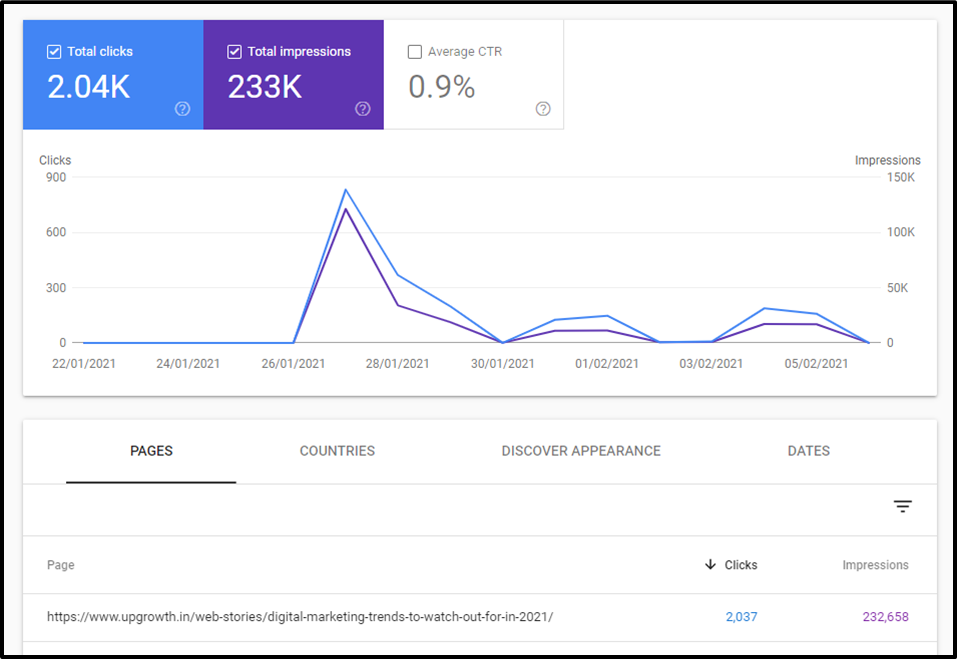 Continuously updating your feed with high-quality Web Stories based on the latest trends can help you hold your position on Google Discover.
In conclusion:
We're happy to report that we have enjoyed success with the Web Story format since the beginning of the year, and have learnt quite a lot within this short time frame – what clicks, how long it lasts, and how to create sustained buzz.
And we plan to keep at it. We are continuing with our experimentation for the month of February 2021 and will publish the results in March 2020 with the help of our in-house story web maker. Till then, stay tuned – and keep a lookout for us on Google Discover!
About the Author
Chandala Takalkar is a young content marketer and creative with experience in content, copy, corporate communications, and design. A digital native, she has the ability to craft content and copy that suits the medium and connects. Prior to Team upGrowth, she worked as an English trainer. Her experience includes all forms of copy and content writing, from Social Media communication to email marketing.