How to Create a Youtube Channel in Just 3 Simple Steps!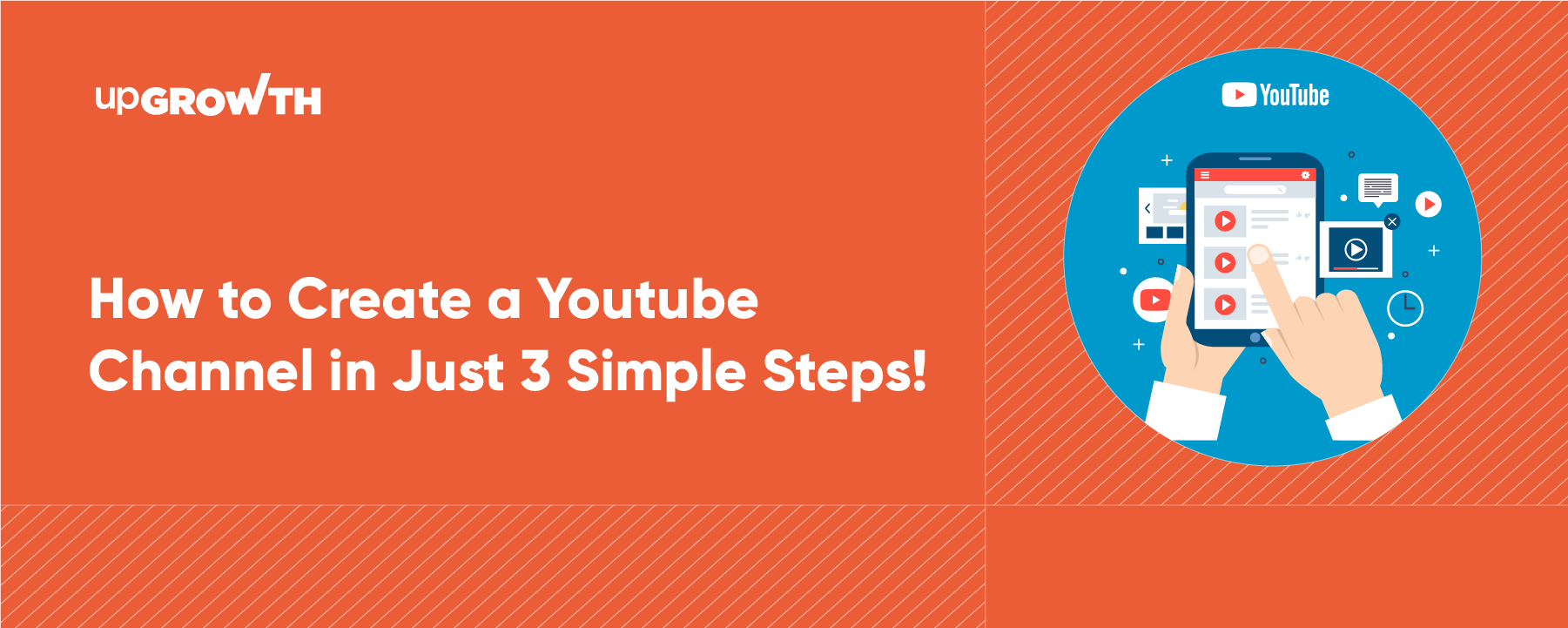 YouTube has revolutionized the entertainment industry, and it is a platform for people of all ages to share their creativity. A career by creating your own YouTube channel can be financially rewarding as well as creatively fulfilling.
The number of channels on YouTube has already increased exponentially. Google-owned YouTube saw a 20% surge as Indians started using the platform like never before during the lockdown in 2020 due to the Covid-19 pandemic.
Learn "How to Make Money with YouTube Videos"
Have you been thinking about creating your own YouTube channel? This article will guide you to the whole process of how to do so..
Let's dive in and find out all of the steps involved in creating one!
How to Create a YouTube Channel
To make a successful YouTube channel, you should first start creating an account. Here's the step-by-step guide for doing so:-
1. Create a Google Gmail Account
You'll need a Google gmail account for creating your own YouTube channel. To sign up for an account go to youtube.com then click "Sign In" in the upper right-hand corner of your screen. From there, you'll be taken to a Google sign-in page.
If you have a Google gmail account, click "Sign In" and enter your email address. If not, create an account with the prompts to follow to register..

2. Create a new Youtube Channel
Once you're done with signing in or creating your Google account, it's time to create a channel. Click the small user icon in the upper right-hand corner and then create a new channel by clicking "Create a Channel."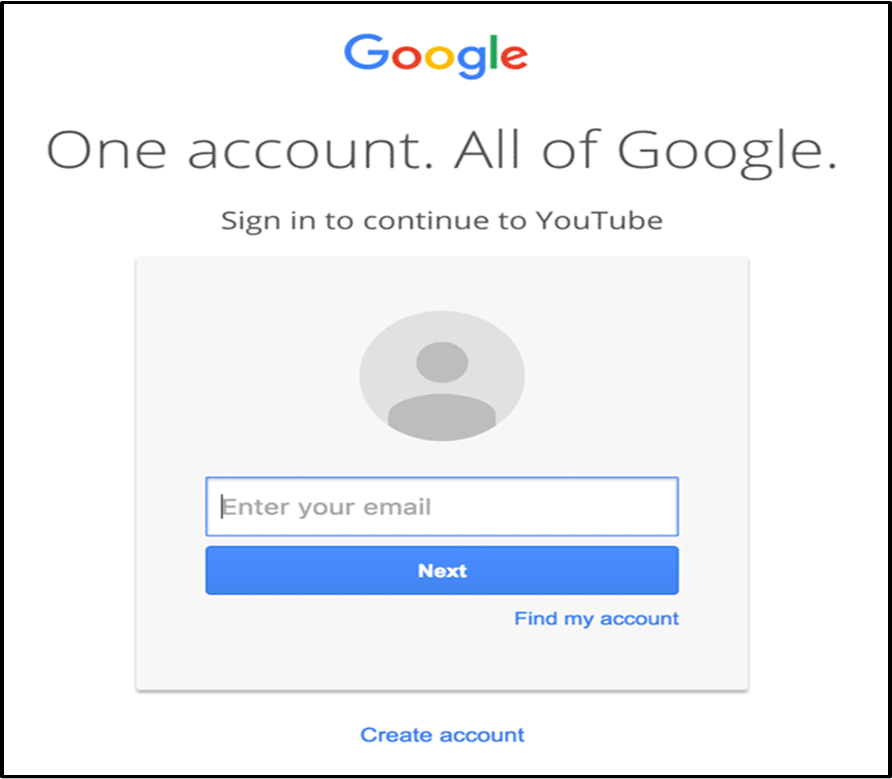 3. Customize your Channel
After clicking on the "Create Channel" button, you can choose to create a personal channel or one for your company. If this is for your business and you want it branded as such in order to give off an authentic feel of professionalism, go with the custom name option instead!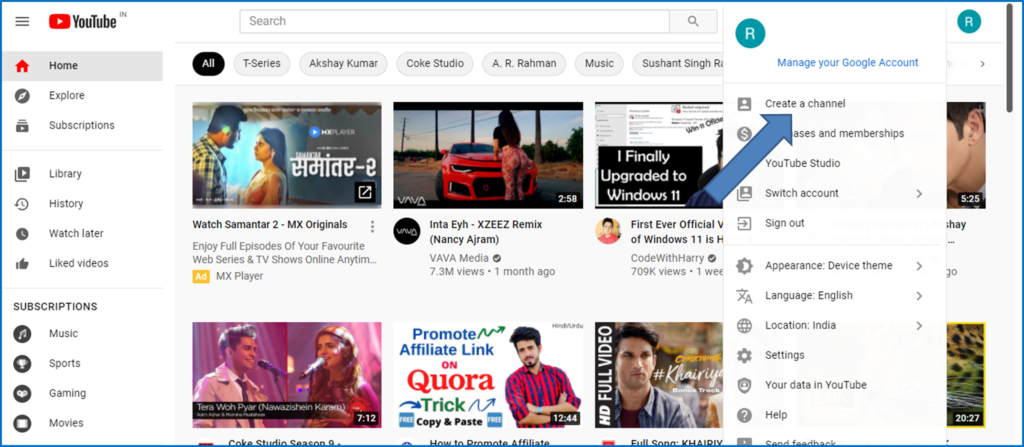 Name your channel according to your preference.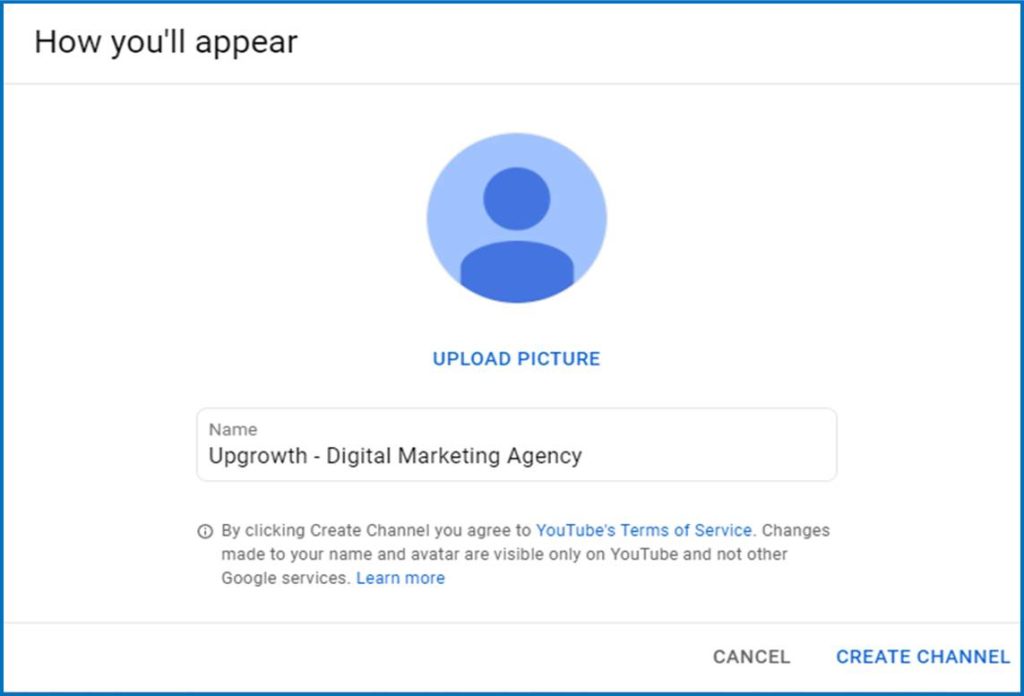 After completing this step, you'll have the opportunity to further customize your channel by uploading a profile picture, adding links for people to follow you on social media sites like Instagram and Twitter. You can also write a description of the type of content that will appear in your videos.
It's time to get creative now as you have created your own YouTube channel!
How to Create YouTube Channel (Youtube Profile Cover Image)
Art YouTube has a new feature, channel art. This is the equivalent of Facebook's cover photo. In order to make your YouTube channel stand out, it is important that you customize the banner image of your page.
This will allow viewers to see a better representation of who you are and what message you're trying to convey about yourself or your brand with them.
Your YouTube channel art is the first thing people see and sets your channel apart from others. It needs to be high quality, informative, and eye-catching for viewers to click on it!
Now let's understand how to build the perfect channel art so no one will be able to miss out on some new awesome content from YOU!
Perfect Sizes for YouTube Channel Art
You can make the best use of your channel art by uploading a single high-resolution image that will work on any device. YouTube recommends an optimal size of 2560 x 1440 pixels for this purpose.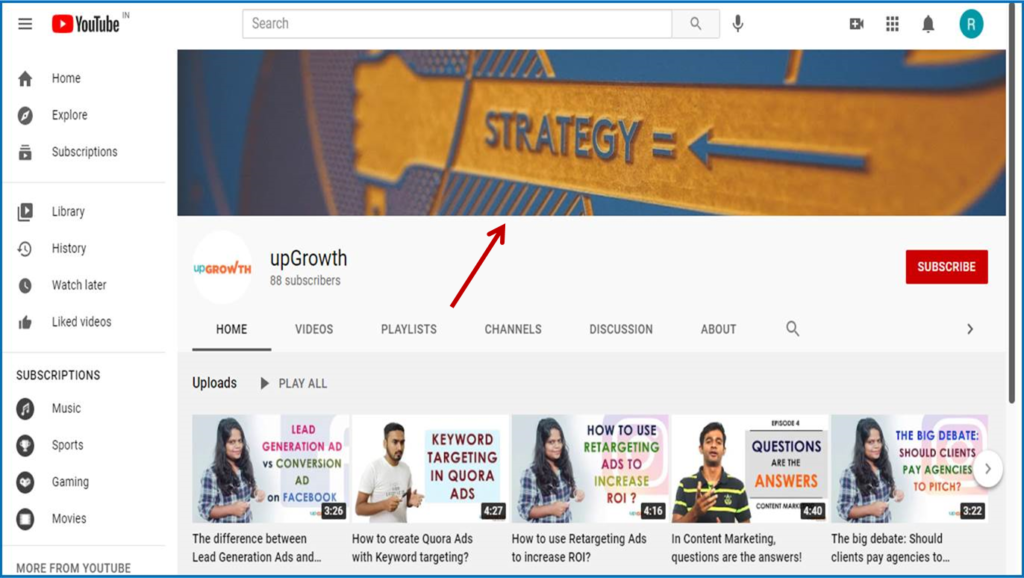 Minimum width of the channel art should be 2048 X 1152 px so that the text and logos are not getting cut off when displayed on different devices, this is the 'safe area'.
· Maximum width of the channel art should be 2560 X 423 px so that the 'safe area' is always visible when displayed on different devices.
· The size of your file should be 6MB or smaller for easy upload.
2. Tools for Creating YouTube Channel Art
You can easily create your own channel art from scratch using these tools that have ready-to-go YouTube templates you can customize to suit any need and style in minutes.
· Canva
· Adobe Spark
· Fotor
· Photovisi
· Figma
· Adobe Photoshop
· Banners Nack
· Picmonkey
· BeFunky
Tips for YouTube channel art
Few tips for creating a perfect channel art:-
1. The Text and Logos Should be Within the 'Safe Area'
The best way to make sure your YouTube channel art is displayed properly on all devices is by making it easy for the algorithm. The text and logo safe area is the 1546 x 423-pixel space at the center of this template, which will be displayed on YouTube when your channel is viewed.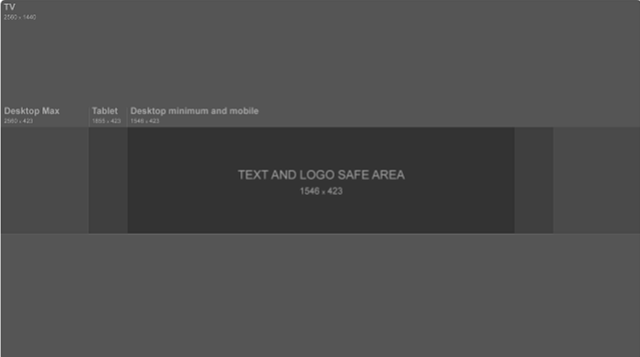 Be careful to ensure any important information such as branding, text, taglines or key images are within the safe space so they're always displayed prominently.
2. Add Your Links to Your Channel
YouTube provides you with the option to add links to a website, blog, and social media links in your channel. These links are displayed in the bottom right corner, overlaid on top of your channel art.

When you create your YouTube channel, it's important to think about the space these links take up and make sure there is enough room for them. Otherwise, they will overlay on top of logos or other important designs in a distracting way.
How to Add Art to Your YouTube Channel
One of the first things many people notice when they set up their YouTube channel is the art space. To add custom artwork to your account and make any other personalizations, click on Customize Channel in the top right corner.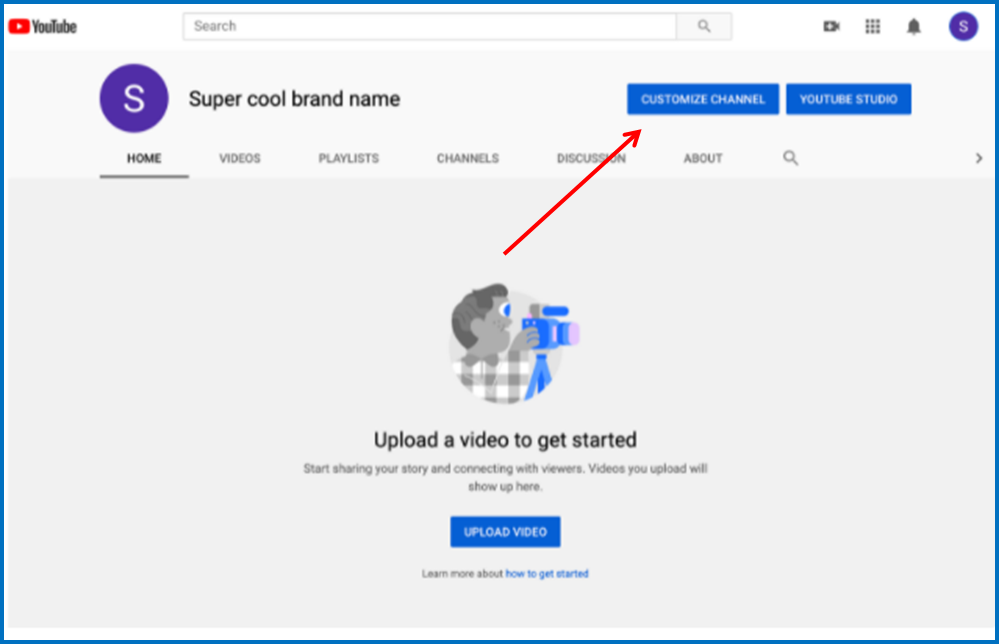 Once you've clicked this link, you will be taken to a new screen where all aspects of your profile can be accessed for customization with ease. There you'll see a blue button 'Add Channel Art' in the center of the screen.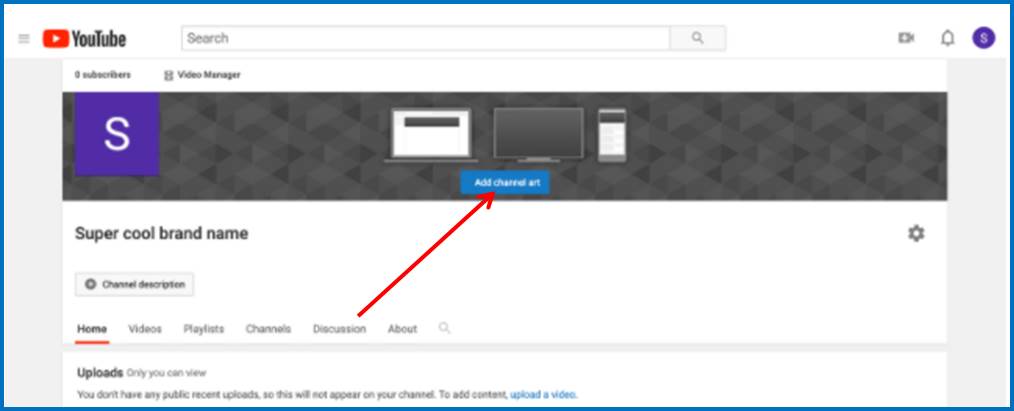 After this, you'll see a popup window that gives you the option to upload your own custom channel art or choose from one of YouTube's templates. You may also choose to upload one of your photos from Google.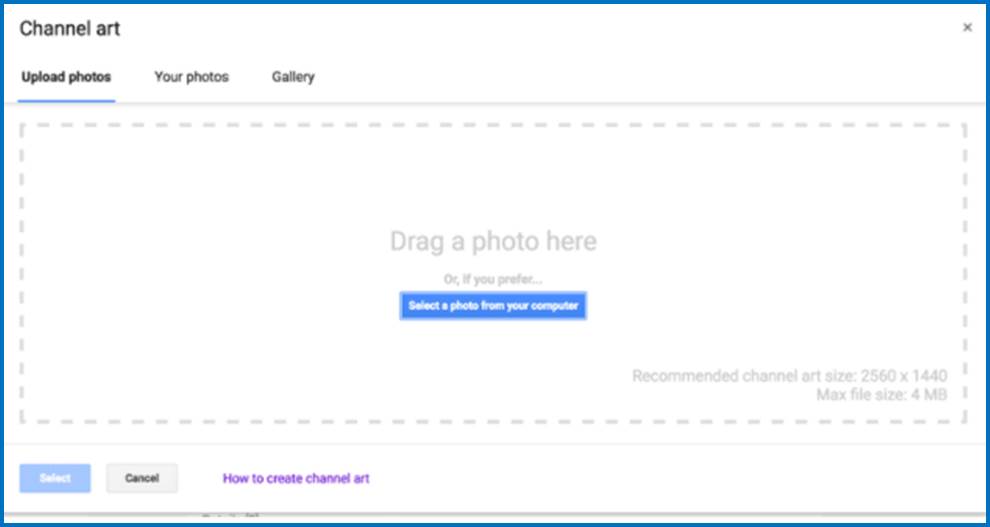 Adjusting the Crop
When you upload a channel art, YouTube will show you how it looks on TV, desktop and mobile. You can adjust cropping if necessary to make sure the image is aligned correctly. The cropping tool can be accessed by clicking on "Adjust the crop."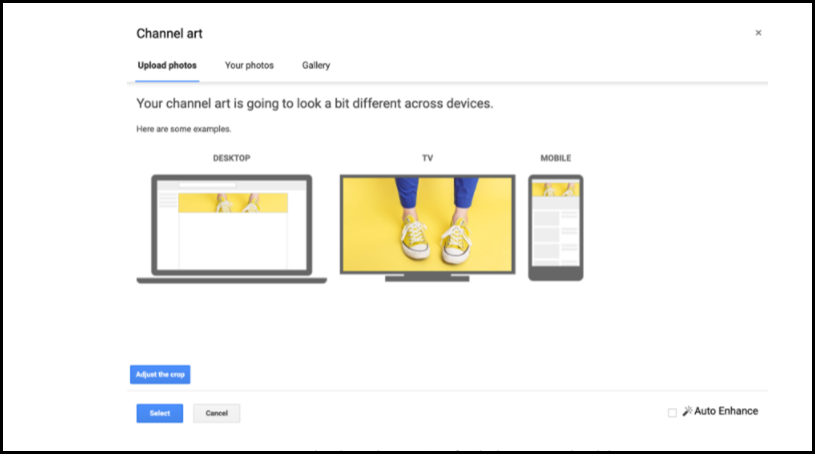 Be sure to check everything before you upload your masterpiece. This useful crop screen will show how it looks on various platforms such as mobile, desktop and TVs and is very easy to use! Click "Select" once you are happy with the way your cover art looks and the channel art will be added to your channel and saved.
Changing Your Current Channel Art
You're not stuck with your original channel artwork. With the click of an icon, you can change your channel art for a fresh new look.
If you already have some channel art in place but would like to update it or make changes, head over to your Channel Homepage. Move the mouse cursor on top of the cover art for a second and a little 'Edit' button will appear in the right-hand corner. After clicking on the icon, you can easily update your channel art or make changes to the current channel art.

How to Add Your Channel Icon (profile picture)
Along with the channel's name, you can also upload a profile photo. Your channel icon is one of the most important features on YouTube.
It's what appears next to your videos and in other places, so it should be eye-catching from all angles! Your channel icon is the face of your YouTube account and should be recognizable at a glance.
Opt for something that will look good as small resolutions, like logos or something that defines you or your content.
Your channel icon should be:- Size: 800 x 800
pixels Format: JPG, GIF, BMP or PNG file (no animated GIFs)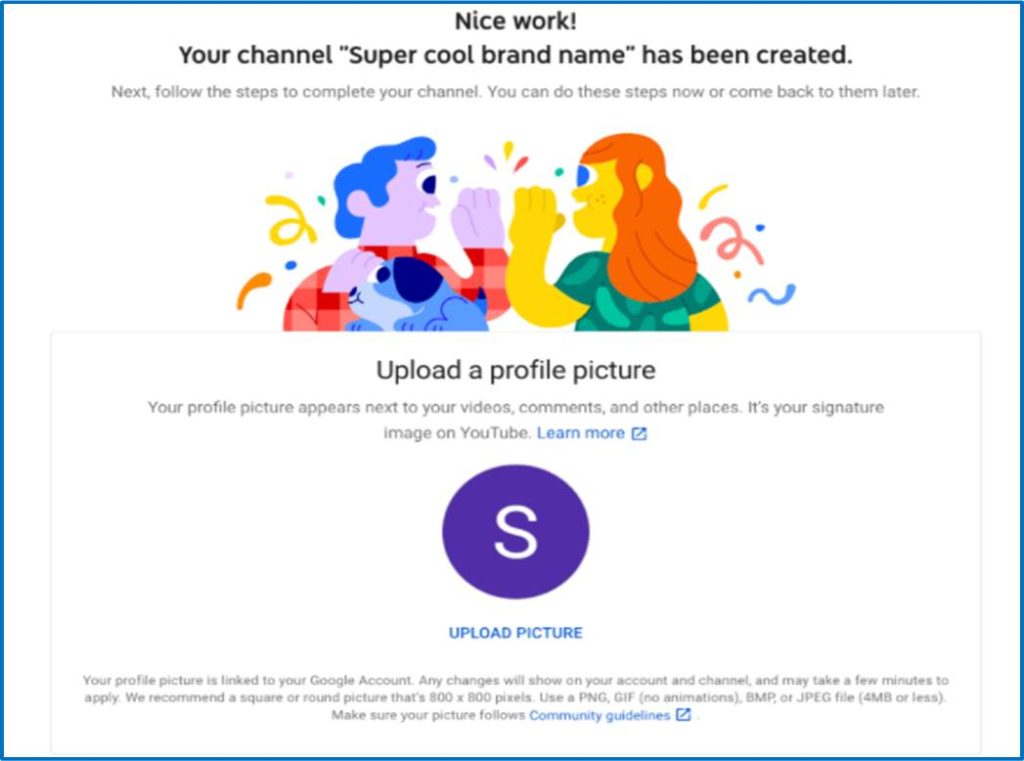 4 Ways to Enhance Your Channel
1. Optimize Your Description
YouTube gives you the opportunity to introduce your channel and what it's all about. The description can be as long or short, creative or reserved-it's all yours within the characters limit of 1000.
A good tactic for writing your YouTube channel description is to include some relevant keywords and CTAs within the opening lines of your description. This will help make sure that you're able to be found by users on YouTube, as well as improve how many people are clicking through from search results or suggested channels categories.
The first 100-150 characters are worth their weight in gold, so be sure to write compelling, creative and engaging content that will keep a reader's attention. The rest of the description may be cut off, depending on where it appears.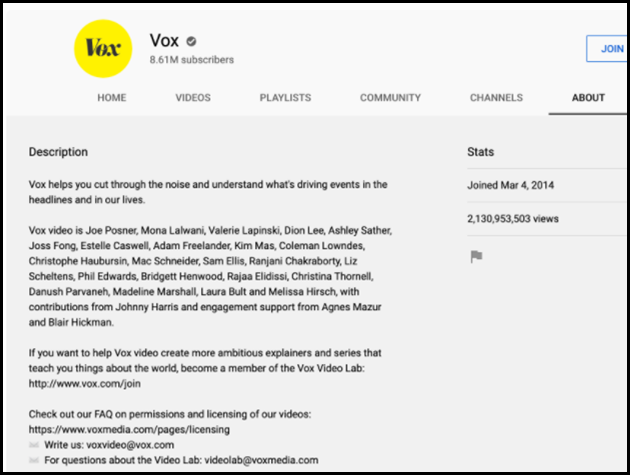 In four super-quick steps, you can add these links to your website.
1. First click on "Customize Channel" in the upper right corner of your homepage.
2. Next, click the gear icon on top of your cover art in the upper-right corner.
3. A new Channel Settings lightbox will appear before you, and it contains a toggle button labeled "Customize the layout of your channel".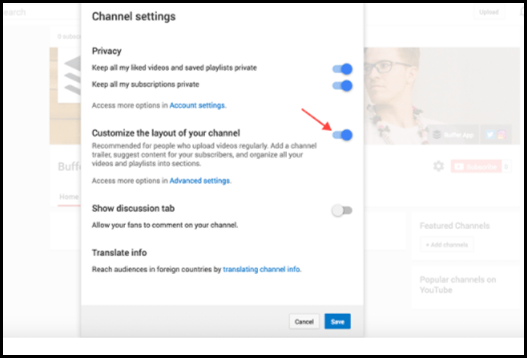 4. Now that you have enabled customizations on your channel, pop back to the homepage and click "Edit Links" under settings. From there you will be able to add links in a new window with up to five of them displayed over cover art automatically.
2. Add Links to Your Channel
Channel links are a great way to let your viewers know about any other channels you're associated with. You can have up to five icons, each one linking back to another account that might be worth checking out. The first link will appear enlarged on the channel banner and all others will show as an icon in the same space.

In four super-quick steps, you can add these links to your website.
3. Add a Channel Trailer
A channel trailer is a great way to give people an idea of the type of content your channels covers and why they should subscribe. A well-crafted, short clip can be enough for new visitors to make up their minds about subscribing or not.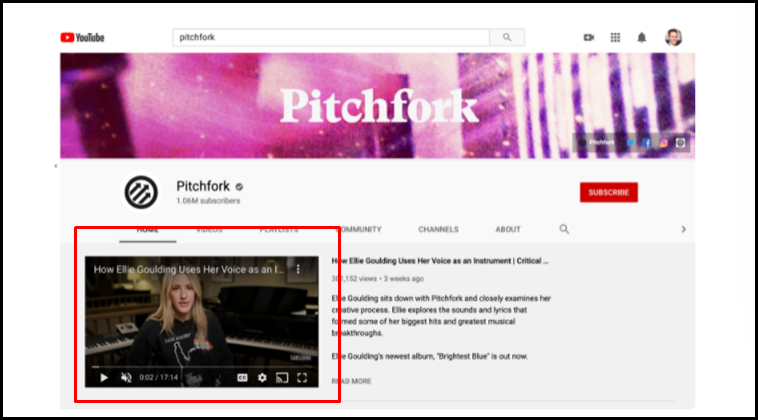 When you're done with your video, it might be worth adding a short and snappy description to make sure that people who aren't subscribers know what they'll get if they do.
4. Add Your Contact Details (email address)
YouTube is a powerful platform for creators and businesses. If you're using YouTube, it's great to have your contact details on hand in case anyone wants to reach out about your work. You can list your contacts right on the channel profile section of each account by adding the contact details.

If you want to share your email address with others, you can do so on the "About" section of your YouTube channel. Just go to the home page and click About from navigation then scroll down until Details are shown. Here you'll see the option to share your email address on your YouTube channel.
Thanks for reading.
If you create a YouTube channel of your own or already have one up and running, It's been great fun to dive into how to create a YouTube channel and I hope you picked up one or two tips from this post. I'd love to hear from you and learn from your experience in the comments below.
FAQ
1. Is it free to create a channel on YouTube?
The things need to launch a YouTube channel. One of its most prominent features is that YouTube is free to use. It's just as simple to sign up for a YouTube account as it is to do the same for Twitter, Facebook, Instagram, or any other social networking website.
2. How can I create a YouTube channel and get paid?
Check out these seven methods for monetizing your channel and creative output if you're wondering how to make money on YouTube.
a. Sign up for the YouTube Partner Program to generate money on YouTube.
Step 1: Create a YouTube channel
Step 2: Increase your channel's popularity to the point where it satisfies the criteria for the YouTube Partner Program
Step 3: Create an AdSense account in step three.
Step 4: Explore your new monetization features in step four.
Step 5: Present for continuous evaluations
b. Sell your merchandise.
Step 1: Create your product in your mind.
Step 2: Develop or source your product
Step 3: Create your store and landing page in
Step 4: Make your YouTube Partner store operational.
Step 5: Use your videos to market your goods.
c. Find a brand to work with to create sponsored content. And, Be truthful about your sponsored advertisement.
d. Become a partner affiliate.
e. Request cash from your supporters.
Step 1: Host live chats where users can use Super Chat.
Step 2: persuade your followers to subscribe to your channel.
Step 3: Encourage your followers to sign up for YouTube Premium.
f. Use crowdsourcing
Step 1: create a crowdfunding account.
Step 2: In your videos, promote your campaign.
Step 3: Look outside of YouTube
g. Give the media a license for your content
Step 1: Ensure that you're About page's contact information is current.
Step 2: Register with a marketplace for video rights.
3. How much money do you get from 1000 views on YouTube?
Some advertising revenue from short- and long-form videos can go to YouTubers. Their RPM rate is a measurement of the… Both short- and long-form YouTube videos can generate income from advertising. Long-form video creators claimed they received between $1.61 and $29.30 for every 1,000 views.
4. How do you start beginner Youtubing?
To assist you in getting started, here are our top 10 suggestions for beginners on how to launch a YouTube channel:
a. Recognize the goal of your channel
b. Establish your YouTube channel.
c. Confirm your account.
d. Create a banner.
e. Recognize your market segment.
f. begin recording
g. Remember SEO
h. Learn about YouTube analytics
i. Don't fret excessively about your camera
10. Be cautious with audio
5. How much does YouTube pay?
What is the pay rate for YouTube in India? For every 1,000 views on YouTube, the typical Indian user makes roughly Rs. 1000. The cost per 1,000 views is approximately $14.
About the Author
Chandala Takalkar is a young content marketer and creative with experience in content, copy, corporate communications, and design. A digital native, she has the ability to craft content and copy that suits the medium and connects. Prior to Team upGrowth, she worked as an English trainer. Her experience includes all forms of copy and content writing, from Social Media communication to email marketing.