The Google Digital Guru Green Belt 2020 Certification from Google
Published: August 1, 2020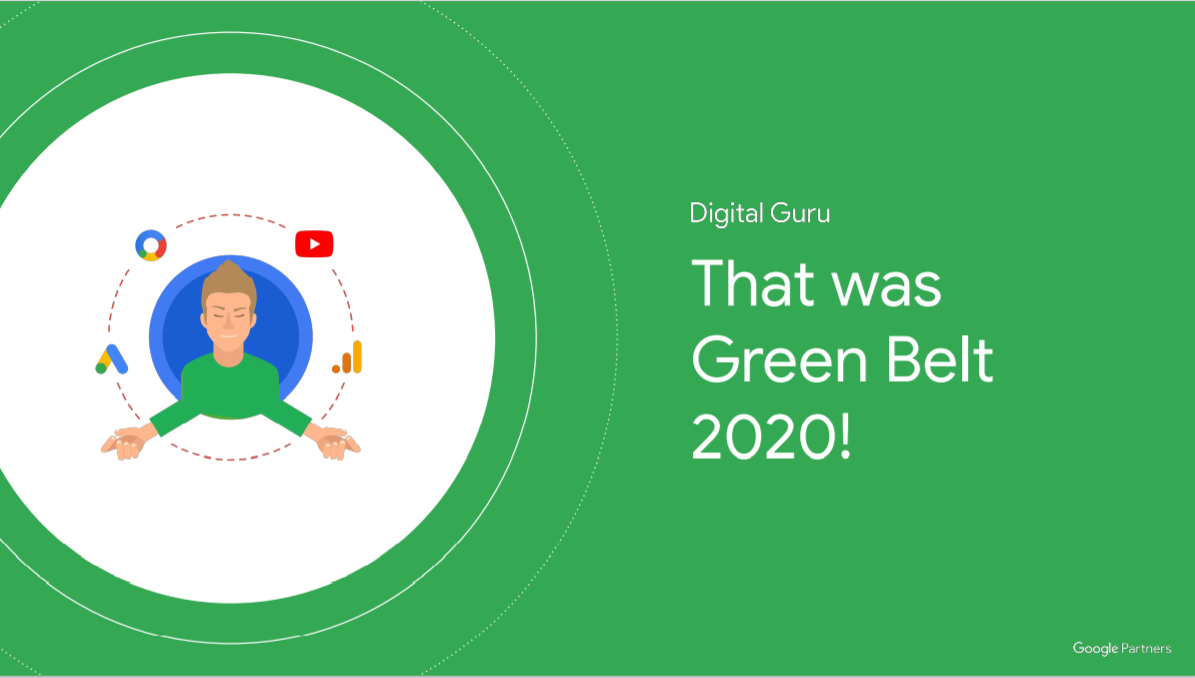 upGrowth is a growth hacking-marketing agency that enables both start-ups & established businesses to achieve rapid and sustainable growth.
We use data to understand what clicks with customers to ensure a continuous flow of prospects by marketing on the right channels. Our team is dedicated to helping businesses scale swiftly and disrupt markets through data-driven marketing solutions and creative campaigns that drive customer acquisition and engagement.
At upGrowth, we work with clients from a number of different verticals and sectors, from FMCG to SaaS. And, over the last two years, the upGrowth team has managed Google Ads accounts for dozens of companies, including accounts from the BFSI, healthcare, education, NPO & e-commerce sectors.
As a platform, Google Ads tends to be a very mature & customer-oriented advertising tool. What gives Google Ads an upper hand over other advertising platforms is its advanced targeting features like custom-intent audience, household income etc. In addition, powerful machine learning associated with Google Ads offers new dimensions to advertisers.
Our Journey
2018: Google Partner
upGrowth earned the Google Partner Badge in 2018. Google Partners is a marketing program for third-party advertising agencies that manage Google Ads accounts for other businesses.
By meeting the requirements set by Google, advertising agencies can earn the Google Partner or Google Premium Partner Badge.
The badge implies that certain employees at upGrowth have demonstrated a level of Google Ads skill and expertise by passing assessments and earning certifications from Google Skillshop. The badge also shows that upGrowth has met Google Ads spend requirements and delivered clients effective growth in revenue.
2019: Google Elevator
In 2019, we had the opportunity to join the "Google Elevator Partner" program. Google Elevator is a digital advertising agency program that works with select digital agencies that demonstrate high performance for their clients and show promise for rapid growth.
2020: Google Green Belt Certification
This year, members of the upGrowth team, along with other Google Ads experts, earned the Google Green Belt Certification. Google Green Belt Certification program is an exclusive program, meant only for the most valuable agency partners – there are hardly 150+ Google Green Belt holders in India.
Due to the COVID-19 pandemic, Google conducted this as a virtual event. This was a special batch and the first online batch since the commencement of Google Green Belt Certification Program.
"Digital Marketing Guru Verified By Google." What Is A Google Digital Guru?
The Google Ads official team trains you to be a full-time digital marketer and enables new career possibilities for industry professionals.

The entire training program, powered by Google, was conducted online on 23rd July 2020.

The purpose of the program is to empower the most dedicated and talented individuals in digital marketing to become experts in Google Ads tools.

It was an opportunity for selected members from agencies, brands and other different corners of the country (India) to advance their Google performance advertising expertise, which is then used as a benchmark for their position in the industry. The program covers business overview and in-depth product implementation of the 5 As of Performance Excellence including Ad formats, Audiences, Always on, Automation, and Attribution.
What Is Google Green Belt Certification?
The Green Belt track focuses on Google Ads practitioners and search specialists to help agencies create, optimize, measure and report search campaigns for their clients.
The Google Green Belt Certification is a first step towards achieving a bigger milestone: the Digital Guru badge.
The program is divided into 3 levels:
Green (Foundation),
Blue (Advanced),
Black Belt (Pitch Stimulation),
each of which is a prerequisite to the next. At the end of this training program, the individual is labeled as a 'Digital Guru'.
The Learning Path

Image – Google Green Belt

The selected candidates went through the following steps during their journey to grab the Green Belt Certification.
Intro Quiz 2020
Every candidate has to pass this pre-qualifying quiz-cum-exam to participate in the Google Green Belt Certification training.
There were a total of 35 questions out of which 17 had to be answered correctly. Here are some of the questions that were part of the quiz:
Online Session
Business Excellence Track
Business overview and in-depth product implementation of the 5 Aces of Performance Excellence. This track focused on ads practitioners and search specialists to help them create, optimize, measure and report search/display/YouTube campaigns for their clients.

Product Excellence Track
Product overview and translating the 5 Aces of Performance Excellence to business objectives. This track focused on planners to help them plan for search, display, YouTube campaigns as per different business objectives of their clients.
Let's observe the different dimensions Google's team covered during the entire session.
fig: Dynamic Search Ads
fig: Display audience
fig: Video ad formats
fig: Bidding types (Video)
fig: Youtube best practice
Workshop (Group Activity)
In between sessions, there were 2 case studies. Here, participants were split into groups and each group had a different case study. The objective of this workshop was to enhance the "working with the team" attitude of the candidates.
We were asked to go through the study as a team; discuss the questions given, reason it and provide a rationale behind that answer.
Take a look at the case study and questions given below.
Lead Generation based case study
Brand Awareness based case study
D. Final Exam
Well, participants had to prove their worth! To earn the Green Belt, we had to clear the final exam.
It consisted of 17 questions out of which 12 correct answers were required to get 'Green Belt' Certified'.
What next?
The journey doesn't end here – it's actually only just begun!
Google Green Belt Certification will add value to your profile. If you want to level up your google ads knowledge, you can just take the preliminary quiz to qualify for the program.
Google Green Belt certified candidates are now eligible for 'Google Blue Belt Certification. This is an advanced certification training powered by Google. Individuals passing Google Blue Belt Certification advance to a final training program – Google Black Belt Certification.
FAQ
1. How can I learn digital skills?
You are not required to be an authority in your area. Discover how the wealth of knowledge available on the internet today can help you rapidly become an expert in anything you desire!
Do you want to acquire digital skills but need help determining where to begin? Here are some pointers for quickly and easily acquiring digital skills.
Determine the digital skills you must master.
Research the best learning tools for those skills.
Look for free online resources.
Use online tools like blogs, podcasts, and video tutorials to supplement your learning.
Create a study plan and stick to it.
Practice, practice, practice.
Get feedback to help you improve.
Track your progress.
Find a mentor or group of people who are already experts in the skill you're trying to learn.
2. Does a Google certificate have value?
The advantages of Google job certificates for students are numerous and unquestionably time- and effort-efficient. To begin with, Google practitioners who are authorities in their areas prepare the certificates. Everything you will learn in the courses will be helpful, hands-on guidance that you can apply to your work.
3. How can I learn Google digital marketing for free?
One of the most sought-after chances to seize for everyone, regardless of age restrictions, is Google Free Digital Marketing Course 2023. You are among the most fortunate people given a remarkable chance by the well-known brand Google. You can apply for this excellent opportunity without regard to your country of origin, race, or religion. You have unlimited access to the digital marketing forum and various video tutorials as part of this free online education. After finishing the course's 26 mandatory modules, you can obtain the recognized diploma.
You can begin the free online digital marketing course from any location globally. The Open University and Interactive Advertising Bureau Europe are the two major sites that will assist you in mastering the fundamentals of digital marketing. It is important to note that Google trainers will teach all classes. The modules would include a variety of valuable exercises with real-world examples to assist you in putting your information into practice. In other words, by enhancing your profile, this global marketing chance will assist you in advancing your career.
4. Is Google's digital marketing certification worth it?
It is undoubtedly worthwhile to earn a Google Digital Marketing Certification. This is an excellent course if you want to get started in digital marketing. It is free, provided by Google, and recognized by the Open University and other institutions.
We know that looking for and evaluating the best online course to enroll in can be overwhelming and psychologically taxing. Simply put, many choices are available in the digital world. However, taking these online classes is the most effective way to increase your digital marketing knowledge and proficiency.
For you to determine whether the Google Digital Marketing Certification is a good match for you, we are delving into it. You'll discover all there is to know about the Google Marketing certification in this evaluation.
About the Author
Amol has helped catalyse business growth with his strategic & data-driven methodologies. With a decade of experience in the field of marketing, he has donned multiple hats, from channel optimization, data analytics and creative brand positioning to growth engineering and sales.