7 Hygiene Checks before you Increase your Google Ads Spend to 8 Figure Budgets or More
Published: February 1, 2019

Digital marketers are of the opinion that Google Ads or Ads is one of the most complicated
advertising channels within the domain of digital marketing.
Multiple tools and reports together determine how and where ad budgets should be allocated. And, this is not something to be taken lightly.
When real money and your organisation's bottom line is at stake, even the tiniest of miscalculations
may end up having impacted the campaign inadvertently, possibly bankrupting your marketing
budget entirely.
The proper way to ensure that your funds are optimised in the best manner is to start out with small test budgets before moving on to astronomical six to eight-figure marketing funds. If you get positive results from your test campaigns, then slowly move up your budget ladder, gradually increasing your funds.
Prior to embarking on your big budget journey, as a seasoned digital marketer, you should have
done these 7 hygiene checks.
This ensures that the health of your Ads campaigns is taken care of.These hygiene checks or audits are not just done to find the weak links in the campaigns with big budgets. They also help to fine-tune the campaigns geared towards generation maximum revenue and profit, with optimised budgets in less time.
Therefore, it brings us to the question of how to conduct hygiene checks to maximise your six to
eight-figure marketing budgets.
Does your KPIs match your budgets and goals?
Download 30 Points Google Ads Checklist to maximize your ROI
Hygiene checks are mandatory not just to keep evils away from your account, but also to ensure that the account is running smoothly. Letting your account 'be' is one cardinal sin to be avoided at all costs.
Leaving it untouched post putting in the 8 figure budgets it a direct route to the campaigns becoming wayward. In the long run, the money will bleed unnecessarily.
But that's not all.
Hygiene checks before you commence with the big bucks are also required to make sure that your account has a clean setup and easy to navigate. This primarily works in your favour as you end up spending less time on it every day.
Here is a 7 pointer checklist which you should follow to ensure that your money is used effectively.
Checkpoint 1: Start by Tracking the Conversion Rate
All digital marketers and companies who use Google are unable to track the conversion rate properly. – Approximately 71% accounts don't have their conversion tracking set up correctly.

Tracking a conversion correctly helps the company to learn what they are converting and at what cost. In order to track your conversion rate login to your Ads dashboard and locate the "conversion" section.
You can then set up your conversion tracking script based on whether you wish track calls from your ads, track mobile application from your ads or track sales generated from your ad posted on your website.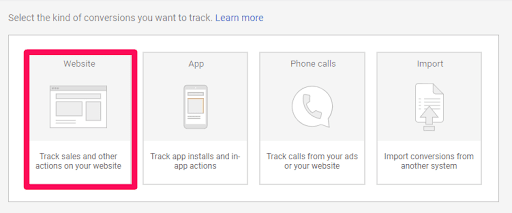 In case you are unable to install the tag yourself you can use the help of Google Tag Manager which can help you by automating the process.
Placing the Tag
Placement of the tag plays a very important role in giving you the correct data regarding the conversation rates. Google Ads gives you three options to choose from:

If you don't have a webmaster and don't know how to install the tag yourself, you can use the Google Tag Manager which will automate the process for you.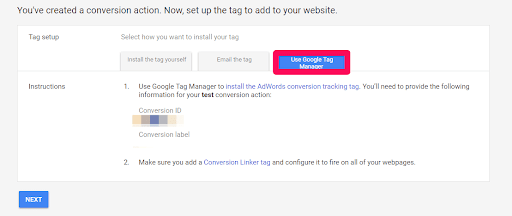 For example, if you are looking to sell a product through your Ads, it is advisable that you place the tag on the last checkout page of the website which is displayed only when a customer has bought a certain product. This will help you to understand that every time someone who has landed on that particular page has indeed converted into a customer.
Link Google Analytics
Linking Google Analytics will help you to analyze all your Ads data, run custom reports and compare your PPC data with organic and referral traffic. In order to link Google Analytics,, you can simply go to the setup tab and click on link accounts.

Then click on the 'Details' Tab on the Google Analytics popup window which will complete the process.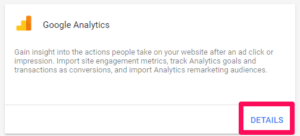 Analyse the current targeting measures for each campaign in relation to campaign goals: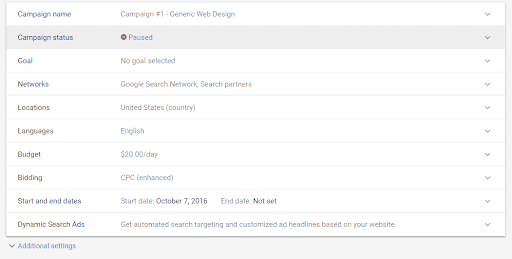 Before running Google Analytics data, keep few a few pointers in mind like:
Locations: Ensure that you are targeting the right location of your target audience
Networks: Make sure you are using the right network like shopping, search or technology
Schedule: Is this campaign designed to target some limited time offer like Christmas or Easter.
Device targeting: Internet nowadays is available of a wide range of devices. Make sure what kind of device you are primarily targeting your Ads.
Checkpoint 2: Check Your Ad Group Structure
Managing a Google Ads account is a time consuming process. If you wish to optimize your account with minimum investment in terms of both money and labour, Google scripts can help you to achieve that target. Automated rules and scripts allow you to control the Ads account at regular intervals.
Using automated rules and scripts can provides the user with the following advantages
The user can adjust his bids depending on historical data
Ads, campaigns and keywords can be paused or enabled automatically
The user can review reports before implementing them
Automated scripts help in generating reports automatically and informing the user about the changes through email.
With the help of automated scripts, the user can identify irrelevant keywords which are not generating optimum return on investment. The scripts also help in identifying top performing keywords whose position can be raised to generate more sales.
Automated rules and APIs can be used make special changes in ad placement during different times of the day, month or year.
Once the process is automated Google analytics report regarding the top performing keywords can be viewed and sent to the owner automatically at a specified time of the day.
A well-structured ad group is always easier to navigate and helps to simplify the account.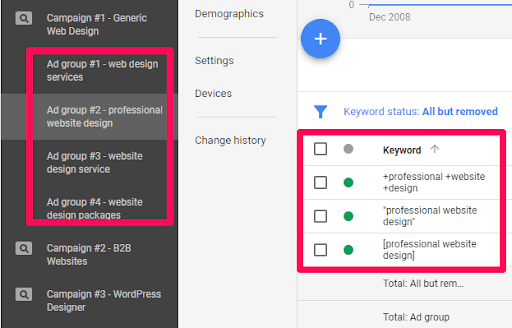 While accessing Ads it is important to keep a note of the following:
How many keywords are used in a group?
How similar are there to each other?
What are the ways of refining and splitting up the keywords into different groups?
This is particularly effective if you going to hit the ground with eight figure ad budgets.
Being creative here is the key. Structure very specific ad groups that organizes the account successfully. If the number of keywords per ad group is more than ten, think about breaking them down to five or less in a single group.
A sure shot way of improving quality score is to simplify your ad groups by breaking each keyword down. The simplified account structure will give you a clear view of what you can expect from each ad group, and how they will perform in the future.
Checkpoint 3: Eliminate Negative Keyword
Studies conducted recently have shown that on an average 76% of the budget originally allocated for Ads is spend on wrong search terms.
A wrong search term can proportionately increase your cost per conversion. In fact, with a 10% increase in wasted ad spends, the cost of conversion goes up by 42% -70%. The best way to reduce this wastage is by eliminating any negative keywords.
If you are moving towards a significantly big budget spend on Ads, the best way to optimise the ad spend is to remove all negative keywords from the ad groups.
So, how can this be done?
One way of eliminating negative search terms is by finding keywords which are not relevant for your target audience for the product. Use the negative keyword tool in your search terms report: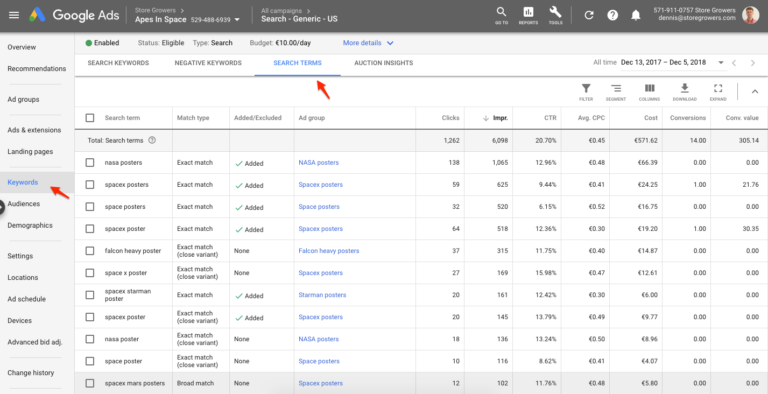 Image: Use the negative keyword tool in your search terms report
Often people use a broad match keyword which never converts into profit.
Another great way of eliminating negative keyword is by implementing click tracking programs on click fraud software. The steps are:
Click fraud software are particularly helpful in identifying internet traffic which often consists of bots which are used by competitors to provide a wrong output.
Click tracking programs or software can help you to track specific device IDS IPS and help you to block internet bots.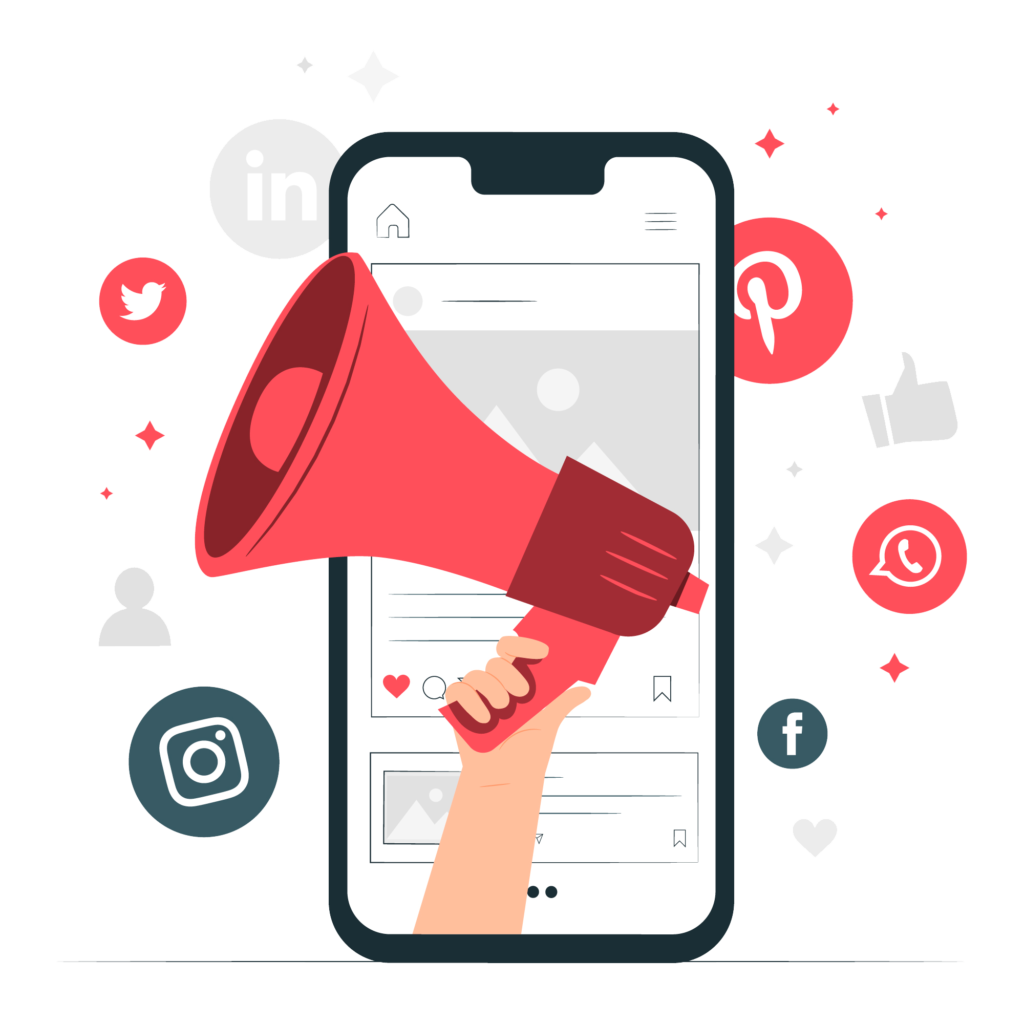 Why?
Because 40% of internet traffic is bots, and unfortunately, that can often be used maliciously by other competitors.
Checkpoint 4: Are your Search Terms Generating New Ideas
Moving away from the conventional road, you will often find that there is often a huge range of keywords which are often left unused.
Search terms are proven terms that means that you have been successful in converting people. Therefore, there's no need to do any guesswork.
You can access your search terms report under the "Keywords" section of your dashboard:
This is where you discover the potential of going through the Ads report and what a goldmine of information it contains.
These unconventional Ads can provide you with huge potential profits. You can enjoy a huge increase in click-through ratios and conversations by optimising those keywords to the fullest like the rest of your ad groups.
This will not only help you to reduce cost but also eliminate the need for long hours of keyword research which is otherwise wasted on bidding. You can locate the search terms under the keyword section of your dashboard, filter and sort the data on metrics like conversions, CTR and clicks.
You will likely notice terms that you are already bidding on, but you should also notice ones that you aren't, giving you new campaign ideas on which to capitalize.
Here are certain tools which you should consider to optimize your Google Ads experience: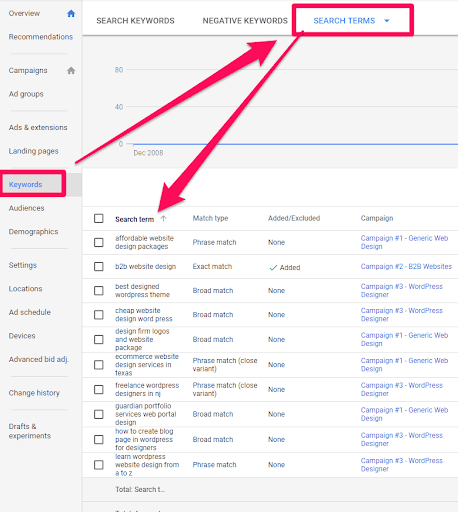 Google Ads Editor
Google Ads Editor gives you freedom from bulk editing tools and allows you to download all your campaigns, so that you can continue working even on an offline mode. This tool gives you the flexibility to search and replace text, do changes or move items across multiple campaigns. You can also track important campaign metrics, like click-through rate, cost, and position and conversion information with the help of Google Ads Editor.
Ads Performance Grader
Ads performance grader is a free tool from Google which helps advertisers to evaluate the performance of their campaigns in comparison to the best PPC practices.
This tool uses the proprietary grading algorithm based on more than 60 different factors, including ad spend data, quality score, ranking, impressions and other variables. The performance grader report includes a detailed analysis of quality score, long tail keyword optimization, account activity, the CTR rate, landing page optimization, mobile advertising and ad text optimization.
Google Keyword Planner
Google keyword planner is another free tool from Google, which allows advertisers to search for keywords and see how they perform. You can use this tool to find additional keywords that are relevant to your product or service.
keyword planner uses data like search volume to give an idea of how a list of keywords might perform for a given bid and budget.
Google Trends
This is a tool which shows advertisers the frequency of a search term entered into Google's search engine relative to the site's total search volume. This tool can be used to find keywords which are triggered by certain events.
This tool provides keyword-related data including search volume index and geographical information about search engine users. Google Trends can also show related search terms and how search interest often various in different regions.
How are your Google Ads Campaign going?
Download 30 Points Google Ads Checklist to Run Highly Profitable CampaignsDOWNLAOD NOW
Checkpoint 5: Check the number of Ads present in each Ad group
Copywriting for your ads is the next hygiene checkpoint, especially if you have multiple campaigns running with a big budget. The process can be time consuming. Nevertheless, the content of the ads will determine the success or failure of your campaign on Ads.
Instead of writing one ad per group it is a better practice to write at least three per ad group. Make sure that your ads are focused on the benefits of your product. Use keywords that are relevant to the ad with a clear call to action line.
When analysing current ads for your ad groups, write at least three ads per ad group, following a formula that you can quickly scale and repeat for every single ad group: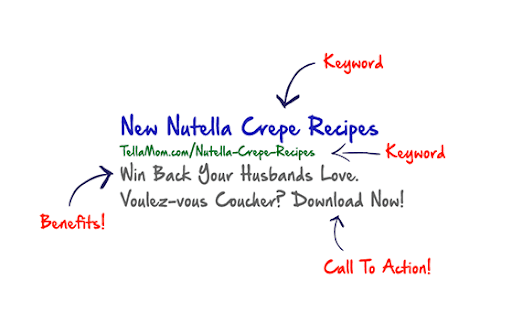 Checkpoint 6: Don't Use Your Home Page as Your Landing Page for Each Campaign
Quality score is an index which helps to estimate the relevance of your ad's, keywords and landing page to the viewers who are seeing your ad. Ultimately, it also determines the success of the campaign.
When you have a high-quality score, you can reduce the cost which in turn can provide you with better ad placement in the Google search page.
A great way to ensure that you have high quality score is to use specific and unique landing pages for every ad group. This is an extremely effective manner to utilise bigger budgets in a more efficient way.
For example, if you are running an ad group on ethnic wears you should direct the ad click to a landing page which deals with all your ethnic wear dresses instead of redirecting to the homepage or some generic fashion stores.
Once you give the customer relevant information as per his expectations you can directly increase your rate of conversion. Apart from that unique landing pages will provide you with access to Ads' new landing page report which can help you to gauge the performance of each page.
Checkpoint 7: Use Appropriate and Relevant Ad Extension
It has been confirmed by Google repeatedly that the correct add extension can improve the click-through rate by at least 10-15%. However, in a bid to increase revenue most people use wrong ad extensions which ultimately results in loss of money.
Look at this example: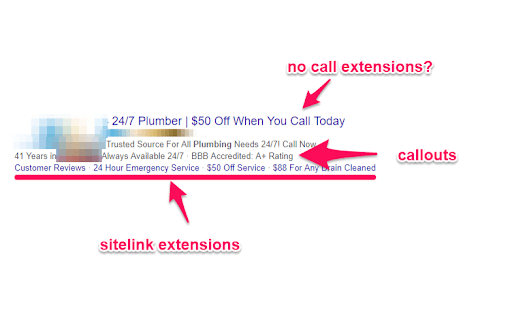 It is important that you always use the relevant extension to achieve your goal. Keep your ad extension limited to one or two. Ads per campaign which will not distract the customer from the primary value of your ad.
If you want phone calls, use call extensions. Using sitelink extensions are the smart way to go if you are after website traffic. Relevancy is the key here.
Wrapping Up
A six to eight-figure potential ad spend on Google Ads can generate some serious return on investment. However, just like any other marketing platform, the results are not guaranteed. A Google ads checklist is what your strategies need in order to devise campaigns that convert better.
Begin the process by setting your daily maximum budget and setting your expectations on returns accordingly. Along with that, have your 7 hygiene checks in place that aims at improving overall campaign performance whilst optimizing the allocated budget.
About the Author
Amol has helped catalyse business growth with his strategic & data-driven methodologies. With a decade of experience in the field of marketing, he has donned multiple hats, from channel optimization, data analytics and creative brand positioning to growth engineering and sales.