7 Harsh Truths we Learn About Responsive Search Ads After Analyzing 5000+ Ad Copies
Published: February 19, 2019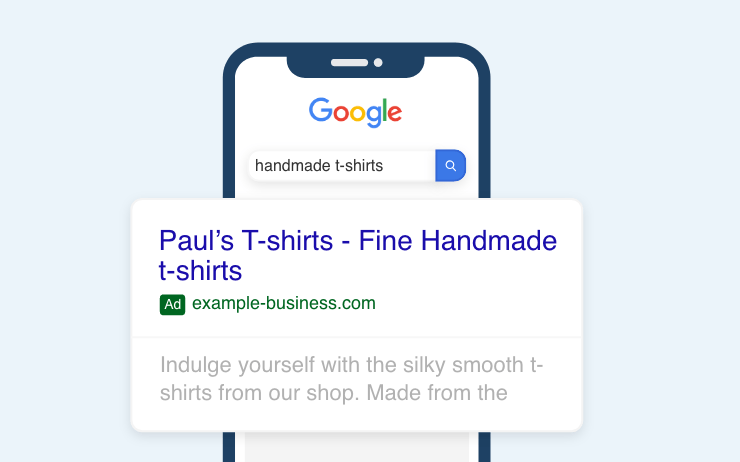 As a part of Google's relentless quest for innovation, 2018 saw the search giant introduce their latest ad unit – responsive search ads. Responsive search ads or RSA removed Standard Text Ads. As with any new release, this has led to part excitement and part panic amongst digital marketers who are scrambling to understand what this means for their efforts.
With the dust marginally settled and after the analysis of over 5000+ ad copies running RSA, there are a few harsh truths about Google's new innovation, that was uncovered.
But, before that, let us understand what exactly is RSA all about.
What Exactly Are Responsive Search Ads?
Responsive Search Ads (RSA) are Google's largest, newest and the most flexible search ad format. Different from the conventional search ads, where you are able to create one static ad text by writing the headlines and descriptions together.
How are your Google Ads Campaign going?
Download 30 Points Google Ads Checklist to Run Highly Profitable Campaigns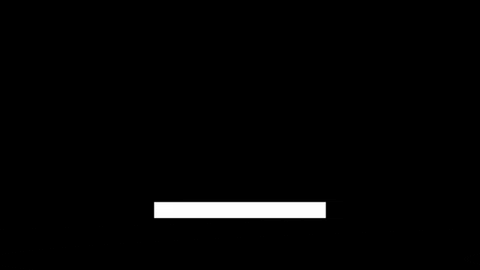 When writing a RSA, you can write about 15 different headlines and 4 different descriptions. Collectively, those descriptions and headlines can be arranged in over 43,000 various permutations. In theory, this means that RSA provides endless ad testing possibilities.
But what happens after that?
Google automatically tests the different combinations to find out which one performs the best. With time, your RSA might serve the best message to the searchers on the basis of their device, the keywords, past browsing behaviour and other such signals.

Image: Responsive search ads
Currently, RSAs are available in English, German, French, Portuguese, Spanish, Swedish, Italian, Russian, Dutch, Polish, Japanese, Danish, Turkish and Norwegian. Other languages are on the way.
How to Create Responsive Search Ads?
Step 1: Go to the ads tab and click on the blue "+" icon. Then, select "responsive search ads".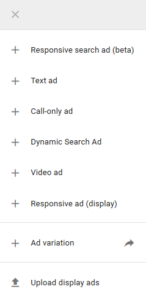 Image: How to create responsive search ads
That's actually the only step. After you have done step 1 and clicked on RSA, you will be automatically guided to the rest of the components needed to create an RSA. The final URL of the ad will request you to put up to fifteen headlines and up to 4 descriptions.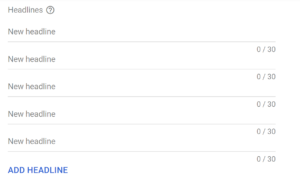 Image: Headlines for responsive search ads
Google will show up to three headlines in a single ad. So, make sure to pin the headlines that you want Google to show by clicking on the "pin" icon right next to the headline.

Image: Pin the headline
You'll have the option of pinning your headlines to positions 1, 2 and 3. Make your choice wisely.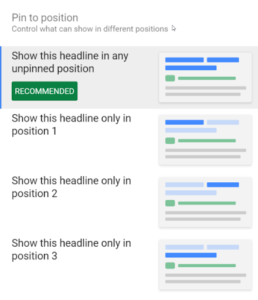 Image: Pinning headlines to position 1, 2 and 3
Just like the headlines, you can also choose to pin the descriptions that you want Google to display as the search giant will only display 2 out of 4.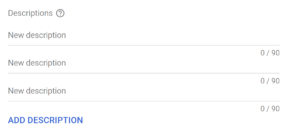 Image: Pin the description
It is crazy simply to create an RSA. But, is everything hunky dory with this new innovation? Unfortunately, that's not the case!
What Are The 7 Harsh Truths About Responsive Search Ads After Analyzing Ad Copies?
Finding these harsh truths required extensive testing and research. Therefore, after analyzing 5000+ responsive search ad copies, here are the observations:
Harsh Truth # 1 – Low impressions:
As you must already be aware that impressions refer to the number of times that an ad appears on Google or the Google network.
But, the problem with responsive search ads is that even if the ads are marked as 'approved' they are neither accruing impressions nor clicks.
Where expanded text ads would fetch about 3,000 impressions in 30 days, responsive ad is hardly getting one impression. Even if we have changed the descriptions and headlines as per the suggestions given by Google, the results still remained the same.
Low impressions mean that the ads are not being shown to the people. However, this is only the beta version and we are hoping that Google will come up with solutions for this problem in due course of time.
Harsh Truth # 2 – Low ad serve:
Our assessment showed that existing responsive search ads performed better than new responsive search ads in an ad group. New RSAs are getting negligible serve share. The new ads are simply not getting enough traction and are barely served, which is making results or learnings insignificant.
The reason that we found for this is that early adopters of RSAs were given access to additional inventory volume, but now that the standard ads have also been updated to match, the text ads are also serving in the same auction. So, this is no longer serving as a benefit to those running new RSAs.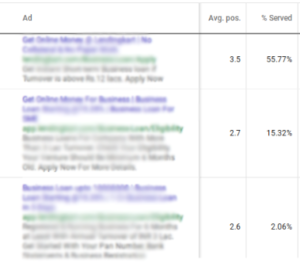 Image: Low ad serve
Harsh Truth # 3 – All the headlines and descriptions are not getting equal chance:
As mentioned above, Google's RSA is giving you the opportunity to enter up to 15 different headlines and up to 4 different descriptions. But they are not showing all of your headlines and descriptions in the ad. They are only showing 3 out of 15 headlines and 2 out of 4 descriptions.
Then, Google will be automatically testing the different combinations to make sure which one works the best. As an advertiser, you will not be able to tell which one of the combinations is actually working.
You will perpetually remain in a state of confusion and uncertainty unless Google rolls out some added features to give advertisers more transparency in the way headlines and descriptions are shown to the searchers.
Harsh Truth # 4 – Ads are not assembled:
To have your ads assembled, you have to work really hard. You cannot provide redundant content as that will restrict the system's capability of assembling combinations. Also, your headlines and descriptions must be unique and distinct.
They must not have a close relation and they should not be stuffed with keywords. You cannot have the same text for every headline.
Your ad will simply stop showing if you fail to be 100% unique.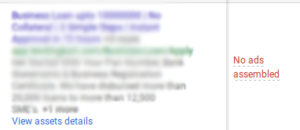 Image: Ads are not assembled
Harsh Truth # 5 – In-depth visibility lacking:
RSA lacks an in depth visibility when it comes to headlines and descriptions. You cannot see a clear winner since Google carries out different tests automatically and puts headlines or descriptions in different positions to analyze their performance.
Also, every headline or description will not show every time and there is no way to know which ones are performing better than the rest.
Google's RSA does not specify any kind of variants that we can use to compare between different copy lines. Also, while Google is making the tests and comparisons on its own, it is not releasing any data by which we can understand exactly what is happening, and which copy is standing out from the rest.
Harsh Truth # 6 – Absence of ad customizers:
Responsive search ads are not supporting the feature of ad customizers. This feature had let advertisers to create backend databases for the text of their ads.
This is a detriment to advertisers who make use of ad customizer for developing complex campaign strategies, such as campaign based disclaimer messages, rotating promotions or product specific copy pulled from product feed data.
Only the keyword ad enhancer is working in an RSA. Other advanced copy functions like, IF and Countdowns functions are not working.
It is not clear if the functionality will come later, but at the moment, you will have to keep your headlines static when creating these ads.
Harsh Truth # 7 – Lack of cohesive storytelling:
It is a common practice among advertisers to link one headline with the other. For example, 1H – Buy XYZ now and 2H – Save X% on 2.
But, in RSAs, each headline stands alone. So, you cannot tell a story through your ads. Each ad has to hold on its own and give our clear messages.
Hopefully, Google will come up with a solution to work around this issue. And if not, copywriters need to adopt a new way of thinking.
Winding up
The majority of digital marketers are of the opinion that RSAs are an upgrade in terms of advertising real estate and aligns perfectly well with Google's drive for automation on its platform.
It will be wise for advertisers to begin experimenting with this format instead of incorporating it with their digital marketing strategy in order to learn the different strategies that will work best when Google assumes more control over how your ad is displayed.
Yes, it does have issues and we hope that they will be solved as Google rolls out new tools and updates, given that presently it is still in the beta version.
About the Author
Chandala Takalkar is a young content marketer and creative with experience in content, copy, corporate communications, and design. A digital native, she has the ability to craft content and copy that suits the medium and connects. Prior to Team upGrowth, she worked as an English trainer. Her experience includes all forms of copy and content writing, from Social Media communication to email marketing.