The A-Z Values for Your Personal and Professional Growth in 2022
Published: December 4, 2021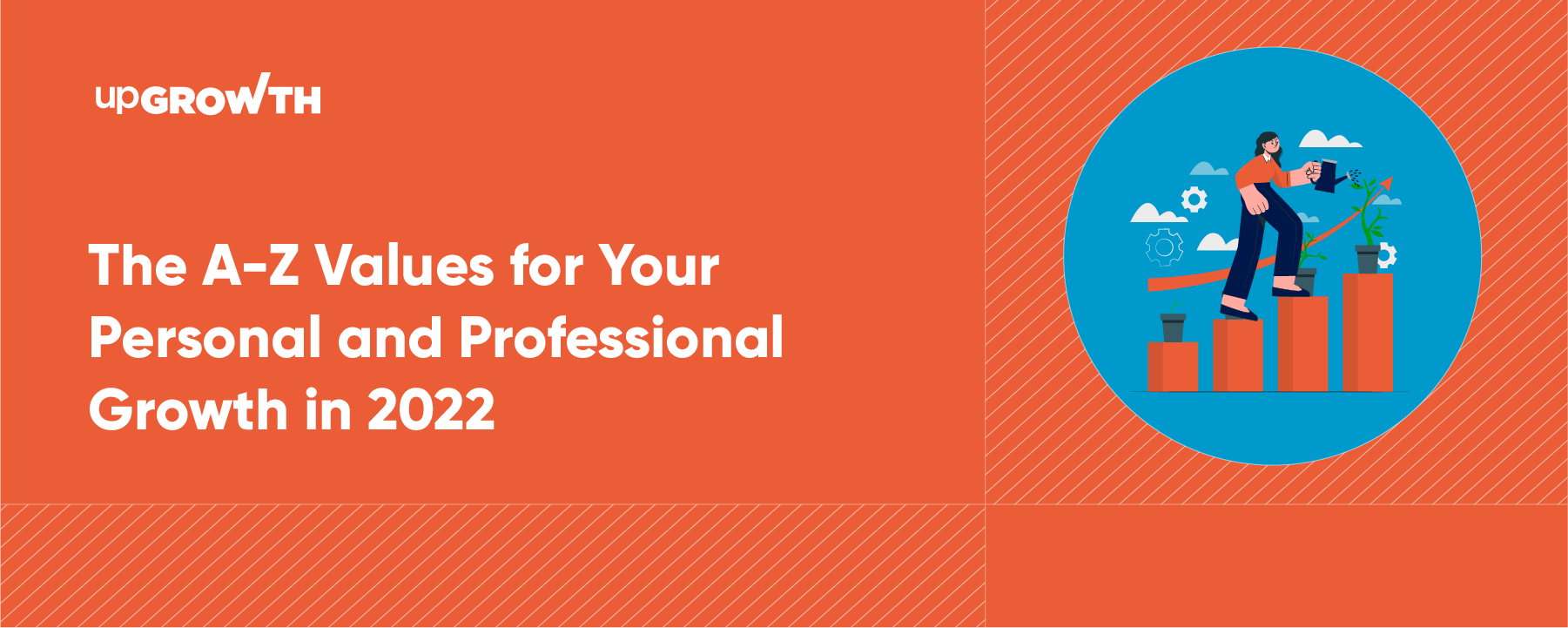 It is that time of the year when we retrospect, reflect and take stock of the year gone by.
We reminisce about the good times, the achievements, the downfalls and of course, the 'if only' moments!
Getting over the 2021 fever (not the literal one), we have to gear up for the year 2022.
A brand new year deserves a brand new you.
No, we aren't talking about the 'new year, new me' cliche, or the classic 'new year resolution' that just won't cross the one-month threshold. Instead of focusing on a single positive attribute, we thought of dedicating the next couple of days to a series of values that you can carry with you for personal and professional growth in 2022.
Just like our business, we too, need to refresh and have a new outlook.
If the past two years have taught us anything, it's that there is no permanence and that change is the only constant.
As business owners or creatives in a gig economy, we've had to pivot and find ways to grow and adjust within a new normal.
As we head into the new year with an equal dose of nervous excitement and enthusiasm, we at upGrowth have created an A-Z guide or checklist that will help you build a "2.0" version of yourself and your venture in 2022.
#ValuesforGrowth — a new series initiated by upGrowth, wherein we will feature values from A-Z that will help you and your business grow and spread a little positivity.
26 days, 26 letters of the alphabet, 26 attributes and values to help you on your growth journey, for business and beyond.
Adopt all, some, many, or just a few…each of these values will help you in some way in your line of work or for your personal development.
Attitude goes a long way in building relationships, be it personal or professional. Positive attitude helps you become strong and sane even in a whirlwind of chaos. Positive attitude strengthens your will to move ahead in life and succeed.
#ValuesforGrowth > Day 2: Letter B – Balance and Bravery
Balance is something you create, not something you discover. The key to success is balancing one's professional and personal lives. Achieving a balance implies you have the freedom to do what matters most and also giving equal significance to other components of life. Every day, strive for that equilibrium. In the comments box, tell us how you strike the perfect balance.
You are defined by your bravery. To be brave, you must be willing to take risks and face your concerns, even if it is difficult or unpleasant!
Taking responsibility for your poor performance and seeking to improve it is a sign of honesty, and it encourages others to do the same! In the comments box, let us know what you're working on.
Confidence, Clarity and Courage are the three C's that will make your life easy and will enhance your personality. With these 3 traits added to your personality, you will be able to overcome your inhibitions and achieve your ambitions, both personally and professionally.
Confidence helps you believe in yourself, clarity contributes to keeping your mind focused, and courage encourages you to try something out of your comfort zone.
Imbibe these values and step ahead in your career and life.
#ValuesforGrowth > Day 4: Letter D – Dedication and Dynamic
Dedication is the first step towards success. This value will help you cross miles on your journey to achieving your goals. Be it your personal life or professional, dedication helps you focus on your dreams.
Dynamic Beat the 'dull' with the dynamic! A dynamic personality adds vigour to your life. Such a personality attracts energy and goes a long way in keeping your spirits high when the going gets tough. Imbibe these values for a better personal and professional growth.
Energy – a strong word that pushes you to explore your fullest potential. You can achieve your goals the ordinary way or by utilizing your energy to the fullest and set a new benchmark. The energy you radiate in your personal life, will also be reflected in your professional life.
#ValuesforGrowth > Day 6: Letter F – Flexibility and Friendly
It is important to be able to bend as per the situation. Flexibility allows you to find a way out of difficult situations and not being stuck at an issue. It is a quality that makes a person adaptable to his surroundings.
A friendly approach makes it easy to handle even the hardest issues. Personal or professional, a friendly demeanor can help you create lasting relationships and create a happy aura around you.
#ValuesforGrowth > Day 7: Letter G – Gratitude and Goal-oriented
It is important to appreciate and be grateful for little things in life. Acknowledging the good things in life helps you gain a positive point of view for your personal and career growth.
Goal-oriented Being goal-oriented gives you the drive, the push and the motivation you need to achieve greater things in life. Hold on to this value for a flourishing life.
#ValuesforGrowth > Day 8: Letter H – Humorous and Humble
Spice up your life with this quality that will make your life cheerful and interesting. Humor acts as the perfect ice-breaker and eases the workplace atmosphere.
Being humble will take you farther than you expect. It gives you the positive spirit to take criticism sportingly and keeps you grounded when you are at your peak.
#ValuesforGrowth > Day 9: Letter I – Influential and Independent
Today, it is important to leave your footprints and make a solid mark. Being influential helps you make a difference in the things that matter. Imbibe this value for a brighter personal and professional future.
There's nothing more empowering than feeling independent. Be independent in your actions and thoughts. It is only with this value that you will be able to embrace your individuality.
Spread the cheer with your Jauntiness! Being Jaunty adds a charm in your life and makes you instantly approachable. A cheerful and funny personality will spruce up your office atmosphere.
Make lives better with kindness. Kindness never fails. People are more likely to follow your example when you exude kindness. A more compassionate workplace will make everyone feel appreciated, which will boost productivity!
ValuesforGrowth > Day 12: Letter L – Leadership
It is the conduct and not status, that defines leadership.
The ability to turn a vision into reality is what leadership is all about. Persuading others to support your ideas and making them a reality through communication makes you a good leader.
ValuesforGrowth > Day 13: Letter M – Motivation
No matter how thick things are, motivation is the value that will keep you going during tough situations. Self-motivation is what you need to perform better in your life.
Nurture your mind with good and strong thoughts. It is only after you nurture your ideas, you will have the strength to act towards them.
ValuesforGrowth > Day 15: Letter O – Obedience
Obedience is the key to success! We need to imbibe the quality of complying with determination. It is the force of achieving our ambition at any cost.
ValuesforGrowth > Day 18: Letter R – Resourceful
Be the guy who has solutions! A resourceful personality will always find a way to make opportunities fit his/her needs.
Focus on upgrading your skills. Your skills will ensure that you climb to the top of the ladder to success. Challenge yourself and make yourself competent by acquiring new skills.
A team makes the task fun, interesting, easy and most importantly, successful. Many small components together make a unit and it is only through the efficient and smooth functioning of this unit that your professional life will have a smooth sail.
ValuesforGrowth > Day 21: Letter U – Understanding
It is important to be perceiving another individual's thoughts, feelings and actions. The quality of being understanding helps prevail a congenial work atmosphere.
ValuesforGrowth > Day 22: Letter V – Versatile
Being versatile adds different shades to your personality. Versatility gives you the zeal to learn new things and adapt to your surroundings. It gives you the flexibility to bend and make it through the problems.
A life without wisdom is a life without purpose. Wisdom is the light in you that guides you on the right path and helps you find your purpose in life.
You need the X-factor to stand out from the crowd. This quality can take you to the path of leadership as it brings out the uniqueness of your personality. The X-Factor will help you make a mark in the professional world.
Unless and until you yearn, you won't be moving ahead in life. Yearn to learn new skills, new hobbies and break the mundane chain of activities. The quality of yearning will help boost your professional stature.
In order to achieve success, one needs to be zealous and dedicated. It is the energy that you need to scale great heights and not be burdened with the new challenges ahead. This quality will help you be happy and cheerful when the going gets tough.
So, that was about it! These were the A-Z guidelines for living a well-groomed, enthusiastic and meaningful life. With these values in tow, you will have an amazing and progressive 2022!
About the Author
Chandala Takalkar is a young content marketer and creative with experience in content, copy, corporate communications, and design. A digital native, she has the ability to craft content and copy that suits the medium and connects. Prior to Team upGrowth, she worked as an English trainer. Her experience includes all forms of copy and content writing, from Social Media communication to email marketing.