Solutions
1. Create social media presence on Facebook, Instagram, Google, Twitter, and LinkedIn
a. Plan an advanced social media calendar to be future ready 
b. Build a content tonality that is easy and appealing for the audience to follow. We decided on sticking to the languages – Hindi, English, Marathi, and Bilingual, and keeping the tonality colloquial for most parts
c. Experiment with different forms of content to determine what appeals the best to the audience, like static images, videos, reels, carousels, lives and stories 
d. Project target numbers for the year in advance as per the objectives (Engagement and Brand Awareness at first and later on Website Visits) and create a plan as per the target numbers 
2. Run paid advertisements on these channels to fulfill urgent objectives like registrations for upcoming webinars, partnership announcements that need immediate engagement, and more
a. Devise a one-stop shop and user-friendly digital platform that provides a mix of free and paid resources with minimum charges 
b. Create multiple free downloadable checklists on business processes and promote the same on various platforms
c. Create paid services on the website that offer details on all sorts of eligibility criteria and other legal requirements
d. Link websites to social media platforms and add one-click contact buttons for easy accessibility to the audience 
e. Create an interactive entrepreneurial journey map that visualizes every step in a business journey and helps entrepreneurs from all verticals 
f. Create weekly blogs to rank in online searches
g. Extend the social media engagement strategy to the website by creating a community space where businesses can list themselves and gain additional online credibility
3. Strategize to create a strong set of clientele through paid ads, webinars, offline network meets, etc 
a. Run paid ads to meet the targeted goals on Google, Facebook, and Instagram
b. Run social media paid ads that involved urgent engagement like upcoming events and registrations 
c. Create online workshops on specific business verticals, marketing, compliances, growth, and more 
d. Build big offline networking events focusing on various sectors of businesses like marketing, business development, compliance, and more.
4. Create a new set of services during lockdown that is easy, pocket friendly, and helps MSMEs maximize growth on social media.
a. Create an ongoing service called Social Media Marketing Service or SMM Service that includes social media strategy and executions like content creation, post boosts, month-end reports, and more 
b. Start multiple online live workshops that teach the basics of important social media channels and leverage social media marketing services through the same 
c. Create online live programs at least once a month to guide entrepreneurs with the basics and hacks. This also helped with growth in brand awareness as well as a rise in service numbers. 
Results
2021 vs. 2022
1. Overall website traffic 

2. Increase in blog traffic

3. Social media – 2021 vs 2020
2021 vs 2020 Facebook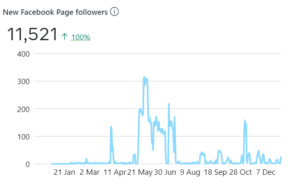 2021 vs 2020 Instagram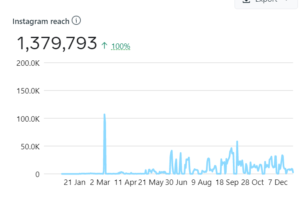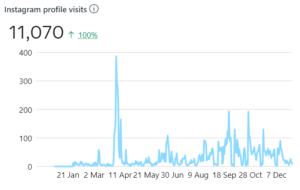 4. Result of social champ and marketing webinars – Yet to be received from deAsra team 
5. Total number of deAsra Foundation users since its inception – 1,81,068