It's officially the time of festivities and warmth (despite the cold!)
The uG team was on leave from Oct 22 to Oct 31 for Diwali Holidays for 9 days 🙂  Oh yes!
This is how some of us celebrated it – 
Myself 
More around Mind and Body
I tried to experiment and master the art of "Doing Nothing". 
And I failed miserably in it. 
I am aiming to be good at "being" than "doing."
Honestly, I am still figuring out the real difference between "mediation" and "doing nothing."
There was a constant urge to consume information or keep the mind busy by doing and mostly watching something. 
I watched "The devil's hour" and started with "The Peripheral" on Amazon Prime. (Both are good shows if you are interested in psychological thrillers and science fiction)
I also finished reading – "Probable Impossibilities" and started with "A Manifesto for a Moral Revolution". 
My daughter and I spent a lot of time playing together.
During our farm visit, we ate bananas 🍌 grown without fertilizers but only water. Honestly, they did not taste good; however, you can see that they are different from what we normally get at any store and something that is natural and healthy🥗.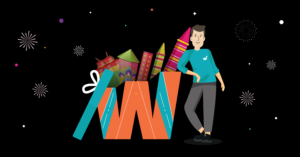 So this was about me; let's hear the stories of UG Folks. 
October was a happy month, the highlight was 3F's Family, Friends, and Food 😋 
I experienced various cuisines but something which fulfilled my taste buds was Mexican food 🌮; you should try it if you haven't. 
All of this was possible because of the healthy work-life balance that I get from upGrowth, and a 9-day Diwali holiday speaks it all.
Celebrations start and end with FOOD! In fact, it won't be entirely wrong to use the words 'celebrations' and 'food' synonymously. 
I visited my in-laws 👪 in Belgaum to celebrate Diwali. Belgaum is a beautiful place. The people are still warm, their doors and hearts are always open and some scenic places surround it. 
Now you know your next vacation destination!🏖️(P.s – It is just 100 km away from Goa!)
For the rest of Diwali, we dressed up, clicked pictures, cared for the environment, and later took some medicines to aid digestion! But jokes apart, I was grateful for the week off!
I am fresh, rejuvenated, and ready for the work! 👔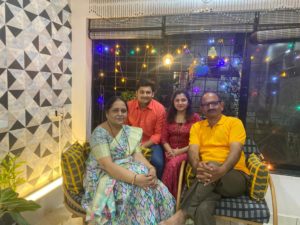 October is officially the season of lights and happiness, and festivities 🪔. The festivals during the  Autumn are my favourite, and no, it isn't only because of the lovely weather. Holiday decorations, brimming lights, and the lively cheer that fills the air make this time of the year truly magical.

Being a Bengali, though I missed the Durga Puja celebration in my hometown – Kolkata, I couldn't stop embracing and cherishing the Kannada culture, tradition, festivals, and of course, the food in Bangalore.

My entire holiday was spent on what we call – 'The Newness Effect'.

There is a lot we can experience and learn from cultural diversity. The people and the experiences can enrich us as individuals and our society as a whole.
All gratitude to upGrowth for giving us the gift of a festive break when it was really needed. 
There couldn't be any perfect way to escape from the daily schedules and get into the holiday spirit!