Best Practices for Creating a Web Story in 2022
Published: February 18, 2021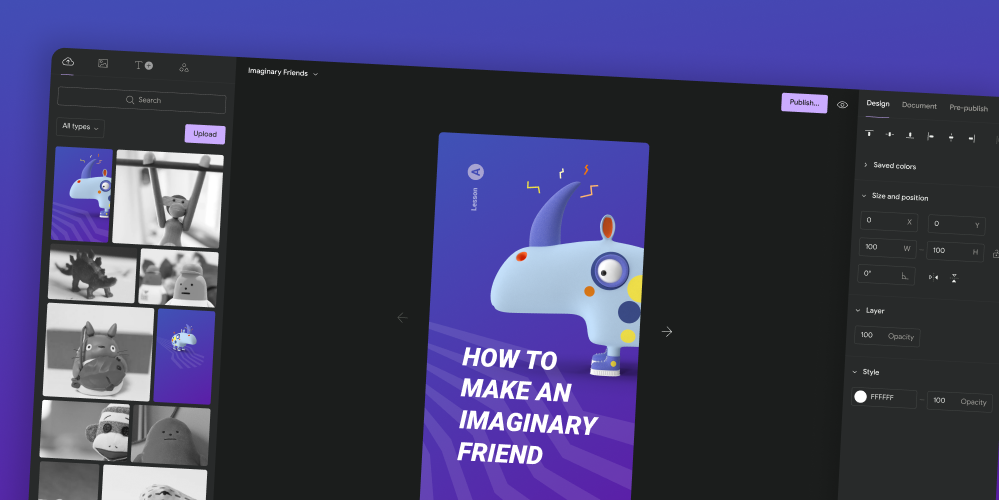 In the last couple of years, social media has moved from the standard "post" format – where users post images, text, videos and more – onto their pages to the more fluid "stories" format, championed first by Snapchat.
A story is a series of snippets – in the form of text, images, audio and video – that can play out in a sequence, where the user has the option to tap through or swipe through from one slide/story to the next. Social media platforms like Snapchat, Facebook, Instagram and even WhatsApp have this feature. One of the key differentiators of a story versus a post is that stories – on most platforms – are visible only for a finite amount of time, unless saved.
Web Stories are a web-based version of the popular social media stories format that blends video, GIF, audio, images, animation on text and images to create a dynamic consumption experience.
Web Story Ex.
A Google Web Story is a similar visual storytelling format that is displayed on the Google Search Engine Result Page, and can be viewed across a range of Google properties, including:
When a user searches for something on the Google search bar, the results are displayed in a grid view format with results from multiple publishers. The main benefit of a Web Story is that it boosts your site's visibility across these Google properties, without you having to shell out big bucks on ad spends. You can find easy and effective tools to create Web Stories on Google, and once you've created your story, you have the option to embed it on your site or index it in Google.
The Definition Of A Good Web Story
Like we mentioned above, a Web Story is a series of information snippets that come together to tell a cohesive story. It requires a fixed topic and a narrative arc. A good Web Story also needs to be well-designed, use engaging language so that it pulls the reader/viewer and keeps them hooked on till the last page or slide – and perhaps prompts them to take an action, such as following a link or swiping up to view a web page.
Crafting A Good Web Story: Content
The goal of a Web Story is to both entertain and educate the reader. It needs to be informative, but also relevant and relatable – something that resonates with the reader. Here are a few things to keep in mind when creating a Web Story.
Web Story Ex.
Share information that is of value to the reader and sparks their interest: It's important to stay up to date with global trends – but you need to choose a subject that speaks to your readers and resonates with them.
You can share details about your product or service, or share information about your industry and sector: news, opinions, best practices, etc. It could also be a trading topic or something that is being widely discussed in the community/industry/sector.
The information you share should be useful to the reader. They should learn something and walk away from the story with a better grasp of the topic at hand.
Web Story Ex.
Keep your Web Stories short and to-the-point: One of the features of a Web Story that serves as both a drawback and a benefit is that it gives you a fixed space within which to work – so your content needs to be brief and as pointed as possible.
Text should be fit into the space provided and not look crowded on the slide. Google recommends not more than 280 characters per slide, inclusive of the title.
Web Story Ex.
Enhance your stories with video: Stories, in some ways, are like watching a video – you are moving from one frame to the next. So, why not incorporate actual video within each slide? As it is, people who surf the web are consuming more and more short-form video content, popularised by platforms like TikTok and features like Instagram Reels. Video is engaging and helps you better tell your story, since you can fit more into a short video clip than in several lines of text.
First-person storytelling: You can also use videos to relate a story. First-person story telling works best with video and establishes an emotional connect with the viewer. It's a great way to share opinions, information, commentary and even user-generated content.
Invest in good design and aesthetics: You want viewers to go through the entire story, right? The only way that's going to happen is if you design your stories well and make them pleasing to the eye.
They should be eye-catching but no garish, since readability is important. Make sure your design fits in with the theme of the story and fits the screen. Ensure text doesn't get blurred against the background, and be sure to use images that complement the text.
You should also create slides/pages that take advantage of your brand identity. This includes your logo, brand colours, font style, and other visual elements that speak to your identity.
Add fun elements: You can make your stories fun and quirky with the addition of animation, infographics, polls and quizzes. They are easy to incorporate – a fuss-free and low-effort way to create content, and the benefits are manifold.
Animation and infographics make a Web Story easier to understand, while polls and quizzes are a great way to boost engagement. They give the user a chance to interact with your brand on a personal level.
Create a unique voice: The goal of a Web Story is better engagement. You need to be creative and build anticipation so that your followers/audience will stick and interact with the story. Use a unique voice and tone and keep it consistent within the story so it holds the attention of the reader/viewer.
Crafting A Good Web Story: Design
Like we mentioned above, a good Web Story must be well-designed, or the reader/viewer will abandon it mid-way. Here are few design-oriented best practices to follow to create great Web Stories.
Readability and text size: Your text HAS to be easy to read. Font size should be a minimum of 24 – but keep it as large as you can given the character count and slide size. Contrast the colour of your text with the background image or story page. Avoid using text-only images and videos.
Web story Ex.
Don't block text: Your text is the hero of the slide (if it is a text-based slide.) You cannot afford to cover it with other elements on the page. Avoid burned-in text, this prevents it from being blocked when it gets resized on various devices. Text should be clearly visible and stay within the borders of the slide or page.
Use high-quality images: Low-res images are best avoided as they can get blurry and fuzzy. Use high-resolution images, and take care when resizing images to portrait.
Web Story Ex.
Exercise restraint with video length: Videos are a great enhancer, but they need to be used judiciously. Google recommends videos that are less than 15 seconds per page, or 60 seconds maximum.
Shoot videos the right way: Web Stories are generally viewed in portrait mode, so be sure to shoot the video on high-end mobile devices as much as possible. They should ideally be shot at 720p rotated (1280h x 720w), and shot at least 24 frames per second.
Auto-advance for video-based stories: Auto-advanced experience for video-based Web Stories could work well for a laid back experience.
Add audio clips: Audio clips can make a Web Story more fun and enhance the experience. If you do add audio, make sure to use high-quality audio clips that are at least 5 seconds long with balanced volume and audible speech.
Be careful when using animation: Animations can enhance your stories and make them engaging – but, they can also distract. Avoid distracting or repetitive animations which can be a strain on the eye.
Web Story Ex.
Add your logo: Stories are about getting your brand noticed on the web. Include a high-resolution logo that represents your brand.
Crafting A Good Web Story: SEO
In order to get your Web Story noticed and ranked, you need to incorporate sound SEO, just as you would for other content pieces and images. Here are some SEO guidelines to follow to create winning Web Stories.
Keep your title short and sweet: Long titles can be off-putting. Keep titles shorter than 70 characters – this is what Google prescribes in its best practices.
Web Story Ex.
Make your Web Story easy to discover by adding it to your site: You've created a great piece of content – why let is get lost in the clutter? Add your Web Stories to your sitemap. You can check to see if Google can find your Web Stories with the Index Coverage Report and Sitemaps Report in Search Console. Don't include a noindex attribute in your story, since this blocks Google from indexing the page.
Please have a look all web stories HERE
Use the right URL format: Stories are integrated into a wider URL strategy. For example, if your "India Travel" articles are using a format such as "/agra/travel/title-of-article.html", then it's best to use the exact same directory structure and URL format for your Web Stories.
Try not to fiddle with it once you hit publish – because if you change it once the Web Story has gone live, you will end up with 2 URLs for the same story!
Link back to your website: Don't just add Web Stories to your sitemap. Integrate Stories into your website by linking them from your homepage or category pages wherever applicable.
If, for example, you have a Web Story about digital marketing and you have a page that lists all articles and blogs related to digital marketing, then link that Web Story to that category page.
Include structured data: Google recommends including structured data in the Web Story to help Google Search better understand the structure and content of your Web Story.
Meta Data: Don't ignore meta data when it comes to your Web Stories. Upload all meta tags with each story you publish – this includes the meta title, meta description, schema.org, OGP, Twitter card, etc.
Image alt text: Alt text is an often-overlooked aspect of web content in general, but plays an important role in the accessibility and indelibility of your content. Add meaningful alt text to images where appropriate to optimise it and make it easy for the visually impaired and others who cannot read or see the Web Story clearly.
Video captions: If you are using video in your stories, then be sure to add captions. This will help readers better understand your story. Captions should not burn into the video, and they should not overlap with other content or flow off the screen.
Web Stories should be self-canonical: All Web Stories must be canonical. Make sure that each Web Story has a link. Eg. : <link rel="canonical" href=" URL of Web Story">
Technical SEO: Web Stories must be valid AMP pages. To avoid issues of invalid AMP, test your story using the AMP Validator tool and fix any errors that are detected.
Poster image: Avoid using images that contain burned in text, as this could obstruct the title of your story when users preview your story in Search results. If users are unable to clearly read the title, they may be less likely to continue reading.
Include og:image: Google recommends using og:image in your <meta> tags to improve the discoverability of your story.
Use Web Stories To Give Your Brand A Boost!

Web Stories are a great way to showcase your expertise, product how-tos and benefits. They are also a great tool to generate buzz for your brand, create brand awareness and position yourself as a thought leader online.

Now that you know what makes for a great web story, start designing your own and see a boost in brand engagement – with these tips, you'll be able to rank on Google Discover in no time!