10 SEO Marketing Trends of 2023
Published: August 14, 2018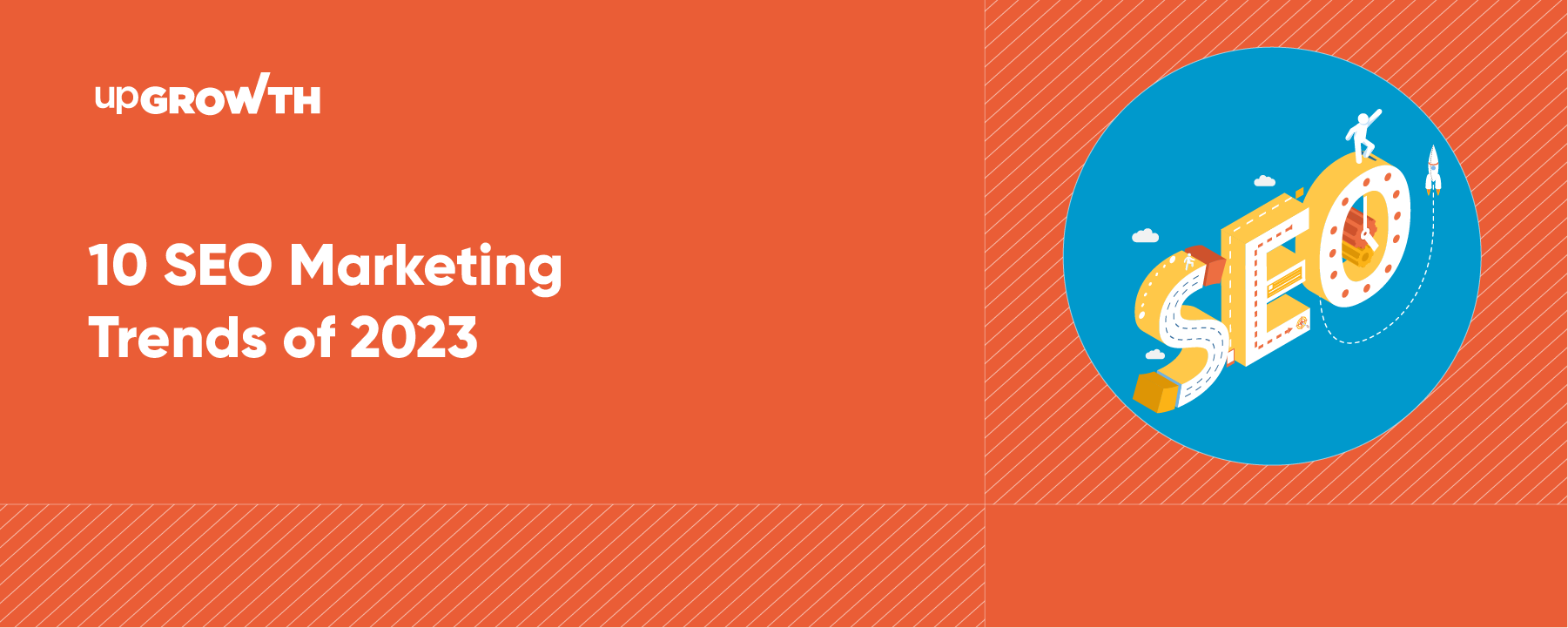 SEO Marketing Trends of 2022 that Startups should look out for
In today's globalized and competitive market, Search Engine Optimization (SEO marketing) is more important than ever for startups and even the bigger enterprises. Search engines serve millions of users per day looking for answers to their questions or for solutions to their problems.
In today's competitive scenario, startups need to increase their visibility online by employing effective and search engine approved SEO techniques. Leveraging the right SEO marketing trends offers several benefits including improved search, higher SERPs and targeted marketing to reach out to the customers at a time when they are most likely to act on your call.
Why SEO?

Understanding Search Engine Optimization strategies are indispensable for startups (as well as established companies) that want to sustain in the constantly evolving and ever growing digital marketplace. Considering that a large percentage of users never scroll beyond the first page of search results, SEO truly is any startup's best friend in building an online reputation.
Tactically employing the latest SEO marketing trends in an era where search engines constantly change parameters is a fundamental lesson for every entrepreneur who aims to succeed. One must understand that the basic premise of being online is to reach the consumers far beyond the physical boundaries.
Hence, implementing the SEO marketing strategies gains paramount importance.
Search engine optimization is essential because:

Users around the globe will use search engines for their queries and most likely click one of the top 5 suggestions in the result pages (SERPS), so to be visible to the customers and direct them to your website, or online store, the startup needs to feature in the top search results.
SEO seldom is not about search engines only, but good SEO practices improve the user experience and usability of a website.
The reason why users visit search engines is due to the trustworthiness of the results, and hence having a presence in the top positions for the keywords the user is searching, increases the web site's trust.
SEO enables social promotion of the startup's website. People can end up promoting your website on social media channels like Facebook, Twitter, etc.
SEO ensures smooth working and running of a big website. The direct benefit is an increase in the search engine traffic and indirectly ensures a common framework being employed for publishing content on the site.
SEO ensures the startup remains ahead in the competition. An optimized website is likely to have more customers and make more sales compared to the non-optimized ones.
Trust The Experts Of UpGrowth For The Best Organic Search Marketing For Your Business
10 SEO marketing trends for 2018
From stricter rules for Accelerated Mobile Pages (AMP) to an increase in voice search to more of a focus on hyperlocal marketing, 2017 was a busy year in the world of SEO. But SEO marketing trends for 2022, can guarantee a fair share of exciting developments, along with the continued growth of proven SEO marketing tactics.
To help you keep up, here are 10 SEO marketing trends to focus on in the new year.
1. Video and Image Search Will Continue to Improve
Videos and images are increasingly playing a more prominent role in people's online interactions. Faster Internet speeds, social media platforms such as Instagram and Facebook that champion visual content has contributed to this increase. A simple fact remains, those who use social media interact more with visual content because it evokes more emotional reactions, which leads to increased engagement.
This has led to an increased engagement, and Google and other search engines have been tweaking the way images and videos show up in search results.
For example, Google recently acquired the video and image sites Anvato, Eyefluence, Famebit, and Moodstocks, which focus on the visual elements within videos and images and/or attempt to improve how users interact with them.
Given the increasing importance of graphic content and visual marketing, SEO with images and videos is sure to become Given the increasing importance of graphic content and visual marketing, SEO with images and videos is sure to become more complex and there will be more of an emphasis placed on it as per the SEO marketing trends.complex and there will be more of an emphasis placed on it as per the SEO marketing trends.
2. Using SEO Traffic To Build a First-Party Data Hub
As corporations like Google strive to phase out third-party cookies, it's becoming critical for businesses to develop their own first-party data centres. This first-party data — or data that your organisation collects — enables you to construct focused and personalised marketing campaigns that will increase revenue.
Speaking of the future of SEO, search will be crucial in the development of your data hub.
3. Influence Personalized Search Results on Rankings
Personalized search results have seen an upsurge in the past decade and it will continue to take centre stage in 2022. Google has long emphasized the importance of customized search engine results pages (SERPs) for individuals.
With the proliferation of smart speakers, along with other technological advances and the increasing ease with which searches can be conducted, personalization will continue to be a point of emphasis in 2022.
This will make it more challenging to determine how your business will rank and even what it will be ranked for.
4. Work on the Page Speed
Page speed is the present as well as the future of SEO.
As more people access the Internet quickly and easily, whether from a laptop or a smartphone, it's become increasingly important for businesses to deliver quick online experiences. That's why one of Google's newest ranking variables, Core Web Vitals, was created.
Google evaluates the following with Core Web Vitals:
In other words, Google considers how long it takes for users to engage with your content. How quickly can customers obtain the information they need to solve their inquiry, whether it's how to make tea or where to buy tea, once they arrive on your site?
5. Voice Search to Gain Momentum
Due to the surge in the products like Amazon Echo, Apple HomePod, and Google Home, voice search will become more important in 2022. Rather than typing the search query in the search box, users will simply use their voices to get the search results and ultimately save time.
As a result, search queries may differ from what users type into search boxes. For example, with voice search users typically focus on natural-sounding phrases and questions, rather than query language that may be more convoluted.
This will affect how businesses evaluate SERPs. As a result, tools such as Rank Tracker are likely to help with optimizing voice search SEO rankings.
6. Update the Existing Content
Everyone these days creates SEO content, and although new content will continue to be a focus of SEO, so will updating existing content. That's because, when it comes to rankings, renewing previous content (particularly, stuff published two or more years ago) appears to revive it.
Plus, you'll get the most out of your initial investment in this content in terms of rankings, traffic, and revenue. If you've been investing in SEO content for a few years, consider adding content refreshes to your plan while thinking about the future of SEO and your approach.
7. The Knowledge Graph Will Become More Relevant
Since 2012, Google's knowledge graph has been present, but in 2017, knowledge panels began to more frequently replace featured snippets when users asked questions in Google searches. Knowledge graph is more versatile than featured snippets, which rely on an extracted summary of the answer from a webpage, along with the title and link to the page.
For example, for a movie search, the search results would provide the usual summary, but also movie times and theatres, information about the actors in the movie, top stories about the movie, and the movie's social media pages, among other things.
Knowledge graph connects the related topics, thus providing the people with a more enriching and meaningful search experience.
8. SEO Will Move Beyond Google and Bing
As per the SEO marketing trends, Google will continue to be the dominant search engine, however various digital assistants like Siri, Cortana and third-party review websites like, Amazon and Yelp have emerged as the search engines for specific queries. The startup needs to focus on the SEO for these other search engines so as to reach a wider audience.
Along with this, people may now search by voice and image, in addition to text, using apps like Google Lens. These emerging mediums can provide you with a low-competition choice for boosting traffic, leads, and money, depending on your business and target audience.
It will be hard to believe but every user does not rely on Google all the time. So it makes sense to have a presence on other search engines as well.
9. Hyperlocal Marketing will gain Importance
Hyperlocal as the name suggests means targeting the customers in the vicinity, local community who actually need your product or services or in the purview of the startup's business market. However, businesses now have the technology to closely analyze their local market and target certain individuals, rather than shouting from their storefronts in the hope of enticing customers to visit their stores.
With the advent of augmented reality and it becoming more mainstream, startup's need to place more emphasis on SEO by focusing on hyperlocal keywords and catering to the needs of the people nearby.
10. Machine learning will spell the end of traditional search algorithm updates
RankBrain is Google's venture into machine learning—at least in how it pertains to its search algorithm. But Alphabet, Google's parent company, has been heavily investing in machine learning and AI over the years.
Though there isn't any official news about when or if it plans to roll out more machine learning updates to its core algorithm, our guess is by the end of 2022, there will be a greater influence of machine learning over typical search results.
It will take time, maybe even years, when we see algorithm updates fade away entirely, in favour of an automated, continuous and iterative algorithm updating process carried out by machine learning.
As promised, here are the bonus 5 SEO marketing tips!
11. 'Linkless' mentions
This goes in the bonus category as this is one of the common errors of SEO. Startup's need to be aware of the development in the areas of unlinked brand mentions. Bing has already confirmed that they track such brand mentions and use them as a ranking signal and Google will be following the suit pretty soon.
Search engines are going to crack a whip on linkless mentions as AI is now playing a bigger part in search ranking.
The tactics used to earn brand mentions are, of course, not much different from the tactics used to earn links, but since the number of people who mention brands is much higher than the number of people who link to them, this could provide a good boost for smaller brands that fall below the threshold of earning press.
12. Concentrating on The User's Search Intent
The focus on user search intent is next on our list of the most recent SEO developments. This pattern has been popular for many years and will continue to be so in 2022. In order to thrive with SEO in 2022, you must create pages that focus on user search intent.
The meaning behind why someone does a search, known as user search intent, is crucial for helping you rank in search results. People use search engines to find specific information. You won't score well in search results if your page doesn't deliver the information users require.
13. An interstitial crackdown may be on the way
In early 2017, Google released mobile interstitial penalty update to battle against intrusive mobile ads. The hardest hit sites had aggressive advertising that blocked users from taking action, deceptive advertising placement and/or other issues that hindered the use of the interface.
Google may crack down on the big brands who are still getting away with interstitial ads. The crucial factor seems to be the amount of trust big brands have accumulated in other ways. How all of this shakes out ultimately depends on how Google will reward branding vs. intrusive advertising.
14. Mobile-first indexing
Nearly three years ago Google announced that mobile searches had surpassed desktop searches on its search engine — and just last year, BrightEdge found that 57 percent of traffic among its clients came from mobile devices.
Google is responding to this shift in user behaviour with mobile-first indexing, which means "Google will create and rank its search listings based on the mobile version of the content, even for listings that are shown to desktop users." Representatives from Google have stated that we can expect the mobile-first index to launch this year.
15. Keep In Mind The Semantic Search
Semantic search is a part of SEO's future in 2022. The study of words and their relationships, as well as what those words imply in specific settings, is known as semantics. Semantic search focuses on detecting the context and intent of search queries in search engines.
Write for readers, not browsers: Many businesses make the mistake of writing for search results in the hopes of improving their search rankings. Instead, concentrate on writing for consumers. Because search engines can detect what users want, generating material that is oriented toward them will help you rank.
Answer your audience's queries: If you want to create material that your audience enjoys, you must first answer their questions. So, if someone wants to learn how to make the best biryani, your material should explain exactly how to do it.
Add structured data: Structured data is useful for providing useful information to your readers. This type of data includes things like product reviews and cooking times for recipes. You can provide useful information to your readers to encourage them to click on your listing.
Conclusion
As it seems, 2022 will be an interesting year for SEO. Traditional SEO techniques are still effective, but a number of trends are in the works that could significantly alter the practice of optimizing for search thus changing the SEO marketing trends.
The future SEO trends in marketing are already changing, and the ranking in the first organic spot is not the ultimate goal anymore. As search engines evolve, there are multiple opportunities to increase your search traffic without necessarily focusing on organic SERPs.
The rise of featured snippets, PPC, voice search and local SEO can often yield better results than an organic ranking. That's why it's useful to keep up with the latest trends and discover how your brand can maintain a successful SEO strategy for the year ahead by blending established and growing trends.
For the best results, Get UpGrowth's Expert Organic Search Marketing Service For Your Startup
About the Author
Amol has helped catalyse business growth with his strategic & data-driven methodologies. With a decade of experience in the field of marketing, he has donned multiple hats, from channel optimization, data analytics and creative brand positioning to growth engineering and sales.